Barrell Craft Spirits has undergone massive changes throughout the last 3 years. The Private Release program has exploded, there is now a Gold Label tier for premium bourbon and rye whiskey and the named releases keep on coming after the success of Dovetail in late 2018.
The brand has even purchased its first warehouse for storage and is well on their way to filling it all up.
Top 10 Favorite Barrell Releases of All Time
I made a list of my Top 10 favorite Barrell releases of all time almost 3 years ago, but realized that a lot of those bottles were next to impossible to track down any longer. It seems as if readers were taking my advice for real and bought them all up.
But modern batches can still be found if you look hard enough. Many retailers put the new batches on the shelf with the old ones, so you might find them intermixed.
New Blends with Big Impacts
Barrell has begun to blend new whiskies into their blends over these last three years that have created big impacts in how their products taste.
They've finally sourced wheated bourbon from both Barton (think 1792 Sweet Wheat) and MGP. They've used wheated bourbon from Wyoming Whiskey and MGP's 99/1 bourbon mash bill. They've even sourced Canadian whiskey (and rye whiskey) and have been putting it in a ton of different releases from their new Private Release Rye Whiskey line to Seagrass and Dovetail Gold.
With so much variety, there is something for every enthusiast. That also makes it harder to decide which ones you should spend your money on. This is why I've decided to simplify it all and give you a list of the top 10 you should buy if you're Barrell-curious.
As much as I hate writing something that sounds like a listicle (trust me, I want to distance myself as far away as I can from Uproxx or Forbes), this is in the spirit of helping you out.
After all, at the Bourbon Culture, we pride ourselves on having reviewed every batched Barrell product since Bourbon Batch 001. Make sure to follow us for reviews on all of the upcoming stuff Barrell is putting out too!
#10 Barrell Bourbon Batch 031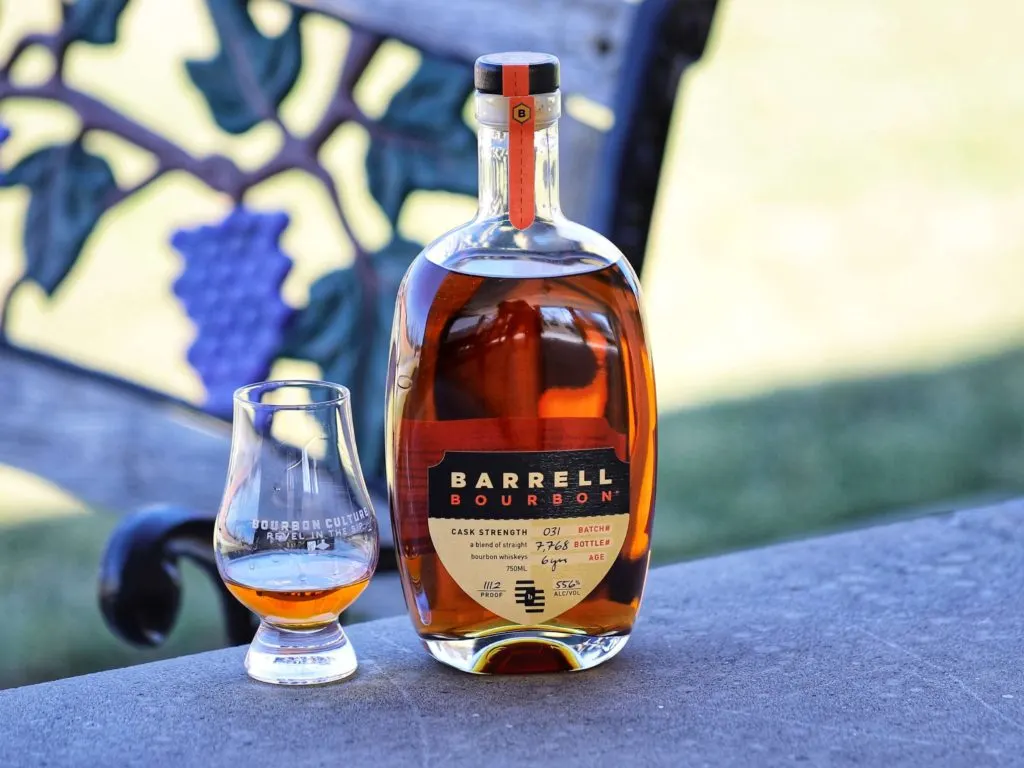 Read our review for Barrell Batch 031 Here
The thing that stuck out most with Barrell Batch 031 is how similar it was to a past favorite of mine, Batch 018. Batch 018 was famous not only for using the highest average age of barrels in a blend, but also its tremendous cinnamon-forward character.
Batch 031 replicates it for the most part by blending in some barrels of MGP's new 99/1 high-corn bourbon recipe. These barrels aren't that complex, but they're known for bringing sweet cornbread and cinnamon notes in abundance.
Honestly, the similarities with the spice and fruit for this batch were so close to a bottle of Four Roses OBSK that it made me recheck to see which bourbon I had just poured. And while it didn't taste as old as Batch 018, it was extremely robust in how it delivered all of its flavors.
#9 Barrell Bourbon Batch 025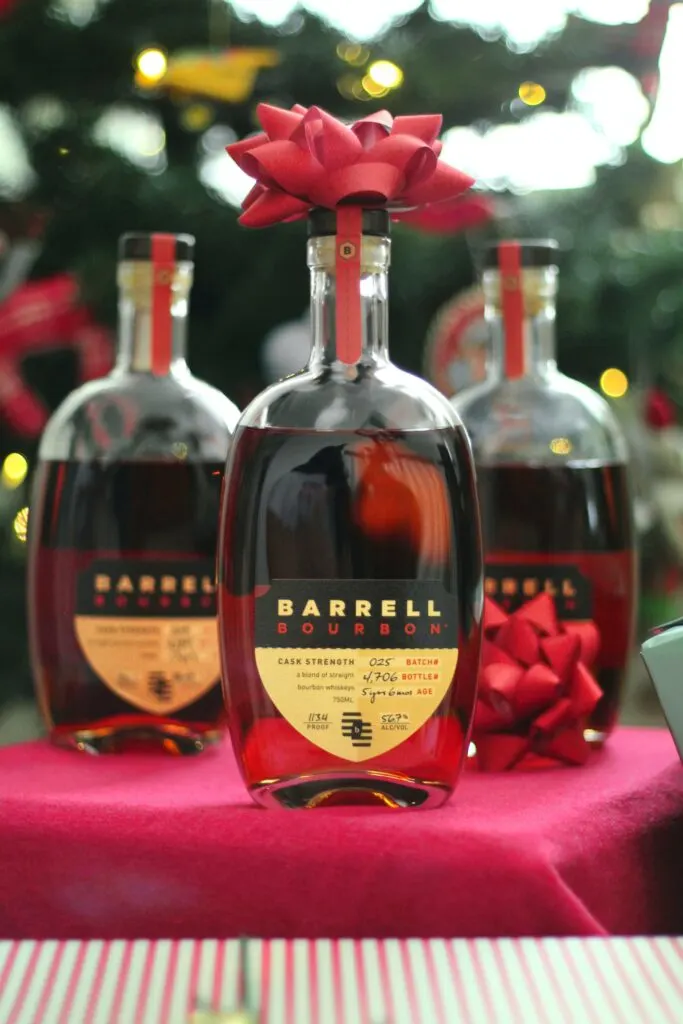 Read our review for Barrell Batch 025 here
Normally the first time any company tries to experiment with something, you should pass on it until you hear they've worked out the kinks. I thought that would be the case with Barrell's first attempt to blend wheated bourbon into a batched bourbon product.
I'm glad I took the chance anyway because they nailed this one. The wheated bourbon, which is almost certainly sourced from Barton and MGP, delivers a layer of cherries and chocolate that propel this batch to the next level.
The proof is perfect, giving each sip a powerful blast of flavor without wiping out your taste buds. Batch 025 ushered in a new era of blending for Barrell and they haven't looked back since.
#8 Barrell Bourbon Batch 027
Read our review for Barrell Batch 027 here
Batch 027 was Barrell's second attempt at blending wheated bourbon with ryed bourbon. And while it takes a person a little bit more patience to pick out the differences between it and Batch 025, they are there.
I just happened to prefer Batch 027 a little bit more because of the noticeable amount of chocolate notes I found inside. Seriously, if you want to experience the two best forms in a whiskey, nothing gets you closer than the chocolate cherry cordial and Peppermint Patty flavors.
Batch 027 even tastes a bit older too with plenty of tannins from the well-aged barrels. The sipping enjoyment is about the same, but Batch 027 is a little more relaxed in its delivery than the wild ride that Batch 025 gives you.
#7 Barrell Bourbon Batch 024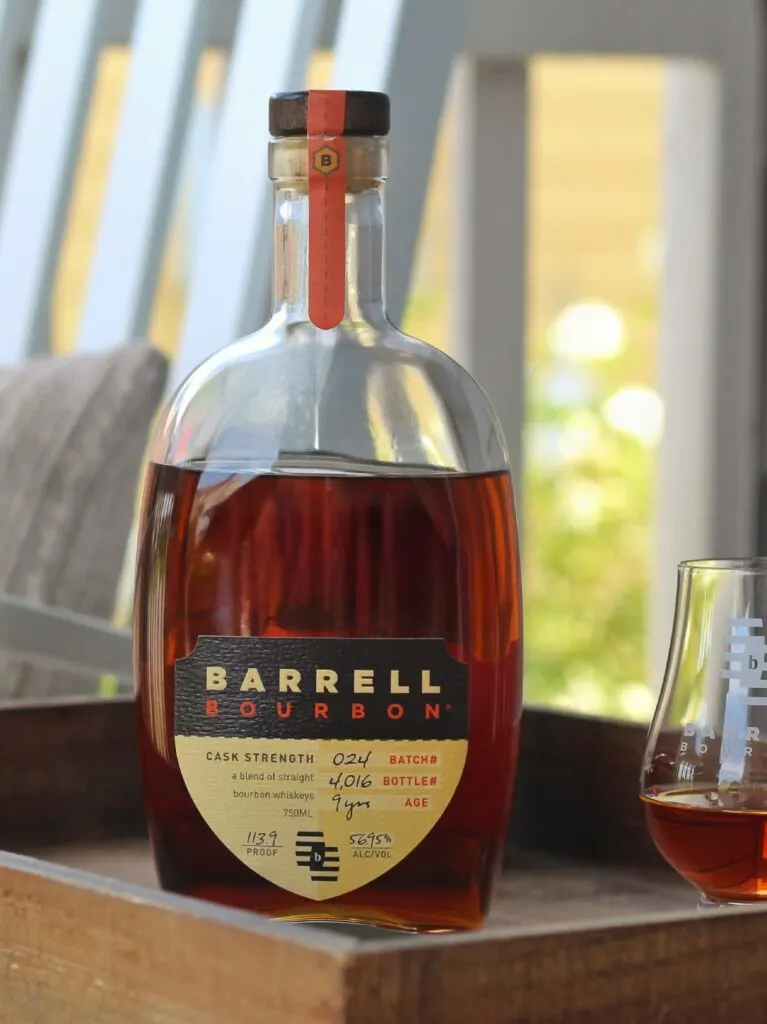 Read our review for Barrell Batch 024 here
What Barrell tried to create with Batch 024 was their most rye-heavy bourbon they could make. Not only were all of the barrels used a high-rye variant of each distiller's mash bills, but they tasted that way too.
This was a bottle that was polarizing to many because a lot of new enthusiasts don't fully appreciate rye notes. But if you do, this one's a treat.
I put it on my top 10 bourbon list of 2020 and don't regret it at all. It is a blend of all high-rye bourbon. Yes, it still includes Dickel, but based on the description, it probably uses the old 70/25/5 high-rye experimental bourbon that they made a while ago.
Barrell soured a lot of those barrels and it is what made them famous in their first 3 years of business. But it seems like they've ran out in recent years. Other culprits probably include MGP 36% ryed bourbon and Barton bourbon which uses a mash bill containing 18% rye.
While the high rye notes were delicious, what surprised me most was the tremendous depth and oak it carried with each sip. This will always be a favorite of mine, but so many Barrell enthusiasts shunned it because they were excited to try Batch 025's wheated bourbon blend.
#6 Barrell Bourbon Batch 026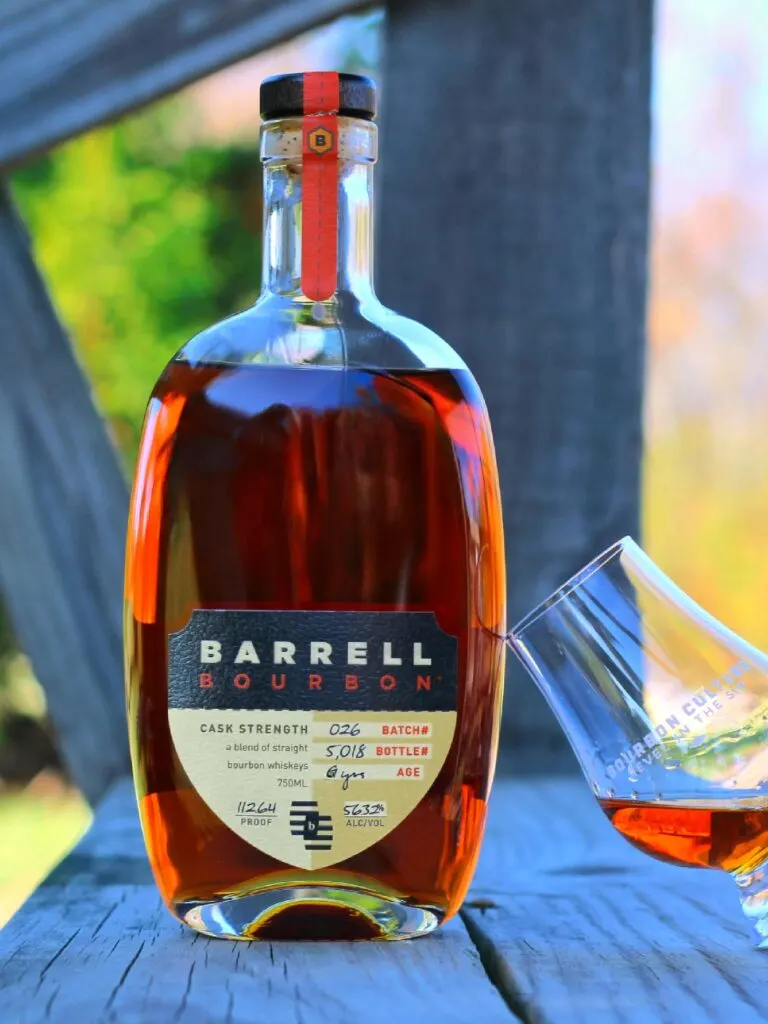 Read our review for Barrell Batch 026 here
It is almost as if Barrell fans were a little bit put off when Batch 026 arrived and didn't contain any wheated bourbon in it. Batch 025, released about 3 months before this one, had a lot of hype because of the wheated bourbon making it into the blend.
As a result, this batch took longer than most to sell. It wasn't helped by the fact that when Batch 027 came out 3 months after this batch, they resumed putting wheated bourbon in that on! This made the unsold Batch 026's take even longer to sell.
But what everyone was missing is just how good Batch 026 was without it. This was like a baby Batch 021, which was probably the one of the top 5 bourbon's that Barrell has ever put out.
There are an insane amount of unique fruits including the holy grail of them all: blackberries. Seriously, I don't know what it is about finding blackberry flavors in a bourbon, but that's always the sign of a bourbon with a high pedigree.
Batch 026 also has notes of raspberries, dried figs and coconut; flavors you just don't find in enough bourbon these days. It was an amazing blend that might be one of the most underrated on this list solely because everyone was paying attention to the batches that bookended it.
#5 Barrell Vantage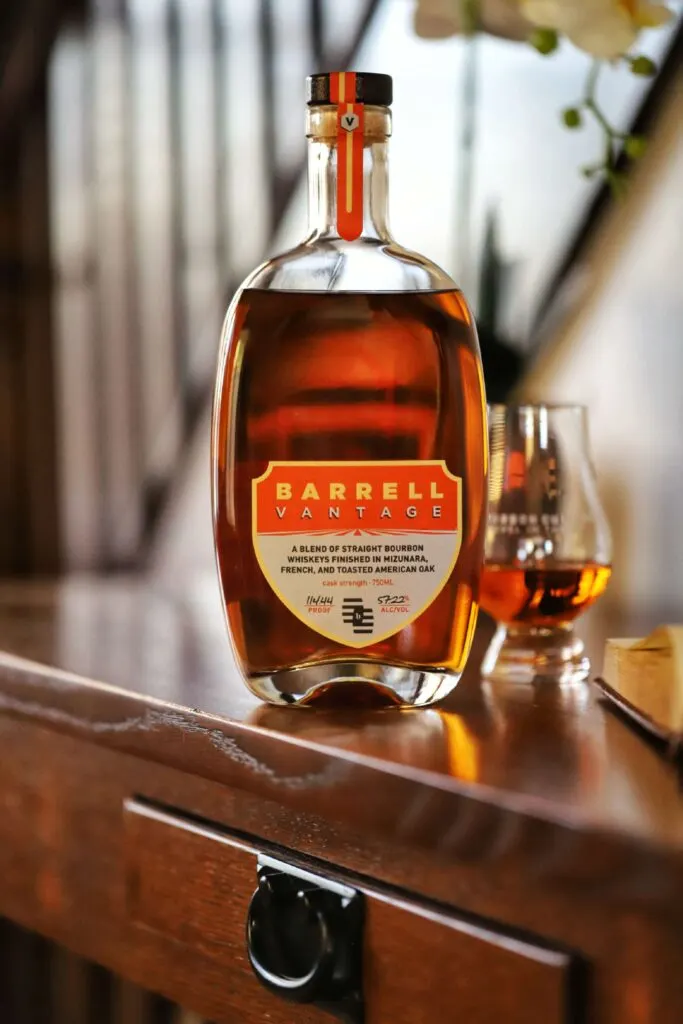 Read our review for Barrell Vantage here
Barrell Vantage may have narrowly missed out on my Top 10 Whiskies of 2022, but that doesn't mean it's not worthy of being in your cabinet. Barrell Vantage bucked the trend of the last 3 named Barrell releases (Dovetail, Armida and Seagrass) and ditched wine and spirits cask finishes for a blend of all wood finishes.
That's right, the only finishes you'll find are in barrels of French Oak, Mizunara Oak and Toasted White Oak. This blend makes the sum total of the bourbon into something unique and unforgettable. There's not really another bourbon out there to compare it to.
Each wood imparts a different flavor and has a purpose for why its there. The toasted barrels finished the Dickel bourbon in an attempt to mask some of the vitamin minerality. If that was their goal, I'd say "mission complete" to them.
The Mizunara oak is there for an exotic touch of sandalwood and coconut shell. Its soft and fragrant and helps create a complex undertone. The French Oak is there to provide big, bold wood notes as it's known to do. This results in a blend that tastes much older than it is.
After tasting an experiment like this go so well, I am begging other producers to do something similar. This world needs more of these types of bourbons!
#4 Barrell Bourbon Batch 029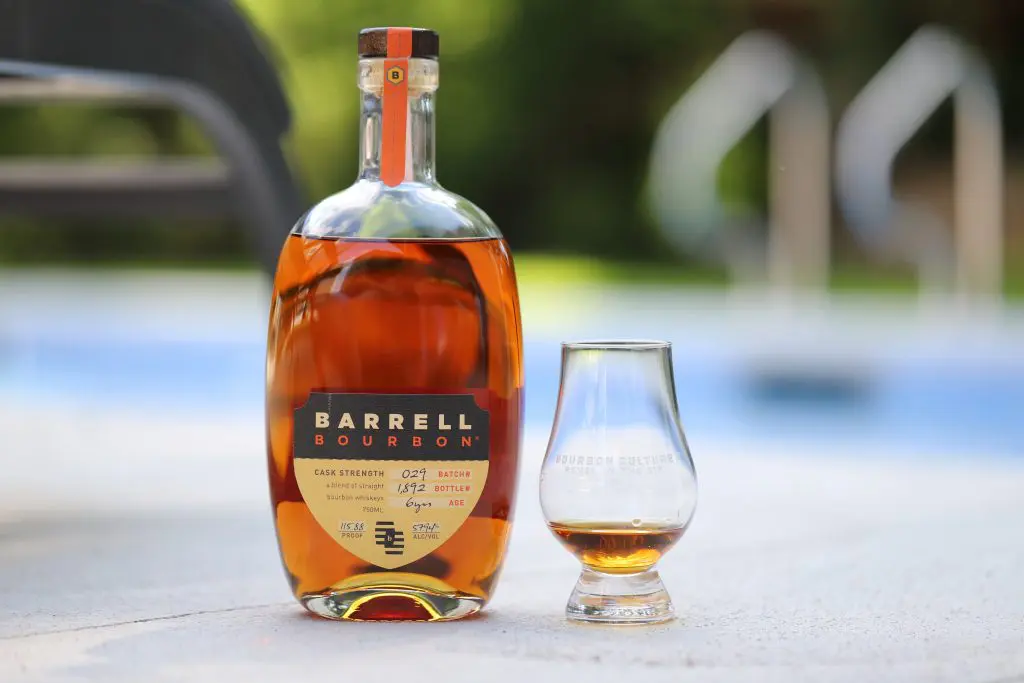 Read our review for Barrell Batch 029 here.
Whenever I talk to people about particular bourbons, I always try to give a couple notes about what stood out the most about that bourbon.
Barrell is the best at making various batches that taste totally different from one another. This is what keeps customers coming back to them each time a new batch is released. We have to see what's special about it.
Batch 029 was one of those special batches. It is overflowing with such a wide array of fruit notes, it is almost impossible to believe they got them all in here. To this date, my top 2 bourbons for most fruit flavors are Batch 021 and 029.
Here's just a sample of some of the flavors and scents I found: strawberry, rhubarb (pie), papaya, peaches cherry cola and grape soda. All of these are surrounded by these beautiful oak tannins that give such depth and maturity to the whole blend.
It's out of this world. This batch represents what Barrell does best – creating sweet, fruity bourbons from a hodgepodge of barrels and making it all work.
#3 Barrell Seagrass Gold
Read our review for Barrell Seagrass Gold Label here
I feel like I should not be including a $500 bottle on this list. It is not something you just casually go out and buy. This is a bottle for special occasions and special friends.
Seagrass Gold takes a 20 year old Canadian rye whiskey that has a surprising amount of oak in it and adds complementary layers of finishes that leave the final product like drinking a rich syrup of rye and fruit.
My friends who have tried this have all generally agreed, this is a BTAC-level bottle in terms of how good it is. So while I didn't want to put it on my list, I changed my mind because this is actually something that is out there on store shelves right now.
The price is high, but it's not higher than a bottle of Thomas H. Handy on the secondary (upwards of $650). It's also lower than the price of the newest Whistlepig Boss Hogs which it also competes with (that one is also $650).
So while it is spendy, you are kind of getting a deal depending on how you look at it. It's a fantastic product that beats its competitors in flavor and value.
The best part is there's no threat of a secondary market scammer taking your money and running. It's amazing how good it is, just make sure to drink this one slowly, the finish is unbelievably long.
#2 Barrell Seagrass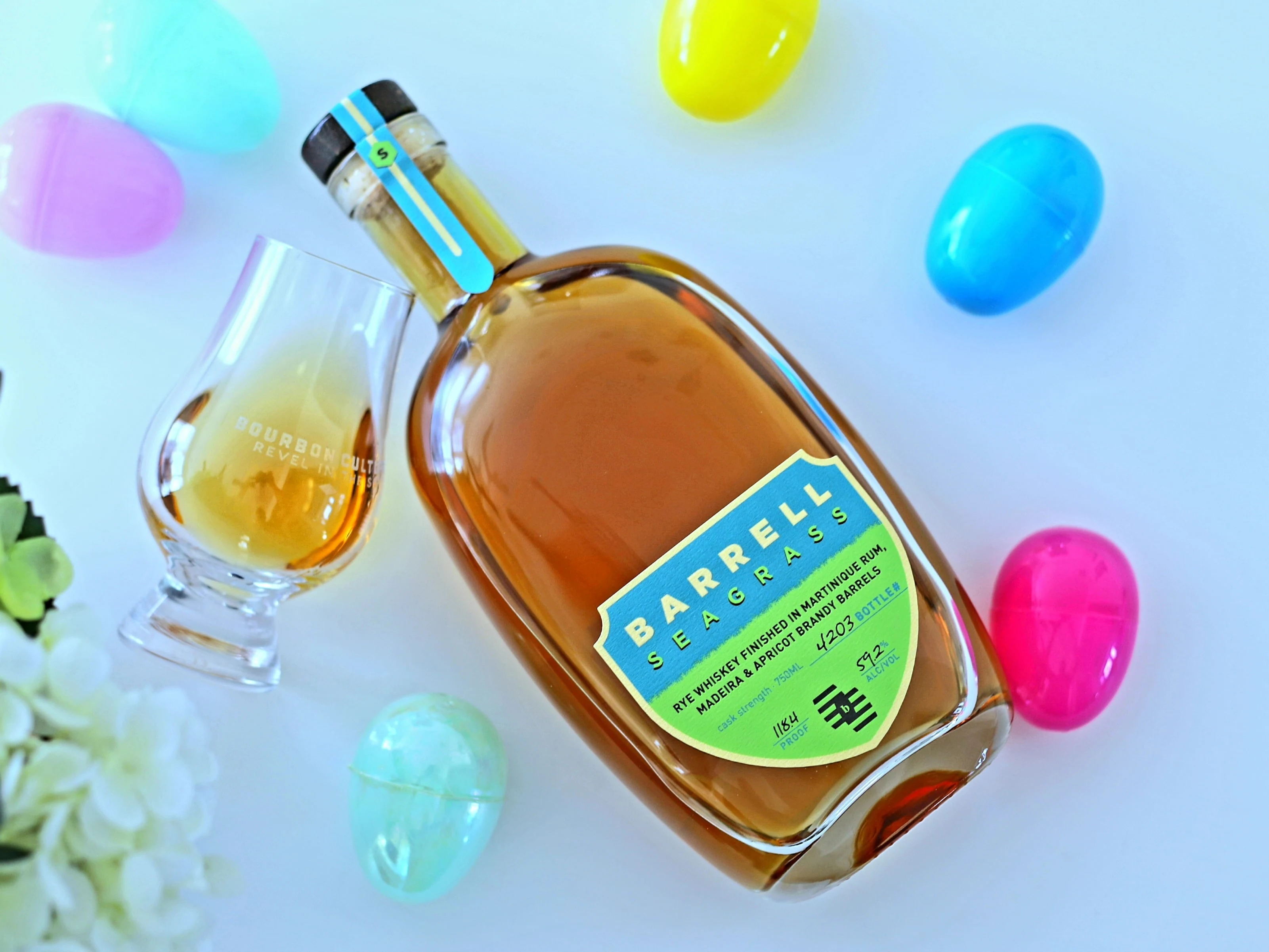 Read our review for Barrell Seagrass here
I want to clarify that the regular Barrell Seagrass that I'm putting ahead of Barrell Seagrass Gold isn't because it's the better whiskey, but it is when you compare them based on value.
There simply isn't a better finished rye whiskey on the market for the price than Barrell Seagrass Gold. If this was a list that just said "Top 10 Whiskies since 2020," Barrell Seagrass would still be on it.
In fact, it finished in second place in my Top 10 Most Memorable Whiskies of 2021 write up. I liked it that much.
Don't take this next part as a fact, just an observation, but I'd estimate that only 1/3 of bourbon drinkers like rye whiskey. Perhaps if more of them tried Barrell Seagrass, they'd change their attitudes. It's the perfect bottle for a person who is on the fence about rye whiskey.
It knows that those kinds of people might not like the bold spices or floral/herbal notes that come along with it. That's okay because the Rum, Apricot Brandy and Madeira cask finishes provide plenty of additional sweetness with loads of fruit.
It's become one of Barrell's bestselling products and it's not even close. There's a reason for that, it's a bottle that can be so many things for so many different people. If your whiskey cabinet does not have a Barrell product in it yet, this should be the first one.
#1 Stellum Black Rye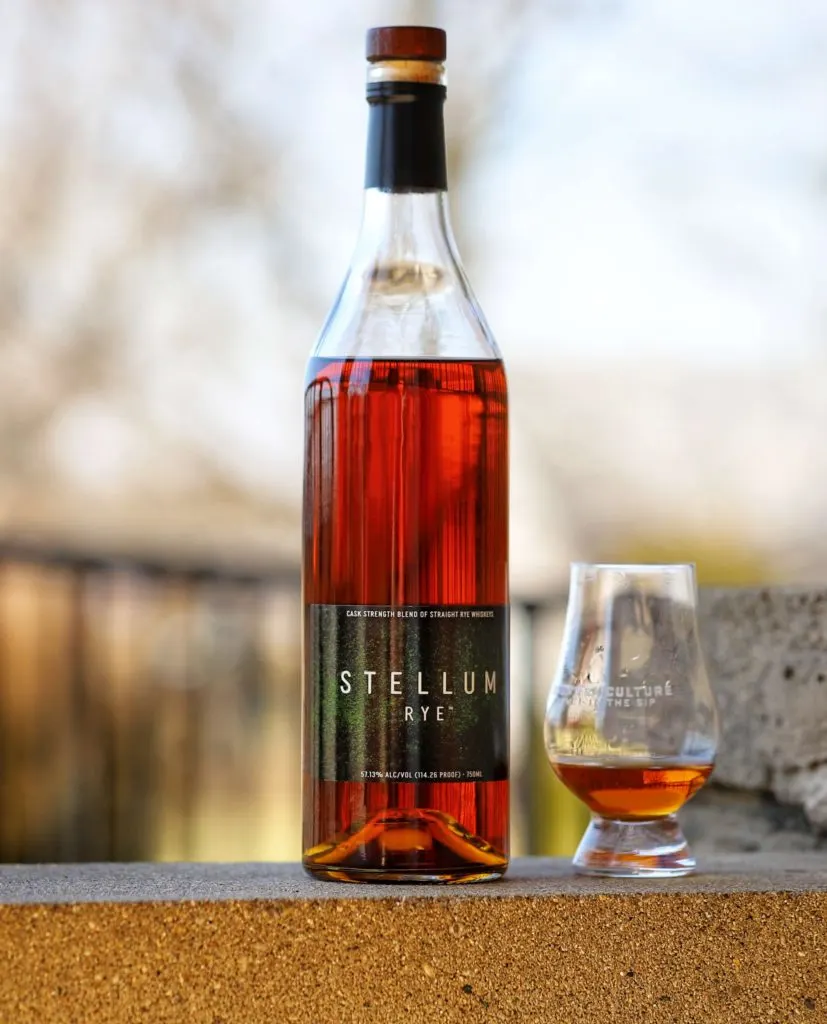 Read our review for Stellum Black Rye here
Wait, how can #1 be a non-Barrell product? It actually is a Barrell product! If you don't already know this, Stellum is the newest division of Barrell Craft Spirits. The purpose of a new line was to create whiskies that were more consistent batch-to-batch rather than Barrell's "every batch is different" philosophy.
This bottle of Stellum Black Rye is not any cheaper than a typical batch of Barrell (still about $100) but there's a reason it's on top of the list: because it's incredible for what it is.
Stellum Black Rye uses components that, by themselves, would probably be unremarkable. But it's how they blend them together that makes a rye whiskey that is very much more than the sum of its parts.
Stellum Black Rye is the complete package
Together, it creates a rye whiskey that has the sweetness of a Kentucky rye, the spice, citrus and herbal qualities of an Indiana rye and the mellow character of a Tennessee rye. It is the complete package.
Plus the fact it's bottled at barrel proof means that it's flavor is already at peak capacity once you pour it into your glass. It's really got it all which is why it won the top spot on my Most Memorable Whiskies of 2022 wrap-up last year.
Look for its offshoots (like this Fibonacci Blend #1) too for something slightly different from the standard Black Rye bottling. This is one of the most consistently delicious bottles on the market and I don't even know who else comes close for the price.
Best Barrell Craft Spirits Bottles Reviewed: 2020 - 2023
Featured Products
Description:

The Aged & Ore Neat Traveler is a complete travel kit for spirits. We combined our widely praised Neat Glass with one of our 3oz Flight Bottles and housed them together in a custom EVA travel case. Perfect for a night away with your favorite pour. The tie
Description:

The Aged & Ore Bottle Flight is a premium set of 4 custom silicone wrapped glass bottles designed to transport and share samples of your favorite spirits. The flight bottles come in a custom EVA travel case that fits perfectly in any small bag. An Aged &
Description:

This Bundle combines two of our crowd favorite products, creating the ultimate travel bundle to bring along your favorite spirits and glassware. Bundle Includes: Neat Traveler (Gray) Bottle Flight (Gray) Note: This bundle is only available in gray and col
*Bourbon Culture is reader-supported. When you buy through links on our site, we may earn an affiliate commission.