*Bourbon Culture is reader-supported. When you buy through links on our site, we may earn an affiliate commission.
A huge annoyance of mine is how every car manufacturer has decided to stop giving their vehicles names. What they have transitioned to instead is an "alphabet soup" of numbers and letters.
Market analysts told them that people would identify their cars as being more luxurious if they sounded like their European counterparts.
For a brief period of time, it worked. But then surveys among customers said that they didn't like the confusing new nomenclatures of their vehicles.
They said it took away a lot of the personality that names hold. Now the industry is trending in the opposite direction and bringing back names that evoke all of those feelings and emotions.
I bring this up because this is now Barrell Craft Spirits' third product that carries an actual name (the first two being Dovetail and Armida). Each name has a story behind how it came to be. The story with Barrell Seagrass is that they wanted a name that reflects memories of the beach and all things oceanside.
Barrell's crew thought about every sensory experience that would be found next to the water and wanted to create a spirit that captured it in a liquid.
The base of "Seagrass" uses a blend of rye whiskies. Looking at the rear label, it appears to be the same recipe as Barrell Rye Whiskey Batch 003 (if it ain't broke, don't fix it).
Then they finished it in rum, apricot brandy and Madeira wine casks. The rye whiskey base provides clean and fresh scents while the rum should deliver tropical fruit notes.
Meanwhile, the apricot brandy adds on layers of stone and orchard fruits while the Madeira wine casks should theoretically add more fruits and even some tannins.
So on paper everything appears to be well thought-out but does that translate into a tasty drink or a disjointed one? There's only one way to find out. Let's dive in.
Tasting Notes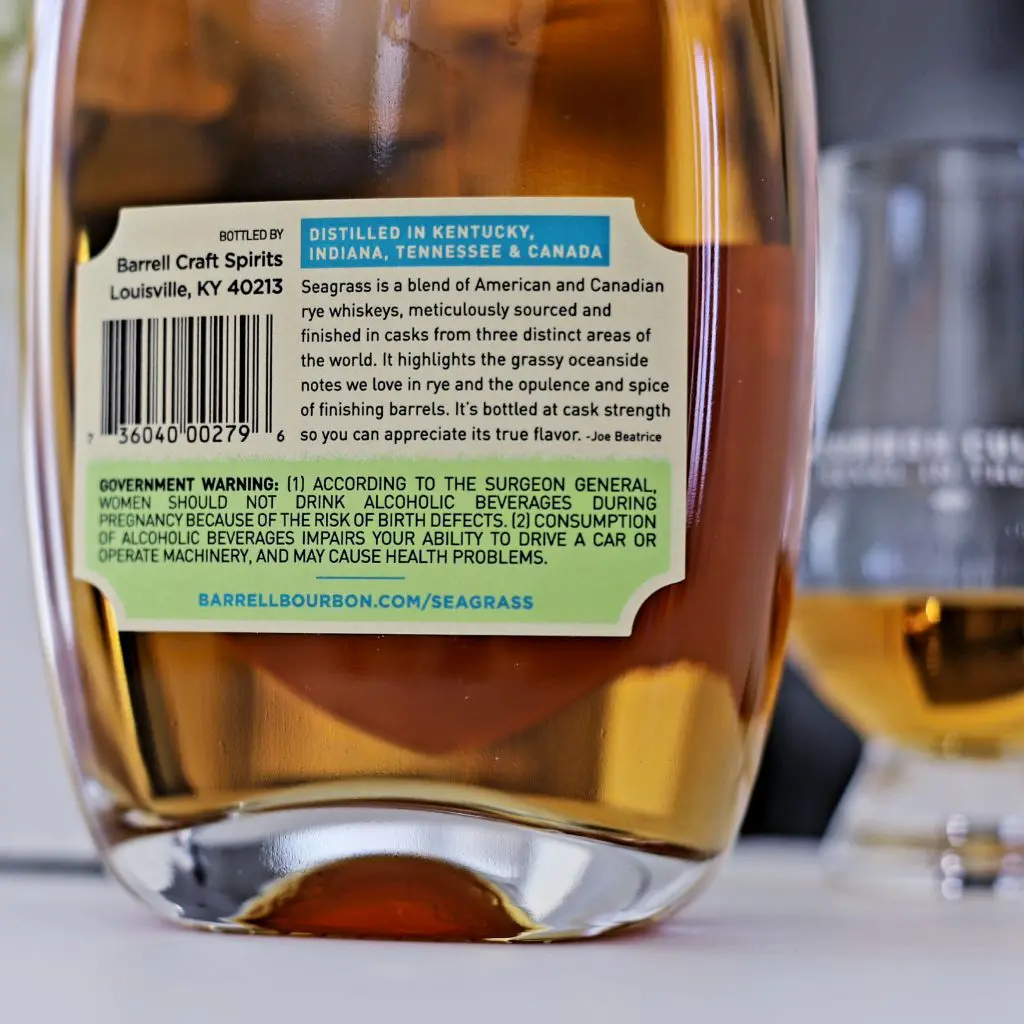 Nose: If the nose is any indication as to what the rest of the drink holds, it's going to be a fruit overload. All of these finishing casks are undoubtedly the cause of so much pineapple, orange, stone fruit, papaya and banana scents. It's almost like smelling a Tiki drink.
The rye whiskey makes itself known with an array of floral scents while I also suspect that some of the rye from Indiana gives off a buttery aroma that intersects with vanilla coffee creamer.
Palate: Not surprisingly, more fruit greets my tongue with every sip. Lush tropical fruits, cherry pie filling and sweet red berries are dominant.
Following up immediately behind it is a wave of herbal notes like mint, dill, rosemary and tarragon. I can tell that those come from the Indiana rye whiskey and Canadian rye whisky doing their part.
There's also a good amount of floral character with wildflower honey, rye spices and eucalyptus.
The sweetness in every sip is very well balanced considering the rum barrels had the potential to make it unbearable. You can pick up on the thick molasses character followed by notes of flat root beer and gingerbread. Occasionally, the heat swells in your mouth if you decide to hold it for too long, but that shouldn't be a surprise for something clocking in above 118 proof.
Finish: After the sip is complete, I'm surprised by how many notes are still able to be recognized. Of course there are the usual rye suspects of mint, menthol and pine needles.
But it still stays sweet with more of that flat root beer note hanging around as well as crystalized honey and table syrup.
There is plenty of spice by way of cinnamon red hots, but the heat doesn't take center stage as you're enjoying the aftertaste. Instead, there is a slight astringency that isn't there to ruin the party, but provides a crisp and refreshing note that makes you want to take another sip.
Score: 8.7/10
Barrell Seagrass may be one of the most impressive finished rye whiskies on the market right now. It's absolutely packed full of flavor (and a little heat).
In fact, I've found myself reaching for this bottle over the course of multiple sessions. It seems to satisfy a wide range of whiskey cravings I get.
Sometimes I want a rye, sometimes I want something fruity or sometimes I want a high-proof heavy hitter with lots of flavors. Seagrass checks all the boxes.
With summer only a few short months away, Barrell certainly picked a good time to release this product. If you can't find the time for a beach vacation getaway, then opening this bottle and taking one sniff is practically like pulling up a chair on the sand bar. Every sip is like taking a mini-vacation and this time, it's okay to forget the sunscreen.
Ratings Breakdown
1 | Disgusting | Drain pour (Example: Jeffers Creek)
2 | Poor | Forced myself to drink it
3 | Bad | Flawed (AD Laws 4 Grain BiB, Clyde Mays anything)
4 | Sub-par | Many things I'd rather have (Tincup 10 year)
5 | Good | Good, solid, ordinary (Larceny, Sazerac Rye)
6 | Very Good | Better than average (Buffalo Trace, OGD BiB)
7 | Great | Well above average (Old Ezra Barrel Proof, Old Weller Antique)
8 | Excellent | Exceptional (Michter's Barrel Proof Rye, Four Roses Barrel Strength)
9 | Incredible | Extraordinary (GTS, 13 Year MGP or Canadian Rye)
10 | Insurpassable | Nothing Else Comes Close (William Larue Weller)
Featured Products
Description:

The Aged & Ore Neat Traveler is a complete travel kit for spirits. We combined our widely praised Neat Glass with one of our 3oz Flight Bottles and housed them together in a custom EVA travel case. Perfect for a night away with your favorite pour. The tie
Description:

The Aged & Ore Bottle Flight is a premium set of 4 custom silicone wrapped glass bottles designed to transport and share samples of your favorite spirits. The flight bottles come in a custom EVA travel case that fits perfectly in any small bag. An Aged &
Description:

This Bundle combines two of our crowd favorite products, creating the ultimate travel bundle to bring along your favorite spirits and glassware. Bundle Includes: Neat Traveler (Gray) Bottle Flight (Gray) Note: This bundle is only available in gray and col
*Bourbon Culture is reader-supported. When you buy through links on our site, we may earn an affiliate commission.