*Bourbon Culture is reader-supported. When you buy through links on our site, we may earn an affiliate commission.
I recently wrote an article detailing a mysterious mashbill that many non-distiller producers (NDP's) had started to use. It contained 78.5% corn, 13% rye and 8.5% malted barley, was distilled in Kentucky and aged for 15 years. One of the first NDP's that began to offer it was Doc Swinson's in early 2020.
Online reviewers glossed over the provenance of the bourbon and generally gave it a positive reception. My article argued that just because it was from Kentucky and aged for 15 years that it was not worth the ridiculous pricetag that some NDP's were charging for it (sometimes up to $500!).
Doc Swinson's saw my article and reached out to send me a care package to encourage me to taste the whiskey for myself. I was curious about it and wanted to see if the hype was worth it. e bottle I am sampling today comes from Batch 6 of their Exploratory Cask Series of bourbon. They also sent me a sample of Batch 9 to compare it to. But for now, let's look at what this one is all about. I sampled it neat in a Glencairn.
Tasting Notes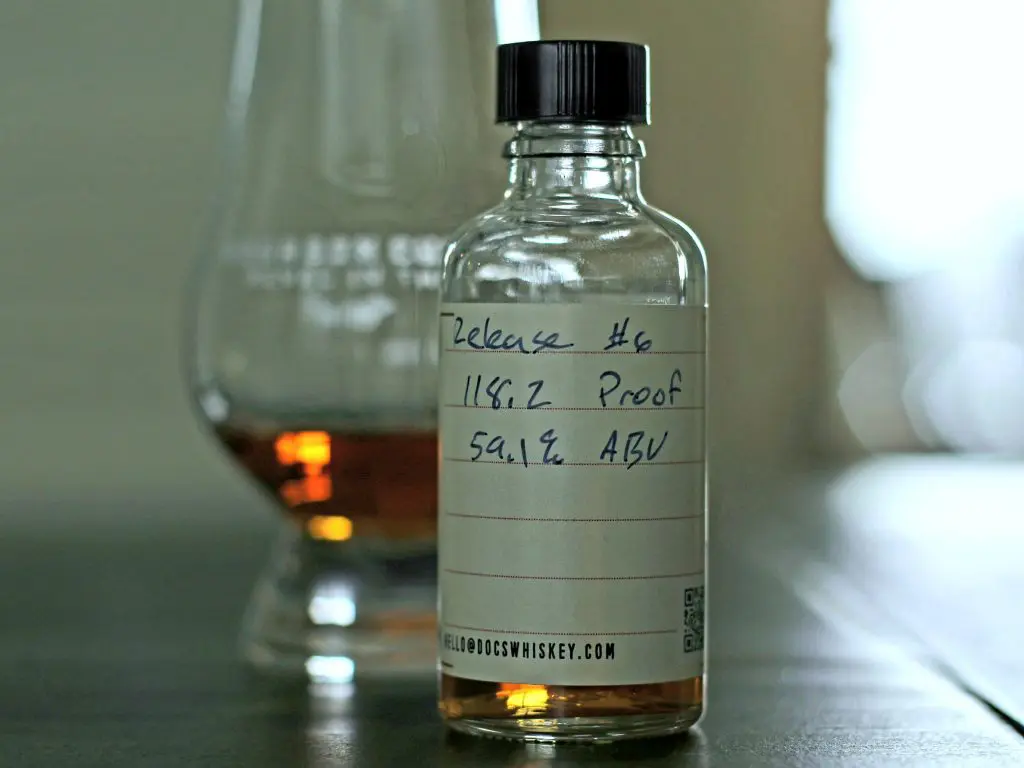 Nose: The nose has some delicious candy bar scents with nougat, peanuts and butterscotch. There's some ground cinnamon and caramel coupled with a hint of chocolate sauce. I also really enjoy the well-rounded oak scent. It's the perfect amount.
Palate: A bit of spice (red and black pepper) is noticeable first followed by caramel sauce and vanilla. There's some light fruit flavors of orange zest and cherry. The oak on the nose is just as good on my tongue as it was when I sniffed it. It's also coupled with a nice charred wood flavor.
I get the same nuttiness that I'd experience with Jim Beam products as well as notes of baking chocolate. Finally, cinnamon spice and cloves give some extra depth and hint to some of the rye character within.
Finish: Nutty flavors persist along with caramel, vanilla bean and more chocolate. There's a tiny bit of citrus zest that sets on the tongue. But more importantly, a great oak finish persists.
Score: 8.1/10
Doc Swinson's Batch 6 is a great example of a classic bourbon. Sweet, oaky and just enough supporting flavors to make it fun. Nothing is out of place and everything plays nice together. It would charm new bourbon drinkers as well as more experienced ones and I think that's the goal of any whiskey producer. It simply does all of the things very well.
If we are to assume that this bourbon is essentially batched 15 Year Old Knob Creek, then the value proposition seems poor. But Jim Beam has recently turned the tap off on all of those single barrels aged into their teens and returned to offering only 9 year old samples to customers.
This means that 15 year Kentucky bourbon at cask strength is going to become much harder to find in the near future. In reality, it was probably underpriced in the first place since most other producers are expecting about $10 per-year-aged on their distillate. Knob Creek Single Barrels were somehow managing around $3 per-year-aged for the really old ones. So it was only a matter of time before something was done to correct this market anomaly.
To sum it up, it's a shame to see one 15 year-old bourbon disappear only to be replaced with what tastes like the same thing at a higher price. But the fact remains that the market is full of poor whiskey offerings priced around $100 to $150 these days.
Doc Swinson's 15 year bourbon is at least guaranteed to offer you a great bourbon for that price if you decide to buy it. That's certainly more than can be said about most other NDPs these days.
Ratings Breakdown
1 | Disgusting | Drain pour (Example: Jeffers Creek)
2 | Poor | Forced myself to drink it
3 | Bad | Flawed (AD Laws 4 Grain BiB, Clyde Mays anything)
4 | Sub-par | Many things I'd rather have (Tincup 10 year)
5 | Good | Good, solid, ordinary (Larceny, Sazerac Rye)
6 | Very Good | Better than average (Buffalo Trace, OGD BiB)
7 | Great | Well above average (Old Ezra Barrel Proof, Old Weller Antique)
8 | Excellent | Exceptional (Michter's Barrel Proof Rye, Four Roses Barrel Strength)
9 | Incredible | Extraordinary (GTS, 13 Year MGP or Canadian Rye)
10 | Insurpassable | Nothing Else Comes Close (William Larue Weller)
Featured Products
Description:

The Aged & Ore Neat Traveler is a complete travel kit for spirits. We combined our widely praised Neat Glass with one of our 3oz Flight Bottles and housed them together in a custom EVA travel case. Perfect for a night away with your favorite pour. The tie
Description:

The Aged & Ore Bottle Flight is a premium set of 4 custom silicone wrapped glass bottles designed to transport and share samples of your favorite spirits. The flight bottles come in a custom EVA travel case that fits perfectly in any small bag. An Aged &
Description:

This Bundle combines two of our crowd favorite products, creating the ultimate travel bundle to bring along your favorite spirits and glassware. Bundle Includes: Neat Traveler (Gray) Bottle Flight (Gray) Note: This bundle is only available in gray and col
*Bourbon Culture is reader-supported. When you buy through links on our site, we may earn an affiliate commission.