*Bourbon Culture is reader-supported. When you buy through links on our site, we may earn an affiliate commission.
In the fall of 2020, Barrell Craft Spirits finally released a bourbon batch that contained wheated bourbon in the blend (Batch 025).
I had my suspicions that they had done this before with a New Year's edition, but Joe Beatrice said in the press releases that this was the first time. I was curious if the wheated bourbon that was sourced was all from Barton (essentially, 1792 Sweet Wheat) or if any of MGP's new wheated bourbon mashbill made the cut.
In the end, I was fairly sur it was all from Barton but adding it into the blend helped improve mouthfeel and released even more fruit notes than you'd find in a typical batch of Barrell Bourbon.
Now Barrell has came out swinging with the first release of 2021 (which was technically released at the end of 2020) with another Batch that contains wheated bourbon in the blend.
What interests me the most is that Barrell claims that the base started with a fruit-forward 6 year Dicke…err, Tennessee Bourbon.
While most of you may not bat an eye at this, it indicates that Barrell has possibly commissioned Cascade Hollow to distill barrels just for them just like it seems they have done with MGP (which is where the 5 year old bourbon in this blend comes from).
They add on their usual suspects of 9, 13 and 15 year old barrels that they typically use in other batches as well. I know I brush this off like it's nothing, but in the world of sourced and blended bourbon, using such old barrels is actually pretty cool of them to keep doing.
Barrell's website indicates that this batch is a cherry bomb. While some of my readers already know that Barrell strives to highlight a particular trait in each of their batches, you may be surprised to find out that "Cherries" have not yet been a profile characteristic that they've ever concentrated on.
But it is a classic note in many whiskies out there, so this should be fun to explore. With that being said, let's dive in! Batch 027 was sampled neat and in a Glencairn.
Tasting Notes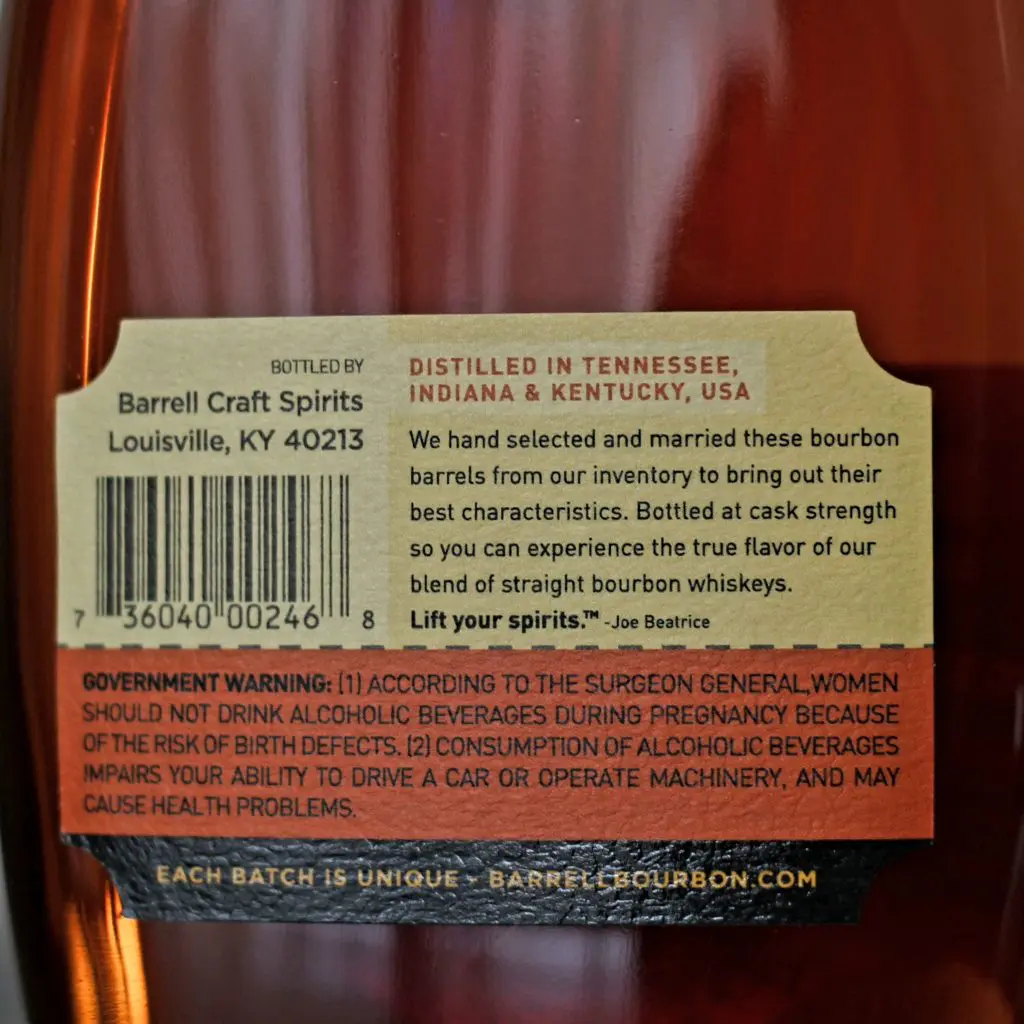 Nose: This starts off with some fantastic seasoned oak scents as I let the glass breathe some. I detect golden raisins soaking in syrup.
Fresh sliced Tangelo oranges. A little bit of Planter's honey roasted peanuts and slightly burnt toffee. Then there are some slight floral notes like wildflowers and cherry blossoms.
The 13 and 15 year old barrels seem to be making a splash on the nose with some light incense and cedar cigar box as well. It's extremely nuanced and deep.
Palate: Liquid cinnamon is at the forefront followed by melting cherry cordials. This must be the cherry notes that Barrell mentioned.
But the cherries are not the only fruits that are here to party. Caramel apples, plums, nectarines, bee pollen and dates all add an incredible array of fruit that I was not expecting.
The rye-heavy barrels of bourbon that were used seem to be generating a lot of gingerbread flavors and also some firey heat in the form of chipotle pepper, siracha and Saigon Cinnamon.
The heat straddles the line between hot and smoldering but is perfectly balanced. I'm detecting some notes of leather as well, which is a telltale Barton note that must be coming from the wheated bourbon.
The chocolate of the wheated distillate and the mint of the ryed distillate join together to also create notes like eating a York Peppermint patty. It's insane how many flavors I was able to pull out.
Finish: The finish kicks things down a notch with the high-rye effect of cooling menthol after the sip is complete. There's also a note that is somewhere between Cherry Coke and Grape Kool-Aid. Lemon, raspberry and honey all combine to still make the finish fruity and sweet at the same time.
However, the notes of sour oak, crushed stone and multivitamins is hard to look past and takes away from the finish just a bit. They're not bad, but they're just different from what I was expecting for such a fantastic blend up to this point.
Score: 8.2/10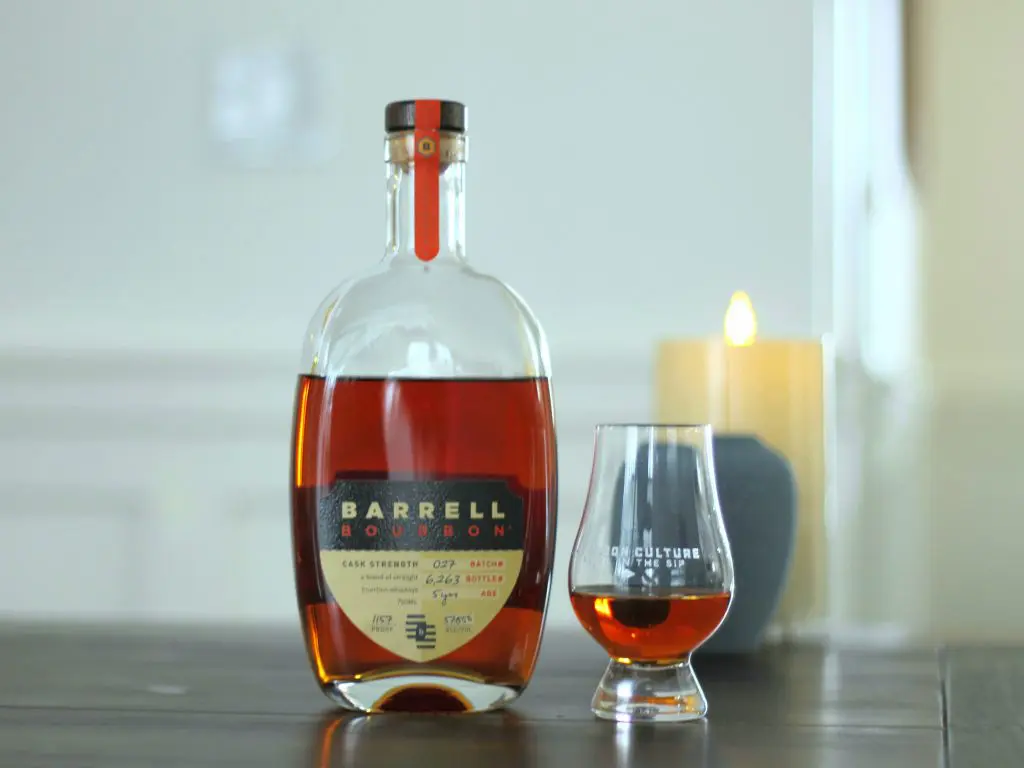 Batch 027 came out swinging right away. The nose was simultaneously bright and fruity while still maintaining some robust tannic notes.
The palate exploded into a huge array of fruits while highlighting the cherry that was promised. The heat was also nicely integrated like Barrell tends to do.
It was also fantastic to notice the interaction taking place between the notes that the ryed-bourbon provides versus those that the wheated bourbon provides.
I've heard of many people using the words "Four Grain Mashbill" to describe this one, but that's not how I view this at all. A Four Grain Mashbill almost has both grains fight each other for dominance and many times will fall flat.
Barrell's methods of blending two separate mashbills that were allowed to age independently and establish their own traits seem to be far superior.
The flavors and aromas take turns allowing the drinker to experience their traits one at a time if they choose. And this is why it's such a superior blend.
Final Thoughts
The finish was the one area that I felt could be improved upon just a little bit. I have no doubts that the Tennessee Bourbon helped to impart a large amount of the other fruits in this blend, but I am saddened that it sometimes imparts the crushed stone and vitamin minerality in the end.
Many times, these two traits do not bother me at all. Some nights I go straight for an old Barrell batch just to experience the knockout tastes that those can provide; vitamins and all.
But if you can accept that you're gonna run into a little bit of this while drinking Batch 027, I think you'll really be happy with what you can find.
Ratings Breakdown
1 | Disgusting | Drain pour (Example: Jeffers Creek)
2 | Poor | Forced myself to drink it
3 | Bad | Flawed (AD Laws 4 Grain BiB, Clyde Mays anything)
4 | Sub-par | Many things I'd rather have (Tincup 10 year)
5 | Good | Good, solid, ordinary (Larceny, Sazerac Rye)
6 | Very Good | Better than average (Buffalo Trace, OGD BiB)
7 | Great | Well above average (Old Ezra Barrel Proof, Old Weller Antique)
8 | Excellent | Exceptional (Michter's Barrel Proof Rye, Four Roses Barrel Strength)
9 | Incredible | Extraordinary (GTS, 13 Year MGP or Canadian Rye)
10 | Insurpassable | Nothing Else Comes Close (William Larue Weller)
Featured Products
Description:

The Aged & Ore Neat Traveler is a complete travel kit for spirits. We combined our widely praised Neat Glass with one of our 3oz Flight Bottles and housed them together in a custom EVA travel case. Perfect for a night away with your favorite pour. The tie
Description:

The Aged & Ore Bottle Flight is a premium set of 4 custom silicone wrapped glass bottles designed to transport and share samples of your favorite spirits. The flight bottles come in a custom EVA travel case that fits perfectly in any small bag. An Aged &
Description:

This Bundle combines two of our crowd favorite products, creating the ultimate travel bundle to bring along your favorite spirits and glassware. Bundle Includes: Neat Traveler (Gray) Bottle Flight (Gray) Note: This bundle is only available in gray and col
*Bourbon Culture is reader-supported. When you buy through links on our site, we may earn an affiliate commission.