Hey y'all! Since this is my first article, figured I'd start with an intro. My name is Henry. I've been a West Coaster my whole life; 27 years. I've been into bourbon for about 2 of those years.
Recently, I picked up and moved cross country – yes, during COVID. I was responsible, I swear.
On the way, I stopped at a bunch of liquor stores and a few whiskey bars. The guys at Bourbon Culture wanted me to detail what my journey was like and how whiskey buying changes from state to state.
My story won't have any reviews of whiskey in it, so rest easy. But consider this us getting to know each other.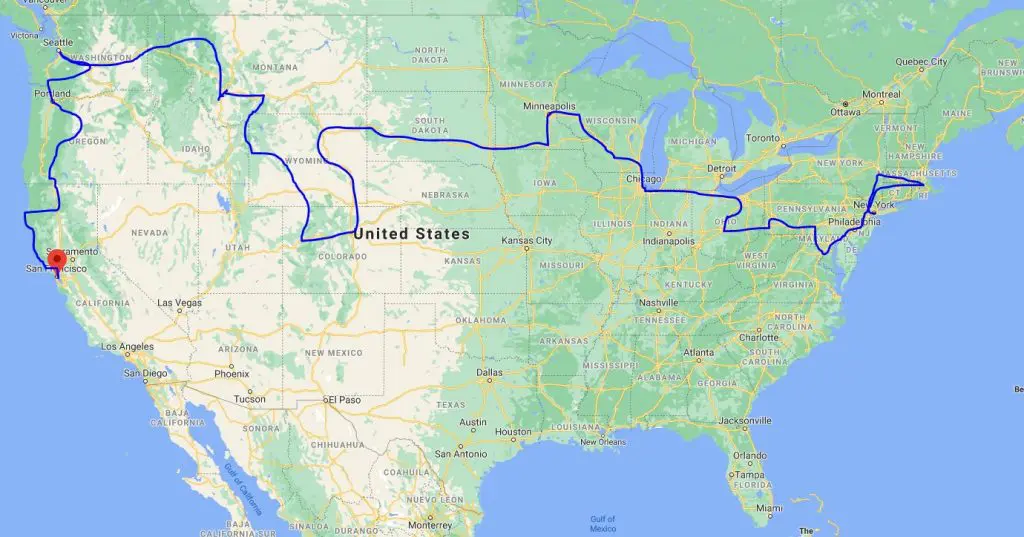 The Start
On July 11, 2020 I packed a suitcase and 12 whiskey bottles in a GMC Terrain and headed north on the 1. If you have a chance to do the windy, California coast drive sometime in your life – take it. It's hard to describe the feeling of taking a hairpin turn 100s of feet above crashing waves with nothing but mountains and oceans in sight.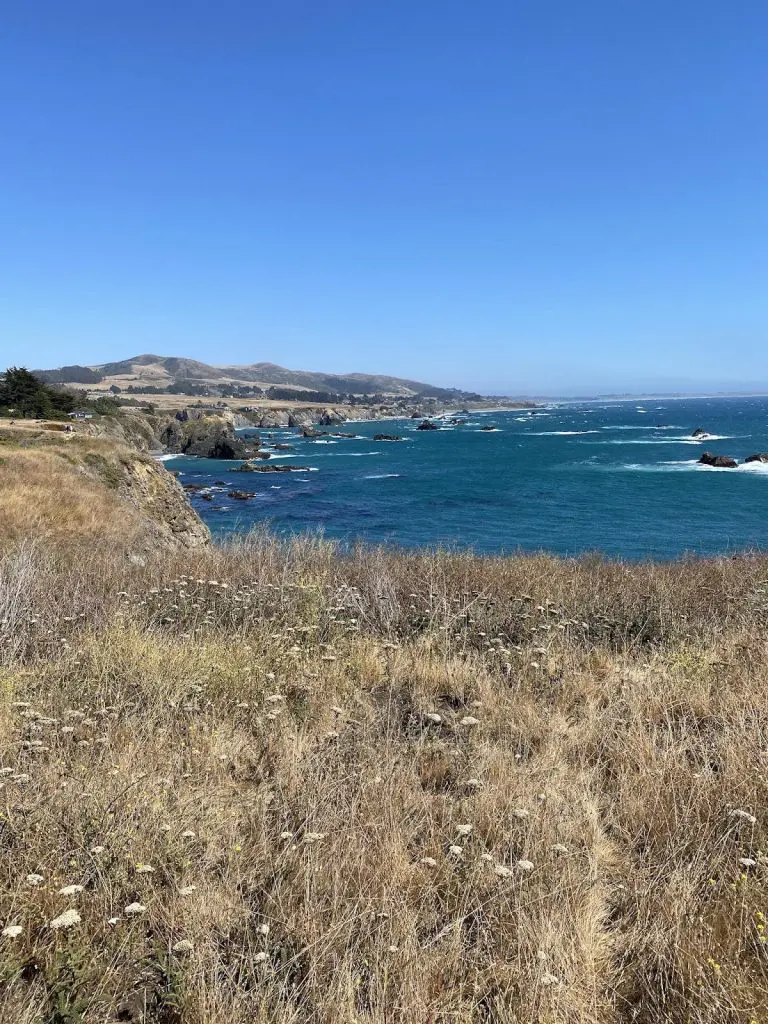 In California, we're blessed with access to just about every great bourbon. Stores like Total Wine, Bevmo, KL, and a bunch of fantastic locals keep prices low and make it easy to access store picks of bourbons that are hard to find elsewhere.
But universally, the gems remain pretty much inaccessible. Good luck finding Rock Hill Farms (RHF) or Elmer T Lee (ETL) on the shelves, let alone Pappy van Winkle or any other famous limited edition bottle.
Still, I held out hope of finding local honey holes. Or at least meeting a couple characters. And in the state of CA, I succeeded twice.
My first memorable stop was at Beverage Plus in Fortuna, CA. It had stocked shelves and great prices. But most importantly, it has a friendly owner who was more than willing to take the time to help out a customer looking for something special. I didn't end up getting any bourbon, but I did get a business card and make a friend. I'm told they ship within CA, so if you're in the market for something fun, check them out!
It was at the Liquor Barn in Redding that I made my first score.
Here's the thing about CA. Once allocations are made, prices can be set however the retailer likes. Finding that sweet spot between suggested price and "hey, I'd be willing to drink that" is always a challenge.
I walked into Liquor Barn and immediately turned towards the glass case. Saw the usual suspects. Yamazaki 18 for $700. George T. Stagg (GTS) 2019 for $500. Pass.
My eyes drifted lower and caught an Elmer T Lee. $300. Yikes. But wait, there was a bit of extra writing on the bottle. What did that say?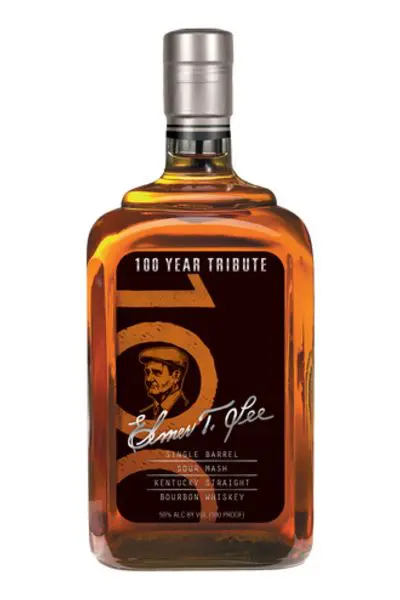 Boom! 100 year tribute, which I had heard was fantastic. I made the quick mental calculation and decided the price tag was worth it. A subsequent bottle crack confirmed that choice. I know, I know, I promised no reviews. So suffice to say that – even for someone doesn't like regular ETL – somehow the extra 10 proof points turned this bottle into something special.
The Untamed North
My journey north, naturally, took me from California to Oregon. My first stop was Crater Lake. It's flat out a must see. A collapsed volcano filled with snowmelt. Eerily quiet. Chilly despite it being the middle of summer. Serene.
From there, I hit Bend, Mt. Hood, and Portland. In addition to enjoying the beauty of Oregon's countryside, my attention turned towards whiskey.
Oregon is great when it comes to bourbon. The state controls allocation and inventories are updated online. Even better, prices are regulated. While the rarest items are saved for Oregon residents via lottery (fair enough), the system makes it easy to locate middle-tier rarities.
Thus explains how I was able to find three separate Four Roses Private Selections in Bend, Oregon. A particularly fun find was an Oregon Bourbon Connoisseurs pick. How could I pass up a pick from a group name like that?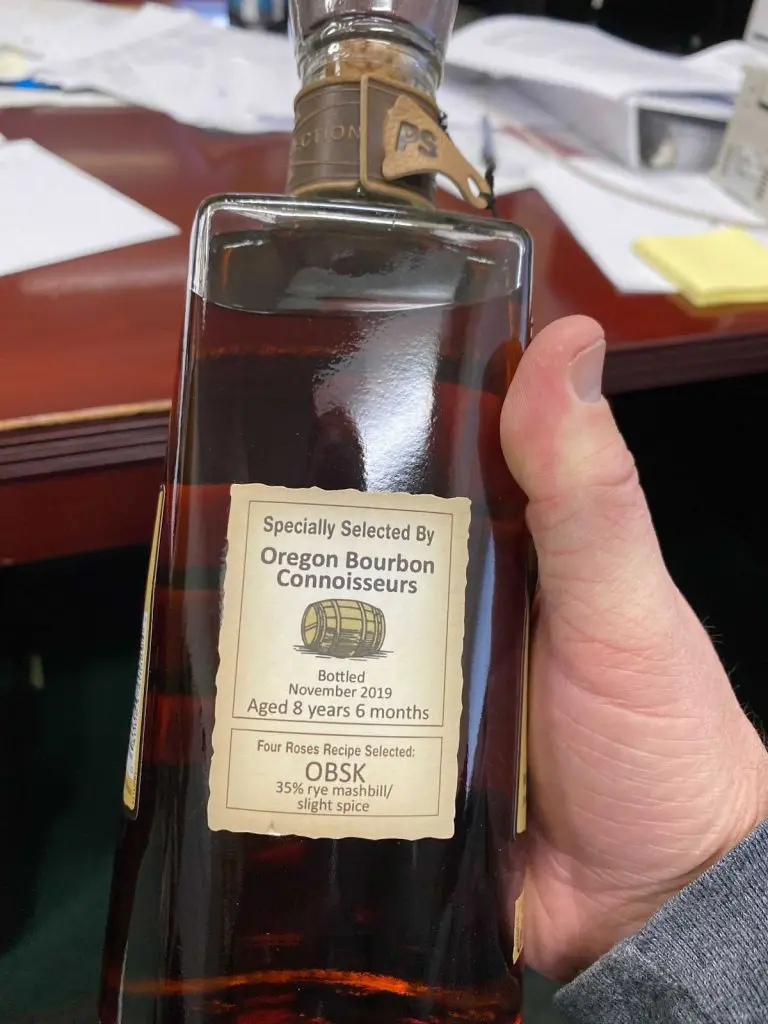 Another bottle worth giving a shot is Oregon's local McCarthy's Peated Single Malt. It's always an experience trying new things, and a Pacific Northwest peated single malt falls squarely into that bucket.
In Portland, I explored perhaps the bourbon world's best kept secret, and most fantastic bar: Interurban. I'll let the lineup speak for itself.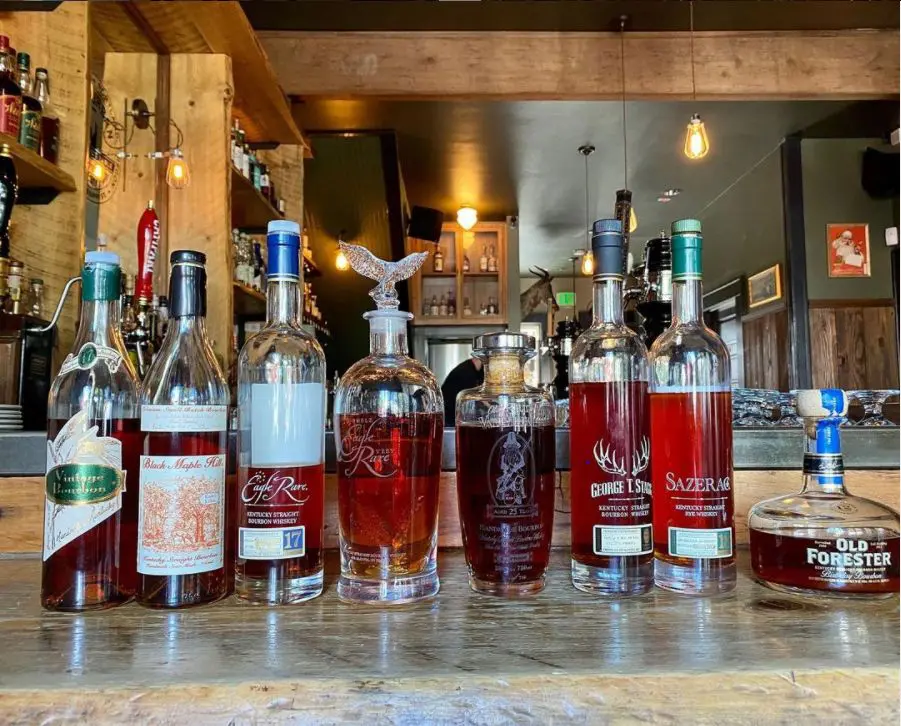 So yeah, I'd recommend a visit.
From Oregon to Washington. Look, Mt. Rainier was gorgeous and Seattle is an incredible city. I get why Washington is a mecca for the outdoors. But bourbon? Washington ain't your spot.
It's not the lack of selection. Washington has Total Wine, alcohol at Costco, a bunch of great locals. It's the tax! Washington's got a 20.5% Spirits Tax on all liquor purchases. I distinctly remember rushing to Total Wine to pick up an M10 Rye I heard about, only to find out the all-in cost was more than secondary!
So while you may find some 'great deals' as compared to secondary for the rarest products, it's no wonder that residents close to the border run to Oregon's Stateline store for their daily drinkers.
As far as Washington and Bourbon? Pass. (and here's where you can comment about how wrong I am because of a great local or bar that I totally missed).
The Big Time National Parks
I picked up from Seattle and drove for about 11 hours eastward all the way through Idaho to Glacier National Park.
Idaho's a fun bourbon state. Similar to Oregon, everything is regulated and controlled. Even better, there's plenty of rare bourbon to go around. I walked into multiple state stores that had Elijah Craig 18 and Old Weller Antique just sitting on the shelves.
I ended up walking out with 3 different Idaho Knob Creek 15-year picks, all of which have proven to be quite tasty. Not sure you can go wrong with any of those picks at $60.
After Idaho, it was on to Montana.
Like with Washington, I can't say too many great things about Montana bourbon-wise. The state gets small allocations of rarities and is responsible for distributing to stores, but doesn't offer any regulation when it comes to pricing.
What that means is a few stores near the bigger cities (Whitefish, Bozeman) get the limited allocation products, but then price them way over secondary. And they sell! I saw a GTS '19 go for $900.
The worst thing I saw in Montana was a store in Missoula that had an Elmer T Lee Death Bottle and TWO old label 101 proof Eagle Rare 10's sitting in the window…in the sun…not for sale…ugh.
I did have a near-score of Weller Single Barrel for $50 in Whitefish at a small boutique, only to be told that the bottle was sold the week prior despite still being in the system.
Maybe there are some special picks, maybe locals get special pricing, I couldn't say. But for me, Montana and bourbon was a total miss.
Luckily, what Montana lacks in bourbon it more than makes up for in sheer natural beauty. If you're into hiking, Glacier National Park might be the most gorgeous place in the United States. I managed 23 miles in one day and earned some of the most breathtaking views of my life. Once more, I'll let a few pictures say what I can't.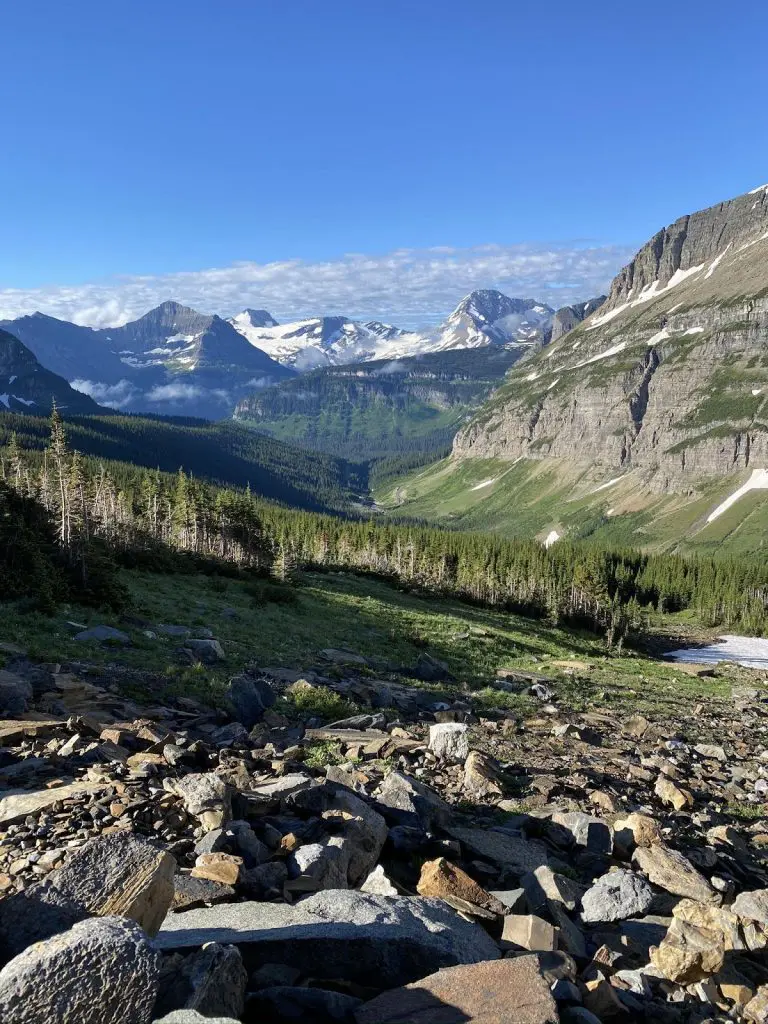 With Glacier National in the books, I drove down through Big Sky all the way to Jackson Hole. From there, I did the full circuit of the Grand Tetons and Yellowstone. That circuit was another series of mind-blowing views and pictures. Also, a quick shout-out to Nancy Fraley's next project, Wyoming Whiskeys. While I'm a big fan of her Joseph Magnus work, particularly Cigar Blend, I had a chance to try the basic 4 year rye in Jackson Hole and…wasn't particularly thrilled by it. Maybe Outryder will taste better?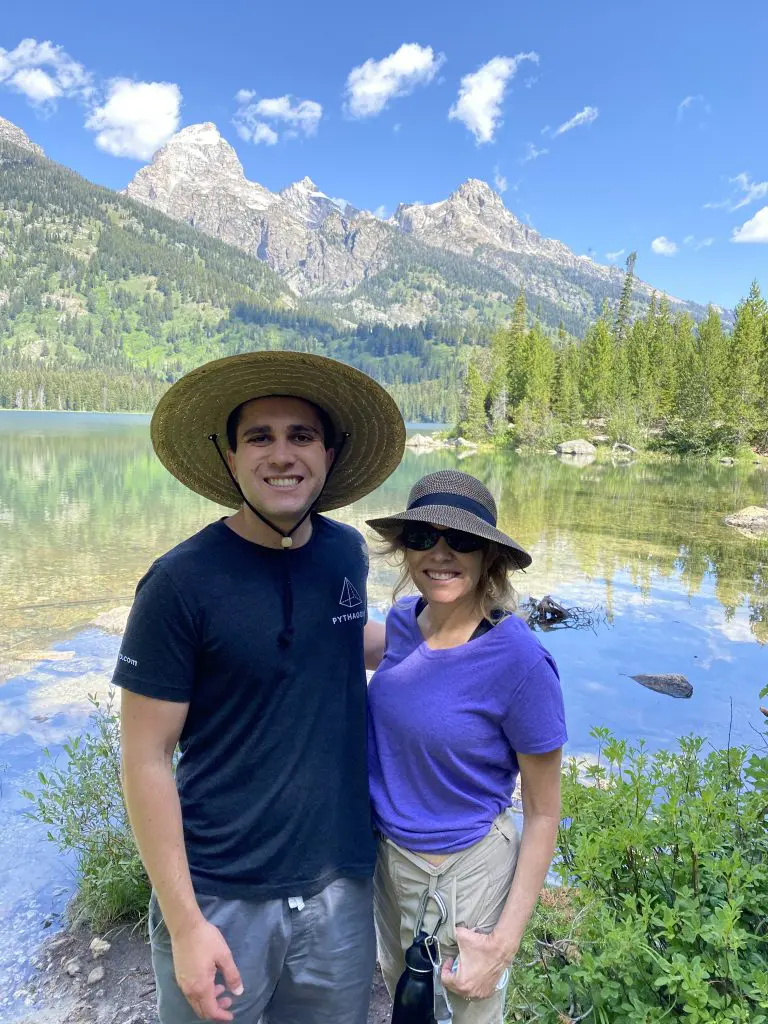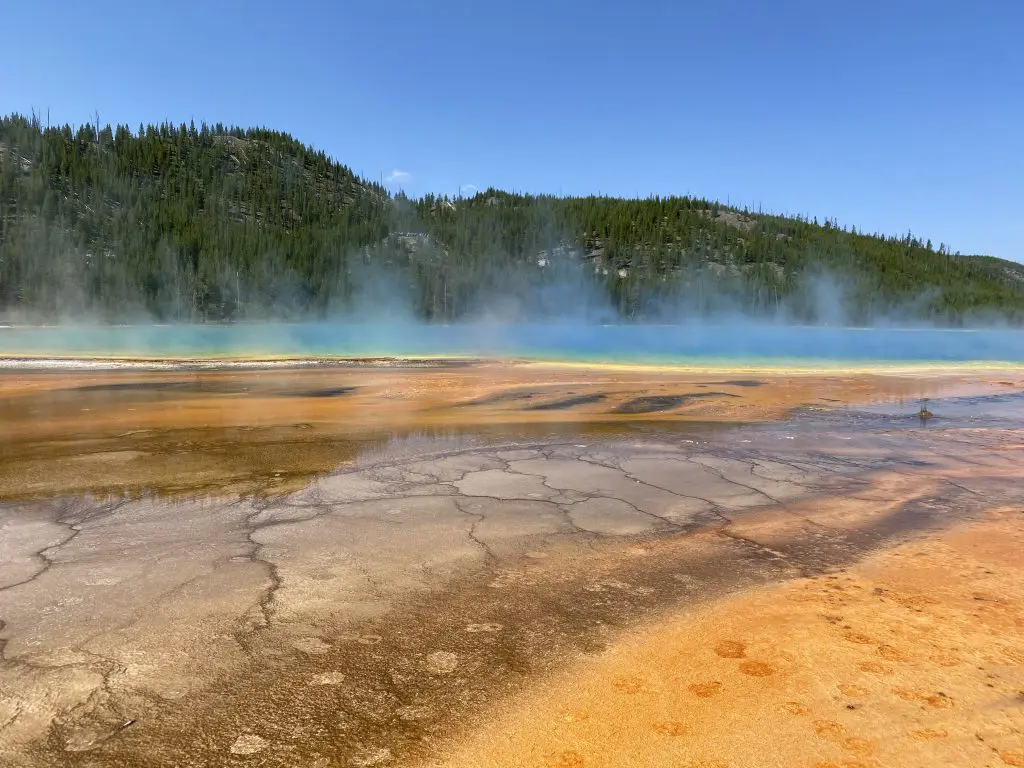 Perhaps the most incredible part of Yellowstone was watching Old Faithful erupt while sipping on some luxury. That's stuff of dreams.
I love bourbon because you never know where you'll find another fanatic. When I mentioned to my mom that I had just drank GTS '13, and was pouring Michter's 20 (M20) 2018 into the same Glencairn, a guy turned around and shouted "don't you dare!"
I only had one glass on me! Sorry man!
Deviation South
The best part of traveling solo and without an itinerary is calling audibles. While the initial double-back South to Yellowstone was planned, when I found out my buddy down in Denver would be free for a week, I knew I had to head even further South to say hi.
There aren't many feelings like the one you get driving through Wyoming and seeing…nothing… for miles, and miles, and miles. What the Settlers must have thought, I'll never know. Hell, there was even a point where the national highway turned unpaved! That was a shocker for this California boy.
On the way, I stopped by a fantastic liquor store in Pinedale, WY known for its store picks: Country Lane. Turns out, Wyoming is much like California in terms of how the state allocates and prices. At Country Lane, I inquired about rarities and was able to speak to the owner – a great gentleman who knows plenty about whiskey and tries to save his best product for his drinking customers. I was able to pick up the last of his Four Roses Private Selection 10 year OBSF for ~$70. Oh, and no state tax! Sir, you're running your store the right way!
I continued on down to Aspen, where I posted up for a few nights. There wasn't much for cheap bourbon sales (shocker for a resort city, I know) but I found my second best bourbon bar in America: Acquolina (and its sister spot, Duemani).
At Acquolina, in addition to a fantastic steak, I found a 20 page whiskey list with prices straight from 2015. I had 1.5oz pours of E.H. Taylor Seasoned Wood for ~$45, 2016-18 GTS, Thomas H Handy (THH), and William Larue Weller (WLW) for ~$30-40, and '14 M20 for ~$100. Over multiple nights, of course.
From Aspen it was east across the Top of the Rockies and down into Denver. Funny that you can head down into the Mile High City!
I spent most of my Denver time with my friend, as one should, so unfortunately didn't get to hunt too much. But it's worth shouting out that Denver seems to have an incredible selection of liquor stores – from Total Wine to Argonaut to Molly's to locals – that offer tasty store picks and have fair processes for selling their allocated bourbons. Not to mention Stranahan's is there!
Back North and Eastward Once More
From Denver it was north again to Devil's Tower, another natural wonder of America. 867 feet of rock jutting out of the middle of the ground. Breathtaking. Truly otherworldly, as Close Encounters of the Third Kind posited.
After the Tower stop, it was eastwards to Rapid City, and then another 10 hour east day to Minneapolis. Not much bourbon hunting happened in this stretch. Turns out South Dakota, another state like California in terms of allocation and pricing, had actually seen reduced deliveries with COVID. Stores were lacking even the shelfers. It was also early August by this time, so there wasn't a ton of LE bourbon being allocated to begin with.
One thing I should note: for a state that gets overlooked seemingly always, South Dakota has a lot worth seeing. There's the obvious candidate with Mt. Rushmore, but there's also Pinnacles National Park, Wind Cave National Park, and the barren and desolate Badlands. The Badlands in particular brought me another moment of thinking, "what in the world would I have done if I was a Settler and saw this monstrosity before me?"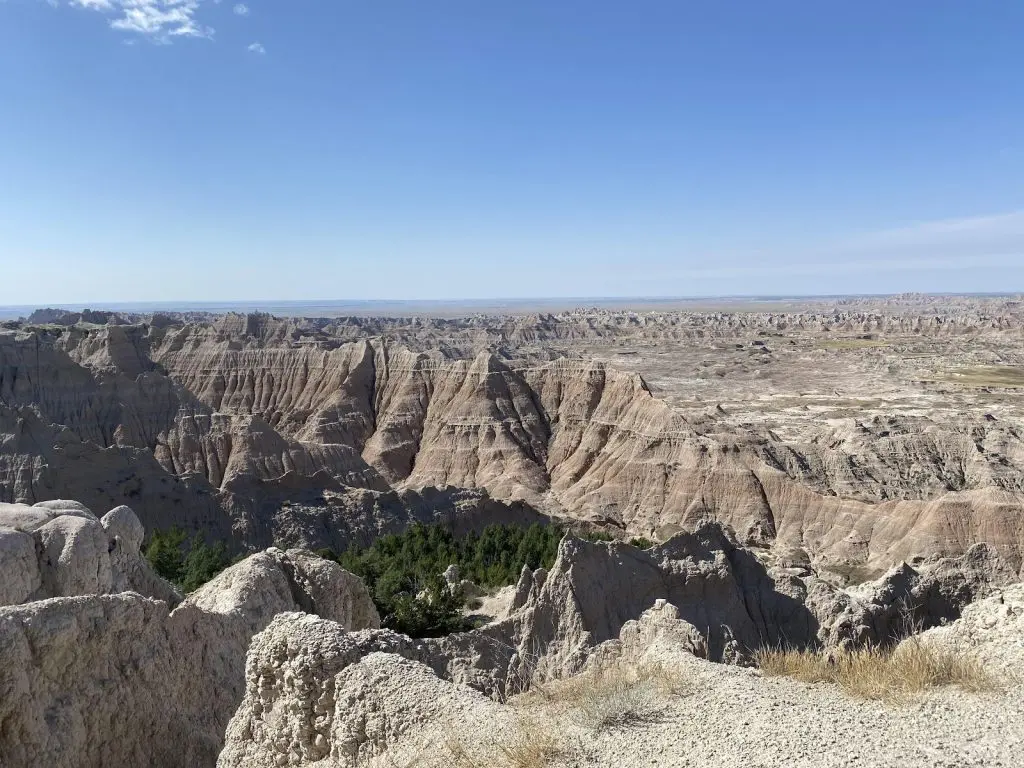 The Midwest
Starting in Minneapolis, I turned my attention back towards whiskey. Minnesota is yet another one of those states where allocations go out and retailers can do what they like. Luckily, like SF and Denver, the city has plenty of big box stores and local shops with their minds right.
My favorite store in the greater Minneapolis area is, without a doubt, Ace Spirits . They've got incredible picks, incredible prices, friendly staff, and a smart way of selling their allocated stuff (sometimes randomly on the floor, rest of the bottles through lottery at MSRP).
I didn't get lucky with an allocated bottle there myself, but I did spend 20 minutes shooting the shit with an Ace employee who clearly knew his stuff. He even mentioned they'd usually offer samples of their picks to customers (and I offered him samples of the 20-30 odd bottles in my Terrain), but … COVID.
I'm pretty sure Ace ships nationally, so feel free to give their barrel picks a look if you want to support local!
From Minneapolis, I went to Milwaukee (not much to say about Wisconsin bourbon, picked up a couple of 10 year Russel's Reserve picks) and then to Chicago.
Chicago is the bourbon big leagues without a doubt. Everyone in the community knows about Binny's and Warehouse Liquors. Another city where, despite IL laws giving retailers the ability to set their own prices, there are some shops that know how to do bourbon right and do it damn well.
Here's the unfortunate hiccup for me: I showed up right during the second series of riots. I remember waking up, driving to Binny's for an early morning hunt, and slowly piecing together that all the glass on the ground probably meant Binny's wasn't going to be open.
My visit to Warehouse was even more of a bummer. Gene was dealing with yet another shattered window (despite the store being boarded up). Suffice to say, I chose to offer my condolences and depart instead of trying to network something out of the back.
One big win for me out of Chicago: finding TWO separate Charbay IIIs on closeout at Binny's for ~40% off MSRP. Not quite bourbon, but I'll take it! I've since moved one to a friend and both have been cracked. Hops on the palate, weed on the finish (hey, it's legal in California). Now THAT is a wild whiskey.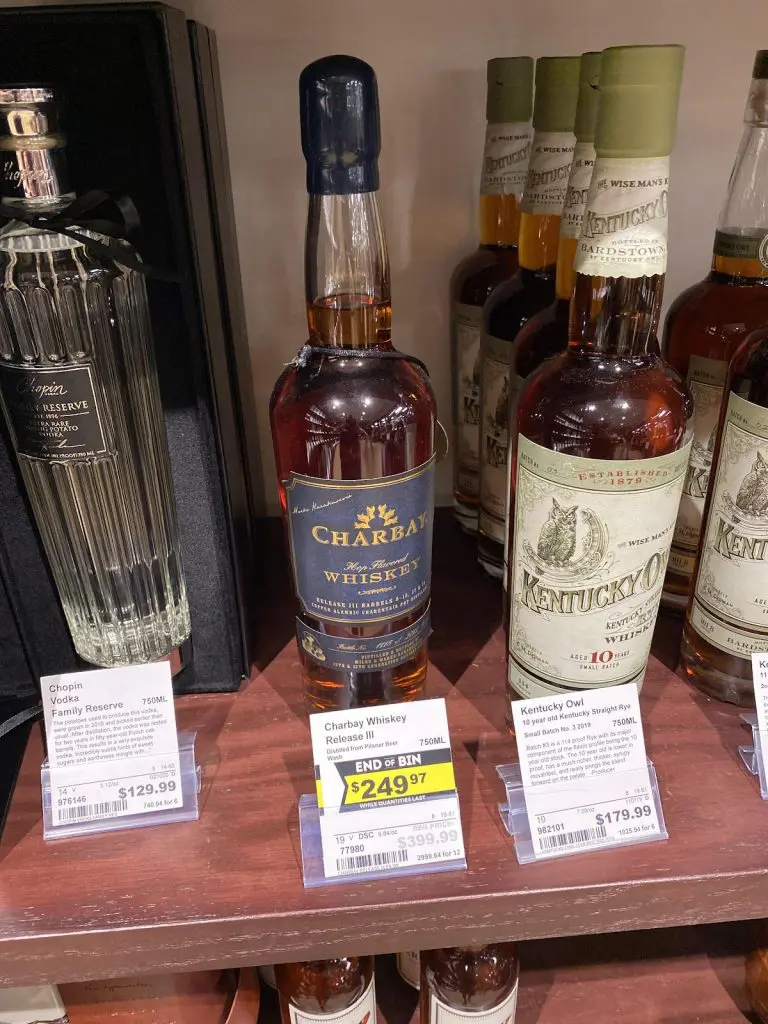 After Chicago, It was onward through Ohio and Pennsylvania. Both are pretty interesting states when it comes to how they sell whiskey.
Ohio is similar to Oregon and Idaho. They're fully regulated, the store stock is online and the best stuff is all by lottery at MSRP for in-state residents only. By all means, they probably do it right. But lord does that make it tough to hunt. Especially because, and I've heard this is the case with many stores in allocated states, store owners clearly have their favorite customers. So when the rare-but-not-lottery stuff does come in, you can be sure it's them – not you – who's getting it. This was particularly evident in Columbus, where a few whiskey fans told me as much.
In normal times, Pennsylvania is the same as Ohio and Idaho and Oregon. But COVID isn't normal times. And for COVID, Pennsylvania had chosen to move all their liquor drops online at random. We're talking verifiably RAINING Weller and E.H. Taylor.
Weller 12, Weller Full Proof (WFP), and Weller Single Barrel all dropped online. E.H. Taylor Barrel Proof, Amaranth, and 18-yr Marriage did as well. There was even controversy when Michter's 20 and Double Eagle Very Rare dropped online – then were stripped from buyers and placed back into a PA lottery, along with PA's other limited edition bourbons.
I myself was lucky enough to grab 2 Weller 12s, a WFP, and an E.H. Taylor Amaranth. Don't worry readers. One Weller 12 has been cracked, the other given away in a charity raffle. The WFP has been cracked. Only the Amaranth remains closed.
Closing Out The Trip
I journeyed through Pennsylvania to Washington DC. From there I went up through Philly and Jersey to Boston and back down to New York City, where I sit typing this article now.
I could share with you all the fun details of that leg of the journey. I had a blast. But this is a whiskey article, and frankly, there wasn't much whiskey to be had.
DC, Jersey, and Massachusetts all allow retailers to set their own prices. I know that Jersey and Massachusetts have some great spots (Wegmans, Bottle King) where you can find rarities at cheap prices if you're lucky. But the timing just wasn't right for me.
DC is a whole other beast. While it has shops and bars that are certainly of note – Prav Saraff's West Dupont Wines, Jack Rose to name a couple – it's tough to find good bourbon at fair prices anywhere in the area. And who can blame the shops? Foreign dignitaries are more than happy to legally purchase Pappy at 1.5x secondary, and it's legal for DC stores to procure bottles off secondary then resell it. That's Capitalism in action, baby.
Settling Down In New York
On September 11, 2020, 8,000 miles later, I arrived in NYC. When I arrived, I took a count. At one point, I had ~50 bottles in my car for friends and family. I arrived in NYC with ~10 (note: the count is up to ~40 already, whoops).
The big trip is over, so what's next for me? Well there's the whole "live your life" part of that question – I've been loving New York so far. Even during COVID, this city has so much life compared to anywhere else. And I consider myself an authority on that subject.
But what about bourbon?
Let's start with hunting. Reality: NYC ain't great. I want to shout-out a few incredible local shops and owners who will do things like sell at MSRP, raffle rarities, and sell bottles for charity.
58 Wine and Liquor (Shawn Kim)
Blue Streak Wine and Spirits (Rob Bralow)
Wine Cellar Oceanside (Hasan Balkas)
Bansum Wine & Liquor (Neet Singh)
I've sort of accepted that outside of showing up at the right time and bombing a local with a cash offer, the LEs are out of reach. But hey, I've got more than enough bourbon already. And bourbon ain't all about the LEs. Another shout-out to those 15 year KC picks.
And what about tasting new bourbons?
I love that the bourbon community is all about getting to know people. NYC is that vibe on steroids. I've already had the pleasure of making the (virtual) acquaintance of multiple generous bourbon aficionados, and with them swapping samples and stories and bars to hit. Here's a quick list of the bars/restaurants I recommend supporting (pricing may vary):
Uptown Bourbon (Andrew Castelli)
Analogue (Jared Gordon)
Gold Bear (Jared Gordon)
BLVD Wine Bar (Rob Bralow)
Travel Bar (Mike Vacheresse)
Brasserie Persil (Hasan Balkas)
Bottom line, the NYC bourbon community is pretty strong and I'm excited to venture into it. But I didn't move here for the bourbon community. I moved here because it's NYC!
And to that sentiment, cheers to you reader. Thanks for reading!
Featured Products
Description:

The Aged & Ore Neat Traveler is a complete travel kit for spirits. We combined our widely praised Neat Glass with one of our 3oz Flight Bottles and housed them together in a custom EVA travel case. Perfect for a night away with your favorite pour. The tie
Description:

The Aged & Ore Bottle Flight is a premium set of 4 custom silicone wrapped glass bottles designed to transport and share samples of your favorite spirits. The flight bottles come in a custom EVA travel case that fits perfectly in any small bag. An Aged &
Description:

This Bundle combines two of our crowd favorite products, creating the ultimate travel bundle to bring along your favorite spirits and glassware. Bundle Includes: Neat Traveler (Gray) Bottle Flight (Gray) Note: This bundle is only available in gray and col
*Bourbon Culture is reader-supported. When you buy through links on our site, we may earn an affiliate commission.