*Bourbon Culture is reader-supported. When you buy through links on our site, we may earn an affiliate commission.
It's no secret that I was not a fan of Barrell Bourbon Batch 028. Whatever the reason was, it just didn't click with me in the way the previous 3 batches did (2020 was an amazing year for Barrell).
Most people may say that all Barrell tastes the same and nothing was that was far off, but this simply isn't true. Batch 028 was an extreme oak bomb that smothered most flavors and was much more bitter than I've experienced with Barrell products of yore.
Barrell Batch 029
Barrell 029 looks back to the success of previous batches by using some younger distillate to balance out the mix.
MGP bourbon (no mention of the age was given) serves as the base for this blend while 6 and 7 year old Kentucky Bourbon (with rye as the small grain) have also been added in.
Both of those are blended together with 9 and 10 year old wheated bourbon from an undisclosed Kentucky distillery. Let me just say up front that the wheated bourbon they have been using is likely from Barton.
I'm ruling out Maker's Mark (who doesn't source theirs out) and Heaven Hill (who doesn't appear to sell their wheated bourbon stocks after cutting off Luxco).
This wheated bourbon has served them well in the past as fans have flocked to the sweet fruit notes it adds to the mix. As per usual, Barrell also added in some various aged stocks of Dickel with the oldest being 16 years old.
A funny thing to note is that the 6 and 7 year old Kentucky ryed bourbon appears to have been a very late addition to this batch because the picture of Batch 029 on Barrell's website shows a 9 year old age statement on the front label.
The actual bottle that was released has a 6 year old age statement on the front.
This could have been human error or it could have been because Barrell decided this batch needed those KY bourbons added in at the last minute.
Let's do some detective work to see if there may have been something worth exploring here. I sampled this neat in a glencairn.
Tasting Notes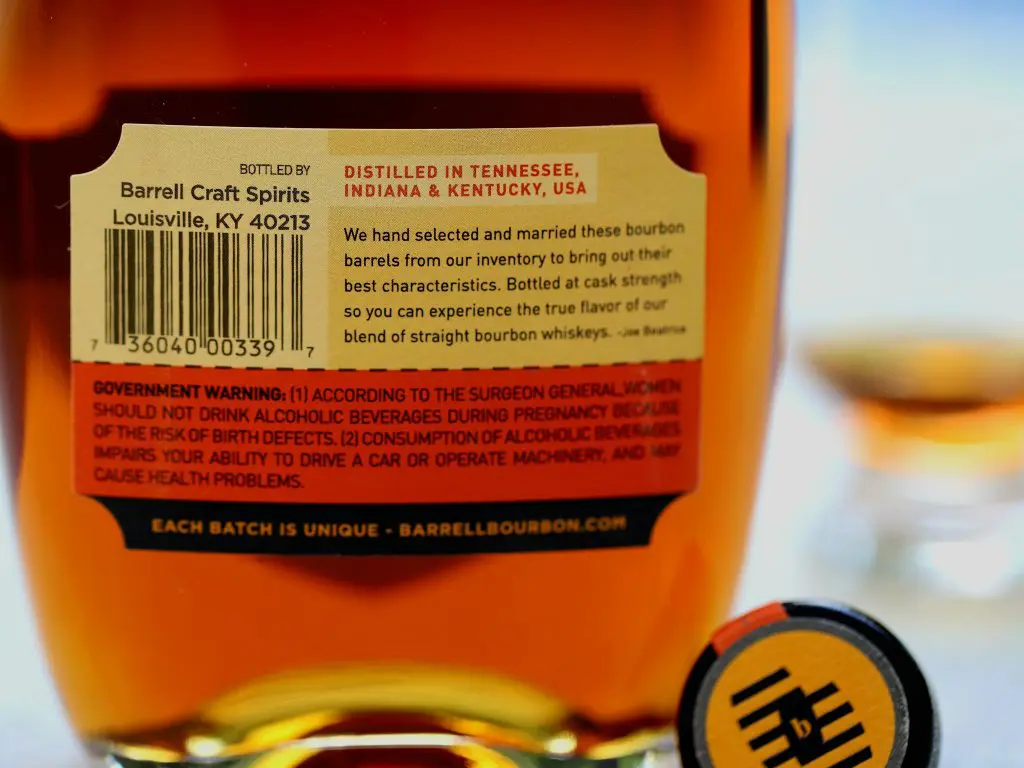 Nose: The nose dominates with sweet, fruity notes. Warm fruit compote coupled with strawberry and rhubarb pie really give a summer vibe to this dram. Golden Grahams cereal add more sweetness with a touch of honey.
Floral scents abound and remind me of a bouquet of lilies. Then traditional bourbon scents of soft baking spices, toffee with toasted almonds and some faint pipe tobacco round everything out.
Palate: The notes almost remind me more of a sweet red wine than they do a bourbon. The proof is sneakily absent too. Fruit notes of cranberries, grilled peaches and extra peppery papaya are the main focus.
But it doesn't take much effort to find unbaked cinnamon rolls and even a small amount of root beer.
Tannic notes like cedar cigar box and oak spice demonstrate the age. Peppermint flavors obviously come from the MGP or KY ryed bourbon, but the tiny prickle of horseradish is one of the stranger notes I've found in a bourbon this year.
Finish: Perfectly soft and sweet with just enough tannic bite for depth. The heat turns up towards the end making this feel like it's 10 proof points higher than it initially started out as.
That's okay because it's still very approachable. It also allows you to savor the spice and warmth of the finish for a longer time without feeling the need to take another sip soon after.
Score: 8.2/10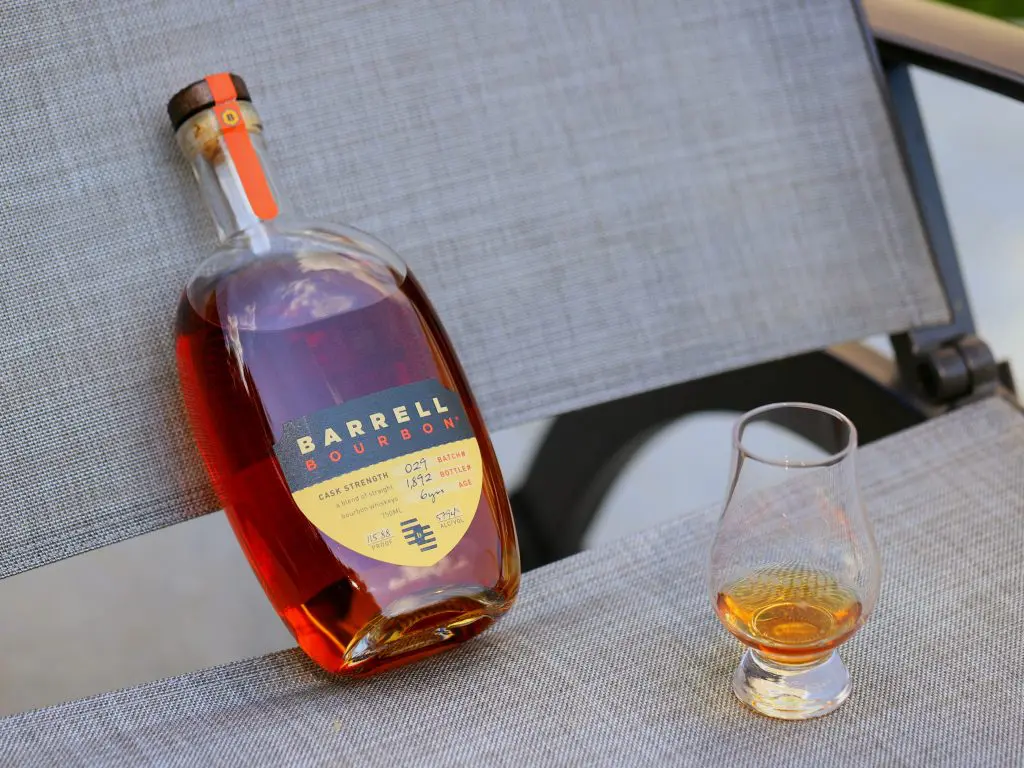 Batch 029 shows that Barrell is back to their old blending ways with this sweet sipper. And honestly, sweet is a word that I underlined a lot in my tasting notes.
No doubt that the wheated bourbon has a lot to do with this. The well-aged Dickel is also known to pump out the sweet notes too.
Going back to the intro section of this review, it makes me wonder if Barrell's blending team concentrated too much on the wheated bourbon and Dickel and the result was a sweet bourbon without much depth.
They found a way to balance it out by adding ryed bourbon in the form of MGP and Kentucky (again, likely Barton) to introduce more spice and oak influence.
Adding those ryeds bourbon to the mix also came with the benefit of imparting floral notes which is more unusual in a bourbon than it is a rye whiskey. However, the floral notes compliment the entire profile very nicely.
I usually try to compare new batches of Barrell products to previous batches in my reviews, so I'll say this much… if you liked Batches 025 and 027, this will probably be your jam.
And if you liked Batch 020 (which was heavy on the floral notes as well), this will also be right up your alley. So if you're on the fence about buying this batch, it's right up there with Batch 027 as one of the best ones they've released this year.
Ratings Breakdown
1 | Disgusting | Drain pour (Example: Jeffers Creek)
2 | Poor | Forced myself to drink it
3 | Bad | Flawed (AD Laws 4 Grain BiB, Clyde Mays anything)
4 | Sub-par | Many things I'd rather have (Tincup 10 year)
5 | Good | Good, solid, ordinary (Larceny, Sazerac Rye)
6 | Very Good | Better than average (Buffalo Trace, OGD BiB)
7 | Great | Well above average (Old Ezra Barrel Proof, Old Weller Antique)
8 | Excellent | Exceptional (Michter's Barrel Proof Rye, Four Roses Barrel Strength)
9 | Incredible | Extraordinary (GTS, 13 Year MGP or Canadian Rye)
10 | Insurpassable | Nothing Else Comes Close (William Larue Weller)
Featured Products
Description:

The Aged & Ore Neat Traveler is a complete travel kit for spirits. We combined our widely praised Neat Glass with one of our 3oz Flight Bottles and housed them together in a custom EVA travel case. Perfect for a night away with your favorite pour. The tie
Description:

The Aged & Ore Bottle Flight is a premium set of 4 custom silicone wrapped glass bottles designed to transport and share samples of your favorite spirits. The flight bottles come in a custom EVA travel case that fits perfectly in any small bag. An Aged &
Description:

This Bundle combines two of our crowd favorite products, creating the ultimate travel bundle to bring along your favorite spirits and glassware. Bundle Includes: Neat Traveler (Gray) Bottle Flight (Gray) Note: This bundle is only available in gray and col
*Bourbon Culture is reader-supported. When you buy through links on our site, we may earn an affiliate commission.