*Bourbon Culture is reader-supported. When you buy through links on our site, we may earn an affiliate commission.
I don't believe I'm offending anyone when I say that the last 3 months have been a tumultuous time for all of us. With so much uncertainty going on in the world, we often look towards the little things that we can count on to keep us assured that someday soon, everything will be okay.
This may sound strange, but Barrell's releases are one of those little things for me. They normally put out 4 bourbon batches every year and the last batch (Batch 023) was somewhat delayed before it was released right before the pandemic hit.
I would've given Barrell a free pass if they wanted to delay putting out their next batches until things started to return to normal, but it made me very happy to see Batch 024 released and start to pop up on shelves all around the nation at the end of May. It was like a sign that said "everything's going to be alright."
Barrell Craft Spirits has been blending their bourbons to highlight certain profiles since the beginning. Some of my favorite batches contain some of my favorite bourbon traits: Batch 018 was a cinnamon bomb, Batch 021 dove deep into fruit flavors and Batch 020 had a lot of floral elements (I'm a sucker for a good Q recipe from Four Roses).
But when I read that Batch 024 was aiming for the profile that you get from high-rye bourbon mashbills, I knew this would be the one I have been waiting for. I grabbed a bottle as soon as it came out. I sampled this neat and in a Glencairn.
Tasting Notes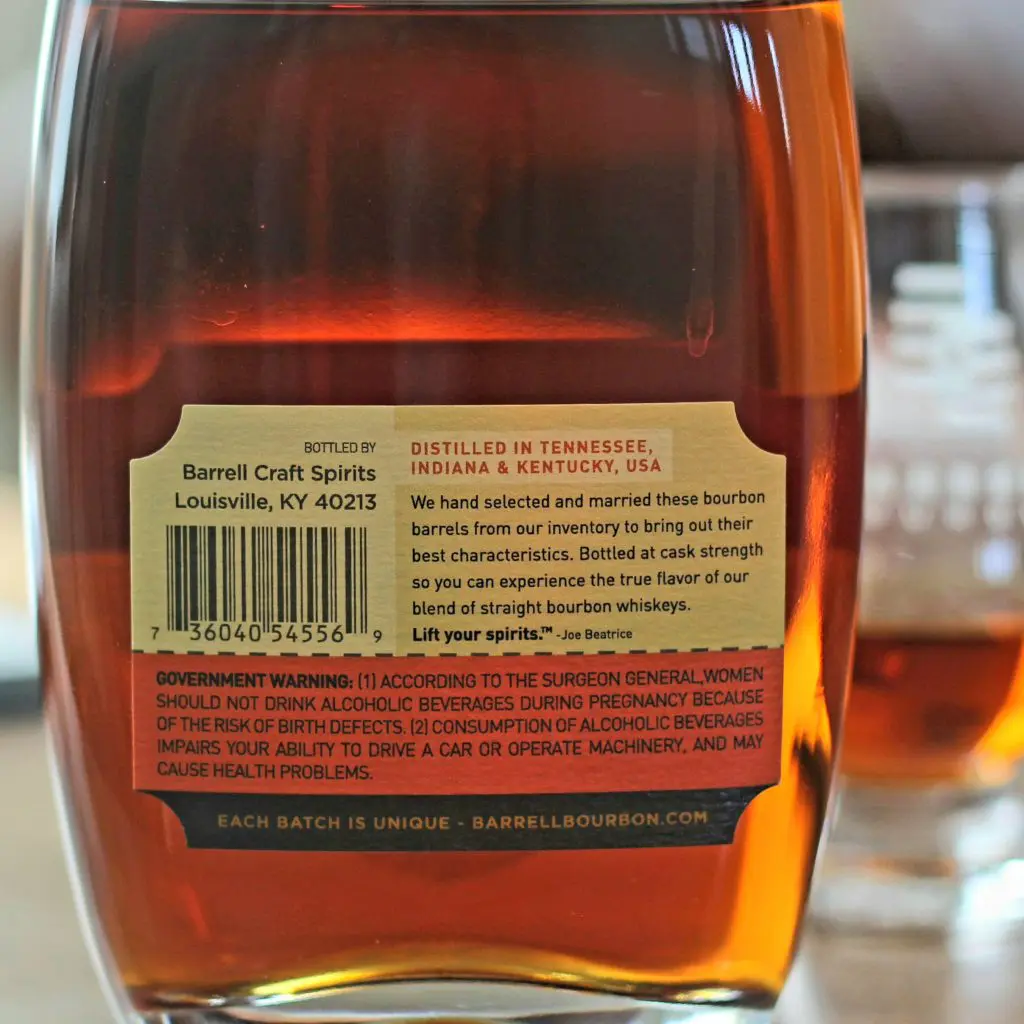 Nose: An aroma of caramel drizzled gingerbread cookies followed by a Ovaltine chocolate milk powder. There's a mellowness from dark black tea that adds tremendous depth.
I get a big wallop of dark brown sugar just like I would with high rye products from MGP. There's a toasted orange scent followed by a little bit of wood cleaner. The nose expresses a majority of the traits I would want from any high-rye bourbon.
Palate: Cacao nibs starts off the dried and someone bittersweet tone of the palate. I enjoy this quality in older whiskies. There's unmistakable high-rye distillate notes of gingerbread, pine needle tea, black pepper flakes, cloves and cinnamon.
The heat is nicely integrated with some dark, dried fruits like dates and figs. The palate turns sweeter as you drink with notes of Cherry Coke and seasoned oak opening up the more I drink.
Finish: Rich pipe tobacco, drying oak, burnt sugars and dark toffee finish things up with an unmistakably old and highly mature finish. I love the tannins on this.
I even get some notes from an old childhood candy I've long since forgot: the gummy candies that were in the shape of coke bottles. It's super unique but man is the finish good on this one.
Score: 8.3/10
Barrell's ability to construct whole profiles based on using distillates that may have been missing portions of them is a unique talent that few blenders possess.
I think they're fun to break apart and taste what each individual component brings to the table. But with Batch 024, I was genuinely impressed at the difficulty I had in picking apart the individual profiles.
What I'm trying to say is that this tastes like one distillery made this product rather than it being a blend of very different ones.
It doesn't happen often, but this ticked all of my boxes for the high-rye bourbon mashbills that I love so much (I'm talking about Four Roses, Old Grand Dad and MGP for reference).
I'm also estatic about seeing the proof back up above the 110 proof range (this clocks in at a smidge below 114 proof) because Barrell's best products have usually came from higher proofs, even though they're all barrel proof.
This bottle is simply excellent. From the dark sweetness that bellows out the age and maturity of the distillate to the way it delivers a deep and rich sip, this is a satisfying bourbon that instantly brought back memories of a 13 year MGP rye whiskey I have bottled by Whistlepig.
At such a high age, the rye turns into liquid brown sugar and the oak kisses every other flavor and scent you can think of.
Final Thoughts
This may be too early to call since it is only Barrell's 2nd bourbon release of the year, but Batch 024 is going to be what Batch 021 was last year… a bourbon that will get the recognition it deserves at the next spirits competition and one that will disappear from the shelves shortly thereafter. This is the one to get.
Ratings Breakdown
1 | Disgusting | Drain pour (Example: Jeffers Creek)
2 | Poor | Forced myself to drink it
3 | Bad | Flawed (AD Laws 4 Grain BiB, Clyde Mays anything)
4 | Sub-par | Many things I'd rather have (Tincup 10 year)
5 | Good | Good, solid, ordinary (Larceny, Sazerac Rye)
6 | Very Good | Better than average (Buffalo Trace, OGD BiB)
7 | Great | Well above average (Old Ezra Barrel Proof, Old Weller Antique)
8 | Excellent | Exceptional (Michter's Barrel Proof Rye, Four Roses Barrel Strength)
9 | Incredible | Extraordinary (GTS, 13 Year MGP or Canadian Rye)
10 | Insurpassable | Nothing Else Comes Close (William Larue Weller)
Featured Products
Description:

The Aged & Ore Neat Traveler is a complete travel kit for spirits. We combined our widely praised Neat Glass with one of our 3oz Flight Bottles and housed them together in a custom EVA travel case. Perfect for a night away with your favorite pour. The tie
Description:

The Aged & Ore Bottle Flight is a premium set of 4 custom silicone wrapped glass bottles designed to transport and share samples of your favorite spirits. The flight bottles come in a custom EVA travel case that fits perfectly in any small bag. An Aged &
Description:

This Bundle combines two of our crowd favorite products, creating the ultimate travel bundle to bring along your favorite spirits and glassware. Bundle Includes: Neat Traveler (Gray) Bottle Flight (Gray) Note: This bundle is only available in gray and col
*Bourbon Culture is reader-supported. When you buy through links on our site, we may earn an affiliate commission.