*Bourbon Culture is reader-supported. When you buy through links on our site, we may earn an affiliate commission.
Coming off of the success of the 2017 and 2018 versions of Lot 40 Cask Strength, the decision makers at Corby (owners of Hiram Walker, Glenlivet and Jameson) decided to shake things up and try something new and different for the 2019 version. They took a large batch of rye whisky of all different ages and finished them in used French Oak barrels.
Their decision to leave off the age statement didn't set too well with enthusiasts of the brand because the previous release's age statements brought legitimacy to the young label. But with two major changes, would the fans of the Lot 40 brand accept this bold departure from the norms of the past? I obtained a bottle to find out for myself.
Tasting Notes
Nose: The nose is reminiscent of a French vanilla cappuccino. There's also a strange creamy note much like melted butter from a microwave. It's really hard to distinguish this as a rye unless you dig your nose in really deep and only then you'll start to pick up on some underlying floral notes. But otherwise, this smells more like a bourbon than anything else. The sweet and soft baking spices aren't begging to be recognized, but I pick up on them as well. The nose isn't offensive in the least bit. On the contrary it's full of amazingly sweet and creamy scents that make you want to wear it like cologne, but this is far from the rye scents that one expects from a Lot No. 40 product.
Palate: The taste is super rich and sweet. Marshmallow fluff, whipped butter, oak spice, cinnamon, dry oak and black pepper spice all swirl around like a merry-go-round of flavors, but none stick out as the most dominant. There's a sweetness like Yellow Cake and sweetened coffee creamer. The 114 proof rating brings some heat, but it is well controlled.
Finish: A young-ish rye finish initially dominates, but is soft and delicate. There are some sweet mint, clove and cinnamon notes as well as taragon and rye spice. There's also a bit of hazlenut coffee creamer and espresso beans that reflect the cappuccino scents I was detecting on the nose. And one of the trademark rye traits, menthol cooling, leads your brain back to the fact that you are drinking a rye.
Score: 7.8/10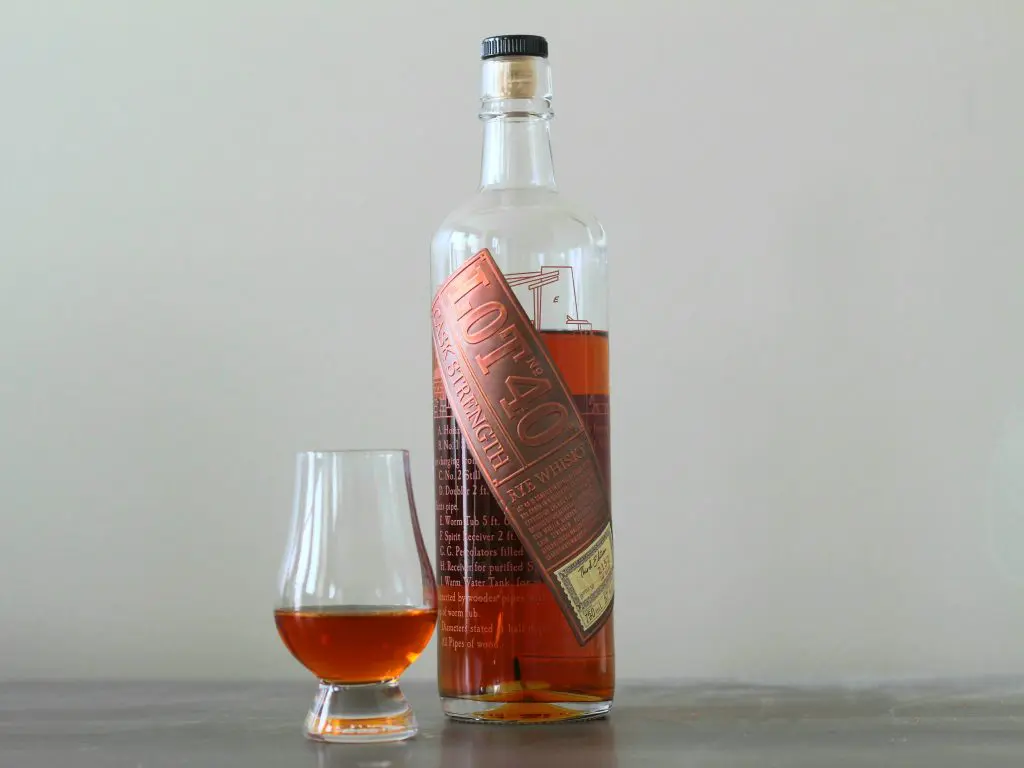 This hardly tastes like a rye at all, much less one from Canada. The floral bouquet notes and springtime essences are all gone replaced by what amounts to a rich and creamy cappuccino. This is nothing like the previous year's 11 year old version and would make more sense if it was a rye bottled by Woodford Reserve and finished in a second barrel (which does exist by the way!). This is not to say that this is a bad whiskey. On the contrary, it is actually very unique. I've never had cappuccino flavors paired with a rich creaminess to this degree before, not even in bourbons that were finished in a second new barrel.
The only whiskey that remotely comes close to this one is Shenk's Sour Mash whiskey from Michter's. If I was grading this as a blind whiskey instead of a Canadian Rye Whiskey, I may actually score this an "8" for being so unique and flavorful. But in the realm of ryes, this is not what a person pouring a rye would ever expect. Even High West's MWND shows off a base rye character, but this one is hard to tell between a rye whiskey and an extremely strong liqueur.
Final Thoughts
In the end, it's perplexing news to hear that Corby is moving forward with doing a barrel finishing treatment on all future installments of Lot No. 40 Cask Strengths, and maybe that will drive some people away. But the base rye that they're using is still extremely tasty and well aged (regardless of the lack of age statement) and it should continue to be a bottle that most enthusiasts will want to add to their collection.
Ratings Breakdown
1 | Disgusting | Drain pour (Example: Jeffers Creek)
2 | Poor | Forced myself to drink it
3 | Bad | Flawed (AD Laws 4 Grain BiB, Clyde Mays anything)
4 | Sub-par | Many things I'd rather have (Tincup 10 year)
5 | Good | Good, solid, ordinary (Larceny, Sazerac Rye)
6 | Very Good | Better than average (Buffalo Trace, OGD BiB)
7 | Great | Well above average (Old Ezra Barrel Proof, Old Weller Antique)
8 | Excellent | Exceptional (Michter's Barrel Proof Rye, Four Roses Barrel Strength)
9 | Incredible | Extraordinary (GTS, 13 Year MGP or Canadian Rye)
10 | Insurpassable | Nothing Else Comes Close (William Larue Weller)
Featured Products
Description:

The Aged & Ore Neat Traveler is a complete travel kit for spirits. We combined our widely praised Neat Glass with one of our 3oz Flight Bottles and housed them together in a custom EVA travel case. Perfect for a night away with your favorite pour. The tie
Description:

The Aged & Ore Bottle Flight is a premium set of 4 custom silicone wrapped glass bottles designed to transport and share samples of your favorite spirits. The flight bottles come in a custom EVA travel case that fits perfectly in any small bag. An Aged &
Description:

This Bundle combines two of our crowd favorite products, creating the ultimate travel bundle to bring along your favorite spirits and glassware. Bundle Includes: Neat Traveler (Gray) Bottle Flight (Gray) Note: This bundle is only available in gray and col
*Bourbon Culture is reader-supported. When you buy through links on our site, we may earn an affiliate commission.