*Bourbon Culture is reader-supported. When you buy through links on our site, we may earn an affiliate commission.
Lot 40 Rye Whisky was a brand many Canadians knew about years ago before production stopped in the 1990s. Then, Pernod-Ricard brought the brand back in 2012. Distilled at Hiram-Walker Distillery located in Ontario, Canada right across the river from Detroit, Lot 40 was rumored to use a mashbill of 90% unmalted rye and 10% malted rye. But from the sources I have found, it looks like it's all 100% unmalted rye now. It's also listed as being distilled in a copper pot still, but in reality it has gone through a column still first. Additionally, an article on the tour of Hiram Walker Distillery pointed out that they use new-charred oak barrels. This was of interest to me because I figured Canadian Ryes could and did use a mixture of used barrels to age in.
As with so many Canadian whiskies, the details, locations and age are sometimes hard for us Americans to understand, but what I do know is that Lot 40 is routinely found on shelves around here in Indianapolis right next to other low proof and inexpensive rye whiskies for $35-40. Initially, I'd just pass it by because of the low proof and lack of an age statement but today I have decided to finally give it a shot to see how it stacks up. I sampled this neat and in a glencairn.
Tasting Notes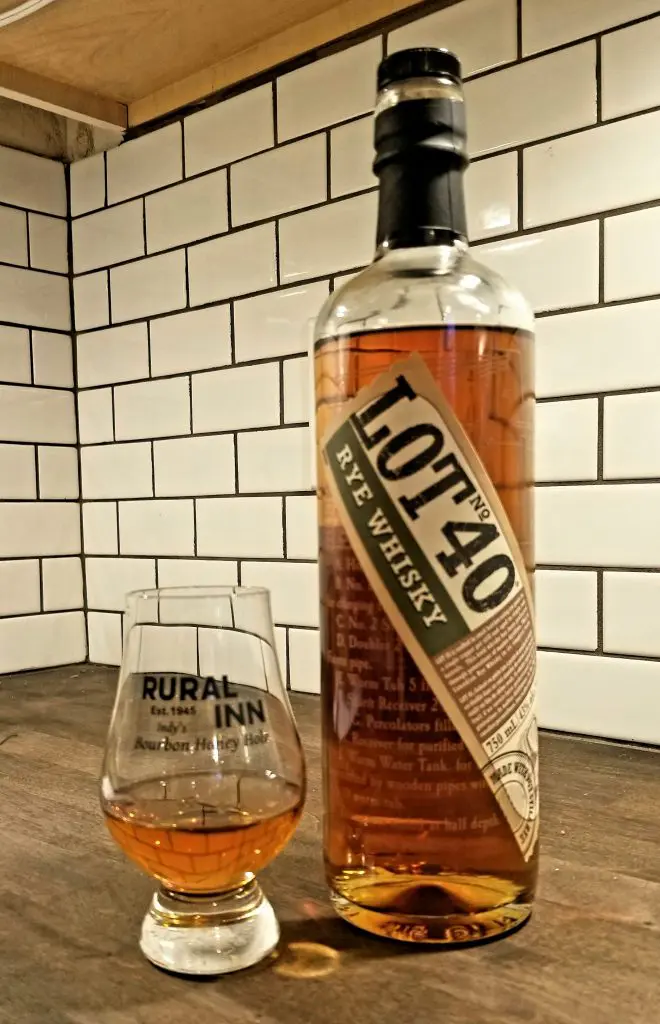 Nose: A strong aroma of pumpernickel bread with molasses and whipped cinnamon butter. There's light scents that is almost like a potpourri pot, which I can't say I've ever smelled in a rye whiskey before. Gingerbread is another scent that is hard to ignore and really adds to the baked goods trend I'm smelling on the nose. Finally, there's also a tiny bit of burned matchstick which is a strange note that I'm not sure I've got before, but it is not as heavy as the typical note I'd get at this point of charred oak.
Palate: Lots of buttery gingersnap cookies hit my tastebuds and makes it a little difficult to look past to find the other flavors hidden within. But I do get a mouthful of pine needles, some more molasses that has transferred nicely from the nose and some smoldering spices to go with some black pepper flakes I picked up on. The palate, however, does have this underlying floral and herbal layer that really rounds it out nicely with sweet mint, tarragon and rose petals. I'm very pleased with finding 3 distinct layers with such a low-proof whiskey.
Finish: Honey-dipped gingersnap cookies continue the sweet treats theme. There's also more typical rye whiskey traits of pine, mint, herbal tea and mandarin oranges. It's a very pleasant finish with virtually no faults.
Score: 6.8/10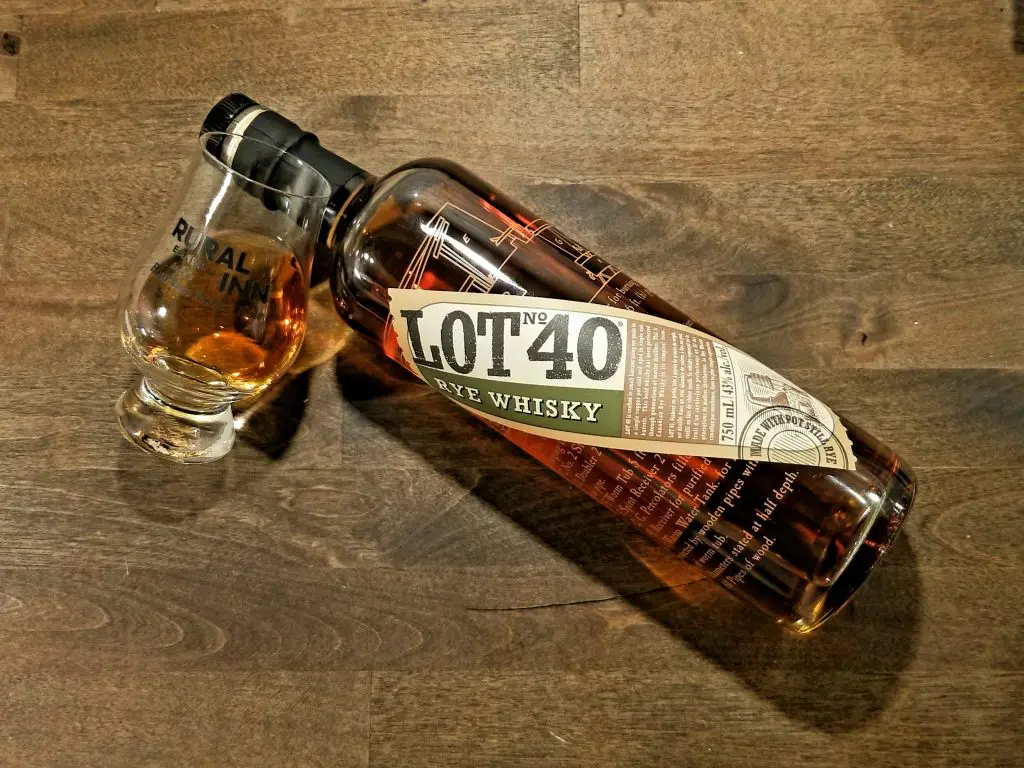 First off, this whiskey has really wowed me. It seems like it is a mixture of traditional Canadian rye whiskey and a Kentucky rye whiskey. More Canadian rye whiskies tend to lean towards botanical and floral profiles while Kentucky rye whiskies lean towards sweet, bourbon-y notes. But this one has them both and has no hints of a young age (it is rumored to use a blend of 7-8 year old whiskies). The best part is that although I was initially turned off by the low 86 proof rating, this has at least as much if not more flavor than a High West Double Rye! or *gasp* Rendezvous Rye. Call me crazy, but this rye may be the best flavored rye whiskey out there under 95 proof.
Final Thoughts
Obviously, this makes me very interested in what a bottle of Lot 40 Cask Strength would be like. If all of these flavors are intensified even more, it would be a giant killer for sure. I can only wish that I would be able to find one some day. Until then, this Lot 40 is a home run for the low-proof rye whiskey fans out there and one that you shouldn't pass up.
Rating Breakdown
1 | Disgusting | Drain pour (Example: Jeffers Creek)
2 | Poor | Forced myself to drink it
3 | Bad | Flawed (AD Laws 4 Grain BiB, Clyde Mays anything)
4 | Sub-par | Many things I'd rather have (Tincup 10 year)
5 | Good | Good, solid, ordinary (Larceny, Sazerac Rye)
6 | Very Good | Better than average (Buffalo Trace, OGD BiB)
7 | Great | Well above average (Old Ezra Barrel Proof, Old Weller Antique)
8 | Excellent | Exceptional (Michter's Barrel Proof Rye, Four Roses Barrel Strength)
9 | Incredible | Extraordinary (GTS, 13 Year MGP or Canadian Rye)
10 | Insurpassable | Nothing Else Comes Close (William Larue Weller)
Featured Products
Description:

The Aged & Ore Neat Traveler is a complete travel kit for spirits. We combined our widely praised Neat Glass with one of our 3oz Flight Bottles and housed them together in a custom EVA travel case. Perfect for a night away with your favorite pour. The tie
Description:

The Aged & Ore Bottle Flight is a premium set of 4 custom silicone wrapped glass bottles designed to transport and share samples of your favorite spirits. The flight bottles come in a custom EVA travel case that fits perfectly in any small bag. An Aged &
Description:

This Bundle combines two of our crowd favorite products, creating the ultimate travel bundle to bring along your favorite spirits and glassware. Bundle Includes: Neat Traveler (Gray) Bottle Flight (Gray) Note: This bundle is only available in gray and col
*Bourbon Culture is reader-supported. When you buy through links on our site, we may earn an affiliate commission.