*Bourbon Culture is reader-supported. When you buy through links on our site, we may earn an affiliate commission.
A120 vs Single Barrel from 2019
For a couple years now, Heaven Hill has been using the Kentucky Derby as a test market for Larceny Barrel Proof to see how well it was received. Each of those years, they'd release a couple of single barrels (all bottles have the barrel number and their unique proof printed on the label) to the Liquor Barns around the state for around $120. But as much as that price brought laughter to those who knew bourbon and knew that it wasn't worth that much, these still managed to sell out.
Fast forward to the winter of 2019 when Heaven Hill drops the bomb that they'll be launching Larceny Barrel Proof three times a year just like Elijah Craig Barrel Proof. Enthusiasts went crazy especially when they heard that the ridiculous price tag was no more and now it would be sold at roughly the same price as Elijah Craig Barrel Proof. The early reviews were all over the place with some reviewers saying it was too young, too hot and not unique enough versus others that were really enjoying the intense spice, intense flavors and the value proposition.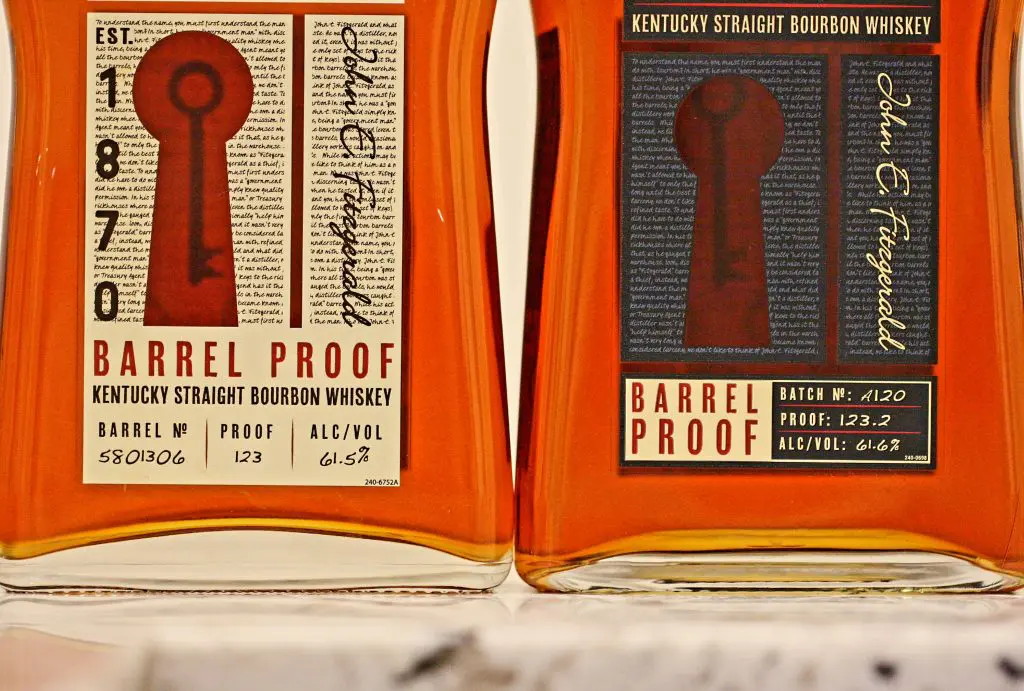 All of the talk about this made me instantly want to do a side-by-side comparison to see which version of Larceny Barrel Proof is the better bourbon EVEN THOUGH the price discrepancy between them is ridiculous and the specs on each are virtually identical. But in the future, if single barrel picks of Larceny ever become a thing, then at least we'll get to know if some of the single barrels are worth it over their batched brethren. I sampled these semi-blind, neat and from a glencairn.
Blind Glass 1
Nose: The nose is sweet with traditional Heaven Hill bourbon characteristics like caramel, vanilla cupcakes and that familiar faint note of peanuts. There's also some sweet oak, cinnamon, a faint hint of fresh marshmallows from a new bag.
Palate: Woah! Here's the spice everyone was talking about. It's hot, but it's manageable. There's cinnamon, tellicherry peppercorns, clove and chili pepper. But the palate isn't all heat, there's some nice oak, candied orange, and Mexican mole sauce.
Finish: The oak is sweeter and less noticeable. There's some dark chocolate shavings on the end. Then there's some tannic qualities to include dry tobacco. The finish is somewhat drying overall, but the chocolate note kind of makes up for it. It leaves your mouth tingly and dry from the high proof, but not gasping for water.
Score: 7.4/10
Blind Glass 2
Nose: Lots of sweet red fruits, cherries, raisins and oranges. The nose is a very fruity and mild affair. There's some light caramel dipping sauce, but otherwise, very little oak or tannic qualities are present. It's all fruity sweetness.
Palate: The spice and heat on this one are nowhere near what they were on Glass 1. There's more of the fruit and berry flavors that were hinted at on the nose, but this time with a little more citrus. At first, I'm starting to think that spice will be absent as well, but then some chili powder heat appears after more than 10 seconds of rolling the sip around in my mouth. Other flavors include cinnamon scones and fruit-and-nut muffins. There's very little tannins to identify, but there is some very mild oak if you look long enough
Finish: The finish is a sweet and fruity affair just like the nose and palate. There is some additional wet tobacco and oak spice, but it's mild compared to Glass 1. This is the only time that this bourbon shows it has a bit of age to it.
Score: 7.8/10
Semi-Blind Reveal
Glass 1: Larceny BP A120
Glass 2: Larceny BP Single Barrel
Winner: Larceny BP Single Barrel!
I knew almost immediately that Glass #2 would be the fruit-bomb that the Larceny BP Single Barrel was in a previous review. The depth of the fruits still is comparable only to a Weller 12 year and was very enjoyable to me. However, the A120 didn't disappoint with it's loads of oak spice and depth of flavor. Granted, it's less sweet and fruit forward than the single barrel equivalent.
Late last year, I picked up on chatter that single barrel picks of Larceny (the 92 proof kind that came out late summer of 2019) showed bourbon geeks everywhere that there were some really bad barrels of Larceny out there. In fact, there was a lot of that same chatter shortly before A120 was released that the batch was blending together some pretty bad barrels and that could ruin this new release on its very first batch. I don't think that this will be the case once it gets into more and more people's hands.
As for the secondary, I've already seen people trying to sell their bottles for $80, which isn't too terrible considering that's roughly what a good batch of Elijah Craig Barrel Proof will go for these days. These also don't seem to be too hard to come by in the grand scheme of things with them being on shelves around Indianapolis for 3 days after they were first spotted.
Final Thoughts
In the end, Larceny Barrel Proof A120 is absolutely worth your money because it adds a distiller that knows what they're doing, making a fairly well aged wheated bourbons for a great price. All of this considering craft distillers are selling their 4-5 year old wheated bourbons for roughly a little more in price, if not way more. I can't wait to see what the next batch (B520?) will taste like!
Featured Products
Description:

The Aged & Ore Neat Traveler is a complete travel kit for spirits. We combined our widely praised Neat Glass with one of our 3oz Flight Bottles and housed them together in a custom EVA travel case. Perfect for a night away with your favorite pour. The tie
Description:

The Aged & Ore Bottle Flight is a premium set of 4 custom silicone wrapped glass bottles designed to transport and share samples of your favorite spirits. The flight bottles come in a custom EVA travel case that fits perfectly in any small bag. An Aged &
Description:

This Bundle combines two of our crowd favorite products, creating the ultimate travel bundle to bring along your favorite spirits and glassware. Bundle Includes: Neat Traveler (Gray) Bottle Flight (Gray) Note: This bundle is only available in gray and col
*Bourbon Culture is reader-supported. When you buy through links on our site, we may earn an affiliate commission.