*Bourbon Culture is reader-supported. When you buy through links on our site, we may earn an affiliate commission.
I tend to get long winded with my "Most Memorable Whiskies of ___" introduction, so I promise to only cover the basics in the first few of paragraphs. If you've been a reader with my other Roundups and want to jump right into my list, scroll on down to find out my Top 10 this year. If you're new to my Top 10, then read on to see what it takes to be on my list!
Top 10 Bourbon & Whiskies – Introduction
Hello fellow readers and friends! Thanks for reading my 4th Annual "Most Memorable Whiskies" roundup. I decided to do a Top 10 list of whiskies that I thought were the most memorable experiences I've had over the last 365 days. I first had the idea for making a list like this not long after joining Reddit back in 2018.
One year later, after spending virtually all of my time posting reviews in the r/bourbon subreddit, I decided to publish a top 10 list on my "Cake Day" (kind of like a birthday, but for when you joined Reddit) which is November 9th. I'm by no means an expert and still consider myself a novice who wants to explore it all, but everyone loves a good list so I keep making them.
Lots of publications publish "Best of" awards to enumerate their favorite whiskies. I love to read those and particularly loved the ones that the guys at Breaking Bourbon used to publish from 2015 to 2019. What stood out about their list was they approached it at the individual level.
All three guys had to come to a consensus all year long for other reviews but it was only at the end of the year that they were allowed to express themselves individually. It was fascinating to see a mixture of craft, BTAC and everything in between listed in there. Then it kind of fell off a cliff when they decided on just one whiskey to award "best of" in every major American whiskey category. I pour one out for the loss of those individual lists every year now.
Requirements to be on the list
The one thing that separates my Top 10 from other publications is that the whiskey has to be MEMORABLE to make it on mine. So if you think I'm going to pick the top 10 whiskies based on score alone, you'd be wrong. What this list is about is all about the impression it made on me. Last year I put a wheated bourbon from Spirits of French Lick on my list because I was really impressed by how well that craft bourbon had aged. Craft distilleries often suck at wheated bourbons (they need time!) and that one stuck out to me by exceeding my expectations even though I didn't rate it over a 6.
I also want my picks to have good value. This is why I try my hardest to cap my picks to around $150 per bottle at retail prices. I also try to make sure that the secondary price isn't wildly out of control either (2x retail would be the max). Finally, I will never include BTAC, Pappy, Old Forester Birthday Bourbon, Four Roses SmBLE or any ultra-rare limited editions in my list. I even try to avoid single barrels when I can unless they're part of a larger run.
I took some flak for listing Russell's Reserve 13 Year as my "Most Memorable Whiskey of the Year" last year because people rightly pointed out it was allocated and had a prohibitive secondary price. But I stood by my decision because it wasn't the most allocated bourbon out there and the secondary kind of yo-yo'ed on the price for a bit. It was also distributed to every state that Wild Turkey gets distributed to. I felt it was fair game.
Now that you know the boundaries I try to instill on my selections, it's time to look back over the last 12 months and revisit the bottles that have stuck into my memories so far. Bring on the list!
Top 10 Bourbon & Whiskies
10.) Trader Joe's "Bottled at Barrel Entry Proof" Bourbon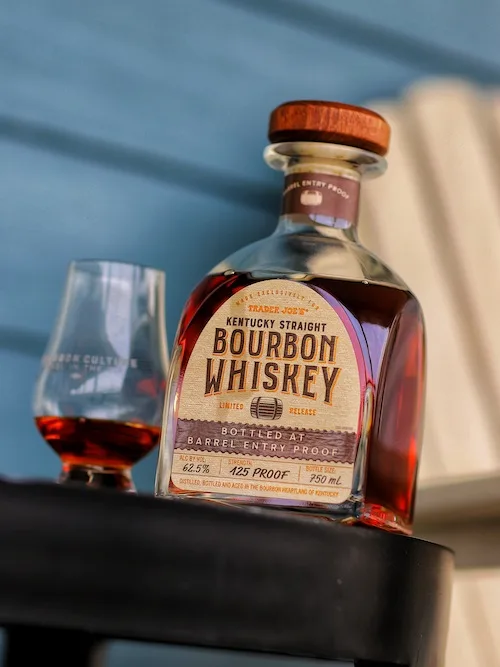 This bottle may anger a lot of people who don't live in a state where Trader Joe's can sell liquor. But in the states that can, some received bottles of Trader Joe's Barrel Entry Proof Bourbon in a familiar bottle shape (the Rock Hill Farms one). This bottle was only priced at $30 but came in at an impressive 125 proof and was at least 4 years old (but tasted older). Upon tasting this, many enthusiasts swore it tasted like Buffalo Trace. And it kind of did!
But in reality, it was from Buffalo Trace's Sazerac sister, Barton Distillery. One of the main reasons why this bottle got on my list was for the overwhelming flavor to price ratio. It could have been priced at $60 and still sold out just as quickly. But fear not, this was not the first and it's probably not going to be the last time that Trader Joe's releases something like this. If you want a bottle that gives you powerful cherries, oak and wood for around $1 per ounce, this was your dream come true.
9.) Maker's Mark Private Selection Single Barrels that contain a majority of French Mendiant Staves
Stick with me here after that title, but Maker's Mark Private Selections were always good but never really "next level" good. To make matters worse, in 2021 they announced that they were retiring the French Mocha Stave for barrel selection teams to choose from. Enthusiasts were pissed. The stave that replaced it was French Mendiant which required a Google search to even know what that word meant.
It turns out that Mendiant refers to a specific French Confection that contains chocolate, nuts and dried fruits. Maker's Mark named this French oak stave this in part because the flavors it Imparted were similar to that confection. And they were right. I got to taste multiple different store picks that used a majority of this stave (including the incredible "New Kids on the Block" pick by Hudson Wine & Spirits that selected all 10 staves to be the Mendiant kind) and each one was incredible.
The tastes and scents are so dark and earthy that it tastes almost like an Armagnac. You can confidently stroll past other picks that don't have more than, say, 5 of these staves and concentrate your money on the ones that do. It's that good.
8.) Copper and Cask Single Barrel Bourbon using the 70/21/9 Mash Bill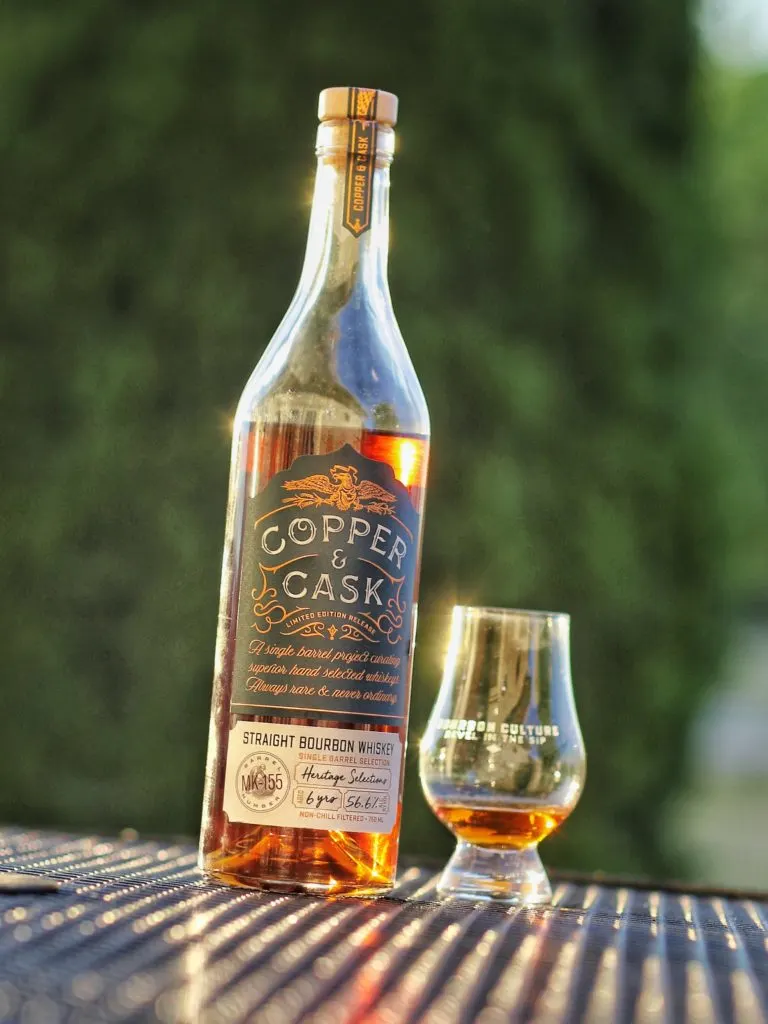 The story behind this mash bill and why it came from MGP, even though it's the one that Green River Distilling in Kentucky uses, remains a mystery. But the bourbon shouldn't be a mystery anymore after landing at #8 on my list. I was expecting just another 6-7 year old MGP single barrel for an enjoyable sipper, but what I ended up getting on these bottles was entirely different. Fruit was bursting at the seams and the entire dram tasted much older than the ~7 year old age statement would have you believe. I don't know if it was the increase in malted barley that helps make this a sweeter and more fruity experience than MGP bourbon normally is but I'm hooked.
Yes, Cooper and Cask does bottle these as single barrels, but the few I've tried have all had similar traits making me think that the whole run of this mash bill is special. Check the back label to ensure you get the right mash bill and you'll be in flavor country. The $55 pricetag doesn't hurt either. As one more side note, this is superior to Smoke Wagon's Uncut and Unfiltered The Younger for basically the same price.
7.) Old Forester Single Barrels from Warehouses J and G
Old Forester Single Barrels were a hot mess when they were released in 2020. And I do mean "hot." The barrels that they allowed groups to choose from were primarily from Warehouse H and K and were 4.5 years old. On top of being hot, they were astringent and full of bitter oak. It didn't seem like Old Forester was even vetting the barrels that went into the program prior to putting them in the pick panel.
I was ready to call it quits with them until a new "batch" of barrels started to come out in 2021 (and into 2022) that were pulled from Warehouse G and J. I opened a Towne Spirits and Wine (out of Indianapolis) Warehouse G bottle that blew my mind. I also found out it was 6 years old (50% older than they were when the line was first launched).
Since then I've had other G's and they were all beautifully developed. Additionally, I also started to pick up some Warehouse J releases (especially from the top 2 floors) that were some of the highest proofed and smoothest drinking Old Forester Single Barrels yet. I'm not saying that none of the other OFBSSiB (what a mouthful!) warehouses or bottles are bad, but what I am saying is that the barrels that have came out of these two warehouses have consistently been the best.
6.) Whiskey Del Bac Normandie
Whiskey del Bac is a small craft distiller based in Tucson Arizona. They mainly make only American Single Malt whiskey albeit in several different styles. I have had an increasing amount of American Single Malts from places around the US and they're all getting better, but still taste pretty youthful. Then I got two bottles of Whiskey Del Bac's Global Cask Series in the mail and my perception changed.
The first bottle was called "Frontera" and was WDB's single malt whiskey finished in PX Sherry casks while "Normandie" was finished in French Calvados (a type of brandy made from apples and pears) casks. I expected the Sherry cask one to be very good (and it was) but my expectations for the Calvados Cask were low. Much to my surprise, I ended up loving it. Calvados, in my opinion, has the highest propensity for dominating whatever spirit uses it as a finishing cask.
But somehow, WDB seemed to perfectly time when to take it out of the barrel which resulted in a beautifully choreographed whiskey. Apple pie is the flavor that comes most to mind, but it's the malt underlayer that really compliments the sweet orchard fruit notes. Normandie was truly a surprise standout in 2022 and the best part is that this will continue to be a yearly fall release by WDB. As a final note, this is the lowest proofed whiskey on this year's list (under 100 proof) proving that it doesn't need to be high proofed to be a good whiskey.
5.) Spirits of French Lick "The Morning Glory"
The second year in a row that I'm including a Spirits of French Lick bottle in my list. Some may say I don't have enough craft distillery variety in my list if I'm picking the same distillery 2 years in a row, but I would tell them "you haven't tasted a bourbon that uses toasted buckwheat (known as kasha) yet, have you?" This bourbon also uses regular buckwheat along with corn and malted barley to make up its unique mash bill.
The ratios aren't wildly overcompensating either coming in at only 20% of the whole mash bill. But it's the toasted element that stands out the most with every sip. I've never had anything like it. The most important part is how well it covered up any youthful traits with those toasted notes. It could be the ultimate solution to the problem most craft distilleries have with their young whiskies tasting, well, young. Will this trend catch on? I don't know.
But as soon as I see another distiller use this method, I'm going to grab that bottle and finally put to rest if my theory on toasting grains is correct. Out of all of the whiskies on this list, this one is in a league of its own.
4.) Bardstown Bourbon Company Ferrand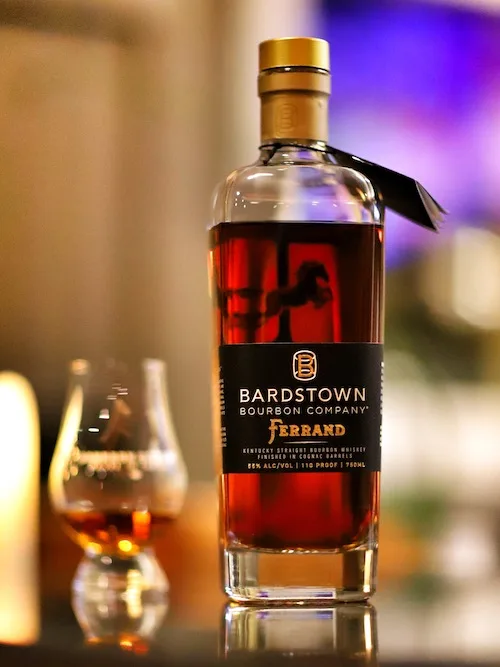 Looking for the Dark Horse in my list? Bardstown Bourbon Company Ferrand might be the one that nobody here saw coming. That's because the review I gave it wasn't bad and it wasn't glowing either. As I was going through my list of around the 200 unique whiskies I've tasted this year to find the 10 most memorable, my eyes seemed to linger longer and longer on this one bottle.
Why was I considering it so much? I had to revisit it to see if I was crazy or not. Sure enough, as the glass went to my lips, it all came rushing back. The blend of Beam and Heaven Hill bourbon, at first glance, seems normal. Neither one is going to fight each other because they both kind of taste the same (boo me all you want, you know it's true).
But what Bardstown Bourbon Company did was something that really hasn't been done since Jim Beam Distiller's Masterpiece or Parker's Heritage Cognac Finished Bourbon… it took that lovely, nutty, sweet Kentucky style bourbon profile and added the one element that it was missing: fruit.
The cognac's grapey overtones and rich bouquet of fruits is like the missing puzzle piece that finally made the picture complete. BBC may have even realized they were onto something good here because they did not try to add Dickel or MGP or even finish it for 18 months, which is some kind of weird standard they use on almost every Collaboration bottle.
It was finished for only 8 months which seems to indicate somebody at BBC actually watched over these barrels and kept tasting them until they were just right. Even the proof is perfect at 110 proof. I know it's easy to overlook Ferrand for their Chateau de Laubade #2 release this year, but trust me, this is the one to get.
3.) Wild Turkey Master's Keep Unforgotten
I am breaking my own rules with the inclusion of this bottle for two reasons. The first is that it carries an MSRP of around $180. The second is that it's an allocated bottle. So in advance of the impending complaints about it being on my list, I would like to justify my reasons. The first is that inflation has raised prices on nearly every bottle out there these days.
WTMK used to be around $120 to $150 per release but has raised its price just like everyone else is doing. The second part, about it being allocated, is that WTMK falls at the very bottom of the allocated bottles that are hard to find. It's no Old Forster Birthday Bourbon or Four Roses Small Batch LE. It's more along the lines of Bomberger's/Shenk's or Russell's Reserve 13. But this bottle deserves a spot just because of how awesome of a job they did at blending together the bourbon and rye whiskey used in making it.
I personally have found the last 2 years of Wild Turkey Master's Keep releases to be somewhat uninspired. They served to only highlight how bland the limited editions of Wild Turkey had become. Unforgotten does something about that by blending in their rye whiskey which finally adds legitimate rye and fruit flavors to a bourbon that has been tasting less and less rye forward with each passing year (this was their hallmark after all). I don't care one bit about the final product not being called a bourbon or a rye whiskey, I would buy this every day if they found a way to make it a permanent addition to their lineup with slightly younger barrels (but keep the proof the same, please).
This year's Master's Keep is one that lives in my head whenever I think about bottles that I initially poo-poo'ed when they were announced only to end up eating crow later on when I finally had a taste.
Prelude to the Top 2
I promise I did not set this up to be some sort of ironic twist from last year's Top 10. You see, last year's list saw my top 2 most memorable whiskies come down to the exceptional (and obtainable) Barrell Seagrass going head to Head against Russell's Reserve 13 Year. In the end, RR13 took the top prize only because it's been forever since a Wild Turkey product surprised me.
All of their stuff seemed so normal with little variation and then RR13 came out of the woodwork with notes that reminded us of the Wild Turkey of yesteryear. I declared it last year's winner. In fact, my list was published a full 2 months before Fred Minnick's "Top 100" list came out and he ended up with the same two bottles for his #1 and #2 that I did. Crazy.
That's why when I looked over my list, I realized that there was no way I could get away with not bringing up the elephant in the room. The top two spots left were once again down to a Barrell and Wild Turkey product. I kid you not. But the Barrell product is not a crazy finished rye (like Seagrass) and the Wild Turkey product is not Russell's Reserve 13 (although I had batches 2 and 3 and both were still great). Instead, this year's Wild Turkey product is one that I'm going to admit up front that you might consider unfair for me to even put on here.
It's Wild Turkey 101… that's 12 years old and is a Southeast Asia export. I've seen more and more of these finding their way back home to the United States by virtue of savvy travelers and enthusiasts that have relatives overseas. It's around $120 after the conversion rate but admittedly the secondary market cost is higher than I set out in my initial set of rules: around $280.
Alternatively, the Barrell product under consideration is not actually sold with a label that says "Barrell" at all. It is from their new "Stellum" line. Last year's release of regular Stellum Rye caught my eye in a good way, but this year's most recent "Stellum Black Rye" is even better.
Scratch that, it's WAY better. I've seen reviewers go as far as to compare it against the likes of Thomas H. Handy and other higher proofed ryes. Why is it so different? I don't really know. Stellum's own label claims it's because the barrels used in it are older than standard Stellum Rye but the exact makeup and age is still a mystery. We do know that this blend of ryes comes from all over the place and seems to carry with it the best qualities of each. Believe it or not, they all come together harmoniously to taste like one supercharged rye whiskey. It's like the different regions of rye whiskies used in this blend had their powers combine and the Captain Planet of rye whiskey appeared.
In the end, I had to choose between the two for which one would be my 2022 Most Memorable Whiskey of the Year. After weeks of pacing back and forth over which one would take home first place, I have finally made my choice…
2.) Wild Turkey 101 – 12 Year Old Export Version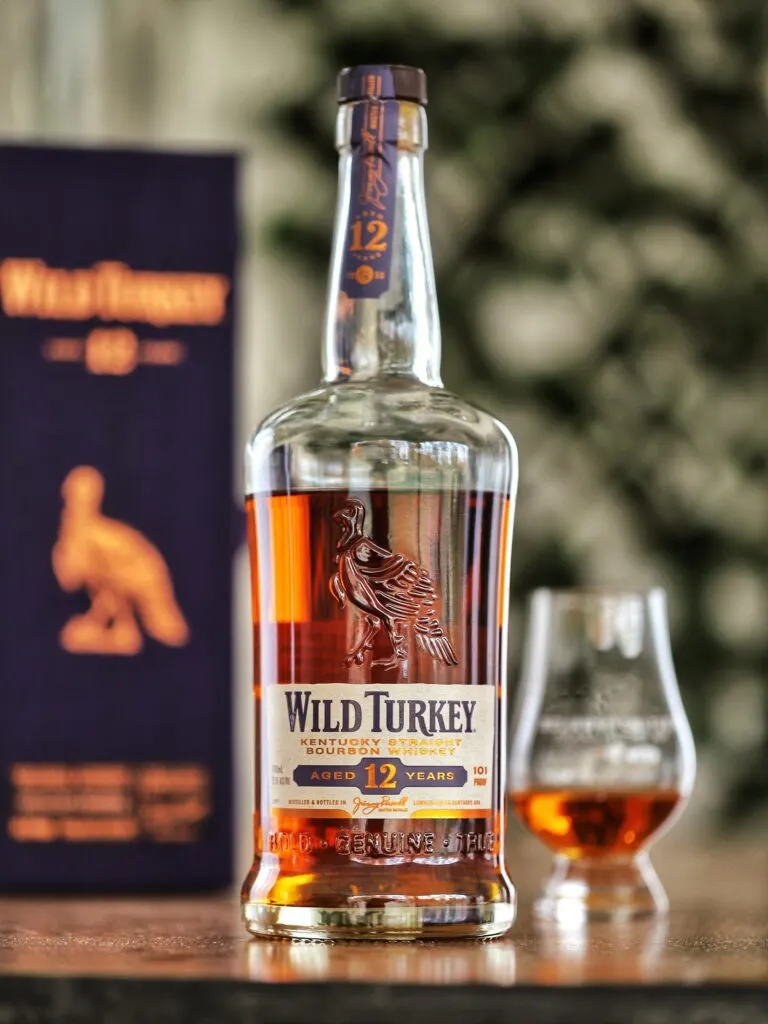 Out of all of the bottles on this list, this is going to attract the most fury for even being here. Is it sold in the United States? No. Is the secondary price more than twice as high as its retail price (which is $120 after the conversion rate and $280 on the secondary)? Yes. The only way to get this bottle is either on the secondary market or travelling to Southeast Asia and finding one in a liquor store. But please, look past all of that for the moment and let me tell you about how Wild Turkey managed to find itself again.
It all has to do with actually letting the barrels age longer before bottling it at their iconic 101 proof. I am by no means saying that this WT 12/101 is as good as a WT 12/101 from the 80s and 90s. Those bottles were made with completely different methods. But if there had to be one modern example that Turkey purists would be satisfied with the torch being passed to, it should be this bottle. For starters, this is the fruitiest and oakiest bottle of Wild Turkey I've had in a while that didn't require a finishing barrel or blending together two mash bills. It also retains that signature Wild Turkey high rye spice note to it.
One of its biggest advantages is that it finally tastes like its age (unlike its non-age stated brethren). If there was one purchase to splurge on this year, this would be it. It's just so different from anything else sold in the standard Wild Turkey range in terms of profile. Enthusiasts that may not have thought as highly of Russell's Reserve 13 seem to have the opposite opinion of this bottle right here, and for good reason… It's a bottle that shows us that Wild Turkey still has the ability to create excellent bourbon. Now if only they'd have the guts to release it in the United States.
1.) Stellum Black Rye
Make no mistake about it, the Wild Turkey 12 year is hard to top. But there is one bottle on this list that has surprised me time and time again. The speed at which this bottle was drank was alarming. It seemed perfect every time I reached for it. Amazing flavor, well-controlled heat and rye whiskey traits that highlight each region it came from. Stellum Black Rye has it all. In all honesty, I realized that this would be a contender way back in February when I got my first bottle. Every time I revisited it, it kept surprising me with how good it was. I don't recall ever having a bad session with this bottle, even on nights where my palate may have been off.
The best part about Stellum Black Rye is that just like last year's Barrell Seagrass, you can actually find this at a store without having to "know a guy" or going onto the secondary market. If you want to know the one-sentence summary as to why this is better than regular Stellum Rye, here it is. It doubles the flavor intensity and liquid viscosity of Stellum Rye while also adding additional aged notes. Seriously, it's like Barrell found some of the richest, oiliest rye whiskey barrels and made sure they ended up in this bottle.
Other reviewers warned that this rye whiskey could only be appreciated by enthusiasts that really love their rye whiskey, but I honestly don't know of many people who just dabble in rye without going for a full commitment (maybe Sazerac Rye drinkers, but who am I to judge?). So if you drink rye whiskey enough to have more than a few bottles in your rotation, then this is a bottle that you need RIGHT NOW. It's that good. All of this is why Stellum Black Rye wins the title of my Most Memorable Whiskey of 2022.
You can find reviews for all of the whiskies mentioned below.
Top 5 Most Disappointing Whiskies of the Past Year
If you've read this far, I assume I have your attention. The fun isn't going to stop after my top 10 most memorable, so let's flip the script and talk about my top 5 biggest disappointments of 2022. I was going to do a Top 10, but as I recounted the whiskies I've drank over the last 12 months, I didn't find a whole lot that genuinely disappointed me.
Sure there were low scores to be had, but in almost all of those instances, I was expecting the possibility of those bottles being bad. The whiskies I have included are rightly called "disappointments" because they had all of the momentum to be great leading up to the launch, then failed all around. You'll notice that some of these were given respectable scores but that doesn't mean I wasn't disappointed. They should have been so much more. Here are my top 5 disappointments of the last 12 months.
5.) Angel's Envy Private Barrel Bourbon – Angel's Envy Port-finished bourbon, in standard bottle form, is just okay. It's low proof enough for whiskey novices to start to take notice of how bourbon can have additional flavors if put into a finishing barrel like Port Wine. Their Private Barrel program is supposed to take that a step forward by allowing stores to pick a single barrel and have it bottled at a stronger proof (but don't call it cask strength, it's not).
This should have resulted in a much more flavorful final product. But somehow the opposite happened whereby the Port smothers any semblance of bourbon underneath. It's been rumored that Angel's Envy doesn't empty the barrels after using extra port wine to "re-season" the barrels and as a result, what we might have here is a blend of wine and bourbon. The results don't do the bourbon, or the world of transparency and honest of labeling, any good.
4.) Willett 8 Year Wheated Bourbon – Willett continues to cash in on the reputation they earned a decade ago with all of their amazing single barrel releases of Willett Family Estate. This means that any product they release will be instantly sold out because of the Fear Of Missing Out. That certainly rang true with this year's 8 Year Old Wheated Bourbon release.
For some reason, they elected to put it in a new bottle (similar to the Weller bottle). And while the bourbon inside was good and showed a lot of improvement from their other distillate, it was nowhere near $250 good. The price that they think they can get away with is ludicrous. What's going to happen when they release a 10 year and then 12 year bourbon or rye whiskey? Are we to assume that it's going to be priced at $300 or $400? If so, that's when we'll know that bourbon is official dead.
3.) Barrell Bourbon Batch 033 – This is the hill I guess I'll die on. Barrell 033 was not a good batch of bourbon from Barrell. The strange part is how many reviewers fawned over it. The truth is that I haven't disliked a Barrell batch this much since 028. It's just something that screams "youth!" and "craft!" at me and I don't know what it is.
Batches 031 and 032 have been by far better this year. What's strange is that Barrell seemed to have given out media samples to more reviewers for Batch 033 than any other previous batch before. I don't know what this tells us, but I do know that reviewers are more prone to giving a better score when the sample is free. My opinion is that if they get samples in enough reviewers hands that it will dilute the few reviewers that give an honest bad review. That's a smart strategy, but it still doesn't diminish the fact that Batch 033 was a stinker.
2.) Old Elk Infinity – I've got to give it to Old Elk fans, they certainly hype their brand up every time I hear one talk. I've never really liked the stuff because it's always too malt-forward or soft in flavors. The packaging is pretty cool but that's about it. I also think poorly of the company as a whole after hearing stories of their scummy business practices and the fact that they try to highlight this "Slow Cut" Proofing Process that's basically bullshit.
Slow Cutting is a real thing according to experts like Nancy Fraley (Aaron Chepenik of Smoke Wagon even detailed the process a while back) and can achieve amazing results IF IT'S DONE IN THE BARREL. Anyway, the Infinity bottle is their most expensive attempt to release a limited edition product and sees Kentucky Bourbon used for the first time in a blend by them. The results are extremely mediocre and will make you sad when you realize you just spent $150 for something that can't even beat a batch of Elijah Craig Barrel Proof.
1.) Stellum Black Bourbon – Irony strikes again. Not only did I have the same producers of last year's #1 and #2 Most Memorable Whiskies of the Year occupy the top spots again (albeit switched in order), but my #1 most disappointing whiskey is the sibling of the #1 most memorable whiskey. Stellum Black Bourbon was released side by side with Stellum Black Rye so it made finding and buying both a no-brainer.
I had enjoyed regular (and single barrels) of Stellum bourbon and rye so I figured I would have similar luck. It turns out that the Black Bourbon was not only worse than its rye counterpart, but worse than standard Stellum Bourbon. I don't know how that happened, but the blend tastes more disjointed and less special all around. The fact that it's twice the price while offering no hint of what makes it different (at least Stellum Black Rye says the barrels selected were older), makes it a terrible proposition.
Featured Products
Description:

The Aged & Ore Neat Traveler is a complete travel kit for spirits. We combined our widely praised Neat Glass with one of our 3oz Flight Bottles and housed them together in a custom EVA travel case. Perfect for a night away with your favorite pour. The tie
Description:

The Aged & Ore Bottle Flight is a premium set of 4 custom silicone wrapped glass bottles designed to transport and share samples of your favorite spirits. The flight bottles come in a custom EVA travel case that fits perfectly in any small bag. An Aged &
Description:

This Bundle combines two of our crowd favorite products, creating the ultimate travel bundle to bring along your favorite spirits and glassware. Bundle Includes: Neat Traveler (Gray) Bottle Flight (Gray) Note: This bundle is only available in gray and col
*Bourbon Culture is reader-supported. When you buy through links on our site, we may earn an affiliate commission.