*Bourbon Culture is reader-supported. When you buy through links on our site, we may earn an affiliate commission.
When I first saw the leaked TTB label of Old Forester King Ranch Bourbon on the Coming Whiskey Instagram page, I thought it was a joke. It's not like bourbon and Texas don't belong together, but this one seemed so gimmicky. Then I remembered about another Old Forester product that had many enthusiasts thinking the same thing a few years ago: Old Forester Statesman. That one has lived on from novelty movie tie-in to a permanent addition to their portfolio.
Old Forester King Ranch Bourbon
To give the quick synopsis of the media release that Old Forester put out, they wanted this one-time release of their bourbon to celebrate a collaboration between their involvement in the Kentucky Derby (think Mint Juleps specifically) and a well-known horse ranch that has seen its fair share of its thoroughbreds participate in said event. I'm sure it didn't hurt that King Ranch already has dabbled in marketing its own name for other products as well. The mesquite wood used in the charcoal (more on that in a minute) was sourced from King Ranch's own land.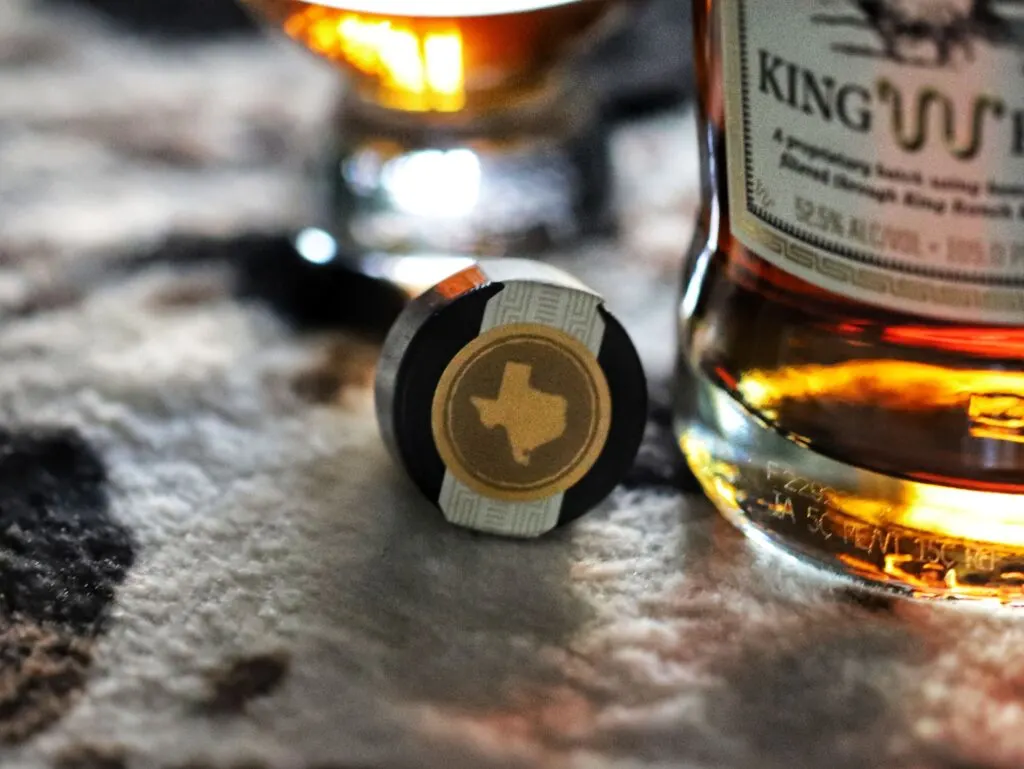 From a macro level, this bourbon really does tie in everything Brown Forman (owners of Old Forester, Jack Daniel's and Woodford Reserve) does well. At 105 proof, it's not going to be too strong for a new drinker, but it also shouldn't be too weak for the average bourbon enthusiast. It also occupies a proof point that no other Old Forester product uses currently. Charcoal filtration is a skill that Jack Daniel's specializes in, so perhaps one of their scientists led the way on how to go about the precise usage of the (mesquite and oak) charcoal filtration. Unlike Jack Daniel's, this bourbon was filtered after it had been aged, not before. Even still, this is not the first Brown Forman product to utilize charcoal filtration after the bourbon has been matured. That title belongs to the oft-forgotten 82.2 proof version of Cooper's Craft Straight Bourbon. That release sees the bourbon filtered through a mix of beech and birch wood after maturation.
With the knowledge that King Ranch was filtered through mesquite and oak charcoal, it opens up the question of if it was also chill filtered. I ask this because Old Forester's standard line of 86 and 100 proof (Signature) bourbons are known to be chill filtered, but their Whiskey Row series of bourbon is not. This could mean big differences in flavor and mouthfeel. Whenever I hear of a bourbon being filtered through a layer of charcoal, I suspect it was chill filtered at the same time. Diageo uses this technique for George Dickel Rye Whiskey (the 90 proof kind) whereby it is distilled and matured at MGP in Indiana, but then sent to Plainfield Illinois to be filtered through a layer of sugar maple charcoal and chill filtered (and maybe has some color added to it) before being bottled. If you want to taste the difference that those processes make, try the Dickel Rye Whiskey against any other ~5 year old non-chill filtered, ~90 proof MGP rye whiskey (there are plenty to choose from) and notice the lack of fruit flavors in the Dickel version.
The reason why I'm exploring every angle of King Ranch before my first taste of it (thanks to the assistance of a very thoughtful friend) is that I'm trying to get into the mindset of a secondary market buyer who is debating if they should buy it or not. While King Ranch seems to be plentiful enough in Texas (the only state it was released), I didn't like that I was seeing it marked up 3 or 4 times the cost of what the bottle was worth. That seems really steep for a $70 MSRP product whose only unique trait is that the whiskey was filtered through mesquite and oak charcoal and was not put into a Wild Turkey Longbranch bottle. In the past, I have tried some whiskies where mesquite is used to smoke the grains (or barrel) first, but those have came off as too acrid. Ask any barbeque pitboss out there and they will tell you that Mesquite isn't ideal for smoking with because too much wood or time can result in creosote flavors overpowering everything else.
So does Old Forester bourbon have enough backbone to stand up to this experiment? There's only one way to find out. Let's see how well the creative minds at Old Forester went about their task. I tasted this neat in a glencairn.
Tasting Notes
Nose: Carmello Candies and Ferrero Rocher Chocolate scents combine with slightly smokey wood notes. There is a small amount of creosote-soaked railroad ties but the acrid scent of that is offset by vanilla and butter toffee. There's not a lot a fruit here, but I swear I'm picking up on the faintest peach and raisin note. Strangely, there is also a slight grainy note too.
Palate: Initially, a nice toffee note greets my tastebuds. There are even lighter fruit flavors like orchard and stone fruits, but they're hard to find. Outside of old leather and the spice equivalent to catching an uncrushed peppercorn in between your teeth that the peppermill failed to grind, there is something really weird going on here. I don't know quite how to describe it, but the oak and wood varnish notes I typically find with my Old Forester products seems to have vanished. Instead, it's replaced by the wood note typically present in some non-peated Scotch that has been aged in an ex-bourbon barrel. The wood note isn't robust or mellow as much as it is sharp and bitey. I'm almost sure this is the fault of the mesquite charcoal's interaction, but it's strange and seems to reduce the sweet notes of the overall dram by 50%.
Finish: The wood notes never really mellow out on the finish. The word I'd use at the end would be more like "crisp" than "bitey" like I spoke about in the notes for the palate. For the first couple sips, the finish was on the sweeter spectrum with an almost "S'more's" like profile but it quickly devolved into burnt wood from last night's campfire. The leather notes from the palate also turned out to be older and drier too. Where did my sweetness go?
Score: 5.7/10
The opening scents were enough to get me excited for the sip that would follow. But that experience turned out to flop in the most peculiar way. It just didn't taste like an Old Forester product. That may be fine for some who tire of the same bourbon profiles over and over (I know because I'm one of them). Frankly, it's a forgettable experience. The addition of the mesquite and oak charcoal filtering process seemed to subtract more from the whiskey than it did to add to it. On top of that, it tasted about 10 proof points less than what the label tells us. That may be a good or bad thing to different drinkers but I felt kind of robbed of the experience.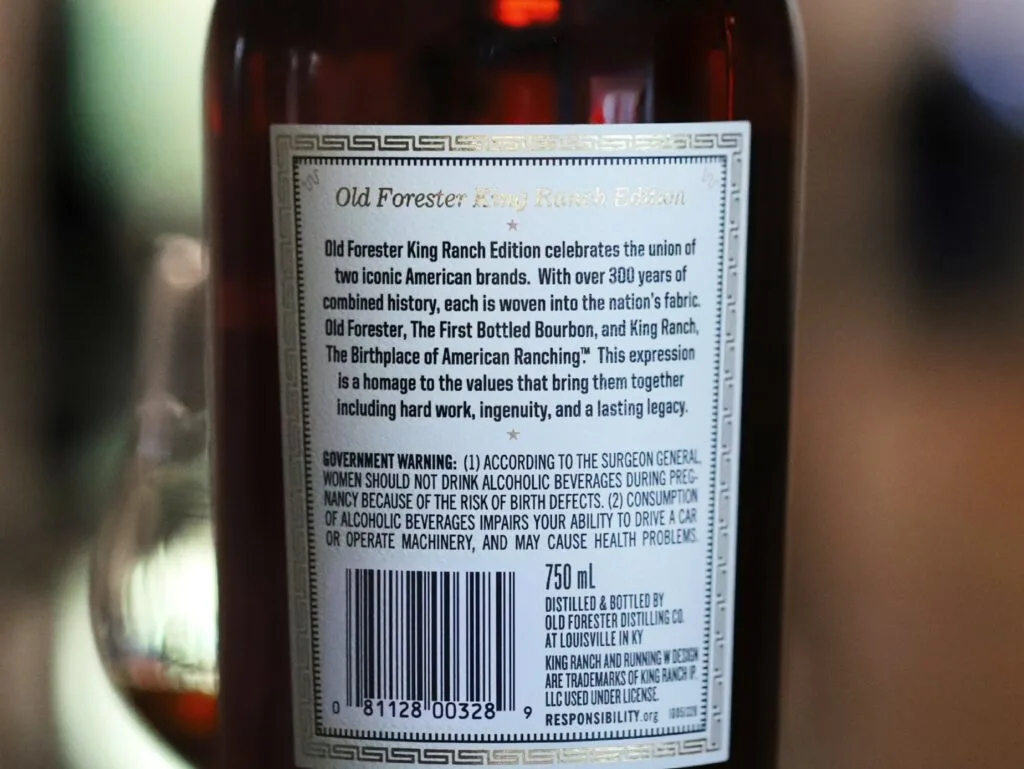 I know that everyone will have a different experience than the one I've described, but I think that the one characteristic that should stand out among most drinkers of this product is how much richness was lost. If you're a fan of Old Forester 1910 or 1920 because of the rich oaky notes, maple syrup sweetness or chocolatey overtones, you'll find virtually none of that here.
Final Thoughts
Old Forester Statesman is a product that seemed gimmicky at the time of its released, yet remains a staple in the Old Forester portfolio to this day. It's probably due to the fact it follows a simple formula of picking barrels from the hottest corners of each warehouse and proofing it down enough to still allow for the oak and spice to show through. But I don't find that this bottle of King Ranch is worthy of living on in the portfolio if that option were to ever be on the table. It's a good concept, but one that I think should've been polished more (perhaps mesquite filtering it before it went into the barrel?) before the final execution.
The fact I am writing all of this in a review is a shame, because I feel as if any new Old Forester product is worthy of celebrating. It also makes me cautiously weary of the direction Old Forester will go now that Jackie Zykan has left. What were her feelings on an experiment like this? Would she have argued in favor of a wider release? Or would she have argued that this should never have been bottled in the first place? I'd like to believe it was the latter which is why it was only released after she left. But now that she's gone, does it mean that Old Forester will embrace more whacky experiments to include collaborations with brands that are not outwardly linked to whiskey? It seems as if King Ranch brings up lots more questions than answers in the end. But one thing is for sure, this is a bottle doesn't need to be chased in the hopes that it will be the next bourbon of the year. We'll just have to stick with what we have for now.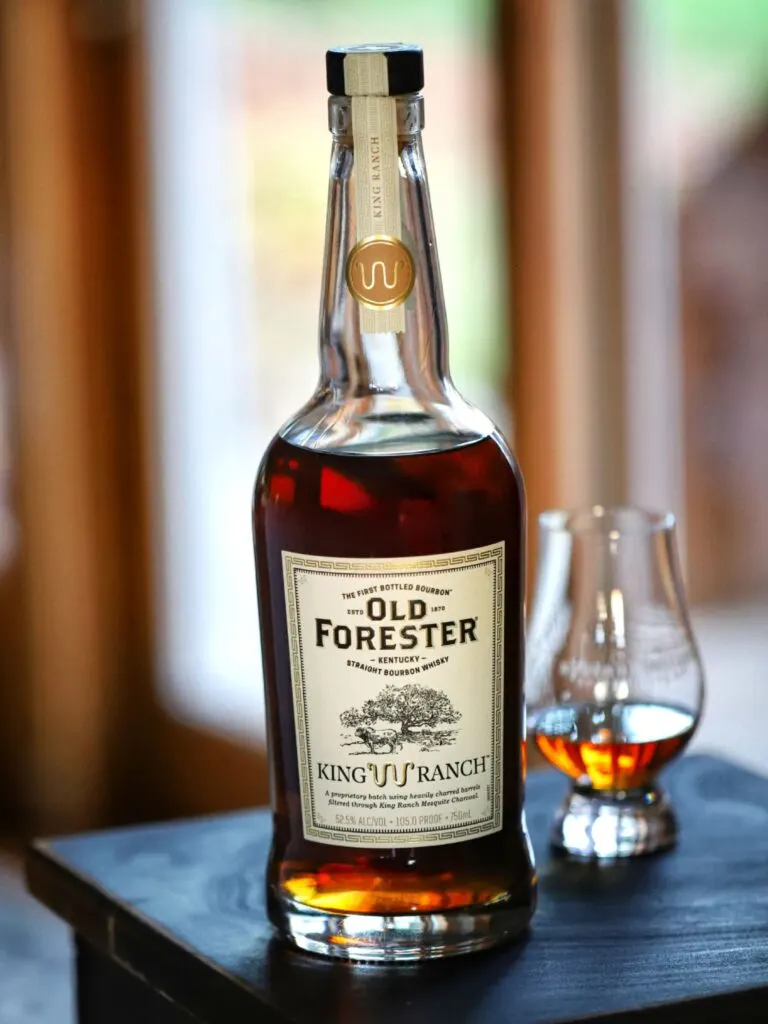 Featured Products
Description:

The Aged & Ore Neat Traveler is a complete travel kit for spirits. We combined our widely praised Neat Glass with one of our 3oz Flight Bottles and housed them together in a custom EVA travel case. Perfect for a night away with your favorite pour. The tie
Description:

The Aged & Ore Bottle Flight is a premium set of 4 custom silicone wrapped glass bottles designed to transport and share samples of your favorite spirits. The flight bottles come in a custom EVA travel case that fits perfectly in any small bag. An Aged &
Description:

This Bundle combines two of our crowd favorite products, creating the ultimate travel bundle to bring along your favorite spirits and glassware. Bundle Includes: Neat Traveler (Gray) Bottle Flight (Gray) Note: This bundle is only available in gray and col
*Bourbon Culture is reader-supported. When you buy through links on our site, we may earn an affiliate commission.