*Bourbon Culture is reader-supported. When you buy through links on our site, we may earn an affiliate commission.
Back in 2018 when Maker's Mark launched their new Private Select single barrel program, I was skeptical that it was even worth my time. The price (upwards of $70) and gimmicky nature (extra staves were added to a refilled barrel of batched bourbon) seemed too much. Eventually, I did pick up a bottle at a local retailer because I wanted to see if I was right. I don't recall being totally blown away, but I wasn't turned off by it. My train of thought was that there were just so many better bourbons out there with age statements or higher proofs that I would rather spend my $70 on.
Maker's Mark Private Selection
But as the years went on and I had the opportunity to taste more and more of these Private Selects (now called Private "Selections"), my opinion began to change. The main reason was due to friends sending me blind samples of MMPS from time to time. Before they revealed what they were, I would always rate them highly (anywhere between an 8.3 to an 8.1) and not once did I correctly identify it was a Maker's Mark product. To me, Maker's Mark is something that rarely tastes like Maker's Mark unless you know that's what you're drinking.
Recently, a good friend of mine sent me a blind sample that I once again botched. In a humbling disclosure, I honestly thought I was drinking an Armagnac by the end of the session. I loved it though and was shocked to find out that something that had such rich, earthy notes and so much wood spice (the same kind I get from French Oak matured products) was actually from Maker's Mark. But when I looked at the stave profile, I saw that this pick used all 10 available finishing staves on just one kind of wood: the new Roasted French Mendiant.
Maker's had warned us leading up to the 2021 change that they were retiring the French Mocha stave. It seemed unbelievable at the time because it was a stave that everyone seemed to select when creating their own custom finishing treatment. It was announced later on that Roasted French Mendiant would be its successor. To those that don't know what the word Mendiant means, it was probably a non-starter for them. However, Mendiant is a French confection that is known for its notes of chocolate, dried fruit, and nuts. This should mean that the chocolate notes that everyone loved from the previous mocha stave can still be a part of the Private Selection experience.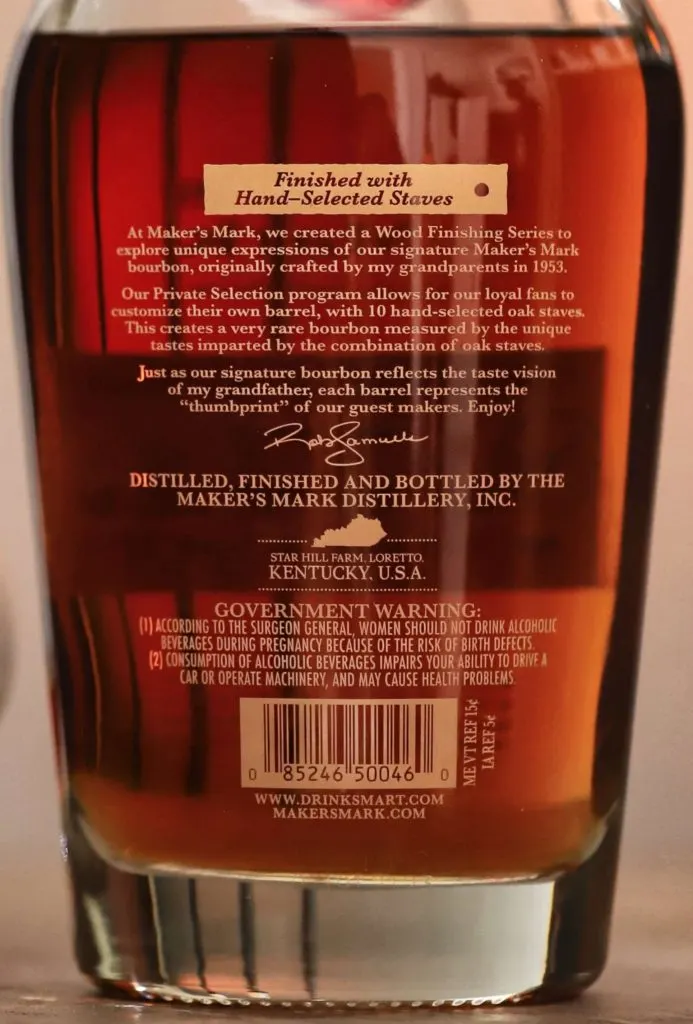 My friend helped me acquire this bottle because I gave it such high praise (spoiler alert). He told me that the name "New Kid On The Block" referred to the fact that the French Mendiant stave was the newest stave from Maker's Mark and also that this may be the first pick that specified all 10 staves be French Mendiant. It turns out the barrel was split between two stores in New Jersey; Hudson Wine Market and Tomar's Discount Liquors. In a first for my reviews, I'm going to include both my initial observations from when I tasted this blind to the notes I jotted down when I received the actual bottle. This should help paint a more complete picture as to why I felt this bottle was so unique. I sampled this neat in a glencairn.
Tasting Notes
Nose: When smelling this blind, I was not detecting a lot of classic bourbon notes (like caramel and vanilla). I started to think it was a rum and then landed on this smelling more like an Armagnac. It had loads of dark fruits and some faint, musty oak, but not in a way that bourbon would produce. The strangest part was I got this scent that was like rich, black soil. It was also paired with dark chocolate and a fruit note that reminded me of a wine. After knowing what this bottle was, I can definitely say that the earthiness remains along with the chocolate, but the fruits become drier and the sweets start poking out a bit. It's an amazing nose.
Palate: The spice and dark fruits are certainly delicious and very pungent. I can taste some really nice wood notes but once again this doesn't hit like oak traditionally does in a bourbon. The overall oak notes make it come off as vastly older but it lacks that certain "old wood varnish" note that most bourbon gets after 16 or so years. I called it on my blind sample that I was detecting this telltale creamy and spicy note that I associate with French Oak. If you don't know what I'm talking about, find a wine, Scotch or Bourbon that has seen contact with French Oak to understand what a different species of wood can do to an alcohol. Overall I found the spice to be amazingly complex, yet restrained. After receiving the bottle, I narrowed down the flavors as to "spicy fruit." It's like fruit that has been poached and sprinkled with all sorts of baking spices. It's rich and decadent and right up my alley. The chocolate turns almost powdery in the end.
Finish: Lingering fruit notes like raisins, plums, dates and figs. All of them have been smothered with loads of cinnamon, clove and other sharp brown spices. I love the leather and oak notes that linger around. This is a sip that really does have it all and I am assuming that it's all because of this new stave.
Score: 8.4/10
Some of you may think I got a little carried away with the rating I gave this one but this is just such a great bourbon. It has so much more complexity than other previous bottles of Maker's Mark I've tried. This new stave is undoubtedly the reason behind it and it makes me very happy that they added it in (even at the expense of retiring my beloved French Mocha stave). I normally find fruits and some spice in Cask Strength Maker's, but the flavors and scents in this bottle are vastly different and harder-hitting than before.
Final Thoughts
Most people find Maker's Mark products to be bland and utilitarian. I must say that I have fallen into that mindset too over the years. But every now and then you get a bottle that grabs your attention and makes you take notice that this is still a world-class distiller who is constantly trying to tinker with their products to make them better. I know the stave-finished single barrels seem a bit gimmicky, but the new French Mendiant tastes like a game changer to me. I encourage you to not pass up any store picks that contain a high amount of this stave in it. It might just become your new favorite.
Featured Products
Description:

The Aged & Ore Neat Traveler is a complete travel kit for spirits. We combined our widely praised Neat Glass with one of our 3oz Flight Bottles and housed them together in a custom EVA travel case. Perfect for a night away with your favorite pour. The tie
Description:

The Aged & Ore Bottle Flight is a premium set of 4 custom silicone wrapped glass bottles designed to transport and share samples of your favorite spirits. The flight bottles come in a custom EVA travel case that fits perfectly in any small bag. An Aged &
Description:

This Bundle combines two of our crowd favorite products, creating the ultimate travel bundle to bring along your favorite spirits and glassware. Bundle Includes: Neat Traveler (Gray) Bottle Flight (Gray) Note: This bundle is only available in gray and col
*Bourbon Culture is reader-supported. When you buy through links on our site, we may earn an affiliate commission.