*Bourbon Culture is reader-supported. When you buy through links on our site, we may earn an affiliate commission.
After a thorough thrashing of Barrell Craft Spirits newest label, Stellum Black Bourbon, I am now staring down the neck of its sibling; Stellum Black Rye. Interestingly, the word "whiskey" is conspicuously absent after the word "rye" both on the label and on their website. I wonder why that is? Anyway, Stellum, which is Barrell's entry-level label, launched the "Black" series in late 2021. The goal of the Stellum line was originally to offer a consistent profile (rather than an ever-changing blend like Barrell does) batch after batch. This is done by concentrating on one base whiskey and adding other similar whiskies to it to make it always taste the same.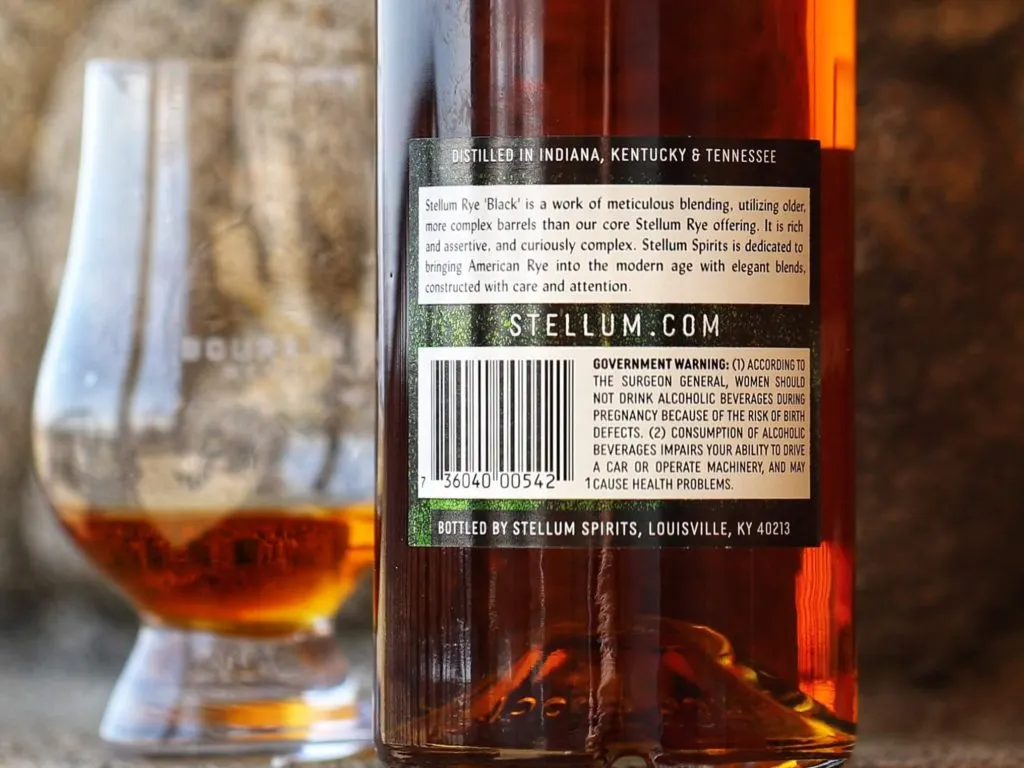 Stellum Rye "Black"
Stellum Bourbon's base whiskey is contract distilled 5-year-old MGP bourbon. I can only assume the base whiskey for Stellum Rye and Stellum Black Rye is MGP 95/5 rye whiskey that is also around 5 year old too. The other components that are added to it are probably column-distilled rye whiskey from Cascade Hollow and a rye whiskey from an anonymous Kentucky distillery (Bardstown Bourbon Company or Barton would be my guess).
Stellum Black Rye, unlike it's bourbon counterpart, does state that the barrels selected for the blend come from "older reserve barrels." This crucial descriptor actually justifies the price jump from Stellum Rye's $55 pricetag to Stellum Black Rye's $99 pricetag. Conversely, Stellum Black Bourbon's description says that its barrels come from "reserve barrels from our stocks" with no mention of those stocks being older in age.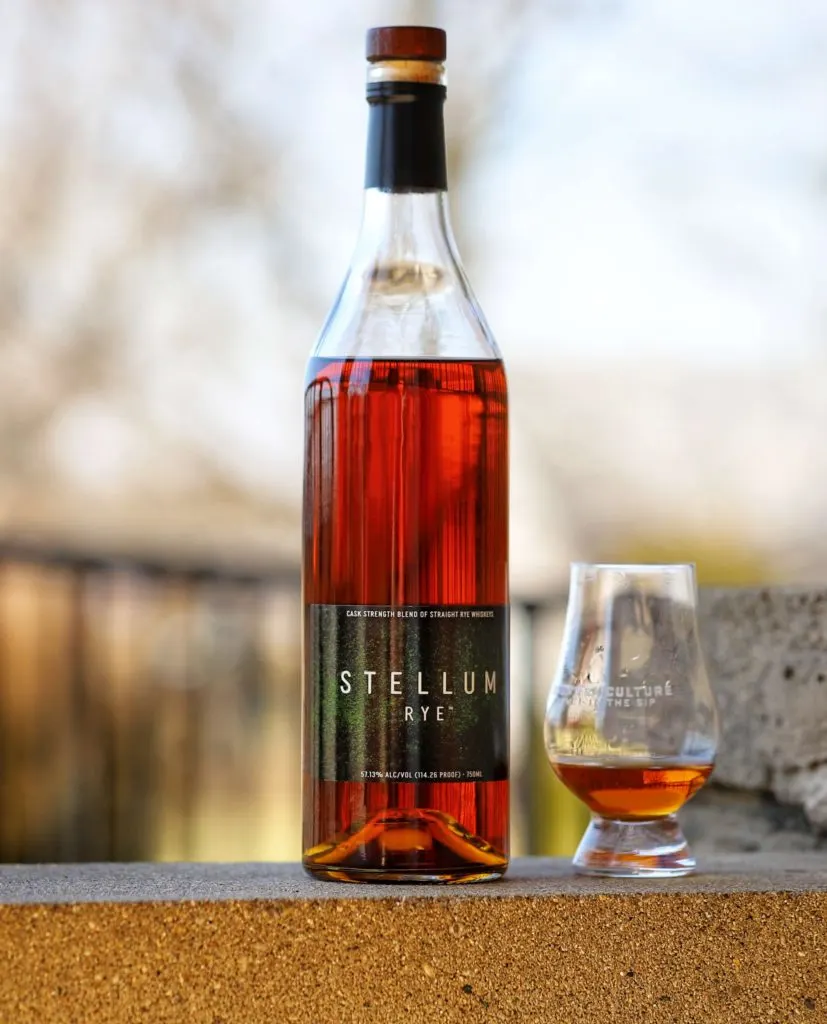 Barrell has been a mixed bag with its rye whiskey in recent years. The first two batches of Barrell Rye Whiskey were ho-hum while Batch 003 was outstanding. Likewise, Barrell's first campaign of single barrel Canadian Rye Whisky (from Gimli) was a giant success while their second campaign (from Valleyfield) was less so. Seagrass was a mega hit that I suspect contains many of the same components as Stellum Rye (without the barrel finishing). So will Stellum Black Rye be an even more jacked up version of that? Time to find out. I sampled this neat in a glencairn.
Tasting Notes
Nose: An incredibly robust and sweet nose greets you upfront. Notes of candy corn, vanilla icing and sweet mint all hit first. Spicier components like peppermint, cinnamon and a sprig of rosemary wake up your senses and let you know this rye means business. I am unexpectedly enjoying the aged notes of oak and leatherbound books while also taking in the floral scents of a bouquet of flowers. The nose is jaw-dropping in its vibrancy.
Palate: Sweet, spicy and viscous. This rye has it all. I love the stone fruit marmalade coupled with bags of various citrus fruits. It has a creamy viscosity that wraps around your tongue. Crystalized honey, fried donuts, cinnamon and cloves give sweet and spiced notes. The herbal and floral notes really stand out like extra barrels of Canadian rye were used. The spice of the rye perfectly compliments the sweetness and the balance is perfect. I can't think of anything that could be improved upon in this except for more aged oak notes.
Finish: A sweet and creamy mouthfeel remains. There is a lot of cinnamon spice and minty fresh forest floor notes. The heat is well controlled and it makes your mouth ready for the next sip. There even seems to be a note much like a piece of birthday cake that's set out in the sun for a bit. Honestly I'm loving the outdoor notes so much in this one. They last long after the sip is complete.
Score: 8.6/10
Stellum Black Rye Whiskey accomplishes what Stellum Black Bourbon could not. It's head and shoulders better than the $55 introductory whiskey it's based off of. The depth and explosion of flavors on this one was eye-popping and easily rivals the delicious Barrell Rye Whiskey Batch 003. While I think that young barrels were used in this blend, they just work so well together with the older barrels resulting in a very complex rye. This is worth the price and possibly more.
Final Thoughts
After 2 weeks with this bottle, I noticed that it is almost gone. It's a bottle that I think about each time I head to my whiskey closet thinking "what sounds good tonight?" That means that it's truly special. I've also found myself giving all of my friends a heads that they need to buy this rye right now because I'm not sure how well they'll be able to find it in the coming months. To be clear, Stellum Black Rye will almost assuredly be high on my "Most Memorable Whiskies of 2022" list come November when I publish it. But will you still be able to find it then? I would recommend you go out and buy this bottle right now.
Featured Products
Description:

The Aged & Ore Neat Traveler is a complete travel kit for spirits. We combined our widely praised Neat Glass with one of our 3oz Flight Bottles and housed them together in a custom EVA travel case. Perfect for a night away with your favorite pour. The tie
Description:

The Aged & Ore Bottle Flight is a premium set of 4 custom silicone wrapped glass bottles designed to transport and share samples of your favorite spirits. The flight bottles come in a custom EVA travel case that fits perfectly in any small bag. An Aged &
Description:

This Bundle combines two of our crowd favorite products, creating the ultimate travel bundle to bring along your favorite spirits and glassware. Bundle Includes: Neat Traveler (Gray) Bottle Flight (Gray) Note: This bundle is only available in gray and col
*Bourbon Culture is reader-supported. When you buy through links on our site, we may earn an affiliate commission.