*Bourbon Culture is reader-supported. When you buy through links on our site, we may earn an affiliate commission.
Not to sound alarmist, but I think that Old Forester Single Barrels represent some of the biggest risks to buyers these days.
I'm talking specifically about the barrel strength versions as I've heard that the 100 proof ones are generally well liked (but rare since very few customers choose to have them proofed down). Ever since the first barrel strength single barrel was released in 2020, they've received lukewarm critical responses.
On top of single barrels falling flat, the value is even more daunting as prices hover around $80 to $100 per bottle and the age statements are barely above 4 years old. At that rate, you're paying essentially $20 per year aged when everyone else (except maybe Willett) tops out at around $10 per year aged.
But Old Forester's heat cycled warehouses do impart an artificial maturation to the liquid inside of the barrels, making the value ratio I just described kind of murky. You essentially have to let your tongue and nose tell you if you think the whiskey tastes like it's more mature than it is. Age is just a number, right?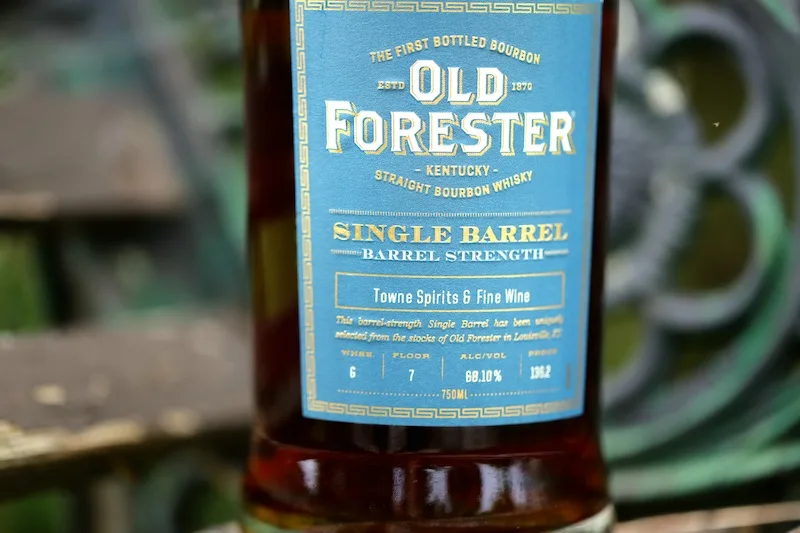 So today I'm going to look at another single barrel from a local Indianapolis liquor store chain called Towne Spirits and Fine Wine. Over the past year, Indianapolis has seen their fair share of these single barrels land and I've tasted through most of them.
None of them have broken an "8" on my ratings scale and most have been downright disappointing. Warehouse H and I have generally disappointed me while K has been one of the better ones.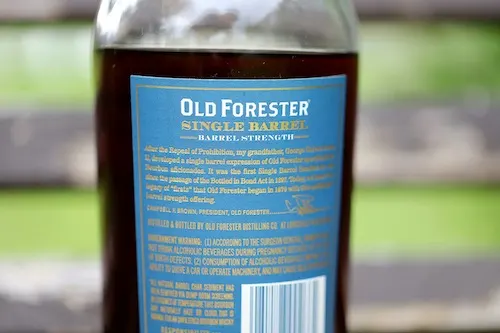 This bottle from Towne Spirits surprised me not only for coming from a warehouse I've never tried before (G) but because it's also one of the highest proofs that I've been able to taste yet at 136.2 proof. The kicker? This barrel is allegedly 6 years old making this 50% older than almost all other single barrels released in the Indianapolis area so far.
With this collection of stats, the perfect storm is here for something that could be wildly entertaining. But I've been disappointed in the past with these bottles, so I'm going to proceed with caution. How did this turn out? I tasted this neat in a glencairn.
Tasting Notes
Nose: Buttery toffee presents two scents right off the bat that I rarely get with an Old Forester product. But a huge oak presence and new leather follow right behind it to let me know that this is an Old Forester product we're dealing with. Chocolate ganache, vanilla bean (cranked up to 11) and barrel char all contribute to an extremely potent nose. Toss in a pinch of baking spices and I'm in heaven.
Palate: At 136.2 proof, I shouldn't be surprised that a wave of heat washes over my tongue. But it doesn't ruin the experience, it merely amplifies it. The oily nature of the liquid is really pleasant too. There are notes of sweetened stone fruits, cherry licorice and a bit of mint.
The oak presence is just as massive as it was on the nose, but it's not necessarily over-oaked. Frankly, it's the perfect amount. There's more toffee sweetness coupled with German Chocolate Cake and bursts of cinnamon pie dough. And if all of that wasn't enough, I'm still finding more notes like rich tobacco and furniture polish.
Finish: Pipe tobacco and layers of oak hang around the longest after each sip, but it's the sweet notes of crème brulee that are most satisfying at the end. It's sweet enough that it doesn't create a dry, bitter affair like I normally get with most Old Forester products. It allows the dark chocolate and ash notes to be better received rather than despised.
Score: 9/10
Amazing. Unreal. Finally. After a year of waiting and believing that Old Forester's single barrel program was just not capable of giving me a barrel that I'd truly love, I finally found one that delivers the bliss I was looking for. Looking over my tasting notes, I find that I continue to underline the word "massive" when talking about the flavors and scents that I found throughout.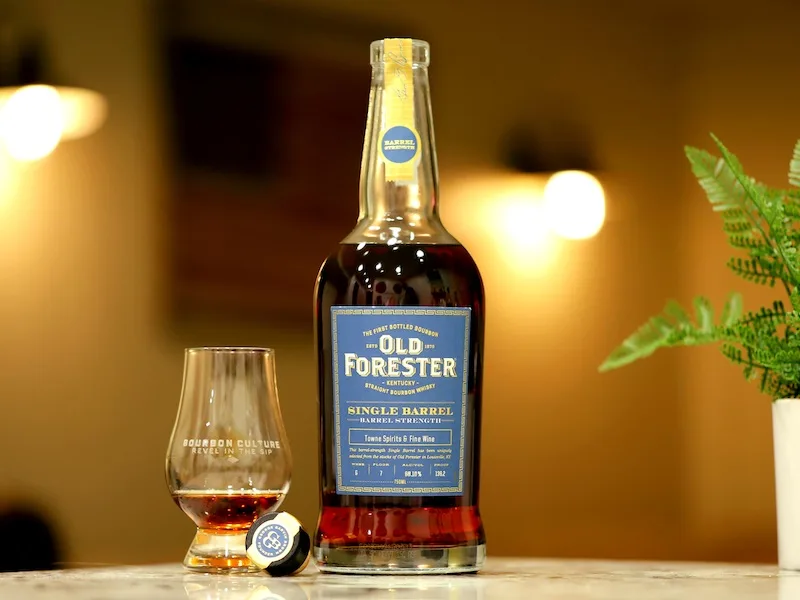 I've had 6 sessions now with this bottle and not only is it getting better every time, it has etched itself into my mind as a bottle I think about before I even open the door to my bourbon closet (yes, I have a closet).
Final Thoughts
To continue beating a dead horse, I tasted this side-by-side with an Old Forester President's Choice bottle I recently got and found this to be noticeably better. There's no world I imagined that would be true in. This bottle screams "very old bourbon" when you taste all of those tannins, yet it never goes over the edge and becomes too much. The color is one of the darkest and most opaque whiskies I own.
Overall, it is one of the most fulfilling Old Forester single barrels I've had and one that is not likely to see an equal anytime soon. Jackie Zykan's missed opportunity to have this become a President's Choice barrel ended up with a silver lining… it became a bottle I could find locally and now have in my collection.
Ratings Breakdown
1 | Disgusting | Drain pour (Example: Jeffers Creek)
2 | Poor | Forced myself to drink it
3 | Bad | Flawed (AD Laws 4 Grain BiB, Clyde Mays anything)
4 | Sub-par | Many things I'd rather have (Tincup 10 year)
5 | Good | Good, solid, ordinary (Larceny, Sazerac Rye)
6 | Very Good | Better than average (Buffalo Trace, OGD BiB)
7 | Great | Well above average (Old Ezra Barrel Proof, Old Weller Antique)
8 | Excellent | Exceptional (Michter's Barrel Proof Rye, Four Roses Barrel Strength)
9 | Incredible | Extraordinary (GTS, 13 Year MGP or Canadian Rye)
10 | Insurpassable | Nothing Else Comes Close (William Larue Weller)
Featured Products
Description:

The Aged & Ore Neat Traveler is a complete travel kit for spirits. We combined our widely praised Neat Glass with one of our 3oz Flight Bottles and housed them together in a custom EVA travel case. Perfect for a night away with your favorite pour. The tie
Description:

The Aged & Ore Bottle Flight is a premium set of 4 custom silicone wrapped glass bottles designed to transport and share samples of your favorite spirits. The flight bottles come in a custom EVA travel case that fits perfectly in any small bag. An Aged &
Description:

This Bundle combines two of our crowd favorite products, creating the ultimate travel bundle to bring along your favorite spirits and glassware. Bundle Includes: Neat Traveler (Gray) Bottle Flight (Gray) Note: This bundle is only available in gray and col
*Bourbon Culture is reader-supported. When you buy through links on our site, we may earn an affiliate commission.