One of the main contributors to rising prices on the secondary market is demand increasing faster than supply. That's why it has always puzzled me when producers roll out new allocated products when they can't meet demand of their current ones. Take for example, the subject of today's review: Weller Single Barrel.
Weller Single Barrel is a product that doesn't need to exist. Buffalo Trace already has a single barrel program for their Special Reserve, Antique 107 and Full Proof labels that can't produce enough bottles to meet demand. And it's not like the barrels these are coming from different stocks either. Weller barrels are generally pulled from the warehouses anywhere from 6 to 7 years old (unless they're Weller 12 year). From there, they get proofed down and chill filtered (unless it's specified they're not to be) to either 90, 107 or 114 proof.
Weller Single Barrel Bourbon isn't that different from the rest
That's right, Weller Special Reserve, Antique, Full Proof and Single Barrel all the same mash bill and the same age. The only thing that separates them is the proof they're bottled at, if they're chill filtered or not and the color of their label. Weller Single Barrel doesn't break any new ground on the proof or age. So why does it exist and why is it only released once per year? I think we all know the answer to this.

If you're new to all this and unsure why I'm droning on about this particular bottle, let me put it into perspective. Weller Single Barrel is a bottle that:
Buffalo Trace created even though they still can't meet the demand of their 6 other Weller products
is bottled at a very pedestrian proof (97)
doesn't explore a new concept (you could already buy single barrels of Weller in 90, 107 or 114 proof form)
became immediately allocated because Buffalo Trace decided to make it an annual release with limited amounts of cases
commands a higher price on the secondary than buying a bottle of Weller Full Proof and Weller 12 Year, combined
very few people will ever open because the secondary prices won't ever validate the desire to open and taste it over using it for future trades and sales.
Let's finally find out what it's like to taste one of the world's most expensive shelf trophies and see if there's any merit behind the secondary price. I sampled this neat and in a glencairn.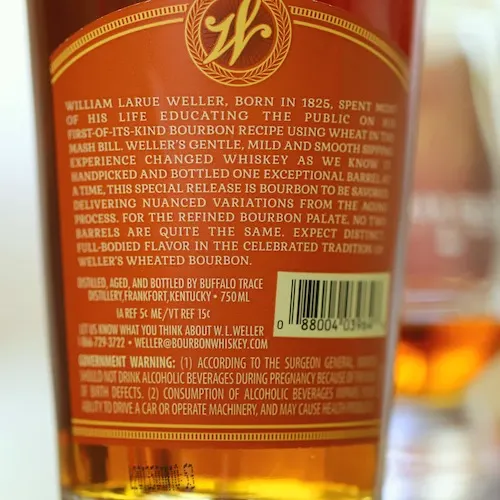 Tasting Notes
Nose: The nose on this is just as I was expecting with traditional Weller cherry scents. There's a small amount of orange peel that coexists with a bit of flower petals. Otherwise, stronger notes like cinnamon spice, caramel sauce and seasoned wood make up the most dominant traits.
Palate: Cherry syrup on the tongue mixes with notes of vanilla. The sip isn't as sweet as I was expecting (as distillate sometimes gets a bit sweeter when it gets proofed down) but a faint grassy character is unique to the lineup. Otherwise, the sip is still full of cinnamon, mild oak spice and Rolo's.
Finish: A lingering taste of menthol and cherry cough syrup coupled with a mild amount of caramel sweetness. The tannins fade away but fruit flavors of dates and plums remain behind along with some more orange peel.
Score: 7.2/10
The flavors are both at once enjoyable and fairly predictable for a Weller product. I didn't detect anything out of the ordinary from other single barrel picks of Weller I've had in the past (mainly 107 and Full Proof variety) so my hopes were dashed that these barrels were ones that somehow escaped the Van Winkle tasters as they walked through the warehouses. Otherwise, this was just a really nice sipper.
The problem remains that there are already many more "really nice sippers" at this price point (I'm talking retail) and there are literally a hundred bottles that taste miles ahead of it at its secondary price point. All of this still comes as no surprise to me or anyone reading this that knows a moderate amount about bourbon.
It's just a shame that this bottle even has to exist at all. Because even if you vow to never buy Weller SiB at secondary cost, the fact is that it its $600 secondary pricing is driving up prices on other allocated bottles.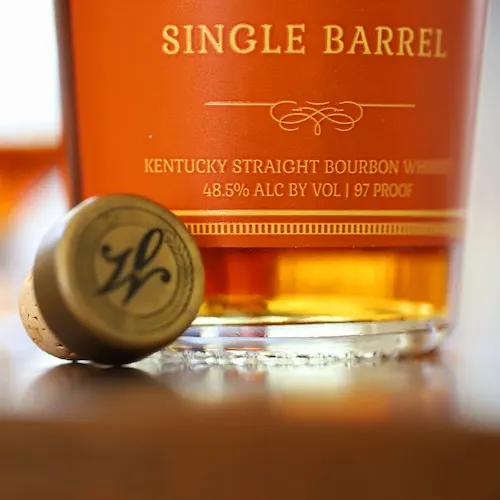 The issue multiplies when people see flippers asking for more than 10 times over retail for this bottle. They then think that many other allocated bourbons should be priced at higher prices as well. Then ultimately some fool will purchase those other bottles and the market will conclude that the prices have now increased on bottles that aren't even related. And that makes this whole scheme absolutely maddening.
There is virtually no system of checks and balances and it's starting to feel like the Wild Wild West.
The destruction of bourbon as a fun hobby and more of a dick-measuring contest may not have started with Weller Single Barrel and it surely won't end with it either, but mark my word, this release will ultimately be known as the straw that broke the camel's back. And in the future when we're all wondering why bourbon has gone up in price, we'll look back at decisions like this from company's like Buffalo Trace that resulted in destroying the concept of an everyman's drink and turning it into a house of horrors.
Ratings Breakdown
1 | Disgusting | Drain pour (Example: Jeffers Creek)
2 | Poor | Forced myself to drink it
3 | Bad | Flawed (AD Laws 4 Grain BiB, Clyde Mays anything)
4 | Sub-par | Many things I'd rather have (Tincup 10 year)
5 | Good | Good, solid, ordinary (Larceny, Sazerac Rye)
6 | Very Good | Better than average (Buffalo Trace, OGD BiB)
7 | Great | Well above average (Old Ezra Barrel Proof, Old Weller Antique)
8 | Excellent | Exceptional (Michter's Barrel Proof Rye, Four Roses Barrel Strength)
9 | Incredible | Extraordinary (GTS, 13 Year MGP or Canadian Rye)
10 | Insurpassable | Nothing Else Comes Close (William Larue Weller)
Featured Products
Description:

The Aged & Ore Neat Traveler is a complete travel kit for spirits. We combined our widely praised Neat Glass with one of our 3oz Flight Bottles and housed them together in a custom EVA travel case. Perfect for a night away with your favorite pour. The tie
Description:

The Aged & Ore Bottle Flight is a premium set of 4 custom silicone wrapped glass bottles designed to transport and share samples of your favorite spirits. The flight bottles come in a custom EVA travel case that fits perfectly in any small bag. An Aged &
Description:

This Bundle combines two of our crowd favorite products, creating the ultimate travel bundle to bring along your favorite spirits and glassware. Bundle Includes: Neat Traveler (Gray) Bottle Flight (Gray) Note: This bundle is only available in gray and col
*Bourbon Culture is reader-supported. When you buy through links on our site, we may earn an affiliate commission.