*Bourbon Culture is reader-supported. When you buy through links on our site, we may earn an affiliate commission.
A couple months ago I had my first taste of Whiskey del Bac's American Single Malt Whiskey. No, it was not one of their standard releases (which are known as "Classic" and "Dorado") but rather a limited release known as Frontera. Frontera was a unique bottling from their newly launched "Global Cask Series." Whiskies from that series use Whiskey del Bac's Classic American Single Malt Whiskey and finish them for an extra period of time in various casks. Frontera used a large Pedro Ximenez Sherry Butt to rest the whiskey in for 13 months. The final product paired the classic flavors of their malt whiskey with the deep, rich layers of fruits and chocolate that PX Sherry is known for. I was hooked.
The newest Global Cask Series release: "Normandie"
But the thing about limited editions is that they never stick around. So while my bottle of Frontera was great, I knew I probably couldn't find it again once it was sold out. Then I found out that Whiskey Del Bac was going to keep the tradition going by releasing another limited edition bottling from their Global Cask Series called "Normandie." The name harkens back to the region in France known for producing Calvados (which is an apple/pear type of brandy). Just like the Frontera label before it, this label sees the Tucson distiller sourcing a cask from another part of the world to finish their whiskey in.
To be honest with you, I was unsure about tasting this bottle. The reason why is because I still have a bad taste in my mouth (literally) over a different Calvados-finished whiskey from a year ago. That particular bottle, which was a bourbon from Untitled Whiskey, had such strong Calvados notes that it practically overwhelmed every other flavor. I suppose the producers at One-Eight Distilling (makers of Untitled) did not get the memo that you're supposed to make sure that the base whiskey shouldn't end up tasting primarily like the finishing cask you're using. Less is more. But did Whiskey Del Bac know this before they attempted their newest experiment?
Upon opening the bottle and pouring it, I paused before holding it up to my
nose
.
I was fully expecting that sharp, acidic tang to overwhelm my nose
followed by sickly-sweet over-ripe apple notes just like I had from my last experience with Untitled. But I don't review as much whiskey as I do by turning down bottles I might not like, so I had to dive in. After pouring a glass in my trusty
glencairn
, here's what I found.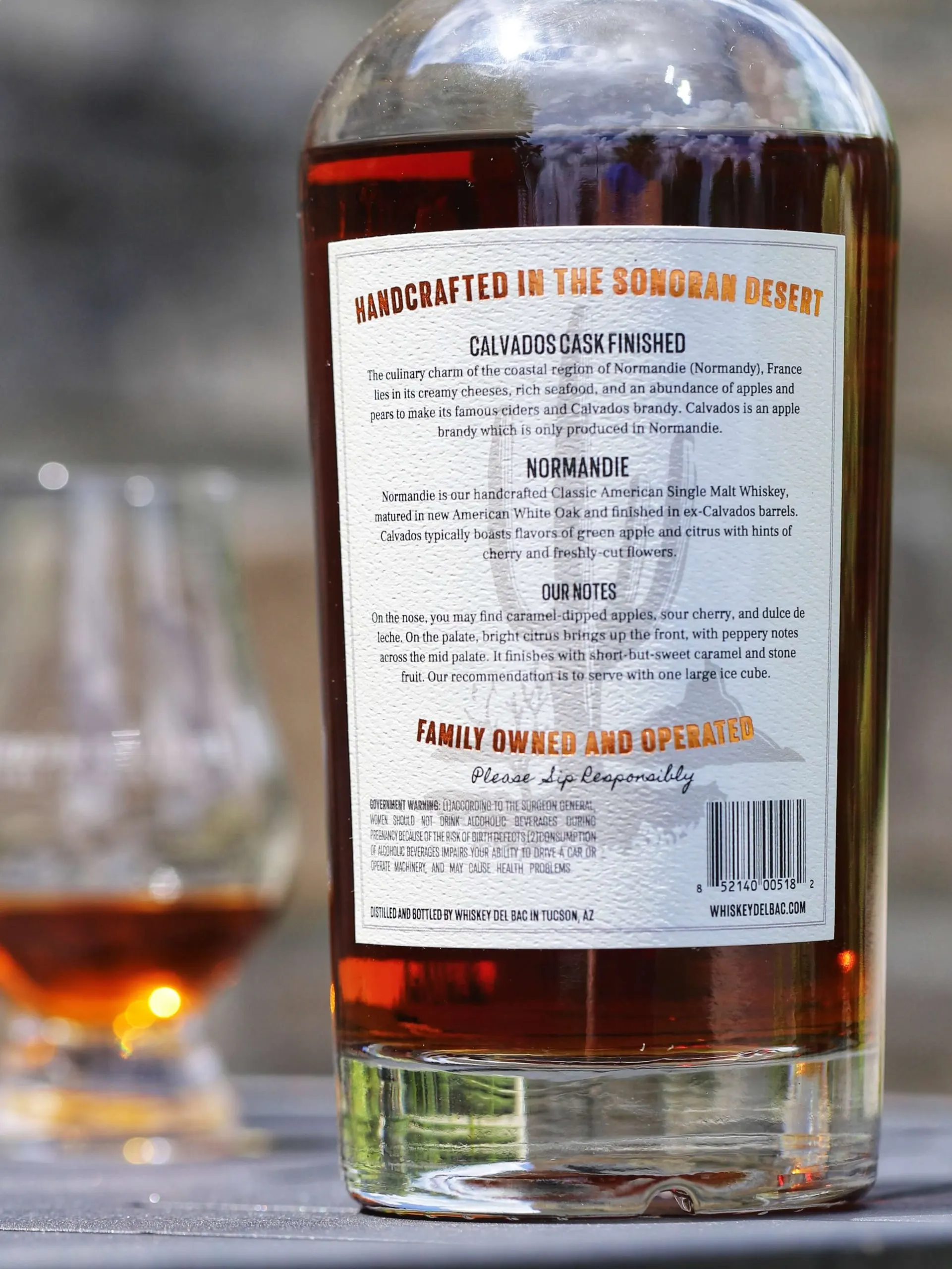 Tasting Notes
Nose:
Notes of
warm apple cider
with a
cinnamon stick
rise up to greet my nostrils. So far, we're off to a good start. And even though Calvados is not grape-based, I swear I get a lot of mulled wine notes. Regardless, it's pretty enticing to smell. There is a decent amount of
tart citrus rind
and a small amount of vinegar wafting about. Nothing really detracts from the nose as I would describe everything I've just experienced as rich and balanced so far.
Palate: A decent amount of baking spices combines with cooked malted grains to give a sense of the underlying malt whiskey. There are tangy notes of apple vinegar, but they're not heavy-handed. Instead, it's the orchard fruit pie, buttery pie crust and raisins that take center stage in the flavor department. There's even some noticeable aged noted like leather and oak.
Finish: More of the same from the palate. Delicious apple pie flavors mix with raisins and buttered crust. There's an extra savory note that comes out at the end that also pairs with a balsamic vinegar note. As the finish slowly vanishes, you can detect some of that Malt-o-Meal hot cereal goodness that warms you from the inside.
Score 7.9/10
If my experiences with Calvados finished whiskey were a baseball player, they'd be batting .500 now. I officially have an example that I liked and it's this Normadie release from Whiskey del Bac. Somehow the sweet, malty notes did not become overwhelmed by the sharp, tangy nature of the Calvados cask. WDB must have done their due diligence while watching over the finishing process because it felt like the liquid was dumped at the perfect moment to retain the best of both worlds. Even the final proof point of 48.5% ABV felt right.
Final Thoughts
What more is there to say? Simply put, I can't wait for the next release from the Global Cask Series. As a person who is discovering the world of Scotch more and more these days, I'm also learning to love malt whiskies produced in America. There is a lot to love and discover in this category and the youth doesn't ruin the whiskey like it normally would with bourbon or rye whiskey. Cask finishes are especially adept at imparting their flavors due to young malt whiskies ability to be like a blank canvas.
This isn't always the case with bourbon or rye whiskey which take a long time for their strong profiles to mellow out. So if these cask-finished examples of Frontera and Normandie are any indication, they have done their homework. At $90, the age may not look as impressive but the taste definitely is. If you're a Scotch drinker who loves various cask finishes or maturations, then take a look at WDB. You might be just as surprised as I am.
Ratings Breakdown
1 | Disgusting | Drain pour (Example: Jeffers Creek)
2 | Poor | Forced myself to drink it
3 | Bad | Flawed (AD Laws 4 Grain BiB, Clyde Mays anything)
4 | Sub-par | Many things I'd rather have (Tincup 10 year)
5 | Good | Good, solid, ordinary (Larceny, Sazerac Rye)
6 | Very Good | Better than average (Buffalo Trace, OGD BiB)
7 | Great | Well above average (Old Ezra Barrel Proof, Old Weller Antique)
8 | Excellent | Exceptional (Michter's Barrel Proof Rye, Four Roses Barrel Strength)
9 | Incredible | Extraordinary (GTS, 13 Year MGP or Canadian Rye)
10 | Insurpassable | Nothing Else Comes Close (William Larue Weller)
Featured Products
Description:

The Aged & Ore Neat Traveler is a complete travel kit for spirits. We combined our widely praised Neat Glass with one of our 3oz Flight Bottles and housed them together in a custom EVA travel case. Perfect for a night away with your favorite pour. The tie
Description:

The Aged & Ore Bottle Flight is a premium set of 4 custom silicone wrapped glass bottles designed to transport and share samples of your favorite spirits. The flight bottles come in a custom EVA travel case that fits perfectly in any small bag. An Aged &
Description:

This Bundle combines two of our crowd favorite products, creating the ultimate travel bundle to bring along your favorite spirits and glassware. Bundle Includes: Neat Traveler (Gray) Bottle Flight (Gray) Note: This bundle is only available in gray and col
*Bourbon Culture is reader-supported. When you buy through links on our site, we may earn an affiliate commission.