*Bourbon Culture is reader-supported. When you buy through links on our site, we may earn an affiliate commission.
Bardstown Bourbon Company is a distillery that is never content on doing just one thing. They are a power player who seems to have their hands in every pie. Contract distilling for other producers? Check. Distilling their own product? Check. Sourcing other distillery's whiskey for themselves to blend with? Check.
But it's their Collaborative Series that we're looking at today. Previous releases saw the use of bourbon from MGP or Dickel being finished in a variety of barrels. Those finishing barrels varied from beer, wine and even other spirits (like Armagnac).
All of those releases were generally well-reviewed by other reviewers. But I found that I either loved them or felt indifferent about them. There were very few in between.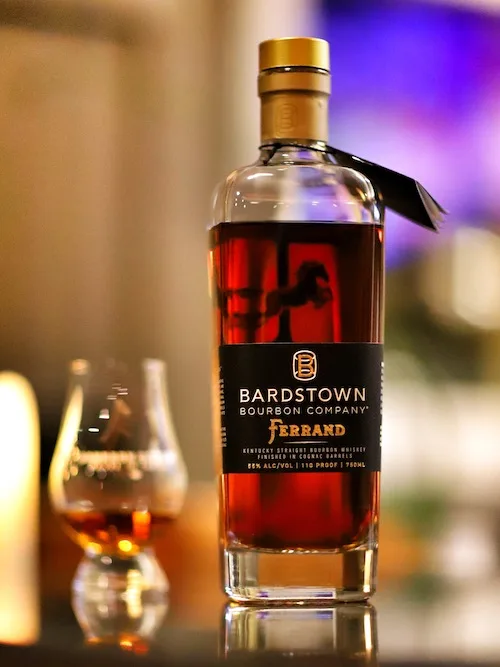 For the first time ever, Bardstown Bourbon Company has decided to use their stocks of sourced Kentucky bourbon as the base spirit for a new Collaborative Series release. The mashbills listed on the side of the bottle seem to indicate they blended together 7-year-old Heaven Hill bourbon and 11-year-old Jim Beam.
The bourbon then gets dumped into fresh Maison Ferrand Cognac casks and finished for 8 months before it achieved the flavor profile they desired.
It's worth noting that previous Collaborative Series releases were all finished for exactly 18 months. This is unusual for a producer to finish a bourbon based on a calendar rather than their own taster's judgement on when it's done.
It's like baking a pie in an unfamiliar oven and not pulling it out when you start to see smoke because the recipe says it still needs to bake for 15 more minutes. I've noted in those other releases that the bourbon tends to get covered up by the finishing barrel and lost a lot of its character.
But finishing a whiskey for 8 months seems much more reasonable. Did the 8 months in a cognac cask result in a bourbon that can retain its character and be improved with subtle cognac flavors? Let's find out. I sampled this neat in a glencairn.
Tasting Notes
Nose: The nuttiness of the nose is immediately noticeable. Behind it are notes of yogurt covered raisins, prunes and figs, kind of like a mincemeat pie.
Baking spices are fragrant and concentrated. Warm notes of vanilla cappuccino and some toasted oak pull back the curtain a bit and reveal the age.
Palate: I'm picking up a strong grape juice influence which is undoubtedly the cognac cask coming into play. Other fruity flavors include stewed prunes and cherry tartlets, both unusual to find in Beam or Heaven Hill products.
But after that, the bourbon flavors really shine with notes of Flan, peanut brittle, brown sugar, cinnamon stick, clove and toasted nuts. Everything seems to jibe well and comes off as interesting, unique and very flavorful.
Finish: The finish gets a bit spicy with sharp spices and lots of cinnamon. Dark fruits like raisins, date syrup, figs, prunes and tart cherries coat your tongue in thick sweetness.
Other lingering flavors like leather, peanut brittle and toasted nuts remind you that this is a bourbon and not a high proofed Cognac.
Score: 7.9/10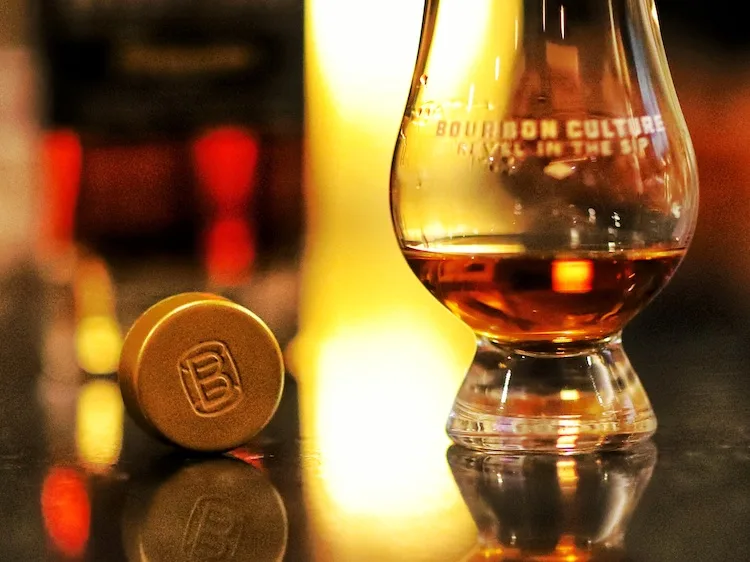 I noticed that as the session goes on, the peanut-forward bourbon flavors (likely from Beam) seem to settle down. That nuttiness is still present, but it allows the nuances of the Cognac influence to reveal itself.
Taken altogether, it makes for a really pleasant sipper that is much bolder and more layered than the underlying bourbon would have been by itself. The Cognac finish seems to shine the most when you're drinking it on a cold winter night.
I had no biases one way or another when I came into this review because I can't recall a single finished Heaven Hill or Jim Beam product that I've had recently, especially one that was finished in Cognac casks.
But I'm a fan after tasting Bardstown Bourbon Company's Ferrand release and wished there were more products like it out there. The dark, fruity notes that the Cognac imparted made the experience even richer and fruitier than I thought would be possible. It's a finish that both Jim Beam and Heaven Hill folks need to consider for future releases.
Final Thoughts
Bardstown Bourbon Company Collaborative releases don't stick around that long on shelves, so if you find yourself interested in this bottle, it's best to buy it sooner than later. But if you're on the fence about some of these releases, then stick with buying the ones that use finishing barrels that you generally enjoy.
Cognac finishes are buy-on-sight for me and I know that once this release is gone, there won't be much else like it on the shelves for a long, long time.
Ratings Breakdown
1 | Disgusting | Drain pour (Example: Jeffers Creek)
2 | Poor | Forced myself to drink it
3 | Bad | Flawed (AD Laws 4 Grain BiB, Clyde Mays anything)
4 | Sub-par | Many things I'd rather have (Tincup 10 year)
5 | Good | Good, solid, ordinary (Larceny, Sazerac Rye)
6 | Very Good | Better than average (Buffalo Trace, OGD BiB)
7 | Great | Well above average (Old Ezra Barrel Proof, Old Weller Antique)
8 | Excellent | Exceptional (Michter's Barrel Proof Rye, Four Roses Barrel Strength)
9 | Incredible | Extraordinary (GTS, 13 Year MGP or Canadian Rye)
10 | Insurpassable | Nothing Else Comes Close (William Larue Weller)
Featured Products
Description:

The Aged & Ore Neat Traveler is a complete travel kit for spirits. We combined our widely praised Neat Glass with one of our 3oz Flight Bottles and housed them together in a custom EVA travel case. Perfect for a night away with your favorite pour. The tie
Description:

The Aged & Ore Bottle Flight is a premium set of 4 custom silicone wrapped glass bottles designed to transport and share samples of your favorite spirits. The flight bottles come in a custom EVA travel case that fits perfectly in any small bag. An Aged &
Description:

This Bundle combines two of our crowd favorite products, creating the ultimate travel bundle to bring along your favorite spirits and glassware. Bundle Includes: Neat Traveler (Gray) Bottle Flight (Gray) Note: This bundle is only available in gray and col
*Bourbon Culture is reader-supported. When you buy through links on our site, we may earn an affiliate commission.