*Bourbon Culture is reader-supported. When you buy through links on our site, we may earn an affiliate commission.
As a quick history lesson in Barrell Craft Spirits line of finished whiskey products, we must look back to 2016 when Barrell Bourbon (as it was called then) introduced Barrell Whiskey Batch 002.
This was the first time that Barrell would finish a whiskey in a secondary cask, which had previously held Sherry wine. As the years went on, Barrell would introduce more finishing barrels into each blend and used some bourbon barrels in the blend rather than all MGP corn whiskey.
What was scheduled to become Barrell Whiskey Batch 006 in 2018 became Barrell Dovetail, the hugely popular and ongoing release you can still find on shelves today.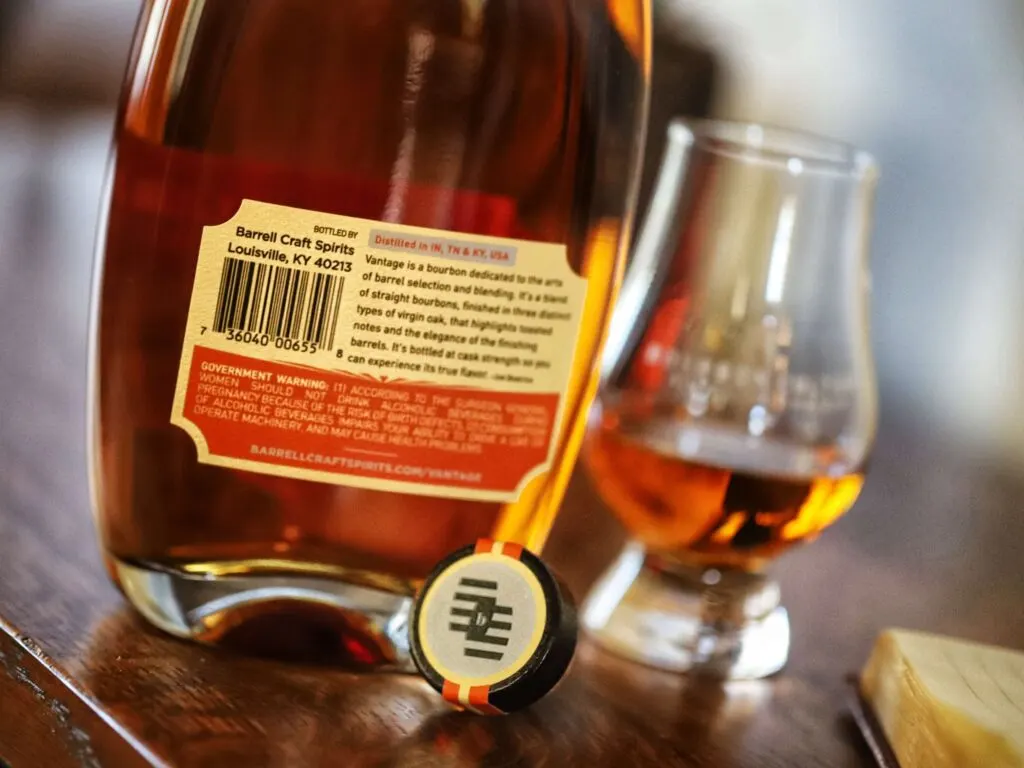 Dovetail's commercial success not only opened the door, but it also opened the floodgates for Barrell to go crazy with barrel finishes. This spawned Armida followed by Seagrass.
After Seagrass won a ridiculous amount of awards and accolades, Barrell found themselves in the position that the public and their legions of customers now expect a completely new release every year. Whether that is going to happen remains to be seen, but with the announcement of Barrell Vantage, there doesn't seem to be any lull yet.
Barrell Vantage
Nixing the trends of the previous 3 special whiskey releases, Barrell Vantage is designed to focus on a blend of different bourbons and their interactions with three distinct types of wood finishing casks.
The rear label tells us that the usual suspects of bourbon are here with barrels sourced from Indiana, Kentucky and Tennessee.
But this isn't some ordinary finished-and-blended bourbon. From the press releases and podcast engagements, it sounds like there was a very complicated and drawn out process to achieve the final result.
To regurgitate it all here would take up more space than I care to, so let's focus on some of the more noteworthy aspects. The bourbons were finished in casks made from three types of wood. Mizunara, French and Toasted American Oak.
For all the more reviews I've read on Vantage, I'm surprised people aren't focusing on the fact that Mizunara oak is used.
Barrels using Mizunara wood may be some of the most expensive on the market today. This unique Japanese oak usually requires 200 years before being able to be harvested.
In contrast, American White Oak can be harvested after only 80 to 100 years. Mizunara also does not grow straight, resulting in less staves being available per tree. This is why the average cost of just one 250 liter barrel is around $6,000.
And if all of that still hasn't impressed you yet, the wood is known to be very porous and prone to leaking, running the risk for liquid loss inside.
Despite all of those stats, it is still thought to impart some very unique flavors and scents to any whiskey that it comes in contact with. With all of that being said, I feel that's it's a good bet that the Mizunara cask finished bourbon makes up a minority of the total blend.
I am also assuming that these barrels will be reused as much as possible to extract as much value from their initial purchase costs.
The next type of wood, French Oak, is a wood that is already known for its ability to be reused without rapidly losing its influence on the liquid inside.
French Oak will typically contribute more tannins to the liquid that's aging in it over a longer period of time than any other oak. I love French Oak due to the rich tobacco and chocolate-forward profile it imparts.
The final finishing barrel used is American White Oak that has been toasted (you'll see this referred to as "virgin oak" according to Barrell).
Barrell was reluctant about hopping on the "toasted" hype train for fear of people turning against it. But they finally found a niche that to use it in with Barrell Gold Label Bourbon. They would use toasted barrels only for the Dickel bourbon component.
Although I think the $500 Barrell Gold Label Bourbon should never have used Dickel in it at all, at least Barrell realized that they needed to take some measures to ensure that the multivitamin minerality would not cheapen their final product.
So they took the Dickel component (which was 25% of Gold's blend according to Will Schragis) and finished it in toasted oak barrels. This resulted in the multivitamin note being almost completely cloaked in a layer of marshmallow and vanilla cream.
That same concept was used in Vantage too. In fact, I'm going to go out on a limb and say that Barrell ensured that all Tennessee bourbon used in Vantage was finished in these toasted barrels to replicate the success they found in Barrell Gold.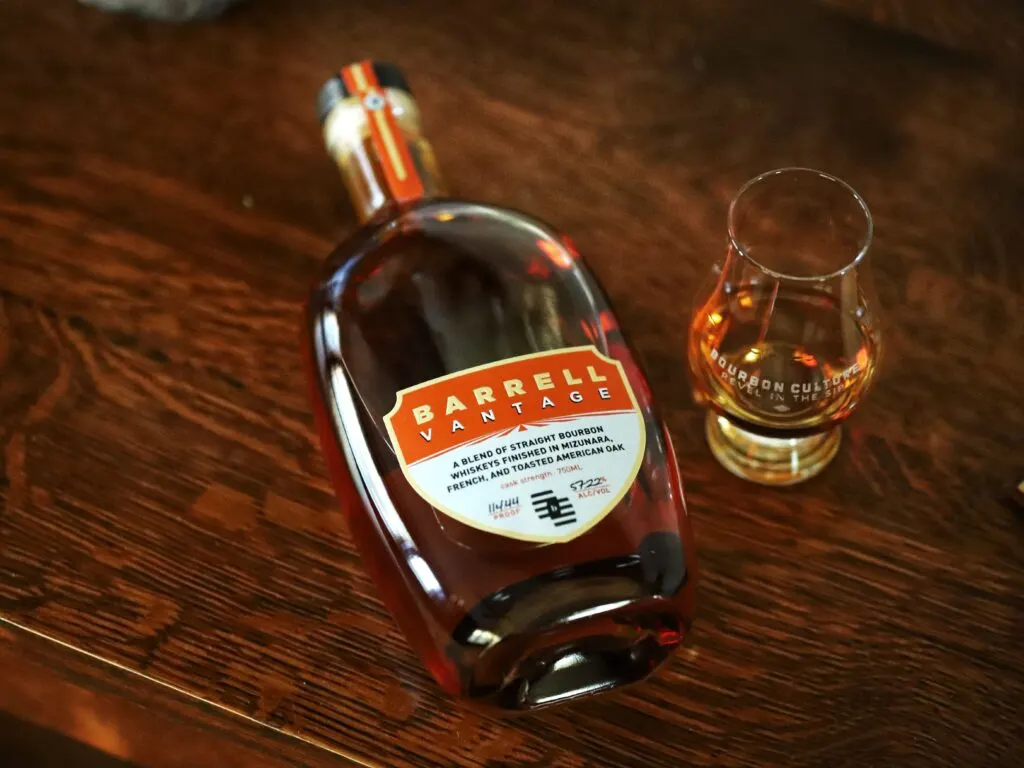 After all of the blending was dialed in, Barrell bottled it up at an impressive 114.4 proof. And although no age statement was released (or at the minimum, range of age statements) I'm assuming that Barrell has used barrels as young as 5 (that were contract distilled by MGP and Barton) and as high as 9 years old (which would come from this large tank of vatted Dickel that they use as needed).
But the real value here will come from Barrell's blending expertise and those secondary finishing barrels. So how does it taste? Let's dive in. I tasted this neat in a glencairn.
Tasting Notes
Nose: The nose opens up in ways that are familiar, yet seem to indicate something very different is going on. Warm maple syrup, caramel sauce and a bit of roasted nuts starts this off like a bourbon that I kind of recognize, but nothing is popping up.
Sweet fruit notes of simmering berry and stone fruit compote, Twizzlers and sweetened shredded coconut. More on the coconut later, as there is an interesting backstory to it.
In all, there is not as many wood notes as I was expecting for bourbon that was essentially double barreled.
I do get scents of butterscotch, white chocolate chips and Cinnamon Toast Crunch cereal which undoubtedly have to do with the interaction of the secondary barrels. But which ones are anyone's guess.
Palate: The mouthfeel is thick, oily and rich while also being a bit spicy right out the gate. An odd trait that I'm picking up on is that while the ethanol heat is under control, there is a certain spice that adds the sensation of a heat but in a different kind of way (red pepper flakes perhaps?).
Perhaps it's the rye grain of the blend of mash bills or maybe one of the exotic woods carries a spicier element that I am unfamiliar with. Sweet and dark notes like toffee, oak, and cedar are offset just a bit by a tiny hint of youthfulness and green wood.
It's not much, but I'll be dammed if this isn't the second Barrell product I seem to find a youthful grainy note coming through on. What is going on? After getting past the spice and wood notes, I get a rush of various flavors which highlight the many styles of bourbon blended into this one bottle.
Flavors of honey, melon, multivitamins, grape soda, Tootsie Rolls, Jolly Ranchers and cinnamon flavored gum can all be found.
Finish: I mentioned on the palate that the mouthfeel was rich and oily and that still kind of continues on the finish. These buttery, heavy-cream notes may be attributed to the non-chill filtered aspect of the liquid.
The finish is also rife with sweet notes like table syrup, fruit juices (with peppery papaya sticking out the most), apricots and cherries all recognizable. Wood notes hang around but honestly they are more reminiscent of popsicle sticks than any one particular variety of oak.
Score: 8.2
Barrell Vantage is a worthy product to the series of named Barrell releases. While I personally find that Armida is closer to the bottom of my list and Seagrass is near the top, ranking all four releases is a fool's errand due to how different they all are.
I think one of the strongest attributes of Vantage is how they have created a whiskey (bourbon, really) that is something more than just endless wood notes despite the three different wood finishes. This speaks to the bourbon that is picked before the finishing process ever began. It's delicious.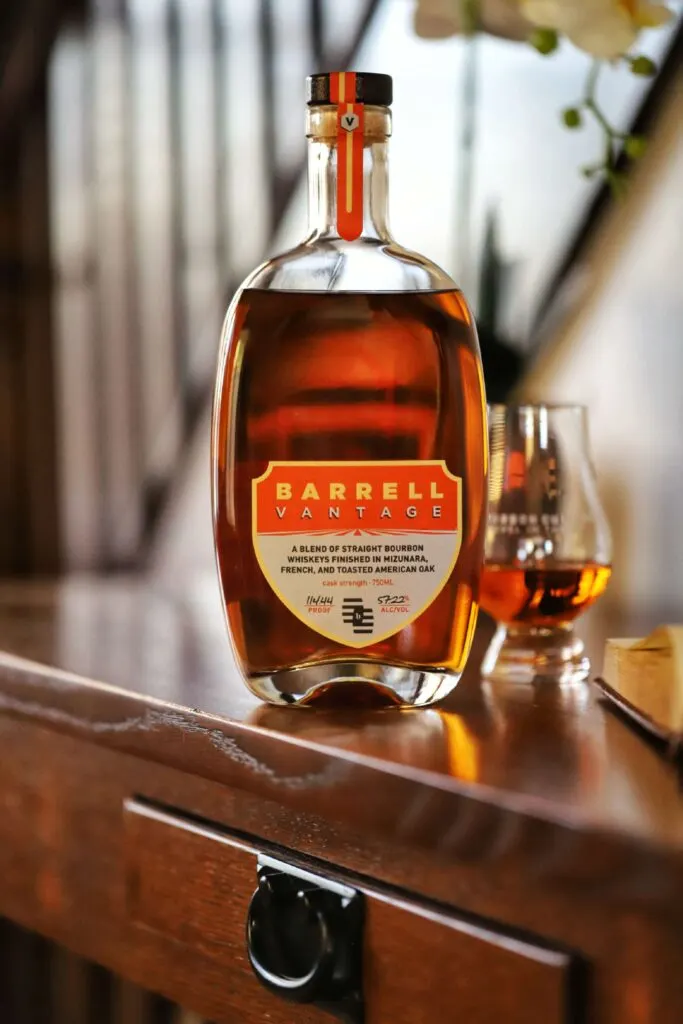 Final Thoughts
Whenever I think of Dovetail, Armida and Seagrass, I immediately think of drinks that are fun and creative and perfect for certain occasions. Seagrass is endlessly sippable next to the pool. Dovetail is great for when you crave a cocktail.
And Armida may be best paired with a Thanksgiving Day meal. But Vantage has one, err, "AdVantage" over all of those by being perfect for almost any occasion.
That's because it does not have other spirit casks' influence dictating the direction your tastebuds take you. It is simply the perfect sipper for any situation where bourbon is called for.
Undoubtedly, the use of different wood in Vantage will inspire future releases in the Barrell portfolio. I can imagine that the Private Release line of bourbon (the one where multiple bourbons are finished in a single barrel) could be tweaked to give it the option of being finished in a Mizunara cask or maybe French Oak.
We may see it paired more with the Gray Label series (wait, actually it is being done to the 2022 Gray Label Bourbon) too. We may even see it trickle down into regular Barrell Bourbon batches too. But while we wait to see what new creations get cooked up, it's good to know that Vantage will remain a shelf staple for the years to come and one that I personally will be buying more of.
Featured Products
Description:

The Aged & Ore Neat Traveler is a complete travel kit for spirits. We combined our widely praised Neat Glass with one of our 3oz Flight Bottles and housed them together in a custom EVA travel case. Perfect for a night away with your favorite pour. The tie
Description:

The Aged & Ore Bottle Flight is a premium set of 4 custom silicone wrapped glass bottles designed to transport and share samples of your favorite spirits. The flight bottles come in a custom EVA travel case that fits perfectly in any small bag. An Aged &
Description:

This Bundle combines two of our crowd favorite products, creating the ultimate travel bundle to bring along your favorite spirits and glassware. Bundle Includes: Neat Traveler (Gray) Bottle Flight (Gray) Note: This bundle is only available in gray and col
*Bourbon Culture is reader-supported. When you buy through links on our site, we may earn an affiliate commission.