*Bourbon Culture is reader-supported. When you buy through links on our site, we may earn an affiliate commission.
Every fall, Jim Murray's annual "Whiskey Bible" is released. Back before there was a whiskey reviewer on every street corner shouting which whiskey you should buy (like me!), Jim Murray was considered one of the few reliable sources for knowing which whiskies were better than others. He claims to taste several thousand whiskies each year. This results in some speculation on his claims as the rough math would work out to him reviewing anywhere from 10 to 13 whiskies EVERY DAY. Take into account all of the sex he has with random women around the world (seriously, just read some of his reviews and see how much he references this) and I'm genuinely amazed that he finds any remaining time for whiskey at all. Jim Murray answers the question of "What if Inspector Gadget, but perverted?"
Alberta Premium wins Whiskey of the Year
In 2020, Murray released his updated Bible (which always carries the date of the upcoming year) where he crowned Alberta Premium Cask Strength Rye Whisky as the top whiskey in the world. Whiskey enthusiasts nationwide scratched their heads and took to the internet to find out more details on this bottle. It turns out the reason that nobody seemed to have experienced it was that the first release (65.1% ABV) was available only in Canada. Enthusiasts scrambled to the secondary market to find bottles, but they were few and far between. They didn't have to wait long because less than 2 months later, Alberta Premium hit the shelves in the United States. The bottles were grabbed up instantly. But wait a minute, the proof wasn't the same. In fact, the bottles that were for sale in the US were slightly higher in proof; coming in at an eye-watering 66% ABV (132 proof).
It felt like all of the hype directed towards this Alberta Premium release completely disregarded the fact that we had all already been drinking rye whiskey from Alberta Distillery for a long time now. Just off the top of my head, common sources of Alberta include Whistlepig, Lock, Stock and Barrel, Hochstadter's, Masterson's, Down Home (their new 17yr, 126 proof release) and even Jefferson's (who once used a batch of 10 year old barrels). I'm sure I'm missing many more. But my point is that rye whiskey lovers should have already formed an opinion on if they liked this type of whiskey or not. If you are like me, sometimes you just can't stop the FOMO once it's started. So I ran out to buy a bottle just to see if it contained any of the magic that Jim Murray said it had.
This review has been a long time coming and by time I got done with it, another annual release has been in stores for about half a year now (this one is 63.7% ABV). So even though this review is very tardy, I hope to find out is just how much we can expect from this Non-Age Stated (rumored to be around 5 years old),
100% rye mash bill
whiskey from our friends up north. I got out my trusty
glencairn
to take a deeper look.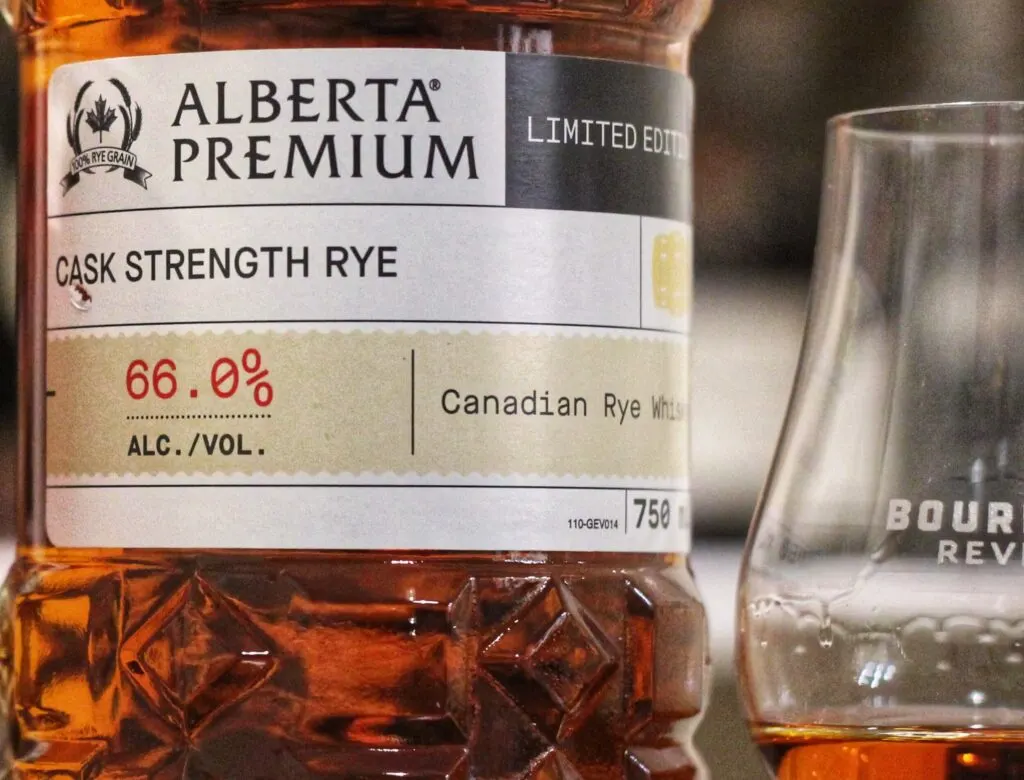 Tasting Notes
Nose:
The
nose
can be summed up by using experiences rather than actual scents. It is
bright, crisp and clean.
But to give you a better sense of what it's like in terms of scents you would actually know, it smells like what the commercials for
laundry detergent
suggest their products smell like. Namely, clothes drying on a clothesline on a spring day in the sunshine. This rye evokes all of the scents you'd associate with that; i.e.
botanicals, wildflowers, lilacs and roses.
Also another descriptor comes to mind:
"perfume."
Additionally, scents like
caramel, honey and savory herbal notes
(but not as much mint as I would've thought) were also found.
Palate: Wow! At 132 proof, this lights a fire. The mouthfeel and flavors are still light and refreshing but the proof wants to punch a hole through my cheeks to escape. There are more botanical flavors to include potpourri. Sugary biscuits, after-dinner mints and mint jelly combine with flavors of orange peel, cinnamon and coriander. The whole sip is thick and satisfying and bursting with the tastes of springtime.
Finish: Lingering notes of orange and lemon peel, cinnamon, clove and coriander. Sweet grass, rose petals, peppermint. White and black peppercorns, red pepper flakes, honey and a touch of oak and leather. The finish is a very complex affair, and the high proof propels it to higher levels while lasting longer. What a fun ride this has been.
Score: 7.8/10
My score reflects a rye lover giving a great rye whiskey a great score. I am almost certain that many of you will not have the same experience that I had with this bottle. For inexperienced enthusiasts, it's a whiskey that will come off as too hot. For wealthy drinkers who demand highly aged spirits, this will come off as too young and wild (although I would argue fiercely about the former). But for the rye whiskey lover that can look past national borders and respect a good rye whiskey when they see it, this one can do it all. Bright floral scents, citrus, mint and a touch of age, it really is a very solid product. What's more, the price and proof are almost unbeatable. I suspect that if Alberta would only give this product a real cork instead of a screw cap, that these wouldn't even last on the shelf for more than a day.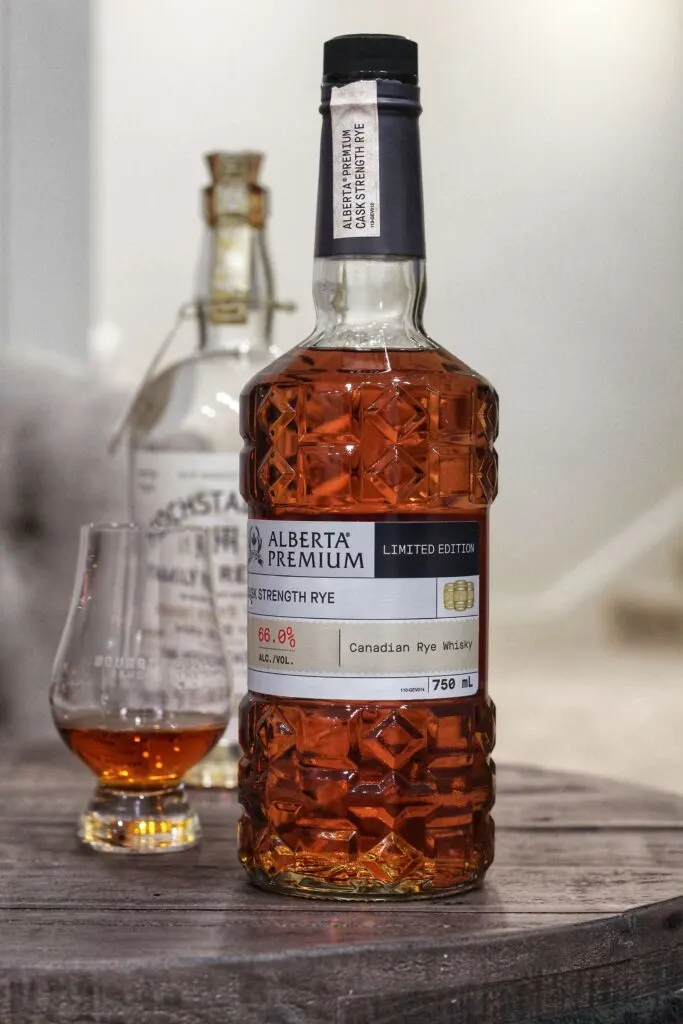 Final Thoughts
It's a common trend for Alberta-sourced ryes to only have two of the following three traits at any one time: high proof, high age statements and low price. With high proof and high age statements, the price I've seen easily crests the $200 threshold. Low proofed Alberta with high age statements tend to be cheaper (like Jefferson's 10yr rye or recent sub-105 proof Whistlepig Single Barrels) but the flavor quality seems poor. Where Alberta Premium seems to shine is that it shows us that you can have high proof and low price without sacrificing flavor (oak is a different story, however).
So if you're the kind of rye whiskey person who seeks out a sip that challenges your tastebuds and seems to last forever, then you can't do much better than Alberta Premium. I don't think it's quite up to par to get an award like Whiskey of the Year, but once you factor in the value, it's damn close. If you are into rye whiskies that evoke springtime memories, this is your bottle.
Featured Products
Description:

The Aged & Ore Neat Traveler is a complete travel kit for spirits. We combined our widely praised Neat Glass with one of our 3oz Flight Bottles and housed them together in a custom EVA travel case. Perfect for a night away with your favorite pour. The tie
Description:

The Aged & Ore Bottle Flight is a premium set of 4 custom silicone wrapped glass bottles designed to transport and share samples of your favorite spirits. The flight bottles come in a custom EVA travel case that fits perfectly in any small bag. An Aged &
Description:

This Bundle combines two of our crowd favorite products, creating the ultimate travel bundle to bring along your favorite spirits and glassware. Bundle Includes: Neat Traveler (Gray) Bottle Flight (Gray) Note: This bundle is only available in gray and col
*Bourbon Culture is reader-supported. When you buy through links on our site, we may earn an affiliate commission.