*Bourbon Culture is reader-supported. When you buy through links on our site, we may earn an affiliate commission.
Prior to 2020, I had never taken the Calumet Farm series of bottles seriously. For starters, their bottle shape was ugly and guaranteed that it would require the real estate of 2 bottles to fit on your shelf. The proof was also low (topping out at 94).
The labels didn't include a distillery name (which is always sketchy). Instead, it was from a "Beverage Company" that was from Bowling Green, KY (where no large distilleries exist). Initial Calumet products even used the term "Product of Kentucky" which angered a lot of enthusiasts who (rightly) pointed out that the bourbon could be from anywhere as long as it was bottled in Kentucky.
Those labeling issues were eventually resolved and the secret came out that it was sourced from Barton. It just seemed like they went through a lot of extra trouble trying to disguise the source at the expense of creating a stigma among its potential customers.
Calumet Farm 14 Year Old Single Rack Bourbon
When the 14 Year version of Calumet Farm came out, I was happy that the bottle shape had changed. However, the bottle stats seemed less impressive aside from the age. First of all, this bottle ranged anywhere from $110 to $130, which meant that it would be considered a premium product.
Don't forget that in 2020, $130 could get you a bottle of Stagg Jr, Weller 12 and most Four Roses Private Selections on the secondary market. All of those bottles had respected backgrounds and taste profiles that people knew. But the money you'd have to spend on this bottle would only buy you age. Proof was a different story since it was bottled at a rather low 96.2 proof.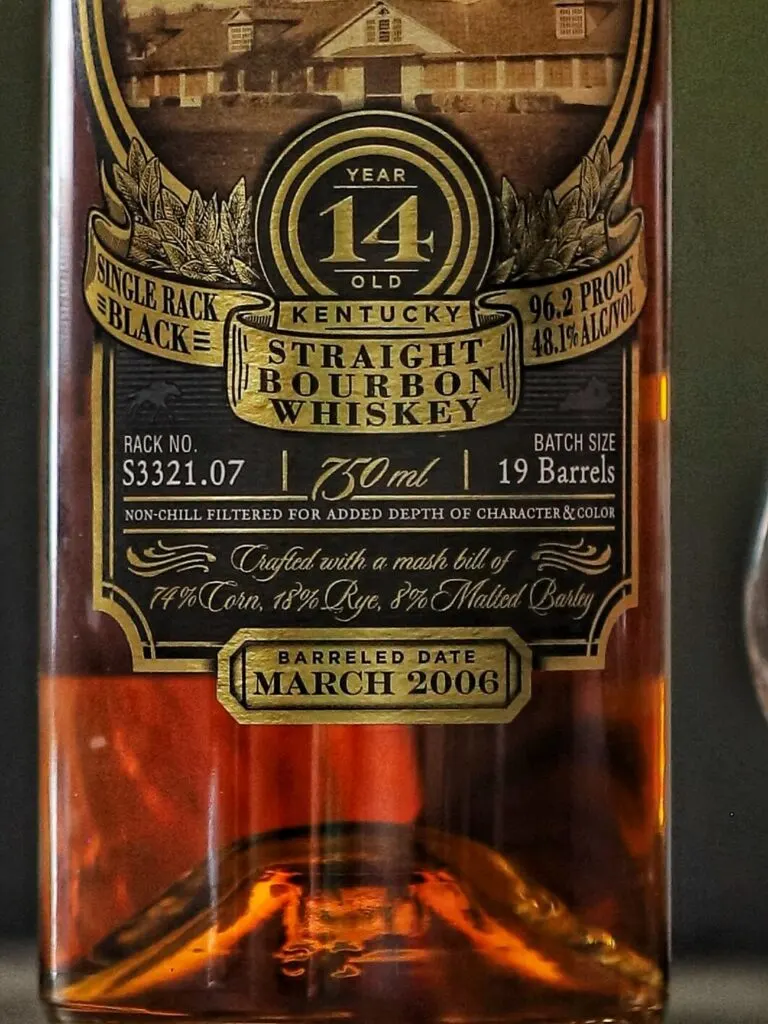 My experiences with Barton-distilled bourbon is that its sweet spot is right around 8 years old. Anything from them that's over 12 years began to lose brighter flavors. Eventually, it would age into a a one-dimensional bourbon that only had notes of oak and vanilla.
As fate would have it, a friend of mine gifted me a bottle of Calumet Farms 15 year bourbon in May 2021 to do a review on it. The short synopsis was that while it was very good, there was nothing exciting about it. In fact, it was kind of boring – even though I didn't find anything really wrong with it.
I can understand that not everyone drinks their whiskey with the intent to dissect it's full flavor profile. But when you're paying over $130 for a bottle, it is my personal opinion that it better deliver something unique for the money.
Earlier this year, another friend of mine noticed I had not done a review of Calumet 14 yet. He offered me his bottle to study as long as I needed to. I was reluctant because I thought the 15 year old version was so ordinary that there was no need to look at its predecessor – especially since the proof and age were both lower. Also, news of the 16 year old version's release was imminent, so why go backwards? But I ended up borrowing it for science anyway.
Calumet Farm and its associated brands
Let's look at the background on Calumet Farms before I get into the tasting notes. Calumet Farm is a brand from Non-Distiller Producer Western Spirits Beverage Company.
They are part of a larger portfolio of other bourbon's bottled by Three Springs Bottling Company located in Bowling Green, KY. The other brands that Three Springs bottles are Sam Houston, Lexington Bourbon Whiskey and Bird Dog.
All of these brands still utilize sourced barrels of Barton bourbon. It should be mentioned that they are all related to Castle Brands (which had owned Jefferson's) which is now owned by spirits giant Pernod Ricard. But to explain how it all went down and the timeline of events would require its own article just to sort through the mess.
Just know that within all of these brands and labels, Barton-sourced bourbon is at the very center of what they source and looks to be that way for the near future – at least until Kentucky Artisan Distillery and Bardstown Bourbon Company achieve large stocks of double digit aged whiskey.
The exact same lot of Barton barrels have been used in every age-stated Calumet Farms and Sam Houston age-stated release since 2018. They were all distilled in the first half of 2006, so what we're seeing in these sequentially-aged releases is kind of like an experiment on how bourbon changes as it ages.
I wish they would keep the bottling proof the same so we can have a much more consistent baseline, but we'll take what we can get I guess. Each batch of Calumet Farms 14 Year (and 12, 15 and 16 Year versions) batches together a single rick of 19 barrels.
Fun Fact: Four Roses ricks contain 22 to 23 barrels per. Now that we know the background, let's get into the tasting notes! The following notes are from rack number (batch) S3321.07. You may notice slight variances if you have a different rack on your bottle. As usual, I sampled this neat in a glencairn.
Tasting Notes
Nose: I'm greeted with a lot of pleasant oak notes. This bottle shows off its age early and often in terms of all that wood. The wood seems simultaneously seasoned, charred, sweet and even a touch "chocolate-ly."
There is lots of vanilla going on too. Cherry blossoms are a note that doesn't surprise me seeing as how I get this a lot in Barton and Buffalo Trace products. But there is a touch of nuttiness that I wasn't expecting. It's still a very well rounded nose that has no faults.
Palate: The oak does a nice job of imparting its age on everything. Every flavor I list after this sentence seems to be complimented with a touch of oak. There is a nice peppery heat that follows some sweetened and dried stone fruit and orange jelly flavors.
Baking spice characteristics of clove and cinnamon interact with lots of vanilla. Small amounts of barrel char can be picked up along with notes of toasted hazelnuts. The palate has good depth to it overall and everything is in its place.
Finish: Lingering notes of dried fruit blend with some of the aforementioned spice notes of cinnamon, allspice and a bit of clove. Oak is still dominant throughout. Vanilla creme brulee gives the finish some depth with the layer of toasted caramel. This gives the finish the perfect amount of sweetness. Any less and it would probably become unpleasantly bitter.
Score: 7.8/10
I once read a review of Calumet 14 that compared it to Calumet 15 where the writer declared the 14 better. I immediately dismissed it and thought they were off their rocker. As it turns out, Calumet 14 is indeed very good and actually seems equal to, if not slightly better than, Calumet 15. I was not expecting that! The reasons why may not make a lot of sense to casual drinkers but I'm going to try and break it down anyway.
First of all, the barrels used for Calumet 14 may have been superior. Dumping an entire rack of barrels with no regard to barrel selection may seem like a very willy-nilly way to go about blending, but it seems to have worked here. I am a firm believer that luck is essential in the whiskey blending profession.
Secondly, the tasting group behind Calumet may have decided that 96.2 was the ideal proof for this blend of barrels. Old Forester uses a tasting panel to decide the best proof for Birthday Bourbon every year. And lastly, since it is a year younger than Calumet 15 and since I already explained that I find Barton's sweet spot to be 8 years old, maybe additional aging hurts this bourbon more than it helps it.
Final Thoughts
Calumet Farms 14 Year has intrigued me with its impressive overall profile. The stats didn't look like they were going to add up, but I'm a believer now. The strangest thing about this release is why it is still available on shelves.
Not only is it available, but it seems as if it's actively being re-stocked with each new release. I can't tell you how many stores I have seen the 14, 15 and 16 year old versions all setting side-by-side on the shelves since the most recent release. I'd be really interested to find out if Western Spirits had more cases of the 14 (and 15) that they held back so that stores could re-order them for a "vertical" display.
It seems as if the price goes up $15 to $20 between each release. In some stores, I've even seen the 14 year's price reduced to $100 per bottle. At that price, I would legitimately get behind buying a bottle right with no hesitation.
It might even be a decent buy at $120 (hint hint for the holidays). But the bottom line is that I came into this one thinking this bottle was going to be a stinker and it changed my mind. Maybe it'll change yours too.
Featured Products
Description:

The Aged & Ore Neat Traveler is a complete travel kit for spirits. We combined our widely praised Neat Glass with one of our 3oz Flight Bottles and housed them together in a custom EVA travel case. Perfect for a night away with your favorite pour. The tie
Description:

The Aged & Ore Bottle Flight is a premium set of 4 custom silicone wrapped glass bottles designed to transport and share samples of your favorite spirits. The flight bottles come in a custom EVA travel case that fits perfectly in any small bag. An Aged &
Description:

This Bundle combines two of our crowd favorite products, creating the ultimate travel bundle to bring along your favorite spirits and glassware. Bundle Includes: Neat Traveler (Gray) Bottle Flight (Gray) Note: This bundle is only available in gray and col
*Bourbon Culture is reader-supported. When you buy through links on our site, we may earn an affiliate commission.