*Bourbon Culture is reader-supported. When you buy through links on our site, we may earn an affiliate commission.
If you ask the average bourbon enthusiast what brands were most influential in spreading the good word about MGP whiskies in the early 2010s, you might hear names like "Templeton," "Smooth Ambler" and "High West." These brands established themselves early on as the leaders in sourcing barrels from Lawrenceburg, Indiana. But there was also another brand that wasn't as well known or talked about back then: Redemption.
Redemption 9 Year Old Bourbon
The Redemption bottles of the past started out in bottles that may look unfamiliar in todays landscape. They used the familiar bottle shape that evokes memories of Stagg Jr or Russell's Reserve, with its rounded shoulders and squat height. They dipped the tops in black wax and put on brightly colored labels with block-style letters that told what kind of whiskey was inside and how old it was. It was almost always cask strength. These sold poorly at first and only gradually sold out once bourbon hysteria hit in 2019.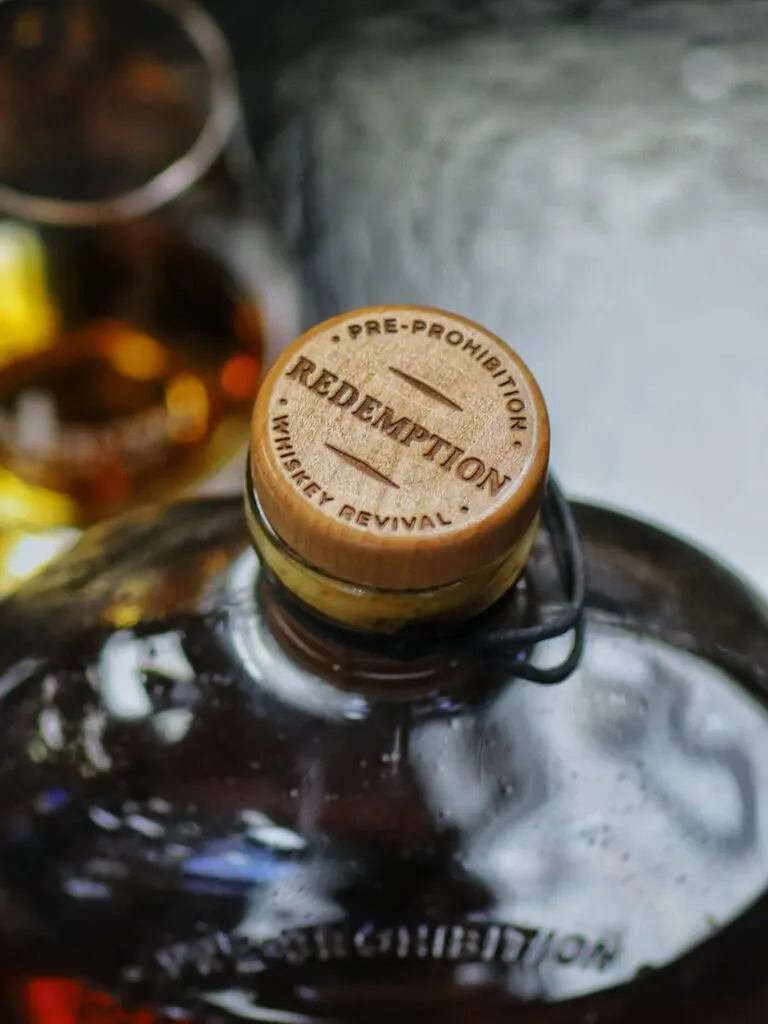 Redemption made the somewhat glaring mistake of switching the bottle shape for their highly-aged batched products into the one you see in the pictures. This dumpy, squat, kidney shaped (or canteen shaped, depending on the angle) bottle was easy to overlook. If most of us are honest with ourselves, we tend to think of bottles like we do people; the more attractive ones get our attention. It took a steady word-of-mouth campaign for people to realize how good the previous 10 year old versions of rye whiskey, bourbon and high-rye bourbon were before they started to sell out.
Redemption's website and social media is a mess though, so it's hard to decipher when these squat bottles with the 10 year age statement stopped being produced. For sure, there was a lull in new ones coming out sometime between 2017 to 2021. If you saw them on the shelves between those years, it's because they weren't selling. Redemption was also having a hard time securing enough aged stock to put into those bottles, an issue that the whole bourbon industry was feeling. Their younger whiskies were selling well enough, but they had no aged products to sell for a few years in between. In late 2021, they finally released a new batch. For this release, it carries a 9 year old age statement and simply wears the name "Bourbon." What we can deduce from this is that they're probably using MGP's 75/21/4 ryed mash bill bourbon. If it does contain any barrels of 36% rye recipe in the batch, then it's probably in small amounts.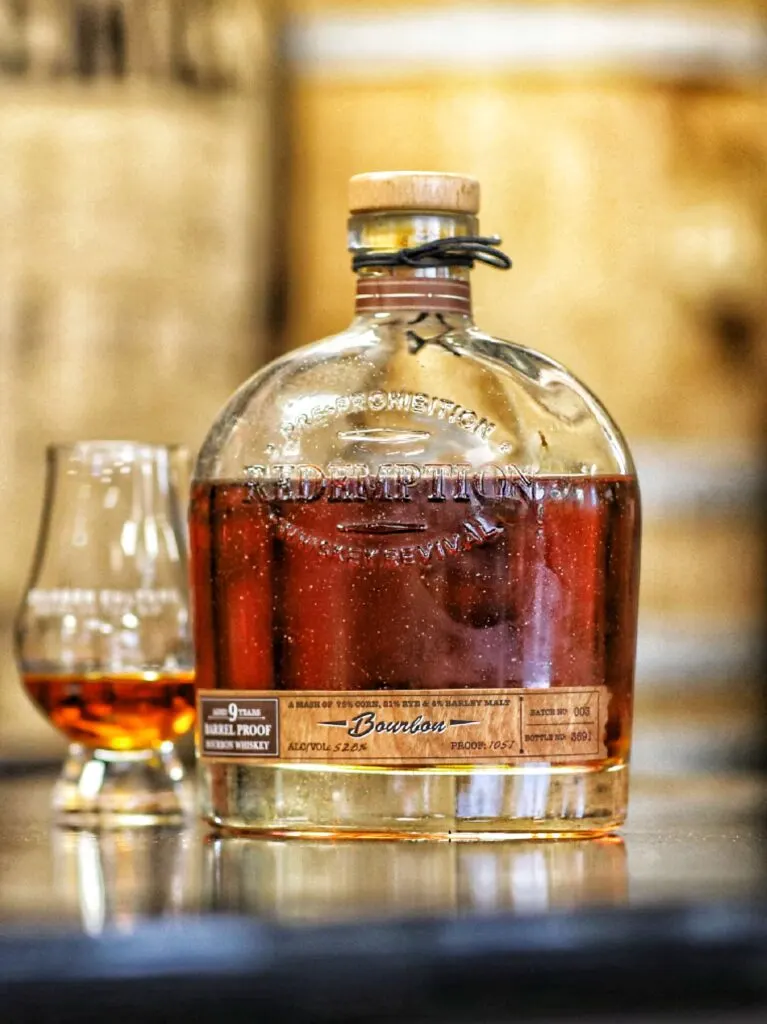 What I hope to look at today is if this new batch (which uses barrels probably distilled around 2012) is equal to or superior to the ones used in the 2017 Redemption High-Rye Bourbon release (which would have been distilled in 2007). The time periods in which they were distilled were very different in terms of master distillers and ownership of the Lawrenceburg Indiana distillery. That might mean that quality standards were different or practices had been tweaked. What I'm looking to see is if the liquid inside will teach me anything about how the distillate has changed over the years. Is the new stuff just as good as the old stuff? Let's find out. I sampled this neat in a glencairn.
Tasting Notes
Nose: Scents of oak and melted butter abound. There's the trademark MGP "brown sugar" note but I also find a sort of caramel scent too which is reminiscent of Werther's Originals candies. There's enough cinnamon to give it some depth while vanilla comes in a variety of forms with "cake batter" being the closest food it smells like.
Palate: A rather thick mouthfeel. Flavors of cherry compote, orange marmalade, cinnamon, seasoned oak and barrel char. There are additional sweet notes like honeycomb, raisins, plums and figs. There back end is full of spice like ground pepper and a hint of licorice. I can even find the rye influence in this tiny bit of mint that I pick up on too.
Finish: The sip finishes with an oily texture all the way down. Part of this reminds me of a heavy cream, only infused with a lot of oak. There are brown sugar notes and fruit lozenges. Oddly, notes of extra-done cookie crumbs seems like something I should have tasted more of in the past, but this is the first time I'm describing it this way. Vanilla icing and fresh mint round out the long-lasting flavors I find.
Score: 7.5/10
I'm not sure if I was expecting this bottle of Redemption bourbon to come close to the previous releases or not. But my verdict is that it is pretty similar overall. That's a good thing! Many people might think that Redemption just throws together hundreds of barrels into a batch and calls it a day. But it seems like they have genuinely made an effort to create a great product – and succeeded. I think it's safe to say that this Redemption release shows that they still have the chops to create a great batched product.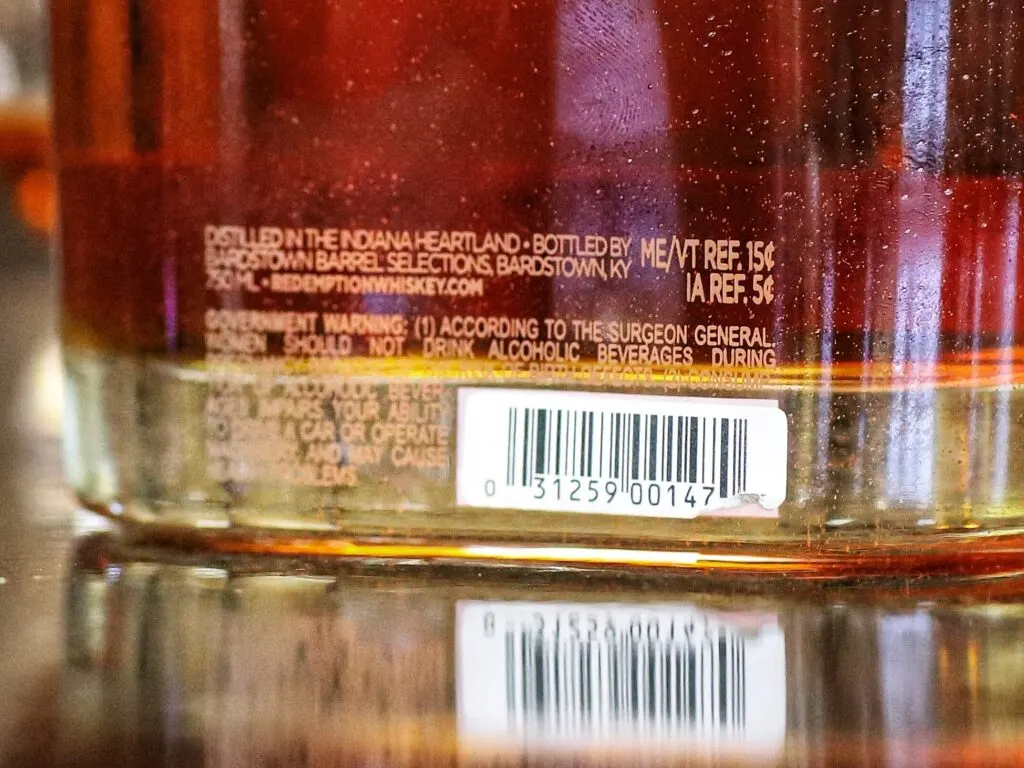 Final Thoughts
It's obvious that the barrels used are slightly different from previous years, but Redemption 9 Year is still a quality bourbon at its core. I wish there was a bit more oak and brown sugar overall (what is it with these new MGP barrels being so vanilla forward?), but it didn't affect the rating I gave it. Simply put, this is an enjoyable sipper no matter what your experience level. I think it would go well in almost any situation.
To sum it all up, I know that many of you may find a bottle, read this review, see the $80 pricetag and still choose to pass on it. Maybe you'll go on to buy one of the many 6-year-old MGP store picks that are out there for $20 less. Lord knows that other brands bottle younger MGP in more attractive bottles. But if you compare just the liquid inside, you'll find that Redemption 9 Year gives a slightly richer and more rounded experience than those younger single barrels. It is worth the very small upcharge for this older distillate which makes me not hesitate to tell you to buy this bottle in confidence if you see it.
Featured Products
Description:

The Aged & Ore Neat Traveler is a complete travel kit for spirits. We combined our widely praised Neat Glass with one of our 3oz Flight Bottles and housed them together in a custom EVA travel case. Perfect for a night away with your favorite pour. The tie
Description:

The Aged & Ore Bottle Flight is a premium set of 4 custom silicone wrapped glass bottles designed to transport and share samples of your favorite spirits. The flight bottles come in a custom EVA travel case that fits perfectly in any small bag. An Aged &
Description:

This Bundle combines two of our crowd favorite products, creating the ultimate travel bundle to bring along your favorite spirits and glassware. Bundle Includes: Neat Traveler (Gray) Bottle Flight (Gray) Note: This bundle is only available in gray and col
*Bourbon Culture is reader-supported. When you buy through links on our site, we may earn an affiliate commission.