*Bourbon Culture is reader-supported. When you buy through links on our site, we may earn an affiliate commission.
To understand the allure of a bottle like Noah's Mill, it's worth talking about the allure of Willett in general. Even and Martha Kulsveen, the husband and wife duo that re-opened Willett (Kentucky Bourbon Distillers) in 1984, set about to source great whiskey from all over Kentucky (and Indiana) to fill their rickhouses. They would then bottle them for their own line of whiskies or bottle them for other non-distiller producers.
Willett's distillery grounds had previously fermented, distilled and aged their own whiskey. But in the 1980s and 90s, it made more economic sense to just buy barrels of whiskey from somebody else rather than making your own. Sourcing amazing, well-aged whiskey was easy to do during this time period because of the glut the industry was in. Simply put, there were more barrels of bourbon available than there was demand. The Kulsveen's helped other smaller producers by offering their services in selecting barrels, batching them and bottling them up. Most of the labels at the time would say "Bottled by KBD for XXXX" on the back. Sometimes they even used fake distillery names on the label. Most of these bottles are ones you've never heard of because they were shipped off to Japan, one of the few countries that was actively buying bourbon in the 80s and 90s.
Noah's Mill is born
Around this time, Noah's Mill (and its sibling bottle, Rowan's Creek) was created by the Kulsveen's. Noah's Mill was a batched product that carried a 15 year old age statement and had a set proof of 114.3, which was considered high in its day. That age statement on the label would disappear sometime after 2006 and has now maintained a "Aged Until Fully Matured" statement instead. The disappearance of the age statement was a result of the bourbon market starting to grow and sourced bourbon becoming harder to obtain. This led to the Kulsveen's having to blend together barrels of various ages to create a bourbon that tasted similar. It was rumored that they used barrels ranging from 4 years old to 20 years old even though no records exist that says that. Even stranger is the rumor that various bourbon mash bills were used in the creation of each batch like ones that contained wheat or varying amounts of rye. This seems plausible once you realize that Willett had been sourcing barrels of wheated bourbon too. But where did they come from?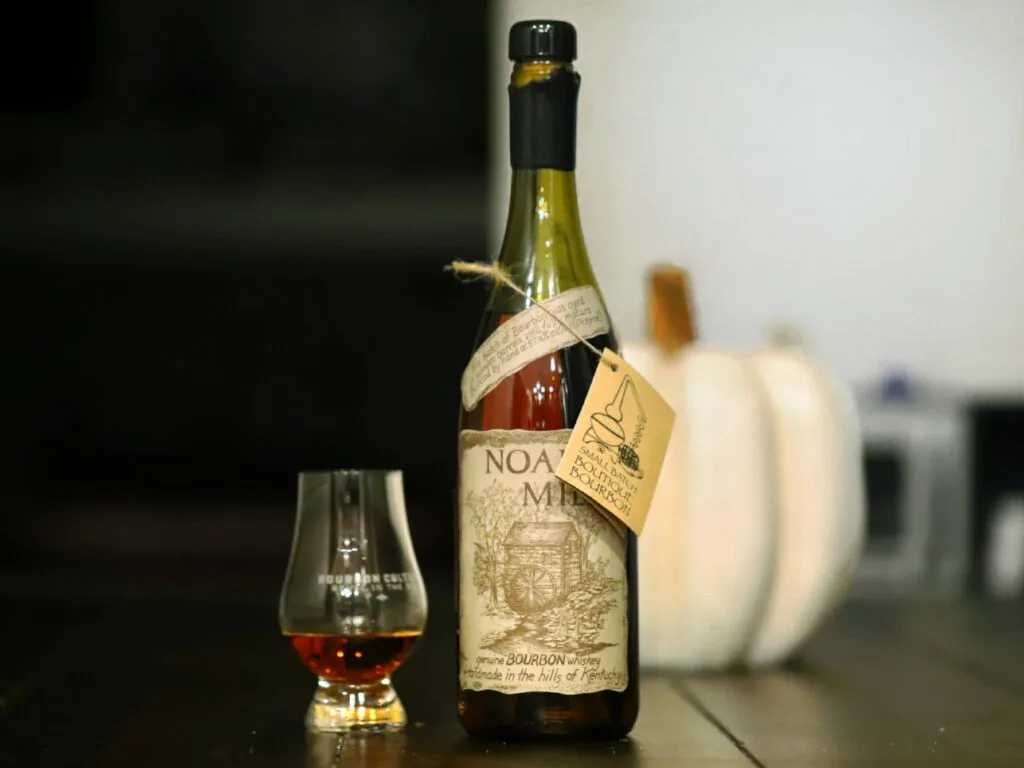 Willett's main source of bourbon after 1987 was from United Distillers (UD). UD owned, bought and sold many distilleries until 1997 when their parent company merged with Grand Metropolitan to become Diageo. One of the most famous distilleries in their portfolio at the time was Bernheim Distillery located in Louisville. Bernheim was churning out various bourbon and rye whiskey recipes on an as-needed basis for UD's many distilleries. In fact, one of the little known stories of this time is how some of the distilleries ended up making distillate for each other. This was planned and dictated by corporate managers in an effort to keep all of the distilleries running at least some of the time (at this point, distilleries usually only produced bourbon for 3 months out of the year). Not only were distilleries creating bourbon for other distillery's products, they were also storing it on-site as well. This meant that warehouses at Stitzel Weller, Bernheim Distillery, Glenmore (now known as Green River Distilling in Owensboro) and maybe even George T Stagg (now Buffalo Trace) all contained each other's bourbon. So when Willett would go to buy their lots of whiskey, they were able to buy many different styles.
What I'm getting at is that for years, Noah's Mill contained a virtual melting pot of bourbon in each batch. Bernheim was probably the main source of the barrels, but they had been making different recipes for years. Even after the sale to Heaven Hill in 1999, Bernheim still continued to produce whiskey under contract for certain clients (which was part of the agreement of the sale). One of the best (and most public) examples of this revolves around Diageo's IW Harper brand. Diageo has Heaven Hill use a specific recipe and a specific yeast to make the distillate that goes inside of those barrels. I suspect that Willett also had a contract Heaven Hill to have Bernheim produce distillate for a period of time too.
The reason why I mention this is because many people know that Willett sourced barrels from Heaven Hill and they automatically assume that they are all going to taste like ECBP. I don't think that's accurate as the barrels leaving Bernheim could differ depending on what the contract stated. It's safe to assume that if Willett did have a contract with Bernheim for a little while, that they exited it by 2012 or shortly before. This is because Willett finally brought their distillery back to life and started to make their own whiskey at that time. Even if they had remaining stocks of Bernheim-produced whiskey, it probably dried up in 2017. Ever since 2019, only a handful of really old sourced barrels are released each year from Willett.
To summarize everything and how it relates to the review I'm doing today: After Noah's Mill dropped the age statement on it's label sometime around 2006, the bourbon they used would have been a blend of young and old barrels probably sourced from Bernheim. But as Willett saw their stocks of sourced whiskey dry up and their new barrels start to come of age, they probably started to transition to their own distillate sometime around 2017. After 2017, the ratio of Willett's own bourbon inside of Noah's Mill increased dramatically each year. It is entirely possible that the first "All-Willett" batch of Noah's Mill was made sometime between 2017 and the present day. What I'm hoping to find out is if this bottle of 2020 Noah's Mill shares anything in common with the 2010 version.
After establishing what has changed (if at all), I'm hoping to settle disputes between enthusiasts that would answer the question "Is Noah's Mill a good product or not?" I have noticed an uptick in the amount of people defending just how good Noah's Mill is or isn't. It almost seems like they are drinking two separate labels. The theory I have coming into this review is that there must be some sort of moment in time where "good" Noah's Mill separates from "bad" Noah's Mill. So without further ado, let's find out what these two bottles taste like. I sampled both bottles neat in a glencairn.
Tasting Notes for 2010 Noah's Mill
Nose: A very pleasing burst of sweet oak notes hits first. This smells similar to a bottle of Elijah Craig Barrel Proof in some ways, only a tad bit richer. The age of the barrels is easy to recognize; they're old. Wafting scents of s'mores combines with some light scents of cornbread (could this be the youthful barrels that the batches supposedly used?) I'm also pleasantly surprised to find a very faint berry note.
Palate: The nose already hinted to this, but the flavors on my tongue verify it; this bourbon has some extra age to it. There are notes of furniture polish which is also referred to by some as "wood varnish." It's a familiar note to get when drinking dusty bourbons. Additional notes of Macadamia nut cookies, vanilla custard and Kit Kat bars are intriguing and delicious. Strangely, for all the more that I commented on the old wood taste, I find younger oak notes that are a touch more bitter and astringent. These are easy to overlook, almost as if just one young barrel was used in this batch. Baking spices, honey sweetness, burnt caramel and passing floral notes give extra layers to this impressive pour. Finally, I am digging the oily mouthfeel. I wouldn't describe it as thick, but it is slick.
Finish: The old oak (dusty) flavors continue at the conclusion of the sip. There is a touch of "sour oak" which is a term I've heard before but never experienced until now. Residual flavors of chocolate, toasted hazelnuts, vanilla and ground cinnamon hang around as well. It's a pleasant finish overall.
Score: 8/10
Final Thoughts: Wow, this was unexpectedly great! There are lots of similarities to Lux Row's 12 Year Old Double Barrel Bourbon (which is also sourced from Heaven Hill). I do find some additional notes that don't make it a complete carbon copy, like floral flavors and berry scents. Those two things make it seem like there are more than just Heaven Hill sourced barrels in the batch. Overall, my experience with this is very positive. But there is one thing about the bottle that keeps it from achieving a higher rating… it seems a bit disjointed at times. What I mean by that is that I could pick up on the fact that there were some youthful notes here and there and sometimes you catch a taste of one. It didn't ruin it, but it is a little bit like enjoying a song on a vinyl record and it has a spot where it skips a beat. You notice it, but it doesn't ruin it. As a final note, it is my opinion that this particular batch has the overall profile of a 13 to 15 year old bourbon. Not bad for losing its original 15 year age statement a few years prior.
Tasting Notes for 2020 Noah's Mill
Nose: The aged notes that I experienced in the 2010 Noah's Mill are completely absent with this bottle. Instead I find thinner, more artificially sweet scents. That makes it smell several years younger overall compared to the 2010 bottle. Scents of cooked apples, golden raisins, grits and cinnamon. There are also lots of floral notes like flower bouquets and bee pollen. Caramel and oak are very distant but are the only "typical" bourbon notes I can find.
Palate: Upon first sip, I am surprised with how much more cinnamon-forward this tastes. That makes sense actually, because Willett's own distillate is very cinnamon forward. At this point, I'm assuming that a majority of the barrels used in this batch are from Willett's own bourbon. Moving on from that dominant note, I find youthful fruit flavors like orange, raisins and fresh cut apples. Grainy notes come across like Grape Nuts Cereal. The whole sip is slightly bready and the oak is a bit astringent when you find it. Even the mouthfeel is thin. There's a faint minty note too. Overall, I feel as if this has the profile of a 5 year old bourbon.
Finish: A rather grainy finish coupled with cinnamon, nutmeg, peppercorns and burnt caramel. There is some oak flavors towards the end that is mildly redeemable. The fruit notes are more baked apples and a touch of papaya.
Score: 5.9/10
If this was a craft whiskey product, I'd be ecstatic that it's come so far. But it's a Willett product and that should mean that it's held to a higher standard. No longer does it feel like really aged barrels of Heaven Hill are being used. Instead, it feels like the vast majority of the blend is 4 to 6 year old barrels of Willett.
So who wins?
These two bottles feel so apart, it's hard to believe that they came from the same label. The oak notes that hit on the 2010 bottle of Noah's Mill are so much better and aged that it tastes almost like it never lost its age statement at all. The 2020 version of Noah's Mill has a far more youthful profile overall.
The only thing more that is left to do is attempt to get a batch of Noah's Mill from 2011 to 2019 to see when exactly the split occurred and how noticeable it was. I would wholeheartedly back up anyone who said that they had a ~2010 NAS bottle of Noah's Mill and it was an fantastic bourbon. But I would strongly disagree with a person who had one from around 2020 and thought it was just as good. Unless you're into really young Willett bourbon (and I know that these people exist), then you're going to find a very ho-hum experience.
Final Thoughts
I assume that Willett will continue to use older stocks of their own bourbon to put into Noah's Mill. And that should make each subsequent year's batch(es) even better than the previous years. But if you are like me and still don't think that Willett's bourbon is much to write home about yet, then it's fine to skip these modern releases. My only advice for those of you looking to pick up the better version of Noah's Mill is to find the area on the bottle's label that tells you a batch number. The first two numbers should be the year in which it was bottled. Getting a batch that was bottled before 2016 is usually going to be a safe bet that older, better stocks of bourbon were used. Otherwise, you can set more modern batches right back on the shelf and save yourself $60 or more. I promise, you won't be missing out.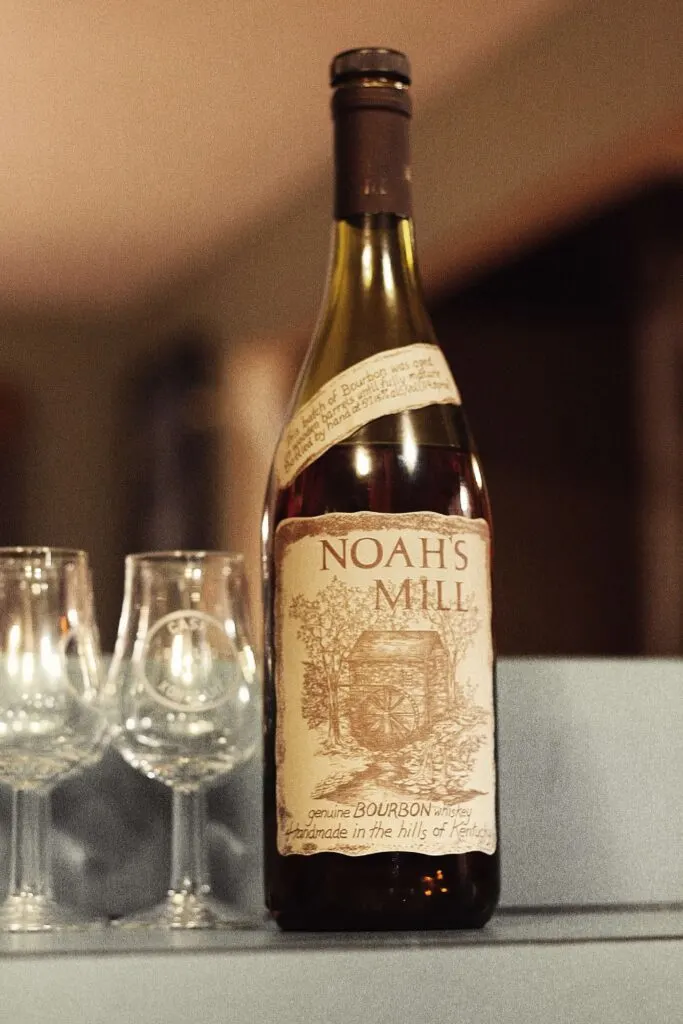 Featured Products
Description:

The Aged & Ore Neat Traveler is a complete travel kit for spirits. We combined our widely praised Neat Glass with one of our 3oz Flight Bottles and housed them together in a custom EVA travel case. Perfect for a night away with your favorite pour. The tie
Description:

The Aged & Ore Bottle Flight is a premium set of 4 custom silicone wrapped glass bottles designed to transport and share samples of your favorite spirits. The flight bottles come in a custom EVA travel case that fits perfectly in any small bag. An Aged &
Description:

This Bundle combines two of our crowd favorite products, creating the ultimate travel bundle to bring along your favorite spirits and glassware. Bundle Includes: Neat Traveler (Gray) Bottle Flight (Gray) Note: This bundle is only available in gray and col
*Bourbon Culture is reader-supported. When you buy through links on our site, we may earn an affiliate commission.