*Bourbon Culture is reader-supported. When you buy through links on our site, we may earn an affiliate commission.
The more I drink bourbon, the more I have come to expect certain flavors from certain distilleries. Willett's own distillate seems to have a distinct cinnamon-forward note. Beam and Heaven Hill share a distinct nutty note. Buffalo Trace has delicious cherry and wood notes. MGP has brown sugar, butter and oak notes galore. But there is something about Four Roses that always seems to bring out these really bright fruit notes. It's hard to explain until you taste it but it's gotten to the point where some of my friends mock it by saying it tastes like a fruit juice.
Four Roses Private Selection Single Barrel Bourbon
Some Four Roses recipes will taste fruitier than others. For instance, I don't think that OBSK or OESK contain all that much fruit whereas OBSV and OESV are basically the Hawaiian Punch of bourbon. But every once in a while a single barrel will make its way out of the warehouse and into the tasting room at Cox's Creek that makes the group tasting it realize just how much fruit Four Roses is capable of. For Elite Beverages in Indianapolis, they found that kind of barrel.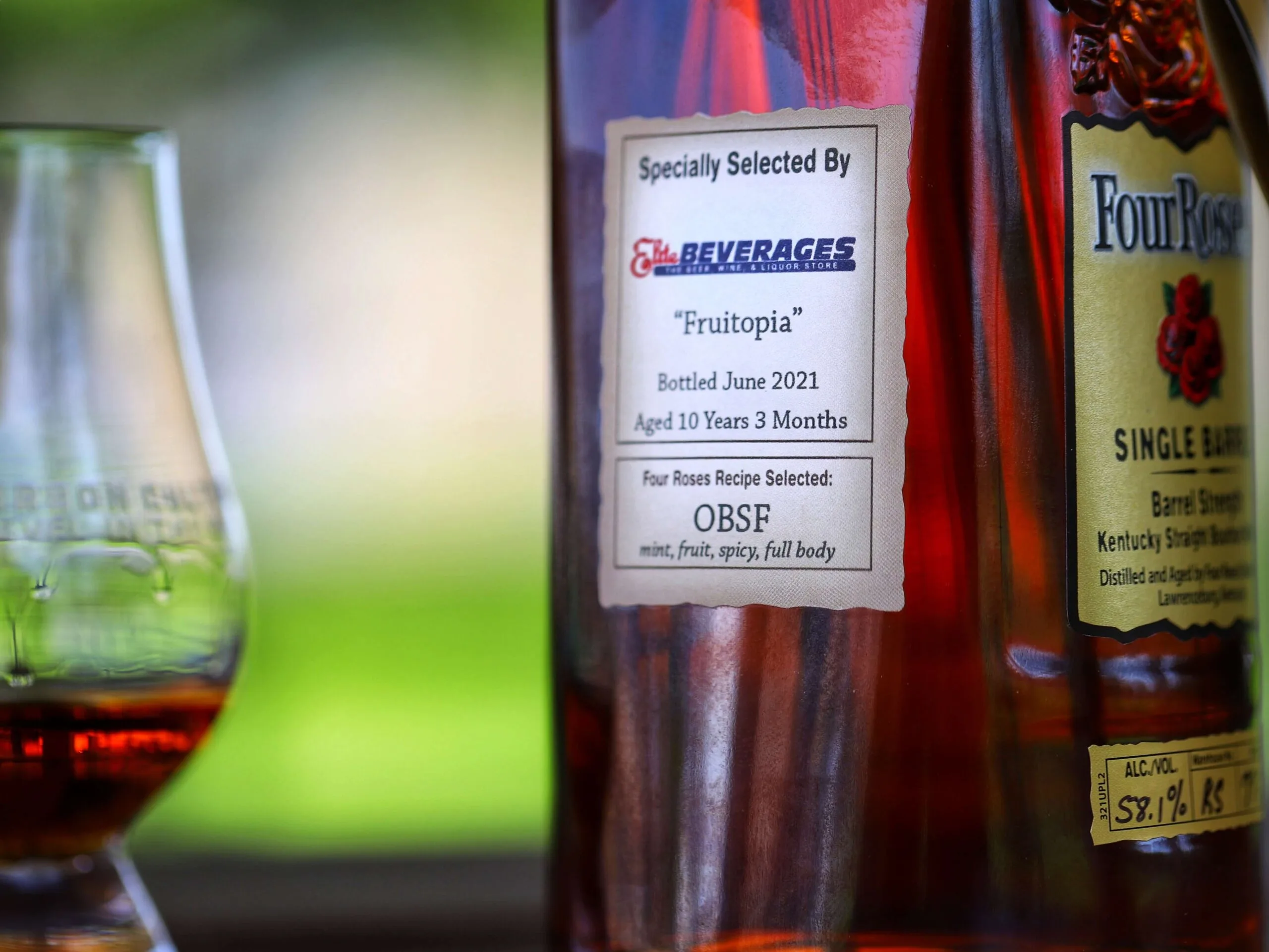 Coming from the second tier of rick 77 in Warehouse R (which is known as the RS-77 run), Elite Beverages' pick team found an irresistible amount of fruit coming from this single barrel. So much so that they nicknamed it "Fruitopia." According to the Four Roses neck tag, recipes containing the F yeast strain are known for their fruity characteristics along with spice and mint. That last descriptor actually keeps a lot of Four Roses enthusiasts away from the yeast strain because it's a characteristic that they don't like to find in their whiskey.
This run of OBSF barrels isn't considered to be particularly desirable among Four Roses fanatics (like the JE-32 run of OBSF is known as) but that doesn't mean it can't be good. I'm here to find out just how good it was to earn a name like this. So let's get crackin! I sampled this neat in a glencairn.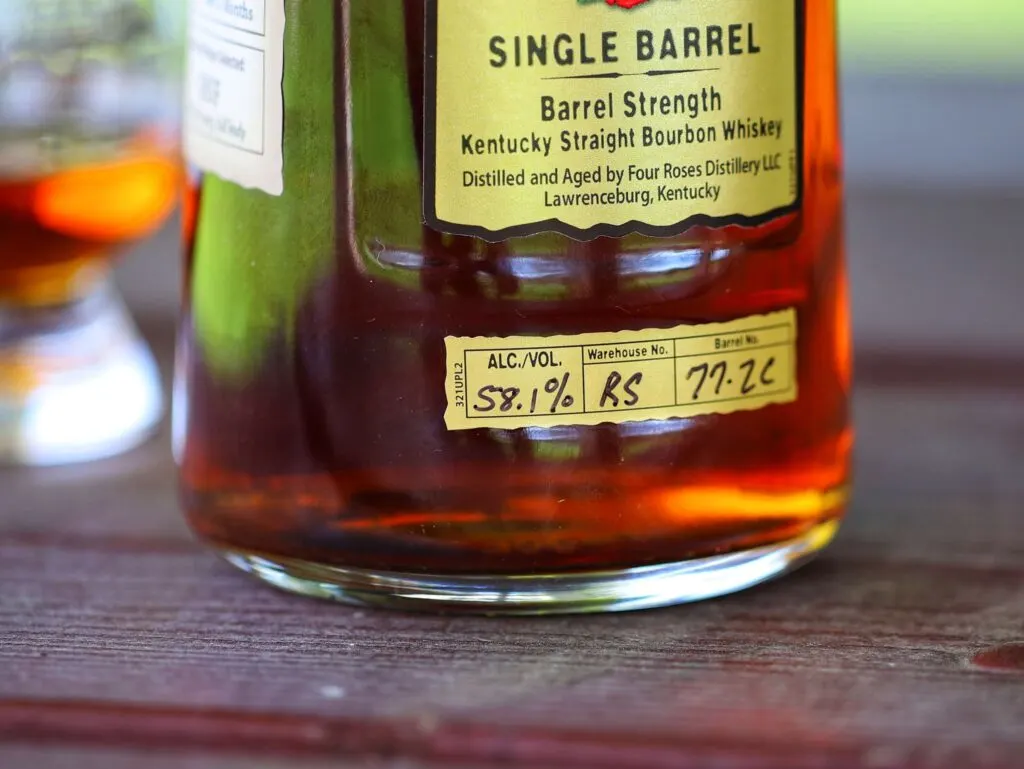 Tasting Notes
Nose: Just as I was hoping for, the nose is drenched in fruit scents. Grapes, cherries, cooked rhubarb, orange marmalade, lemon custard, watermelon and peaches can all be found. I'm fairly sure I've never found most of those fruit scents in a bourbon before, but here they are. Mint jelly combines with caramel sauce and a hint of oak. It's not the most aged bourbon nose I've ever smelled, but it's level of fruit is off the charts.
Palate: A citrusy burst of orange rind and fresh squeezed lemonade hit my tongue first while complimentary fruit flavors of strawberry + blackberry jam, apricot jelly and ginger root all mingle around them. Herbs like mint and oregano provide another dimension of flavors while black tea, licorice, cardamom and nutmeg provide an interesting kick. This barrel is wild so far, providing flavors that I never knew I could find in a Four Roses product before. To top it all off, a layer of honeyed sweetness blankets all of these fruit and spiced flavors.
Finish: Four kinds of jellies all compete for which one will last the longest on the finish: Grape, mint, peach and strawberry. There are also lingering notes of brown sugar cookies and vanilla icing. I am enjoying the residual spice that pricks my tongue after the sip is complete with peppercorns and chili oil being most dominant. It's got great range.
Score: 8.1/10
This may be one of the wildest barrels of Four Roses I've tasted in terms of overall profile. The heat lets itself be known without ever getting carried away but it is really the cornucopia of fruit flavors that drove me wild. Yes, there is mint at every level of the profile, but it's not so much where you're going to get sick of it. It's just nice to have a contrasting flavor for all of the fruit notes. What really stood out were the tea notes coupled with licorice and cardamom. This made the whole glass such a unique sip.
Final Thoughts
I own a good deal of Four Roses single barrels. I often get asked what my favorite recipe is, but it's hard to answer that question since it all depends on my mood. OESK was my first love but I've started to resign myself to thinking that all K, O and V yeast strains start to taste the same after a while (meaning if you've had one, they all start to taste the same). But it's been the F recipes that have really challenged my perspective of Four Roses and what their bourbon is capable of. The more I get continue on with this bourbon journey, the more I've appreciated OBSF and OESF barrels. I may actually consider them some of my favorite recipes these days which is a big change from what I thought 2 years ago.
While most enthusiasts agree that Four Roses Private Selection program has fallen off a cliff lately with poor quality control in selecting the barrels that enter the program, it's rare gems like this barrel that make me continue to buy them when I see them. It is true that PS bottles are more of a gamble now than ever before. I've tasted quite a few really "meh" ones (especially when a state-run liquor agency is selecting them) too. But if you have a store or group selecting the barrel who you trust, I think it's a safe bet to say that the bottle will always be worth your time and money. Fruitopia is a bottle that makes me believe in the power of good picks again.
Featured Products
Description:

The Aged & Ore Neat Traveler is a complete travel kit for spirits. We combined our widely praised Neat Glass with one of our 3oz Flight Bottles and housed them together in a custom EVA travel case. Perfect for a night away with your favorite pour. The tie
Description:

The Aged & Ore Bottle Flight is a premium set of 4 custom silicone wrapped glass bottles designed to transport and share samples of your favorite spirits. The flight bottles come in a custom EVA travel case that fits perfectly in any small bag. An Aged &
Description:

This Bundle combines two of our crowd favorite products, creating the ultimate travel bundle to bring along your favorite spirits and glassware. Bundle Includes: Neat Traveler (Gray) Bottle Flight (Gray) Note: This bundle is only available in gray and col
*Bourbon Culture is reader-supported. When you buy through links on our site, we may earn an affiliate commission.