*Bourbon Culture is reader-supported. When you buy through links on our site, we may earn an affiliate commission.
I'm no stranger to craft distilleries and their whiskies. Being located in Indiana, we have some really good ones that have managed to have their bottles distributed on a national scale. Brands like Starlight, Spirits of French Lick and West Fork Whiskey Company have all been featured many times in my reviews. Today's review highlights a new one that I've never tried before: 18th Street Distillery.
18th Street Distillery Single Barrel Bourbon
18th Street Distillery is located in Hammond, Indiana. I'm not a born and bred Hoosier myself, but I believe that the residents of Hammond would identify more with Chicago than Indianapolis based on geography. They started out as a brewery and only gradually moved into the business of distilling spirits. Strictly speaking as an outsider who was not familiar with this brand, 18th Street seems like they have been more focused on their vodka, gin and rum labels, but that is probably because they were waiting on their whiskey to age. Now that they've been distilling for about 5 years, we are starting to see an increased availability of their whiskies followed by some label changes.
In the early days of their distilling operations, Drew Fox, the head distiller at 18th Street, used small barrels to quickly age the pot-still whiskey he was distilling. I reached out to 18th Street and they told me that in their early days they used a mixture of 5, 15, 25 and 53 gallon barrels. They held onto the 53 gallon barrels to let those age for at least four years while the smaller barrels were released at very young ages. According to other reviewers, that whiskey was about as good as you'd expect, which is a nice way of saying it wasn't.
Details were scarce about the distillate's particular stats. All we know is that their bourbon uses rye as the small grain, but ratios of corn, rye and malt were never released. Barrel entry proof is also an unknown but I was told that Drew usually makes his cuts on the pot still close to the maximum a bourbon can be distilled to (which would be 160 proof). And while the new labels do not indicate an age, I know that it is at least 4 years old but certainly no older than 5.
This particular bottle is a single barrel that caught my eye recently while I was browsing through Papa Joe's selection in Richmond, Indiana. Papa Joe's is one of the few stores I ever saw that received a single barrel of their bourbon and it was the proof that caught my eye. I did a double take as my eyes swept over the label and stopped at the number "144." Granted, it's not impossible for bourbon to hit a proof high enough to basically fall under a HAZMAT designation, but it is extremely rare. I asked if I could get a sample first which Papa Joe's typically doesn't do, but it just so happens that they had an extremely small amount left in a tiny sample bottle in the back. It wasn't enough for my taste buds to get a totally accurate picture but I let the FOMO overpower my common sense and decided to buy a bottle. At $56, it was a risk I was willing to take. So how is it? Let's find out. I tasted this neat in a glencairn.
Tasting Notes
Nose: The nose is so green and youthful that I honestly would struggle identifying this is a whiskey if given blind. I would actually say it has more in common with a barrel-aged gin than a bourbon. Fresh cut saplings, tree bark charred wood, and burnt caramel start out as overpowering and acrid. Cinnamon and chili pepper spice give it a little dimension but it seems like a "Caution Sign" warning you of the heat to come. There is a small amount of wintergreen mint along with fruit notes that are not distinguishable and even smell slightly artificial.
Palate: Vodka-like astringency stings my tongue first. Wow, this is not what you want to taste when you're expecting some bourbon notes. There is some sweetness like caramel and spiced honey, but it is not enough to hide any of the off-notes I'm finding here. Green and astringent notes like Vicks Vapor Rub, green herbs and spearmint give each sip a medicinal quality about it. Frankly, it tastes like a bathroom medicine cabinet. The heat from all 144 proof points will either make you choke if you're not used to high proofs or will have your tongue tasting like its been carpet bombed by the fourth sip. It's bad.
Finish: The heat calms down a bit (or maybe that's just because I can't taste anymore) and becomes a bit more sweet. Botanical notes increase but the finish still resembles a youthful, green whiskey. I'm using the word green so much because I can't find the grainy notes that I would also describe youthful bourbon as. It really tastes like vodka flavored with bitter wood and grass. As for the mouthfeel, it's not thick and there is no lasting sweetness or depth.
Score: 2/10
I feel like my tasting notes are pretty self explanatory as to my feelings with this bourbon. It was just interesting that a bourbon tasted so much like a clear spirit even after four years of aging. I still have a lot of respect for Papa Joe's and their barrel selection program but this one is a head-scratcher as to why they picked it. I have two theories. The first is that they saw the proof, calculated the price they could sell it at and decided that it was a bottle they customers would still buy. My second theory is that the sample bottle that the 18th Street Distillery rep used to persuade Papa Joe's was not exactly what was in the barrel. Even with the limited sample I received at the store, I don't remember such strong astringency. Had it punched me like this, I would have surely left the bottle on the shelf.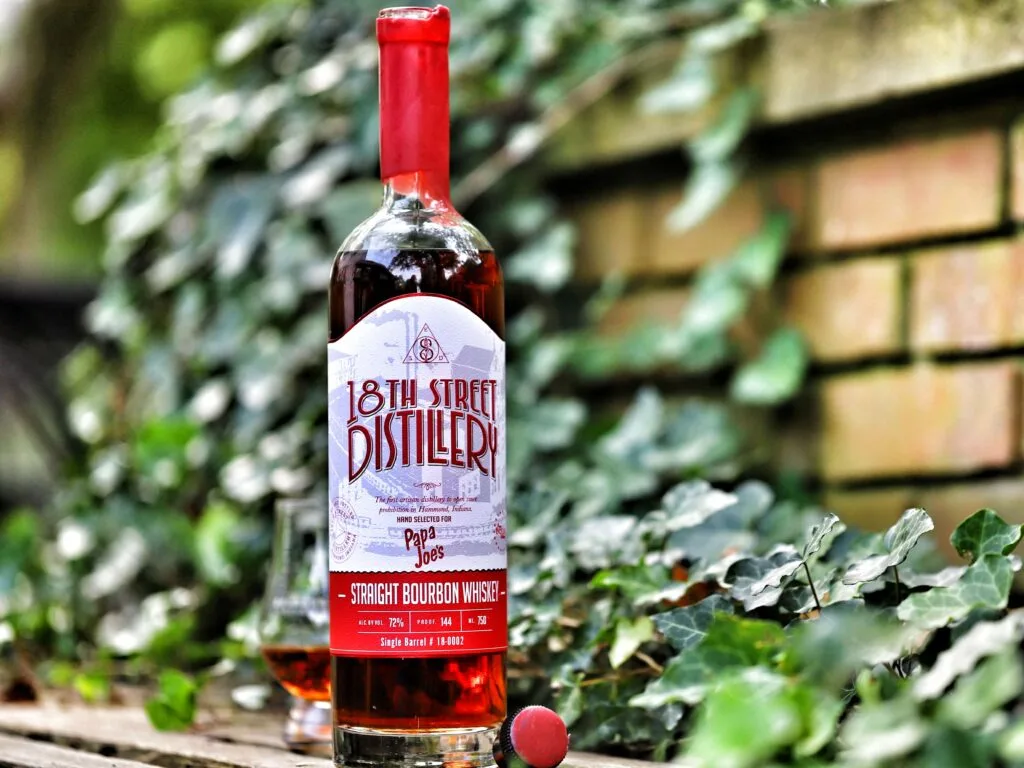 Final Thoughts
I knew the risks involved with buying an unknown bourbon but decided that the price and the proof were too good to pass up. Drinking this brought me back down to earth with my expectations. While it's not something I will pick up in the future, I can see a future of tricking my friends into drinking this one just to see their reactions. Until now, I've used a 154 proof bottle of Barrell Rye Whiskey for that purpose. At least that had the benefit of age to lessen the burn.
I don't know what to think of 18th Street Distillery at the moment. I know that they released a special batched version that was sold only in Costcos inside of Indiana (and maybe Illinois) and many people seemed to think that was something special. I did not get a chance to taste that one yet, but at this point I'm in no hurry because I think it's a good bet that the whiskey wouldn't be that good. Perhaps Drew Fox either needs to tweak his distillation technique or allow his whiskey to age for a longer period of time. In the meantime, I think the only product that I will be searching out with an 18th Street label will be their beer.
Featured Products
Description:

The Aged & Ore Neat Traveler is a complete travel kit for spirits. We combined our widely praised Neat Glass with one of our 3oz Flight Bottles and housed them together in a custom EVA travel case. Perfect for a night away with your favorite pour. The tie
Description:

The Aged & Ore Bottle Flight is a premium set of 4 custom silicone wrapped glass bottles designed to transport and share samples of your favorite spirits. The flight bottles come in a custom EVA travel case that fits perfectly in any small bag. An Aged &
Description:

This Bundle combines two of our crowd favorite products, creating the ultimate travel bundle to bring along your favorite spirits and glassware. Bundle Includes: Neat Traveler (Gray) Bottle Flight (Gray) Note: This bundle is only available in gray and col
*Bourbon Culture is reader-supported. When you buy through links on our site, we may earn an affiliate commission.