*Bourbon Culture is reader-supported. When you buy through links on our site, we may earn an affiliate commission.
For years now, Angel's Envy has only carried three distinct versions of its whiskey. They are most known for their base offering which is a non-age stated port-finished bourbon that was sourced from Lincoln Henderson's former employer, Brown Forman. Next they have a rum-finished rye whiskey. Lastly, they have a very expensive "Limited Edition" annual release that is bottled at cask strength.
While Angel's Envy did not invent bourbon finishes, they certainly popularized it among bourbon enthusiasts. The low bottling proof (86.8 proof) coupled with somewhat low price (around $40-45 in most places) and aesthetically pleasing bottle have kept the brand selling their product year after year. Most enthusiasts, however, consider this a "starter" bottle and quickly move on to better things. Angel's Envy hopes that those expensive Limited Editions I mentioned earlier will keep enthusiasts interested in the brand. But at $250 a pop, it has been a hard pill to swallow.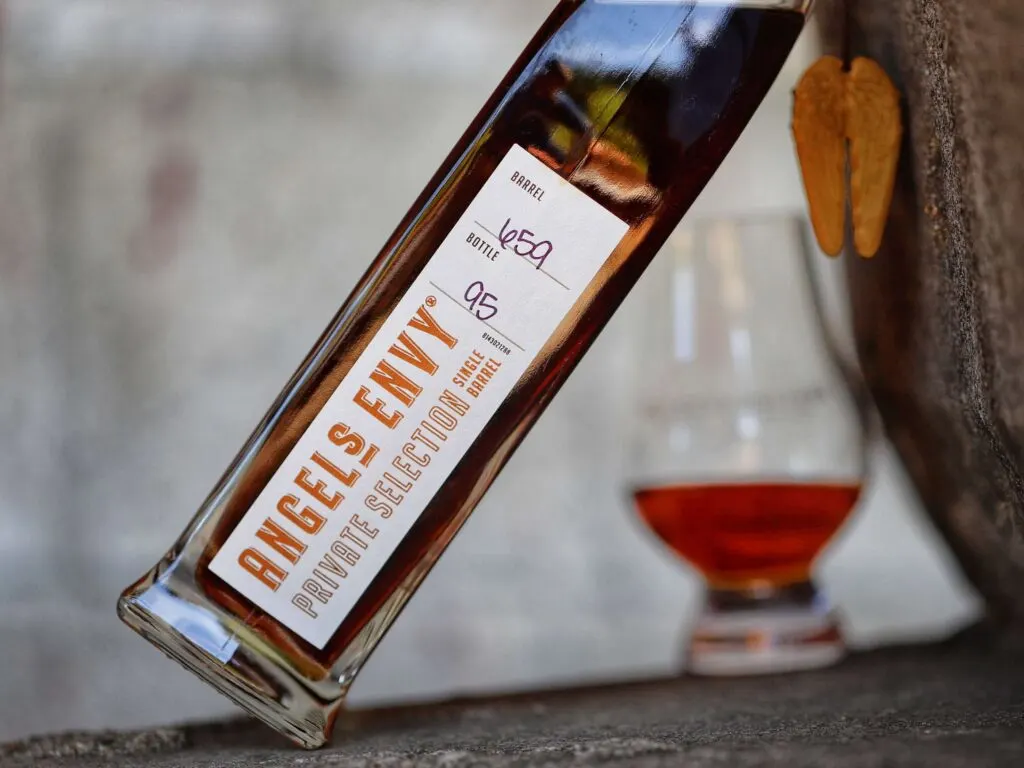 Angel's Envy Private Barrel Bourbon
A lot of enthusiasts did not appreciate how Angel's Envy could tack on such a high pricetag for a bottle that still didn't carry an age statement. The reason why they might be actively avoiding telling us this information is the same reason why Old Forester typically does not talk about the age of their whiskey. Because it's comparatively young to other Kentucky bourbon. It's not because they're trying to pull a fast one either, it's just that Old Forester whiskey is aged in heat cycled warehouses. When those barrels are pulled, most are only 4 to 5 years old. More experienced enthusiasts know that heat cycling whiskey tends to add age to the liquid in a shorter amount of time, but it's hard to educate less experienced drinkers on this science without confusing them. Angel's Envy, just like Brown Forman, assumes the majority of customers out there don't care.
This brings us back to the topic of this review. I imagine that the bottle in my hands right now was a result of Angel's Envy trying to create a whiskey for a certain niche in the market that they might be missing out on. That led to the bright idea of selling single barrels (aka "Private Barrels") of their bourbon to individual entities like stores or groups. The new product needed to slot in somewhere higher than their $45 entry level bourbon, but lower than their $250 Cask Strength Limited Edition bourbon. They settled on $100 and a proof that ranged between 100 and 110 depending on barrel. This makes sense once you consider that their entry level bourbon was 86.8 proof and the Cask Strength's proof averages around 125 proof.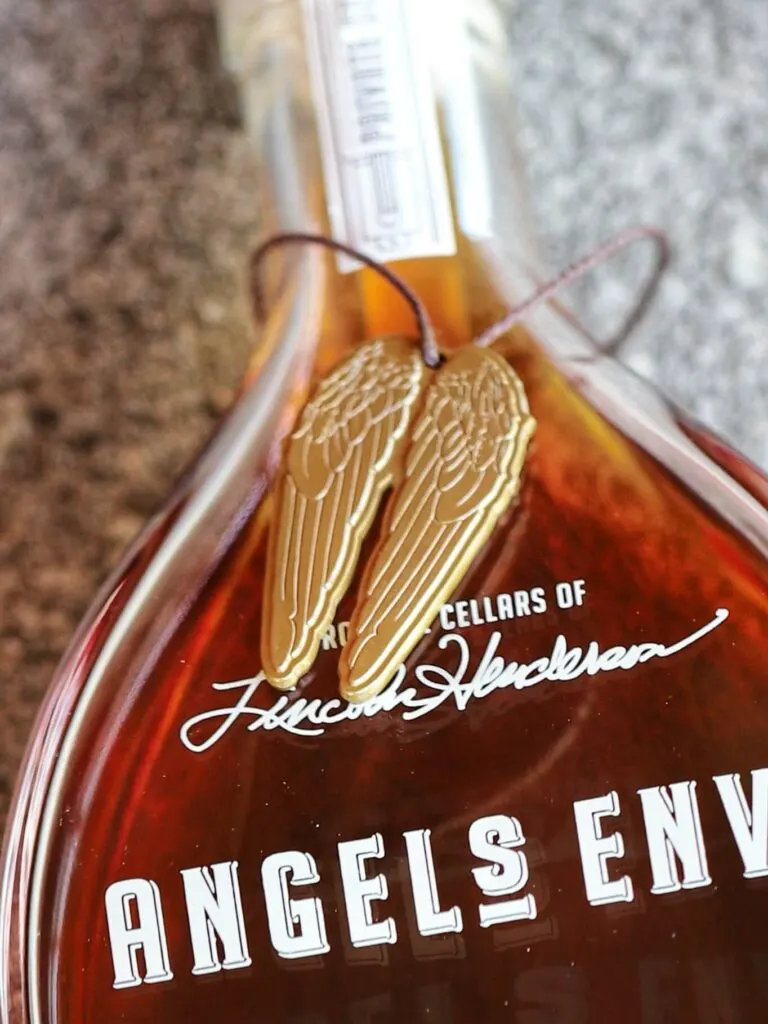 Since publishing my review on Angel's Envy Rye, I was given the rundown of how Angel's Envy utilizes the Port barrels they obtained to make their whiskey. For starters, these "barrels" (also known as "pipes" due to their large size) are "recharged" after a certain amount of uses. Most finished whiskey producers will usually say that they have to do this process after 2 or 3 uses or else the whiskey will not gain any additional flavors or scents. This process involves pouring a few gallons of port wine back into the recently emptied barrel and agitating it so that all of the wood surface gets re-saturated. This allows them to stretch the life of each barrel rather than buy new ones with each use.
By law, any whiskey producer needs to dump out any residual liquid in a finishing barrel before adding the bourbon (or rye whiskey) back in. Not doing this would result in it losing it's bourbon designation because it now has additives added to it. Rumors abound that Angel's Envy overlooks this step from time to time (this would be known as using a "wet" barrel). I've also heard of additional cost cutting measures being implemented in the standard batches where they don't actually finish all of the bourbon in these Port Pipes.
A typical Angel's Envy batch consists of 50% unfinished bourbon and 50% finished bourbon blended together. This may also explain the color variances observed between batches. For the Limited Edition's, Angel's Envy supposedly ensures that every drop of whiskey that they use has been finished in whatever finishing barrel is listed. That leaves us with wondering what set of rules they used on this new Private Barrel offering. Based purely on color alone, I think it's reasonable that all of the whiskey inside was finished entirely in a Port Pipe.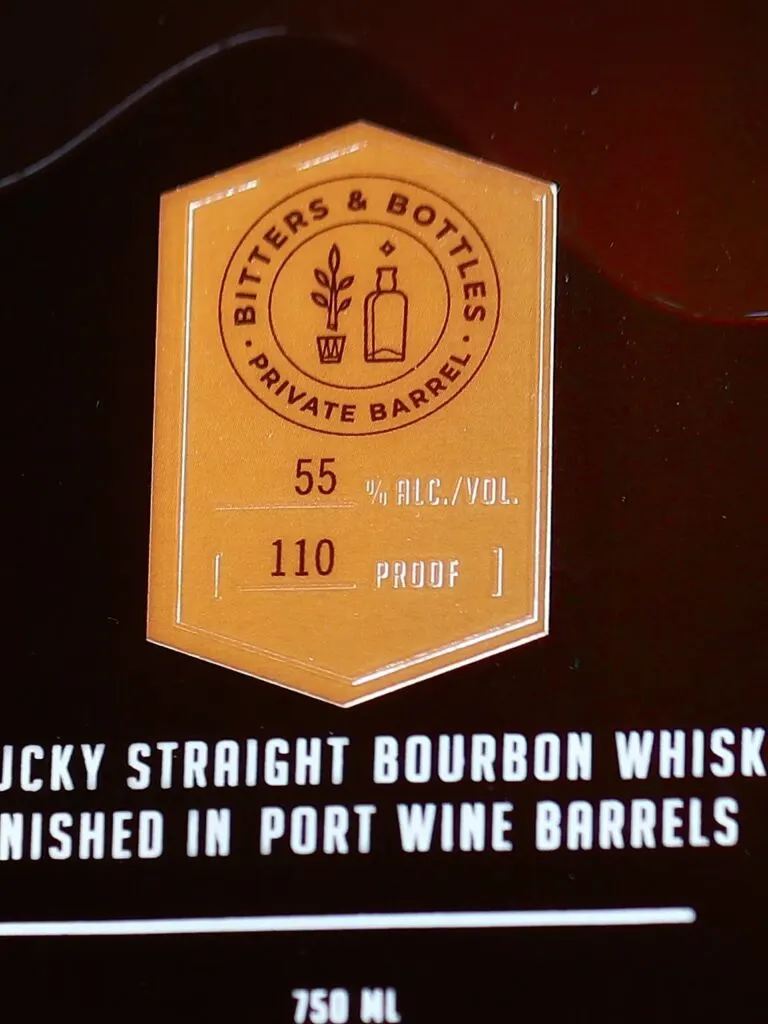 Coming into this review, I did not know what to expect from this higher-strength version of Angel's Envy. I find the regular batched bourbon that they put out to be somewhat thin and astringent at times. So when I set out looking for a private barrel to buy, I had a requirement that I find a 110 proof barrel (to reiterate, that's the highest proof they will bottle at) because I wanted the most flavor I could get. Thanks to a great friend in San Francisco, California, I was able to secure a bottle through a local liquor store in the Bay area called Bitters and Bottles. Let's see how it was. I sampled this neat in a glencairn.
Tasting Notes
Nose: For 110 proof, the nose is incredibly muted. I had five different sessions with this bottle and it hardly improved. Only after practically burying my nose in the glen (and adding water, as I'll expand on in a minute) was I able to detect notes outside of the Port Wine. Almond oil extract combined with raisins was the first ones to rise up. There's also the scent of flat, room temperature cherry cola. But it was the nuttiness of the almond oil that makes me pause because it's a scent that I wasn't expecting in an Angel's Envy product. To be clear, the nuttiness is not a Beam/Heaven Hill kind of note. I can tell it's from the Port.
Palate: For 110 proof, there isn't a whole lot of burn. A thick and oily mouthfeel coats my tongue (great!) but it practically blocks all other flavors from being recognized (not great.). Wine, caramel candies, oak and leather are all detected while chocolate chip raisin cookies (a great April Fool's joke to make, btw) are also tasted. More fruits become known as the session goes on like strawberries, cherries and lingonberries (IHOP syrups anyone?) combine with a hint of banana. I know the base bourbon is from Brown Forman, but that sneaky banana note makes me think it is closer to Jack Daniel's than Old Forester.
Finish: A smooth and mellow finish. The flavors become a bit more relaxed and start to reveal themselves. Tobacco, wine, oak and barrel char are most dominant. They are accompanied by fruit preserves and a lingering spice. The finish is maybe the best part of this dram only because the notes are so hard to pull out of the nose and in the palate.
Score: 6/10
As I mentioned in my notes, the finish is the best part of this dram. Everything else runs into this barrier that mutes most flavors or scents. If this bottle does open up after a while, it certainly takes its sweet time. I eventually resorted to something that I haven't done in a long time: adding water to my glencairn. I wanted to see if I could get it to open up more. Sure enough, there was some movement with the muted flavors and scents. While not completely pulling back the curtain, it at least helped me to find more flavors and scents.
Final Thoughts
For twice the price, Angel's Envy Private Barrel did not deliver twice the experience. I was expecting bolder flavors and barely got it. I was expecting the increased proof to pack a bigger punch. And even though the finishing barrel is what should draw you in to buy this product, it seemed way too heavy-handed in its delivery. Call it a personal preference, but I want my finished whiskey to taste like the whiskey first followed by subtle notes from the finishing cask. I did not want the opposite: a glass of wine that had some underlying whiskey notes. This bottle of Angel's Envy seemed more like the latter.
Based purely on color and the stifled bourbon profile, I think what we have here is a bottle of Old Forester 1920 that had a couple of gallons of Port Wine added in for effect. It must not have been allowed to mingle for any amount of time either, just cut with water down until it hit 110 proof and put into a bottle. The color may draw you in, but it's all a mirage designed to make you think that the final product is of a higher quality.
I'm seeing these sell for an average of around $90 per bottle; although some picks have been lower. This has made a lot of my friends balk at a purchase. They also don't appear to move from shelves particularly fast either. I think this is because people are confused what makes this bottle different from the base offering aside from metal necktag and very tiny metal identification decal. I'm here to tell you that it's not worth it. I know many will disregard this advice because they love a good finished whiskey, but there are others out there that do it better (or at least give you more for the price). Take Barrell Craft Spirits for instance. While the base spirit they use is not bourbon (it is either a Kentucky Whiskey or Light Whiskey from MPG), the variety of finishing barrels and the higher proof give you a much better and more varied drinking experience. There are also a plethora of non-distiller producers (NDPs) finishing MGP bourbon and rye in unique casks that have loads more flavor than this bottle does. Angel's Envy didn't do enough to distinguish itself amongst a sea of $80-100 finished whiskey and this is one you definitely don't have to feel bad about not buying.
Featured Products
Description:

The Aged & Ore Neat Traveler is a complete travel kit for spirits. We combined our widely praised Neat Glass with one of our 3oz Flight Bottles and housed them together in a custom EVA travel case. Perfect for a night away with your favorite pour. The tie
Description:

The Aged & Ore Bottle Flight is a premium set of 4 custom silicone wrapped glass bottles designed to transport and share samples of your favorite spirits. The flight bottles come in a custom EVA travel case that fits perfectly in any small bag. An Aged &
Description:

This Bundle combines two of our crowd favorite products, creating the ultimate travel bundle to bring along your favorite spirits and glassware. Bundle Includes: Neat Traveler (Gray) Bottle Flight (Gray) Note: This bundle is only available in gray and col
*Bourbon Culture is reader-supported. When you buy through links on our site, we may earn an affiliate commission.