*Bourbon Culture is reader-supported. When you buy through links on our site, we may earn an affiliate commission.
It was right after Christmas Day in 2011 when MGP Ingredients completed its acquisition of the Lawrenceburg Distillery in Indiana. Known by many names before that, including "Seagram's" (which is still spelled out in bricks on some of their warehouses), MGP sought to expand beyond foodstuffs, clear grain spirits and industrial alcohol manufacturing. The whiskey community and the non-distiller producer community (NDP) held its breathe to see if they were going to alter or shut down the line of whiskies that were rapidly gaining popularity. When word came out a little more than a year later that MGP was not only increasing production, but also adding 7 new whiskies to the lineup, everyone breathed a collective sigh of relief.
The story behind Smoke Wagon Experimental Rye Whiskey
The Lawrenceburg Indiana plant was most known for making their iconic 95/5 rye whiskey. While many in Kentucky will never concede that another state, especially Indiana, could make a bourbon as great as theirs, it was hard to argue against Indiana being the king of rye whiskey. This may be why MGP announced the creation of 2 new rye whiskey mash bills in that 2013 press release. One would contain 51% rye, 45% corn and 4% malted barley and the other would use 51% rye and 49% malted barley. The rye whiskey containing corn was meant to go head-to-head with Kentucky-style rye whiskies while the 49% malted barley mash bill would… well, I don't know who they were trying to compete with there.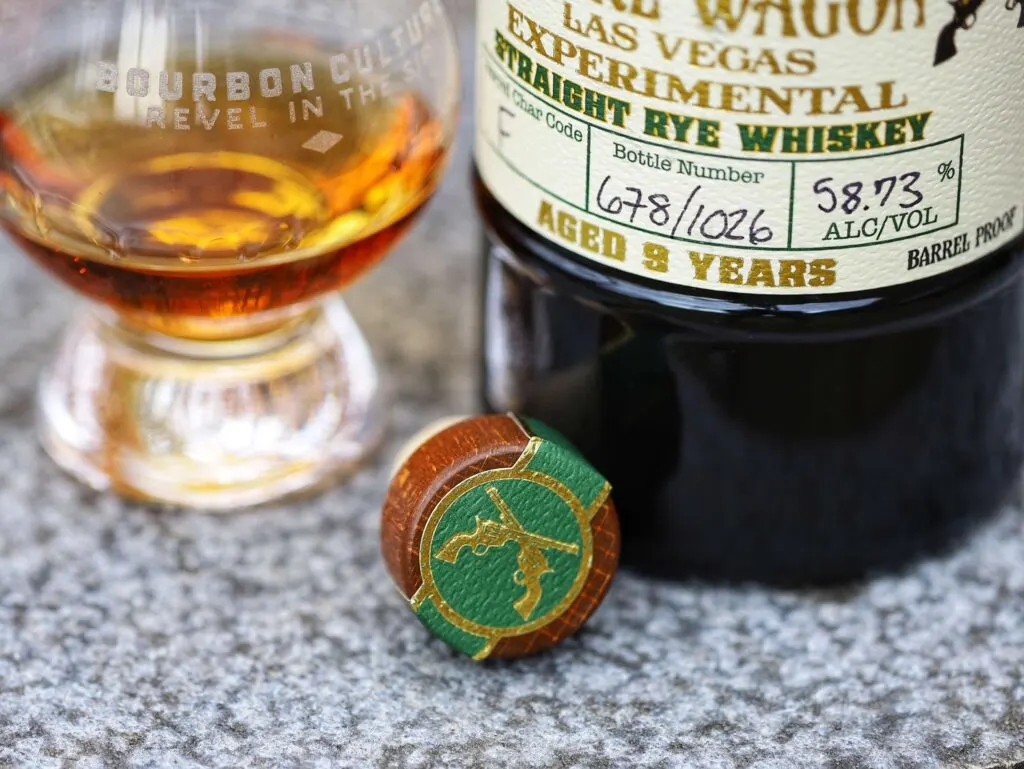 To be honest, MGP might not have known why they chose that mash bill either. It wasn't like there was another producer distilling a rye whiskey or bourbon with that much malted barley content. It seemed like they were doing it as an experiment to see if there was a market for it.
It turns out that the word "experiment" was more accurate than we know. Coming out of the woodwork lately, or more specifically, "the brickwork" since that's the building material of Lawrenceburg's warehouses, have been all kinds of whacky experimental MGP products. Last year I reviewed a Buckwheat Bourbon (which also had a sibling made with Quinoa as the small grain) from MGP and also a Stoll and Wolfe rye whiskey that contained 45% corn (delicious, btw). It wasn't until February 2022 that we learned of another experiment involving MGP filling custom barrels (not their standard #4 char barrels) with one of the new mash bills.
Aaron Chepenik, founder of the Smoke Wagon brand (#smokewagontoindiana) showed a 10 minute long video in early 2022 of him cooing over barrels that were recently delivered to his facility in Las Vegas, Nevada. Inside these barrels (which apparently cost him A LOT of money) was that new rye whiskey mashbill with 49% malted barley. But they had a strange twist; the barrels used to age them for the last 8+ years had non-standard char and toast levels to see how they impacted the whiskey inside. They were broken down with a letter designation thusly:
C Barrels – 6 Barrels filled with 51/49 mash bill rye whiskey where the staves were heavily toasted first before receiving a #1 char (very light) inside.
D Barrels – 4 Barrels filled with 51/49 mash bill rye whiskey where the staves received a #2 char inside
E Barrels – 6 Barrels filled with 51/49 mash bill rye whiskey where the staves received a #3 char inside
F Barrels – 6 Barrels filled with 51/49 mash bill rye whiskey where the staves received a #5 char inside
All barrels had a #2 char on the heads.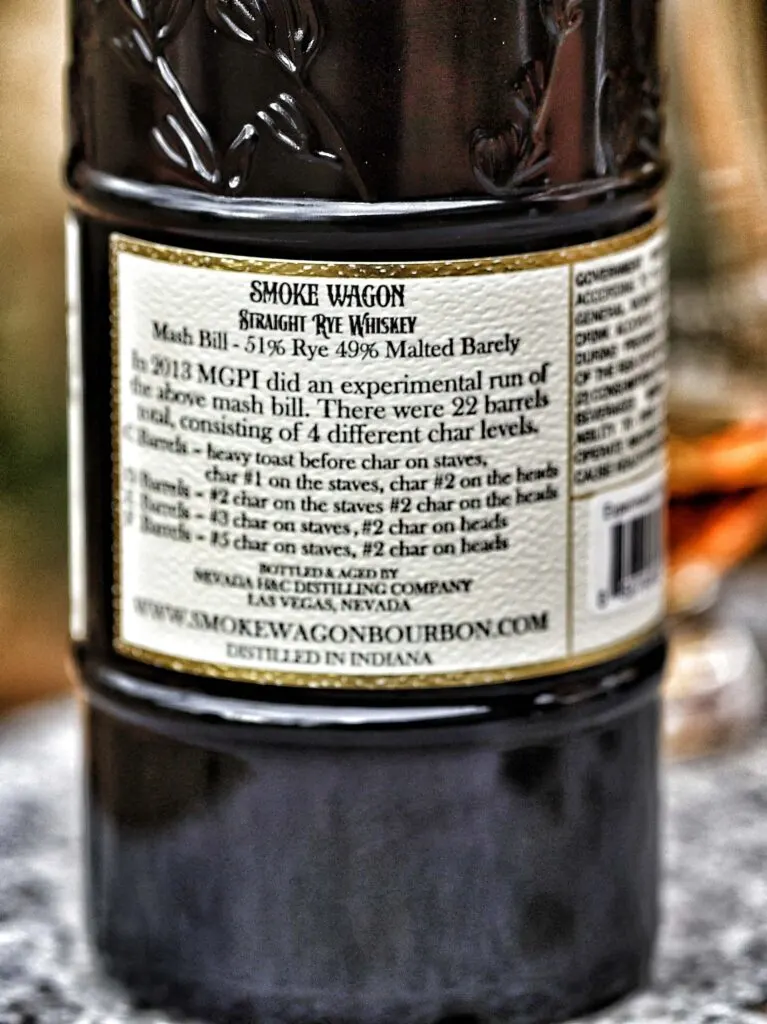 A few questions to knock out first – Where are barrels A and B? And why are there 2 less D barrels than the rest? The answer to the first question is because 1.) A and B barrels were given different toasting levels to the staves but were not charred in any way. That means that legally they could not be sold as a "rye whiskey." 2.) MGP did not offer to sell them. As for why the "D" barrels contained two less, I do not know the answer to this. However, it could be assumed that another customer managed to purchase 2 of these before Smoke Wagon did. So keep your eye out for an NDP selling char #3 MGP rye whiskey barrels in the future.
Today's bottle is from the "F" lot of barrels that received that crazy #5 char on the barrel. While char "levels" aren't a regulated term, it has precedence (see: Old Forester 1910). The barrels are usually fired for over a minute which produces a cask that is moments away from being so burned that it cannot hold liquid. This should result in an intense interaction between the distillate and charred surface. A great friend of mine offered to pick one bottle out of the lineup of 4 to let me sample and this was the one I chose. It's because of him that I get to experience this today! So without further ado, let's get down to tasting this bad boy. I sampled this neat in a glencairn.
Tasting Notes
Nose: Intense wood char on the nose. I want to say "smokey" but it's really the smell of wood after it's been burnt. It smells like a rye whiskey that has been sweetened in a way. Not artificially sweetened like Angel's Envy Finished Rye, but damn close. Double Mint gum, Cinnamon Rolls with vanilla icing, melted Rolos and even a hint of white chocolate all compete for your attention. But it's the oak that really ties it all together. The depth of this sweet smelling wood is almost too hard to describe. Seriously, I have not smelled a whiskey with these combinations in the past. It's one of the most unique ones I've smelled this year.
Palate: Holy cow this is sweet like candy. If I hadn't removed the seal from this bottle, I would have thought somebody crumbled up Girl Scouts Thin Mints and funneled them inside of the bottle. It is absolutely amazing how sweet this rye whiskey became. Does the barrel char help this out too? Because there is a lot of barrel char (it almost begins to taste "ashy" towards the end of the dram) Or is this the intense sweetness that malt brings to the table? I am fairly certain that the barrel char is responsible for this chocolate-like flavor sensation. But don't let all of this "sweet talk" fool you into thinking this rye whiskey has no spice. The spice is all there, it's just not aggressive like the 116+ proof says it will be. Cinnamon, allspice, clove and a touch of coriander. If you love dill in your MGP rye, this doesn't appear to have any. Sorry about your luck. I don't necessarily find that much fruit beyond currants and citrus notes like orange and sweetened grapefruit. But trust me, this doesn't need anything else because it's great the way it is.
Finish: The finish is beautiful. Like Andes after-dinner mints mixed with a peppermint candy cane. Cinnamon powder dusts everything found on the finish including the oak, new leather, oregano and faint citrus flavors. The finish is spectacular in its own right and leaves the sensation that is every bit of the 9 years it spent in a barrel. I would lose my mind if this was ever bottled at over 14 years old.
Score: 9/10
One thing that I wrote down in my notes that I must include is just how in love I am with the concept of a #5 Char barrel. Make no mistake, I think that MGP has created a really great rye whiskey here, but I also think that the combination with this char level is the perfect match. I have not tasted barrels C through E, but I can only imagine how much sweeter those are. Especially considering they don't have this super-heavy charred note to restrain the sweetness.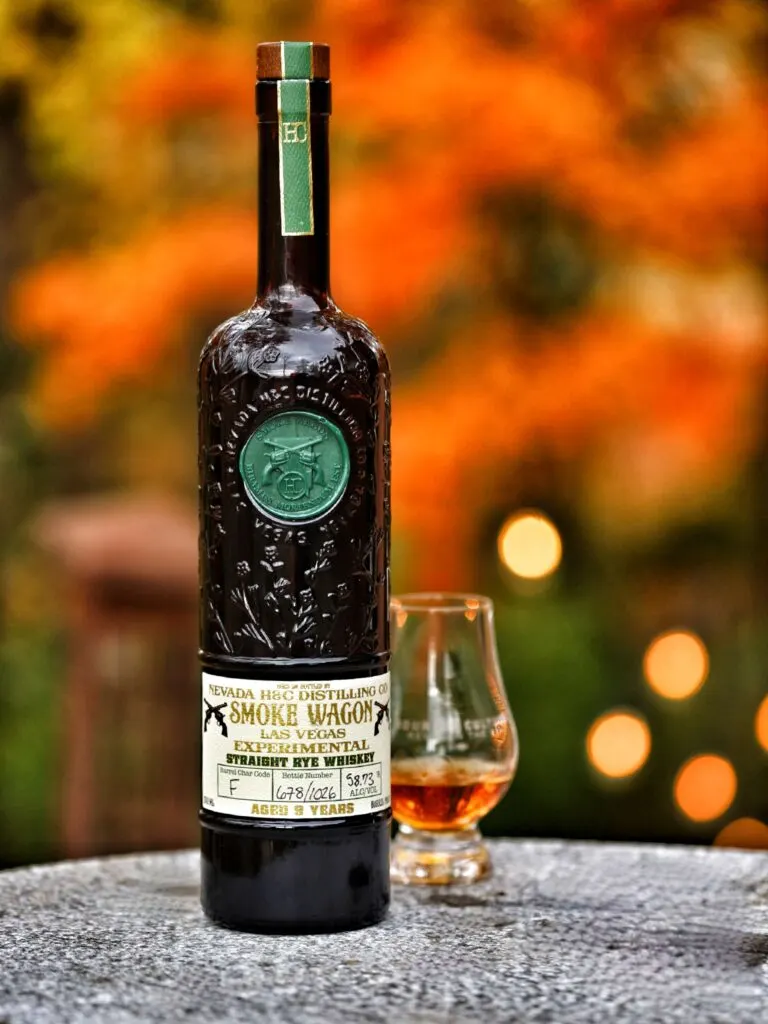 Aaron wanted to bottle the F barrels immediately upon tasting them. He indicated that they were on the cusp of becoming over-oaked and wouldn't likely make it another 2 months to hit the 9-year-old mark. Based on the label saying this is 9 years old, he must have held off. From what I tasted here, I think there was no negative impact whatsoever. I think the product turned out perfectly.
Final Thoughts
What else is there to say about this batch of Experimental Rye? "Good luck finding one" comes to mind. These have all been snatched up and those that haven't are setting on shelves for over $700 (trust me, I've seen pictures). You could also check out secondary groups where you'd find them being listed for similar prices, but good luck getting these any cheaper. Smoke Wagon attracts some of the cult-iest dudes this side of Instagram influencers who only post pictures of unopened bottles. We see you, Dan the Bourbon Man.
How I wish that this bottle was more readily available and more people could experience it for themselves. I would name this my Rye Whiskey of the Year and might even name it as my overall Whiskey of the Year just by how much it impressed me. Hell, I would name my next kid "SmokeWagon Experimental" if I was crazy enough to have another. But alas, this bottle is too rare to make me want to hype it up anymore in this humble review. So in conclusion, if you own a bottle, please open it and share it with your friends. Let them experience the wonder that this rye whiskey is. Please don't be a DTBM and take endless pictures of the same unopened ETLs and Pappy's that you've had for years. This one deserves to be experienced.
Featured Products
Description:

The Aged & Ore Neat Traveler is a complete travel kit for spirits. We combined our widely praised Neat Glass with one of our 3oz Flight Bottles and housed them together in a custom EVA travel case. Perfect for a night away with your favorite pour. The tie
Description:

The Aged & Ore Bottle Flight is a premium set of 4 custom silicone wrapped glass bottles designed to transport and share samples of your favorite spirits. The flight bottles come in a custom EVA travel case that fits perfectly in any small bag. An Aged &
Description:

This Bundle combines two of our crowd favorite products, creating the ultimate travel bundle to bring along your favorite spirits and glassware. Bundle Includes: Neat Traveler (Gray) Bottle Flight (Gray) Note: This bundle is only available in gray and col
*Bourbon Culture is reader-supported. When you buy through links on our site, we may earn an affiliate commission.