*Bourbon Culture is reader-supported. When you buy through links on our site, we may earn an affiliate commission.
Coming in hot off the heels of being awarded my "Most Memorable Whiskey of 2022," Stellum Spirits (a division of Barrell Craft Spirits) has decided that four different labels (plus countless single barrels) simply isn't enough.
They have now expanded their "Black" series of Bourbon and Rye Whiskey to include slightly tweaked blends using those same components (from Indiana, Kentucky and Tennessee). It's just a matter of time before we get a Stellum Black Bourbon "HAL 9000" (where ChatGPT tells the team which barrels to blend) or Stellum Black Rye "USS Enterprise (NCC-1701)" (where a portion of the blend spends a few hours in space on a Blue Origin flight).
What I'm trying to get at here is that the person who comes up with Stellum's names is a giant nerd.
Anyway, Fibonacci Blend #1 has a story behind how the barrels were grouped, blended, grouped again, blended again and so on. But since Barrell, errr, Stellum never gives us any more information than that, I've become less and less interested in reading their press releases about how they got their name.
I get it, Barrell/Stellum reps say that publishing barrels and ratios and specs in general would be information overload. But would it kill them to just list a couple sources of where this whiskey came from? Or some information that their audience could really sink their teeth into?
This brings us back to the rye whiskey at hand. Stellum lists the rye whiskey used in this blend as coming from Indiana, Tennessee and Kentucky. The Indiana source is both MGP's 95/5 rye whiskey (which make up the largest component) and some of their 51/49 rye whiskey which uses a huge amount of malted barely to fill in the rest of the mash bill.
The Tennessee component is likely Dickel's own column still-produced rye whiskey (which is also 95/5) which goes through the Lincoln County filtering process. As for the Kentucky rye whiskey, I'm guessing it might be distilled at Bardstown Bourbon Company with Barton a secondary possibility.
Stellum says there's a total of six different styles in this blend. I'm pretty sure I know four of the recipes used in this bottle. At this point, the state of the barrel broker market and sourcing in general is getting so confusing that I can't even narrow down where these other barrels are coming from.
Every time I think I've got it covered, I learn of another distillery who sold off some of their initial production runs because they needed the cash flow in the beginning. So while I have already indicated who I think a majority of the rye whiskey in this blend comes from, I wouldn't be surprised to find out that some of the barrels came from Green River Distilling (which is now owned by BBC), New Riff, Kentucky Artisan and maybe Chattanooga Whiskey Company. All seem possible at this point.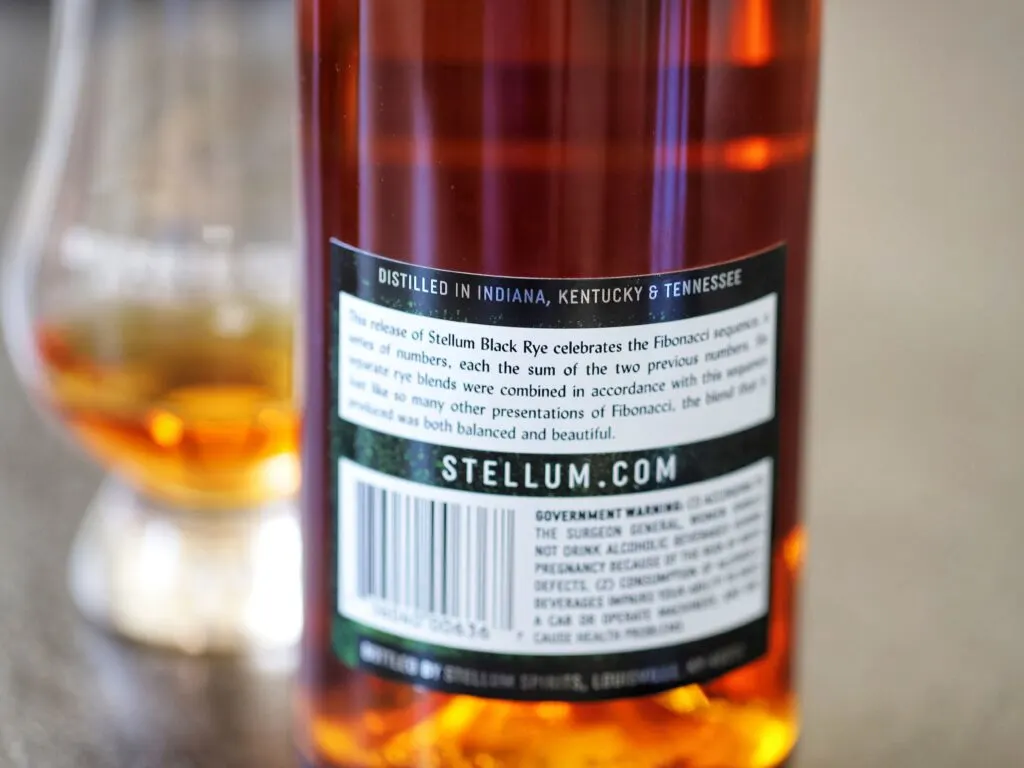 There is one thing I know, though. And it's that Stellum Black Rye was awesome. I don't kill bottles often (I'm too busy drinking new stuff to do reviews on), but I killed that particular bottle very quickly. In fact, at the time I started to write this review, my bottle of Fibonacci Blend #1 has maybe four ounces left in it.
I have poured it for a few friends and every single one of them has exclaimed how much they liked it. That means that I need to quit putting it off and finally do an analysis of this rye whiskey that's entirely too easy to drink. As usual, I sampled this neat in a glencairn.
Tasting Notes
Nose: Aromas of freshly baked Gingersnap cookies along with a healthy dose of vanilla bean fills my nostrils while citrus notes like orange and lemon rind follow. There are plenty of spices like cinnamon and also this unmistakable note of pumpernickel bread.
For sweetness, I find more of a candy corn note than brown sugar which I usually associate with MGP styles of rye whiskey. There is some oak wood notes too showing off a certain agedness.
Palate: The spices arrive early and often to my tongue as I sip this. Thinking back to my bottle of Stellum Black Rye (of which this is still based off of), this seems like the spicier of the two. Clove, cinnamon and a flat ginger ale note hit my tongue first.
I also find trademark MGP rye notes of pine needles that mingle with a general flavor I can only describe as "forest floor." It's hard to describe but while I do find a certain floral flavor floating around, I'm also getting this sort of damp earth note too. The brightness come more from the citrus notes (orange and lemon again) that I find along with mint.
Sweetness comes via caramel and a bit of butterscotch which really boosts my opinion about this whole bottle. I am impressed to find some chocolate in the mix and when it hits at the same time as the mint, it comes off like an Andes after-dinner mint.
Overall, the liquid comes off as a touch hotter than I remember Stellum Black Rye being. It also has what I would describe as a lot of complexity in each sip, but it is missing a certain amount of depth if that makes sense. Adding more aged barrels would remedy that.
Finish: Sweet and moderately long. Peppermint patty flavors linger along with the residual citrus and ginger tea notes. Licorice finally shows up in small amounts but doesn't get too wild. Sweet notes of caramel and wood chips combine with spices like allspice and cinnamon.
Every flavor on the finish is pleasing and it might be my favorite part about this whole whiskey. A finish this good makes up for a lot of things that might be lacking in nose or palate. Fortunately for this Fibonacci blend, it doesn't struggle with being extremely likable.
Score: 8.4/10
I'll save you the trouble of looking up the score I gave the bottle of Stellum Black Rye that won my 2022 Most Memorable Whiskey of the Year award – it was an 8.6/10. That doesn't mean that this Fibonacci Blend #1 is any less deserving of your money though.
It's still an amazing accomplishment for a bottle that you should be able to find on a shelf right now and it will never be priced more than $100. There is no higher praise I can give than to tell you that I pick this bottle in particular when I'm entertaining a guest who says they like rye whiskey. I don't tell them anything about it until they've taken the first sip, but they always compliment it and want to talk about it.
Final Thoughts
Beware that Fibonacci Blend #1 will probably not be a permanent addition to the Stellum lineup. I'm still trying to wrap my head around what Stellum is trying to become. At first it seemed like they were supposed to be "Predictable Barrell" because the batched product was always supposed to taste the same.
But now they are turning into "Barrell 2.0" with how many unique batches they're releasing. It's becoming a crisis of brand identity. Meanwhile, the prices they're charging for these one-off blends (including the bourbon blends) are being kept right at the $100 price point. That's basically what Barrell's business model is in a nutshell.
I'm not saying that the product is worse because of it, but there are issues I suspect will arise when a steady, predictable brand like this becomes more of a game of hide-and-seek to find certain blends.
To put a positive spin on it all, after trying both Stellum Black Rye and Stellum Rye Fibonacci Blend #1, I think it's safe to say that any of these unique Stellum rye whiskey blends available now or in the future will be an amazing value for your money.
The $100 rye whiskey price point seems devoid of any true standouts that don't bottle straight MGP 95/5 rye whiskey. Michter's Barrel Strength Rye would be tops on my list, but you can't find it anywhere. This bottle solves that issue by giving us a blend that's just as impressive. And when it comes time to indulge in a dependably great rye whiskey that's a little bit different, you don't have to look much further than this.
Featured Products
Description:

The Aged & Ore Neat Traveler is a complete travel kit for spirits. We combined our widely praised Neat Glass with one of our 3oz Flight Bottles and housed them together in a custom EVA travel case. Perfect for a night away with your favorite pour. The tie
Description:

The Aged & Ore Bottle Flight is a premium set of 4 custom silicone wrapped glass bottles designed to transport and share samples of your favorite spirits. The flight bottles come in a custom EVA travel case that fits perfectly in any small bag. An Aged &
Description:

This Bundle combines two of our crowd favorite products, creating the ultimate travel bundle to bring along your favorite spirits and glassware. Bundle Includes: Neat Traveler (Gray) Bottle Flight (Gray) Note: This bundle is only available in gray and col
*Bourbon Culture is reader-supported. When you buy through links on our site, we may earn an affiliate commission.