*Bourbon Culture is reader-supported. When you buy through links on our site, we may earn an affiliate commission.
One trend that I love to see as a whiskey lover is the resurgence of spirits made in the tradition of the region that they came from. Specifically, I'm going to single out two states that had virtually all of their distilling heritage wiped out before 1990: Pennsylvania and Maryland.
By that time, the conglomerate Pennco was no more and (the original) Michter's pulse had finally flatlined. Maryland distilleries had also vanished. Adding insult to injury – one of their most cherished brands, Pikesville Rye Whiskey (the old 80 proof one), was made in Kentucky by Heaven Hill.
But the winds of change have reversed the course of distilling in these 2 states. Distilleries are popping up with the mission of resurrecting the style of whiskies that were lost years ago. In Pennsylvania, a couple distilleries have even taken it upon themselves to resurrect the particular variety of rye (Rosen) that was used to make their "Pure Ryes" of the past. In Maryland, the news is similar, but the style is much different.
While Kentucky may be known for their barely-legal rye whiskies (meaning the mash bill contains the minimum legal limit of rye), Maryland-style Rye Whiskey typically used much more – in the neighborhood of 65-70%. The rest of the recipe contained corn or wheat because apparently barley did not grow well in the state's clay-based, rocky soil. It should be noted that the area of the state dictated which secondary grain was used with wheat being more prevalent in western Maryland and corn in the east.
Sagamore Spirit resurrects Maryland-style rye whiskey
Sagamore Spirit is pretty well-known by now as the distillery that was the brainchild of Under Armour's founder Kevin Plank (along with Bill McDermond). Kevin's eclectic style of running startups and his desire to own a whiskey distillery led to him calling up his old high-school buddy Brian Tracey.
Brian owned some small businesses out west and was asked to become the CEO of this future distillery. Brian said yes and years later the reason why you'll find the distillery adjacent to the giant corporate headquarters for Under Armour is because of this close connection.
Side note – if you're ever in the area to do a distillery tour, drop in for a bite to eat at LP Steamers on the other side of the street and order some blue crab. Can you really say you had the full Baltimore experience without these two things?
Moving on, Brian Tracey and his new crew sought help with what exactly they needed to do to start creating their own whiskey. They knew they wanted to make rye whiskey, but they needed a help. Nobody on the team had ever worked in the distilled spirits industry before.
Fortunately for them, someone recommended they reach out to "The Godfather of Rye Whiskey:" Larry Ebersold. For years now, Larry has been operating his own consulting business since 2010 after he retired from Seagram's/LDI in Indiana.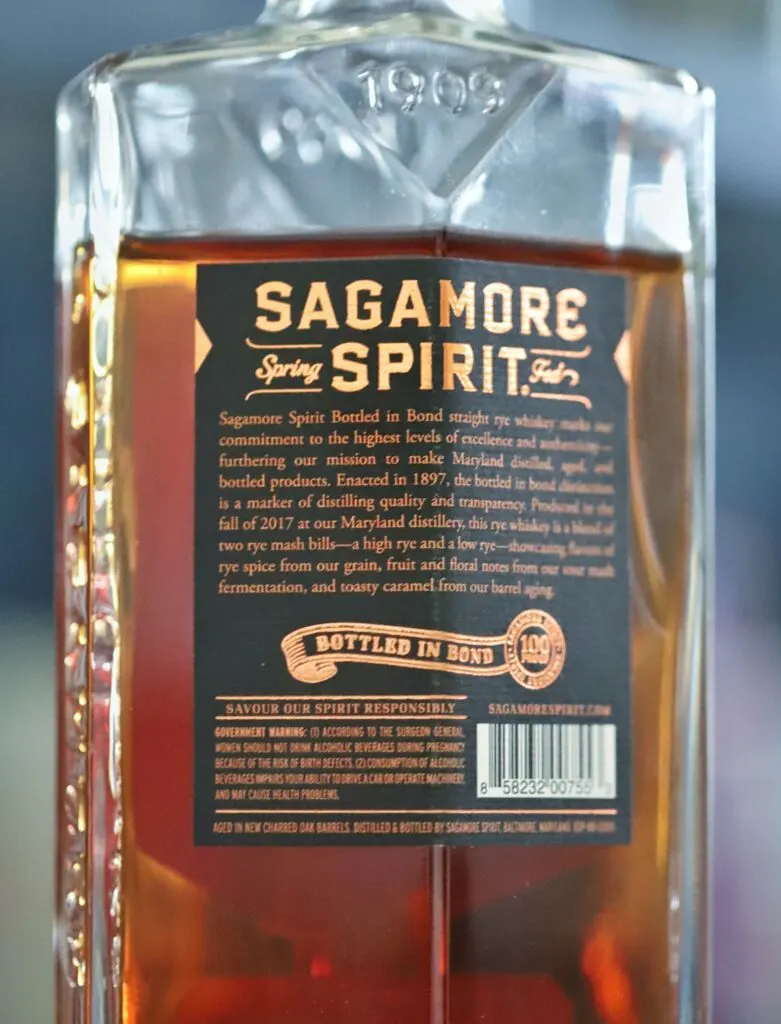 The Sagamore team asked him to create a rye whiskey that mimicked the old style of Maryland Rye. Larry was able to provide the know-how to start a distillery and had the connections needed for Sagamore to obtain barrels of contract-distilled rye whiskey from his previous employer in Indiana.
Luckily for Brian and his team, MGP had introduced 2 new rye whiskey styles in 2013 as part of an expansion of whiskies that they specialized in. The first rye whiskey saw the addition of corn to the mash bill and came in at 51% rye, 45% corn and 4% malted barley. The second rye whiskey used 51% rye and an incredible 49% malted barley.
The choice was simple: since old-school Maryland Rye Whiskey was known to have corn in the mash, Sagamore would blend together MGP's new 51/45/5 recipe with the high rye content their standard 95/5 recipe was famous for. According to Brian, the ratio is somewhere around 2:1 which means each batch contains two barrels of 95/5 rye whiskey for every one barrel of 51/45/5.
The beer math says that makes the combined mash bill in the neighborhood of an 80/15/5 mash bill. Another interesting fact: Sagamore Double Cask versions use a ratio closer to 1:1. Sagamore's signature flavor was all because Larry felt it was important to showcase the added sweetness that corn could bring while somewhat reducing the amount of spice that MGP's 95/5 was known for.
Sagamore bumped around to a few different locations as they kept expanding before they eventually came to the conclusion that their 500-gallon pot still and lack of aging warehouses wasn't cutting it anymore.
So Brian approached Kevin and Bill to ask for more money to finally build a distillery with a column still and a couple of warehouses. They agreed and an order for a brand new 40 foot tall, 24-inch diameter still was put in.
For the record, this is roughly the same specs as Old Forester's "Big Penny" which was constructed around the same timeframe and located at the downtown Louisville distillery (Big Penny is 44 feet tall though). Sagamore also decided that "if it ain't broke, don't fix it" and began distilling their own rye whiskey using the same recipes that MGP was making for them.
Larry Ebersold even helped them secure the same yeast that MGP uses – which is the V yeast that Four Roses also uses. This isn't saying that the rye whiskies would taste identical, but similarities should be unavoidable.
The day finally came in November 2021 when Sagamore revealed their very first product that contained only whiskey made, aged and bottled entirely by them in Maryland. There was no better way to show this off than to bottle it under the rules and regulations of the "Bottled-in-Bond" Act. Batch 1 was extremely small, aged for just four years and was only available in Maryland at the distillery.
It was instantly sold out. Luckily, one year later, Bottled in Bond Batch 2 (the bottle here is labeled Batch 2A) came out and saw much higher bottle counts and distribution.
Thanks to my good friend Andrew, he gifted me the bottle you see in the pictures because he knew I had been wanting to try it since it was first released. It was also impossible for me to find in Indiana. So with that being said, cheers to you buddy! Here's what I thought about it. As usual, I sampled this neat in a glencairn.
Tasting Notes
Nose: The nose is quite lively for being 100 proof. Scents of gingerbread and citrus are dominant (orange zest and lemon drop candies). I find a caramel sweetness that comes off like a bag of candy corn and a little bit of brown sugar to boot.
For being only five years old, I'm happy to report that there is a nice seasoned oak aroma that the liquid has taken on. Another wood note is seasoned pine wood. It comes off as a woodier version of the standard pine needles that I get in MGP-distilled rye whiskey. Further tannic notes smell like a cigar wrapper while some outdoorsy notes come forward and can only be described like the sweet smell of a forest after rain.
Palate: Just like on the nose, a citrus flavor which I liken to orange marmalade stands out the most. The spice that I love to find in rye is on full display with plenty of clove, cinnamon, black pepper, licorice and even a bit of flat Ginger Ale.
Faint traces of mint and other sweet herbs can also be found. The sweetness of the liquid comes off as well-developed with caramel flavors throughout. It's not like a typical 95/5's brown sugar notes, but it's just as good.
Finish: I'm finding lots of residual sweet citrus notes at the end too. The V yeast strain's fruity characteristics are likely to blame for this. Perhaps one of the most delightful notes on the finish can best be described as "sweet tea."
It's a wonderfully complex flavor to have linger in your mouth. That "tea" is spiced with exotic notes of cardamom, cinnamon and anise. The whole finish is sweetened up by what can only be described as caramel hard candies from Grandma's candy dish.
Score: 7.7/10
There are few distilleries that get their own distillate perfect on the first try. Sagamore proves this is possible with a little help from The Godfather. I truly believe that this is the closest thing you can get to the standard profile of MGP-distilled rye whiskey without it actually coming from Indiana.
It's deceptively similar in fact – like one of those puzzles where you're supposed to spot the differences between two pictures. Same concept here. The quality of this whiskey was immediately identifiable with almost nothing out of place.
Further aging will reveal more complexity and depth, but for now this rye whiskey has escaped even the most common pitfalls of youthful notes shining through. It is remarkable in that regard.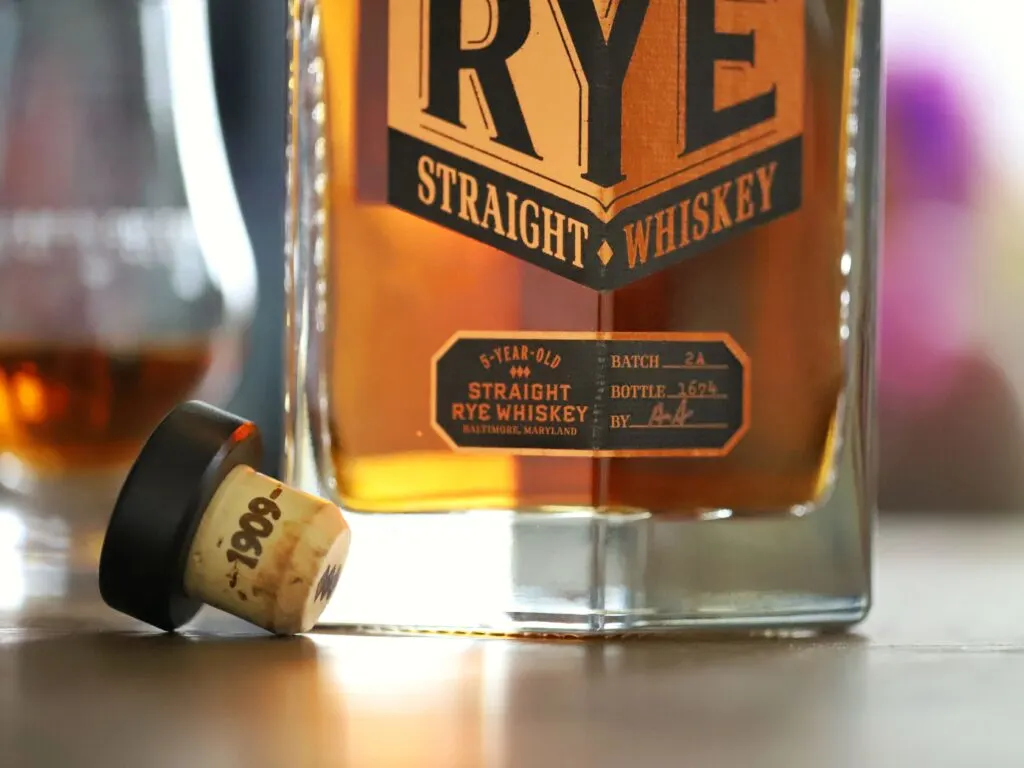 Final Thoughts
The main question I pondered over while writing this review is: if this bottle of Sagamore Spirit tastes so similar to MGP's own rye whiskey, is there enough difference between them to make people want to choose it if the MGP is slightly cheaper? After all, this Sagamore BiB is very similar in specs to those store picks of 100 proof Rossville Union Rye Whiskey (specifically – the sweet blend).
I would say yes there is a difference enough to buy it. With price increases industry-wide, the gap between the Rossville store picks and this bottle of Sagamore BiB is now about $5 ($65 compared to $70).
Secondly, I predict that as Sagamore's whiskey ages more, the differences will be even more noticeable. I personally think that Sagamore's style delivers more fruit and a wider variety of spices than MGP. Yes, I've only had this one bottle to make that determination.
But with this just being the second release, nobody else out there has had the experience to make a more informed opinion. So if you're a fan of fruit and complex spice, Sagamore BiB is worth your money to buy.
Sagamore's future was already bright to begin with, but proving that their own whiskey is this good is truly something special. They've demonstrated competence in secondary barrel finishes before and now all they need is a little bit more time to age their barrels before they will have the stocks necessary to be a dominant force in rye whiskey producers.
With this release of 5 year old Bottled in Bond, Sagamore just put all of the small-to-medium sized distilleries on notice that there's a new king in town. And if they ever decide to come at them, they best not miss.
Featured Products
Description:

The Aged & Ore Neat Traveler is a complete travel kit for spirits. We combined our widely praised Neat Glass with one of our 3oz Flight Bottles and housed them together in a custom EVA travel case. Perfect for a night away with your favorite pour. The tie
Description:

The Aged & Ore Bottle Flight is a premium set of 4 custom silicone wrapped glass bottles designed to transport and share samples of your favorite spirits. The flight bottles come in a custom EVA travel case that fits perfectly in any small bag. An Aged &
Description:

This Bundle combines two of our crowd favorite products, creating the ultimate travel bundle to bring along your favorite spirits and glassware. Bundle Includes: Neat Traveler (Gray) Bottle Flight (Gray) Note: This bundle is only available in gray and col
*Bourbon Culture is reader-supported. When you buy through links on our site, we may earn an affiliate commission.