*Bourbon Culture is reader-supported. When you buy through links on our site, we may earn an affiliate commission.
2022 was the year that Smoke Wagon finally added rye whiskey into their permanent portfolio. Aaron Chepenik, Smoke Wagon's founder, decided to not use MGP's famous 95/5 rye whiskey for his new labels.
Instead, he went with MGP's newest rye whiskey recipes they had just started distilling in 2013. These two new recipes saw the bare minimum of rye used. The first one used 51% rye, 45% corn and 4% malted barley and the second used 51% rye and 49% malted barley.
The former recipe would be used in his Bottled in Bond rye whiskey (silver wax, green label) and the latter would be used in his Straight Rye Malted Barley label (green wax, gold label).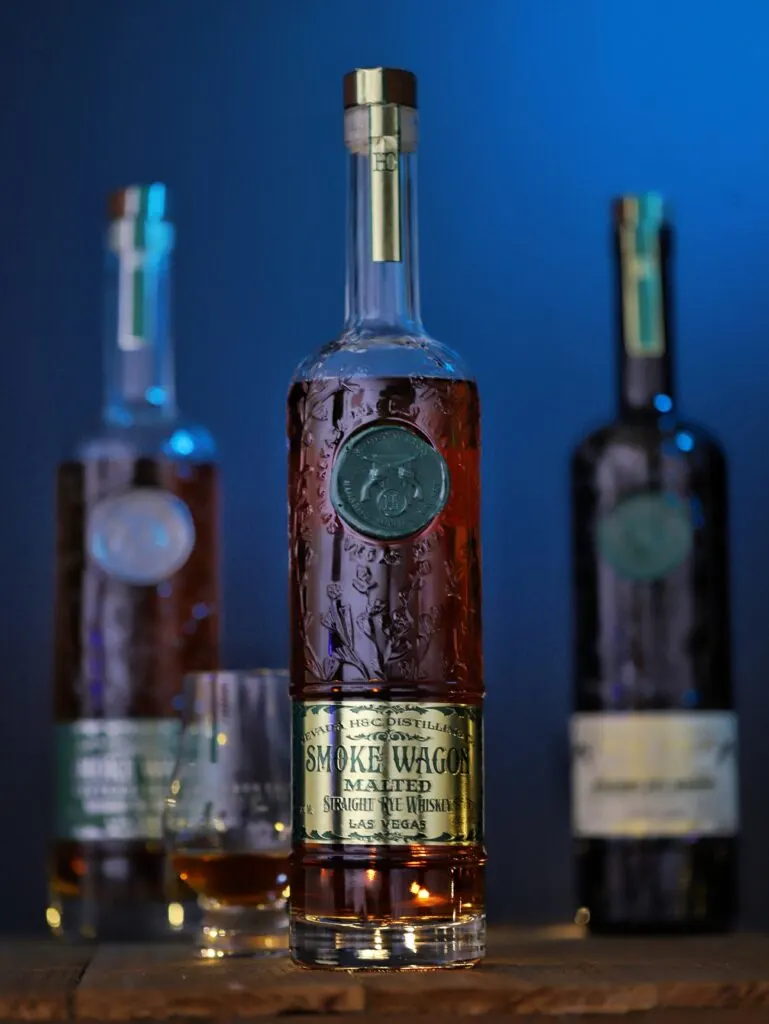 Smoke Wagon doesn't have exclusive rights over these recipes, so if you look hard enough, you'll be able to find them in other products out there. Barrell Bourbon was the first bottler to put 51/49 into a rye whiskey blend when they released Rye Whiskey Batch 002 in 2017.
Since then, MGP's own Rossville Union label has used it to create different flavor profiles for their store pick options. Numerous other Non-Distiller Producers (NDPs) have released it in unblended forms too.
That's a lot of malted barley!
Still, the 51/49 recipe is most commonly associated with Smoke Wagon (just do a quick Google search for "51/49 rye whiskey"). A lot of it has to do with Aaron's super-limited release of MGP-distilled 9 Year Old Experimental Rye Whiskey early in 2022.
He managed to purchase 20 barrels of 51/49 that were split into smaller batches where the barrels had varying levels of char and toast. The result in online chatter was palpable with everyone wondering how good it was. I was intrigued too and was able to review one of those batches (the one aged in a char level 5 barrel) and found it to be incredible.
I have my doubts that this barrel of Straight Rye Malted Barley is going to be as good as the rye whiskey found in that Experimental Barrel release. For starters, I don't think that it's much over 5 years old. If it is, I will gladly fix this review and issue an apology, but with prices the way they are today, the $80 that this bottle goes for does not make me think it's any higher than 6.
Still, in rye whiskey terms, that's not so bad. I think it's pretty well understood that rye whiskey will show its maturity a lot quicker than bourbon.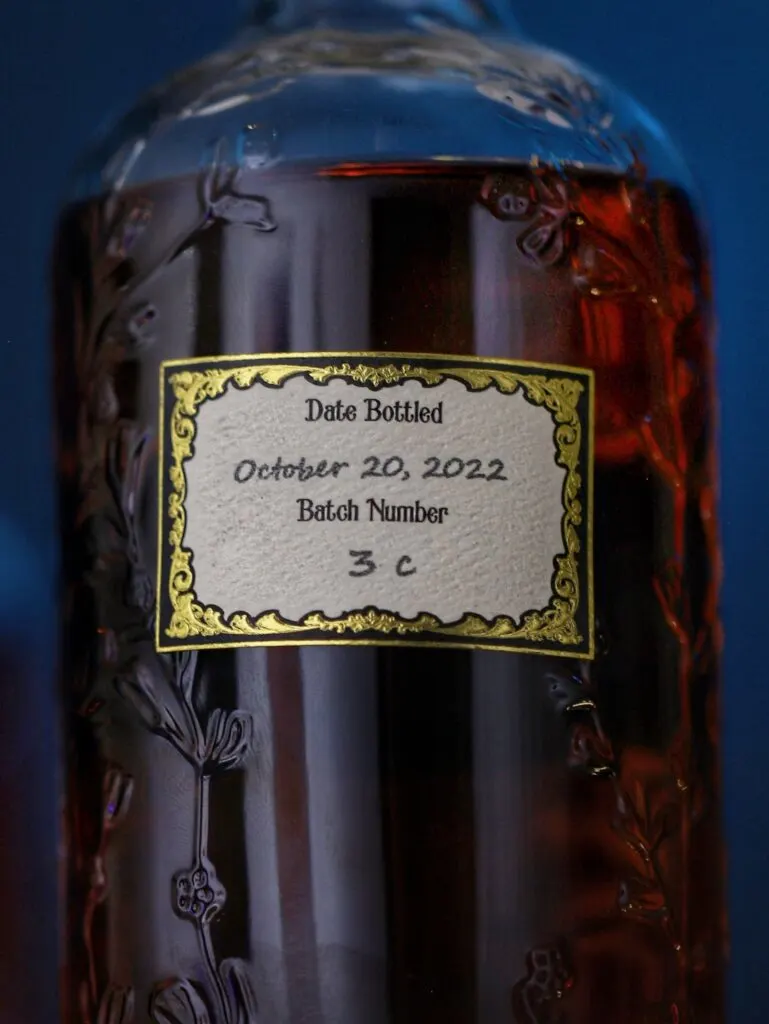 Thanks to the generosity of the same friend that let me sample the 9 year old Experimental Barrel version of Smoke Wagon Rye, I am getting the chance to sample this one too. What changes will I notice with the addition of all of that malted barley in the mash bill? It's time to find out. I sampled this neat in a glencairn.
Tasting Notes
Nose: A burst of honey sweetness, cinnamon, clove and mint. There's also a bit of bright springtime scents in here too. Lemon and other citrus scents pair with cinnamon raisin bread. The whole thing smells like a sibling to the 95/5 but with much more sweetness. Additionally, I was a little surprised to find a bit of youthfulness surrounding all of these scents, but it's not a big detractor.
Palate: The flavors can best be summed up by the descriptors sweet and spicy. I'm going to say that all of the malted barley actually adds more viscosity to the mouthfeel and probably the additional sweetness.
Flavors like Christmas Fruitcake (specifically a spice cherry note), fennel, allspice, ginger and mint are abundant. Oak and cinnamon stick can also be found. Cooked and fresh cut Granny Smith Apples seem like they hint at the distillate being young. Every flavor seems to have its place.
Finish: Lingering flavors of orchard fruits and drying oak combine with a honeyed-sweetness. I would equate to what I just described as similar to a caramel apple.
The malt makes itself known throughout and I'm actually thinking this finishes more like a non-peated Scotch than a rye whiskey. I know, it's strange. There's just so much malty, bready and slightly iron-fortified flavors that it's hard not to draw the comparison.
Score: 7.5/10
I have some odd feelings about this bottle of high-malt rye whiskey. On one hand, the flavors all work together far better than I was thinking they would. On the other hand, it's not exactly my jam when it comes to rye whiskey.
If I was given this blind and told it was just "American Whiskey," I would feel like I had a pretty good bottle on my hands. I like the taste of rye whiskey and this gives me only some of that. But my main issue revolves around this: If I am in the mood to drink a rye whiskey and I know the styles of rye I like, this style would not be one that I would reach for. It just doesn't flip the same switches in my mind.
Final Thoughts
Smoke Wagon's Straight Rye Malted Barley is a nice tasting whiskey. There aren't many bones to pick with it. However, if I were to choose between this bottle and Smoke Wagon's Bottled-in-Bond Rye Whiskey (which has corn in the mash bill), I think I'd choose the Bottled in Bond. Why? Because it tastes more like what I think of when I think of a rye whiskey.
This high-malt version does not. Yes, I know I've given this one a higher score, but that's more about how competent of a whiskey it is. I truly feel as if every whiskey has a time and a place that you would enjoy it best. That sounds weird, but I believe there is a certain psychological aspect to whiskey – or any alcohol for that matter.
I like rye whiskey when I want a bold sipper on nights that I'm feeling more alert and ready to have an experience. I choose bourbon when I want to relax and indulge. I choose Scotch when I am feeling fancy and I choose rum when I want to escape in my mind. I just don't know the headspace I would have to be in to reach for a bottle like this.
So if you're like me and can understand my whole spiel about the psychology of drinking, then I would tell you not to get this bottle. There are a lot of other whiskies you could spend that $80 on.
Featured Products
Description:

The Aged & Ore Neat Traveler is a complete travel kit for spirits. We combined our widely praised Neat Glass with one of our 3oz Flight Bottles and housed them together in a custom EVA travel case. Perfect for a night away with your favorite pour. The tie
Description:

The Aged & Ore Bottle Flight is a premium set of 4 custom silicone wrapped glass bottles designed to transport and share samples of your favorite spirits. The flight bottles come in a custom EVA travel case that fits perfectly in any small bag. An Aged &
Description:

This Bundle combines two of our crowd favorite products, creating the ultimate travel bundle to bring along your favorite spirits and glassware. Bundle Includes: Neat Traveler (Gray) Bottle Flight (Gray) Note: This bundle is only available in gray and col
*Bourbon Culture is reader-supported. When you buy through links on our site, we may earn an affiliate commission.