*Bourbon Culture is reader-supported. When you buy through links on our site, we may earn an affiliate commission.
As I had completed my first draft of this review for Smoke Wagon's Bottled in Bond Straight Rye Whiskey, there was one thing that I came across that didn't add up. This whole time, I thought that Smoke Wagon had used the same rye whiskey mash bill from MGP in both this product and their "Straight Rye Malted Barley" release (which is the cask strength bottle with a gold label and green wax). Both recipes were listed as 51/49, but the 49% for the Bottled in Bond release was listed as "corn."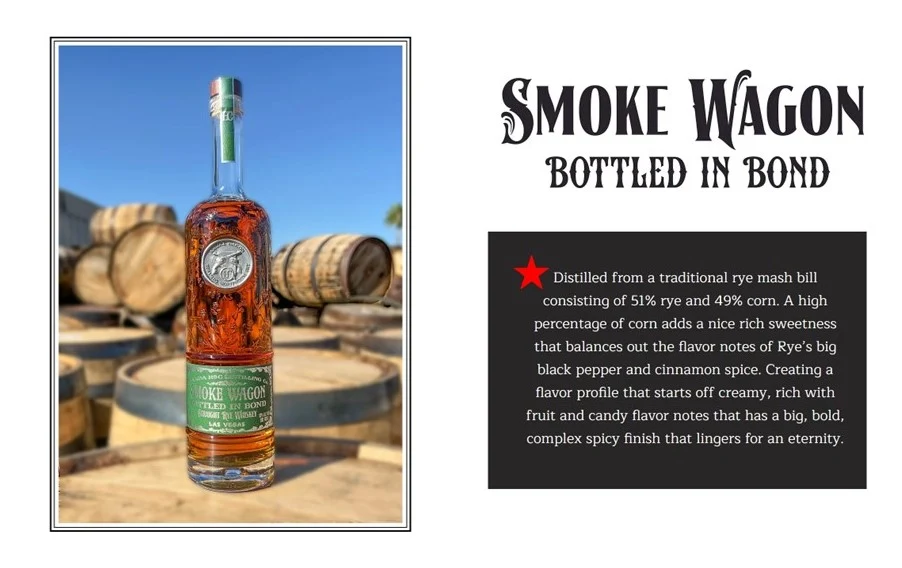 I did some research and couldn't come up with a straight answer on if MGP had ever distilled a rye whiskey with a recipe that used 51% rye and 49% corn. I knew for a fact that they produce a 51% rye, 45% corn and 4% malted barley rye whiskey and also a 51% rye, 49% malted barley rye whiskey. As for the former, Sagamore Spirit uses it to blend with and West Fork Whiskey uses it in their Old Hamer rye whiskey line.
So I reached out to Aaron Chepenik at Smoke Wagon and asked if this was an error or if he had access to a rye whiskey recipe that nobody else has (I was secretly hoping for this). It turns out even he had to go double check with his barrel rep who had initially told him the story that the 51% rye whiskey recipe he used for the BiB product had the remainder of the mash bill using corn.
Bottled In Bond Rye Whiskey
It was a short time later I got the word back that his rep had been wrong and Aaron had indeed been bottling the 51/45/4 rye whiskey recipe from MGP this whole time. He expressed his thanks for finding this out but also his frustration that he had printed so many rear labels with the 51 rye / 49 corn recipe on the back. With a misprint like that, surely these will become a collector's item, right?!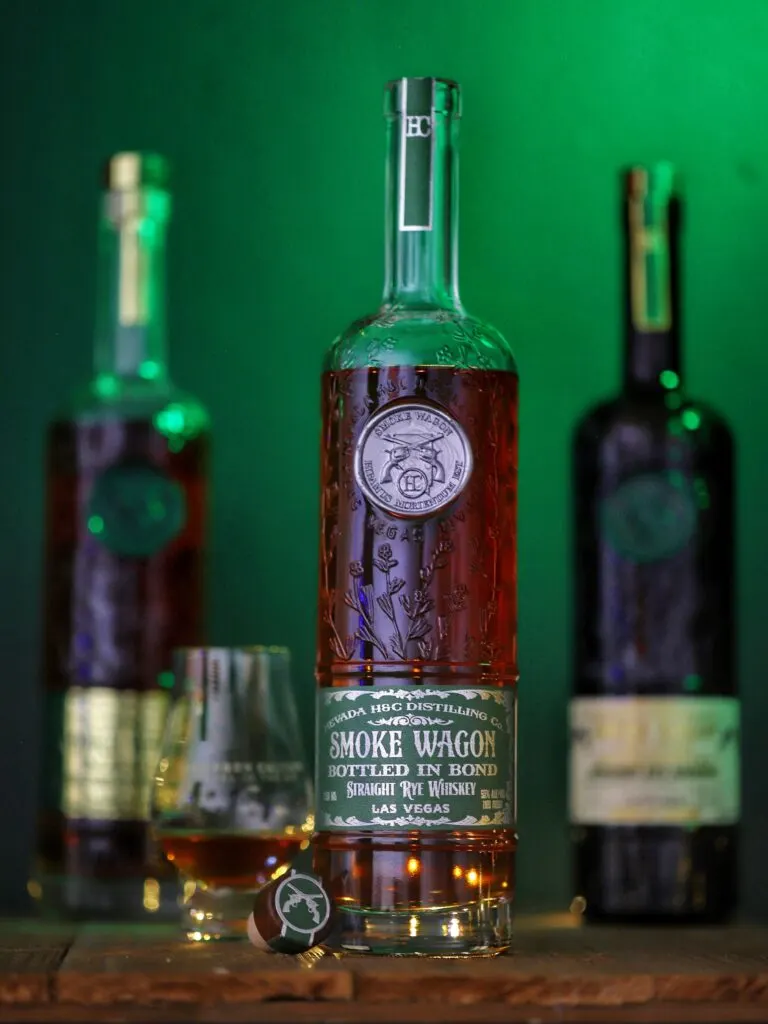 Moving on, the difference between Smoke Wagon's two rye whiskies that they've recently released is more than just proof (100 proof versus barrel proof), it's that they use different 51% rye whiskey mash bills from MGP. The barrel proof version uses one that is 51% rye and 49% malted barley. Both of them, however, don't seem to be making waves in the enthusiast community.
I think that this is partly to do partly with the way that rye whiskey is less popular than bourbon and also the timing of the release. Smoke Wagon launched these two new labels right around the time that liquor stores everywhere seem to have jacked up their prices about 15%. This likely indicates that the distillery themselves have raised the prices (in this case, we're talking about MGP).
The market as a whole is still in a bit of a shock as consumers witness whiskey prices that they've become accustomed to rise even higher. It wasn't that long ago that the best whiskies out there commanded $10 per year aged if they were bottled at barrel proof. Now it seems more like that is the starting point for any whiskey at any proof.
Smoke Wagon used to be quite the value in that regard – when you could find it that is. My first Private Barrel came from a Total Wine in Las Vegas and was only $80 for a 10 year old cask strength bourbon. Desert Jewel was also $80 for an age-stated 10 year old product that was close to barrel proof. So when I saw that these Bottled-In-Bond bottles are starting at $70 for something that is probably around 5 years old, I wasn't exactly racing to try it. It's not a knock against Smoke Wagon, it's a sign that whiskey prices everywhere are putting consumers in a tight spot with what they choose to spend on.
What is different about Smoke Wagon Bottled in Bond Straight Rye Whiskey?
It's no secret, I love rye whiskey from Indiana. For decades now, they've made some of the best. Combining a mash bill that contained 95% rye with the V Yeast Strain that Four Roses also uses is such an unbeatable combination.
That yeast loves to turn spicy rye grain into sweet, fruity magic. I can always depend on certain flavors and scents whenever I open a bottle – Citrus, pine, brown sugar and herbs. It's also got a fantastically oily mouthfeel. But this new rye whiskey mash bill that Smoke Wagon now bottles is going to be a bit different if you're a fan of 95/5 like I am.
I would hope to still find some of those classic characteristics in this bottle, but I'm also preparing myself for a more bourbon-forward profile. I think the corn is definitely going to add caramel and vanilla like corn is known to do. The lack of age (at least I'm assuming this is around 5 years old) might mean that I don't find any oak or tobacco though.
I don't know about you, but I personally think MGP's 95/5 rye whiskey struggles to reveal many oak notes even when it's aged up to 10 years. But thanks to the help of a generous friend of mine, I get to find out if all of my speculation on what this might be is true. Without further ado, here are my notes. As usual, I have sampled this neat in a glencairn.
Tasting Notes
Nose: The nose is certainly sweet right off the bat. There is tons of caramel present along with a grassy, somewhat youthful scent in the background. Since this has been proofed down, some of the lighter scents become noticeable like vanilla bean, lemongrass and rose petals.
I cannot stress enough that the whole experience is very different from any bottle of 95/5 that I have owned. The spices are are subdued to the point where I strain to find much cinnamon at all. Also strange is how I'm picking up a spice similar to Turmeric. Clove and anise are either hidden or nowhere to be found. There is some oak, but it's hard to single out in a sea of sweet scents.
Palate: The flavors are a mixture of very sweet and slightly delicate. The typical rye grain character actually shows itself a bit more on the palate than Smoke Wagon's other rye whiskey offering (which is bottled at barrel proof).
What I mean by that is the gentle, herbal and floral character seems less obstructed and easier to find in this bottle of BiB. Classic MGP rye flavors like pine and mint are observed but are wrapped in a layer of caramel. Soft floral flavors like almost a perfumey-lilac are found too.
Spices are around, but aren't in-your-face. I get cinnamon, allspice and a bit of tea leaves. Overall, the amount of sweetness in each sip does not come off like a rye whiskey that MGP made. If I drank this blind, I'd struggle to tell you which distillery this came from.
Finish: Sweet and soft notes linger for a moderate amount of time after the sip is complete. Vanilla Angel's Food Cake seems like a great comparison while some of the same notes from the palate like cinnamon and breakfast tea hang around as well. The oak is back, but it's still not strong enough.
Score: 6.8/10
This is a very nice, easy-sipping rye whiskey. Aside from the youthfulness on the nose, there's not a lot going against it. If I had to find something wrong about it, I would say that it's a bit on the boring side. This is the kind of bottle you should bring out to guests who don't normally drink rye whiskey knowing that there's a chance they will actually appreciate it.
In a way, I'd say its biggest competitor in terms of drinkability is Sazerac Rye (aka Baby Saz). Just like that bottle, it's soft, approachable and sweet. Yes, I know the Smoke Wagon is 10 proof points more than Baby Saz, but the age is comparable and so are the sweet flavors. However, if you are taking this to a bottle share where the theme is rye whiskey, be prepared to hear that it doesn't hit as hard with the bold rye flavors most enthusiasts expect.
Final Thoughts
Aaron Chepenik made his empire based on his insistence that Smoke Wagon only use MGP's 60/36/4 high-rye bourbon mash bill. True to form, that's all he ever sold until he entered the rye game. You can imagine how surprised I was when he selected MGP's low-rye mash bill rye whiskies to go into his signature bottles.
Sure, it's a great way to be different from the other bottlers who also source from MGP, but it feels a bit strange that he didn't go with the GOAT (I'm talking about the 95/5 recipe).
To sum it all up, If you've never had this recipe from MGP and if you're a friend of Kentucky low-rye rye whiskies, it's certainly worth your time to taste. But in terms of value, this might not be a bottle you want to immediately buy.
The stylish packaging this comes in is certainly attention-grabbing and will probably make it worthwhile to fans of the brand. But the bottom line is there are other ways to experience this recipe for less money to see if you even like it. Most of them are at cask strength too. The only compromise of buying someone else's bottle though, is that it's not going to look as good on your shelf.
Featured Products
Description:

The Aged & Ore Neat Traveler is a complete travel kit for spirits. We combined our widely praised Neat Glass with one of our 3oz Flight Bottles and housed them together in a custom EVA travel case. Perfect for a night away with your favorite pour. The tie
Description:

The Aged & Ore Bottle Flight is a premium set of 4 custom silicone wrapped glass bottles designed to transport and share samples of your favorite spirits. The flight bottles come in a custom EVA travel case that fits perfectly in any small bag. An Aged &
Description:

This Bundle combines two of our crowd favorite products, creating the ultimate travel bundle to bring along your favorite spirits and glassware. Bundle Includes: Neat Traveler (Gray) Bottle Flight (Gray) Note: This bundle is only available in gray and col
*Bourbon Culture is reader-supported. When you buy through links on our site, we may earn an affiliate commission.