*Bourbon Culture is reader-supported. When you buy through links on our site, we may earn an affiliate commission.
Twice-barreled whiskies are all the rage these days. Virtually every producer has at least one example of a whiskey that sees time in a secondary barrel (also known as "finishing"). If we narrow it down to finishing barrels where the wood is either newly charred or just toasted, there are substantially less options to choose from, but they still exist.
Michter's made the toasted finishes popular in 2015 with their first large-scale release of Toasted Barrel Bourbon. Around the same time, Brown Forman brands began to do the same thing with Woodford Reserve Double Oaked followed by Old Forester 1910 and multiple Jack Daniel's releases.
Even brands like Old Carter have built their entire reputation on selling bourbon, American Whiskey and rye whiskey that have been re-barreled into newly charred barrels.
Rye whiskey often gets overlooked when it comes to seeing time in a secondary cask. Most brands choose to use this technique solely on their bourbon. I assume it's because rye whiskey generally matures faster and doesn't need the extra help that a secondary barrel can give it.
Rye whiskey is also inherently more expensive to produce which might make producers not want to add more expense to the bottom line. I personally think that finishing rye whiskey in a second new charred oak cask will smother some of the delicate herbal/floral notes with heavier layers of caramel, barrel char and vanilla. It would be like putting wheels from a minivan on a Ferrari. Sure it would make it more comfortable to drive, but it's taking away from the experience the product was made for.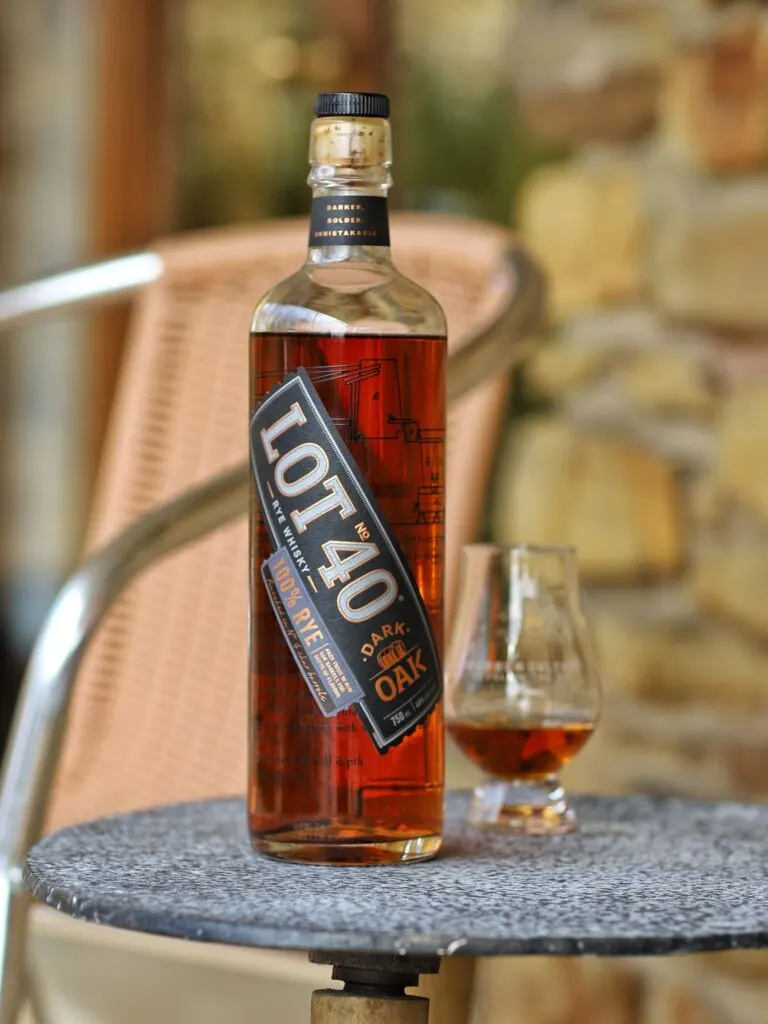 Lot No. 40 Dark Oak Rye Whiskey
Lot No. 40 isn't widelyknown in the United States yet based on limited availability and no special releases being offered here (just the standard 86 proof version). However, it may surprise you to hear it won the 2021 "World's Best Rye" in the World Whiskies Awards. Lot No. 40 comes extremely close to meeting the specifications of an American rye whiskey.
What I mean by that is that a lot of Canadian rye whiskies see maturation in a used barrel. This version of Lot No. 40 "Dark Oak" specifically says that it was aged in new charred (#2 Level) casks before being re-barreled into casks with a #4 char. I have a theory that the secondary #4 charred oak casks were actually used at least once and then re-charred.
The reason I think that is based on some pictures I've seen of pallets used barrels being filled back up with chalk markings that say "Re-charred" on them. Also, the description of Dark Oak does not say that the #4 charred barrels were "new," but it uses that word to describe the first #2 charred barrel.
The recipe that Dark Oak uses is 100% rye grain which gets fermented and then distilled on its own dedicated Pot Still at the Hiram Walker Distillery in Windsor, Ontario. Once the barrels are filled, Lot No. 40 is trucked to a sprawling 16-warehouse campus about a dozen miles away from the distillery to be aged along with other Hiram Walker products.
The warehouses are single-story with concrete floors, walls and possibly the roof. In the limited pictures I have seen of the inside of the warehouses, it appears like there are concrete I-Beams supporting a concrete roof (is this because of the weight of the snow they get?). The barrels are stored standing upright on pallets and are stacked 6 high.
At the time that this was released in 2020, the price for a bottle of this was about $65 adjusted to the US Dollar. I say "adjusted" because it was not sold in the United States. This is the way it has been for a while now for Lot No. 40 special releases, which I count this as.
It's interesting that Corby (owners of Hiram Walker Distillery and its brands) never released these special bottles here in the US. They finally changed that at the end of last year when they announced that Dark Oak was coming to the US in certain large cities. This should bring more attention to the distillery and one that I think could rival the US-based enthusiasts that also have fallen in love with products from Alberta Distillery and others. By the way, if you've never heard of past special releases, here's a rundown:
2017 – a 12 Year Old age-stated rye whiskey bottled at cask strength
2018 – an 11 Year Old age-stated rye whiskey bottled at cask strength
2019 – a non-age-stated rye whiskey that was finished in French Oak barrels and bottled at cask strength
2020 – "Dark Oak" goes on sale wearing a new label that is different from the copper-colored ones the last 3 wore. It is also not bottled at cask strength
2021 – Lot No. 40 Rye Explorations No. 1: Peated Quarter Cask is released
2022 – Corby announces that Dark Oak will go on sale in the US for around $80.
So how does Dark Oak taste? Is it worth your time and will it make you consider your rye whiskey choice next time you're in the store? Let's find out. Luckily for me, I have a trucker friend who recently went to Canada to pick up an R32 Nissan Skyline that he imported from Japan who brought me a bottle back. Time to dive in! As usual, I tasted this neat in a glencairn.
Tasting Notes
Nose: Surprisingly sweet smelling with loads of herbal and botanical notes. This takes the things I already like about Canadian rye whisky and corrects the things I don't (like astringency, which I sometimes get). Sweet berry jams made from raspberries, blackberries and currants. Freshly grated ginger.
There's plenty of vanilla too, undoubtedly stemming from the maturation in a newly charred barrel. One of the lingering scents is like freshly made Taffy. There is one peculiar off-scent and it's similar to removing the packaging off of a medical bandage. Is this maybe as a result of the finishing in a re-charred barrel?
Palate: Sweet and soft with a decent number of oak notes, both familiar and strange. On the familiar side are seasoned oak and barrel char. On the strange side is similar to a wood cleaning product mixed with a bit of burnt matchstick.
Citrus flavors roll around my tongue with ease. The viscosity is nicely weighted, bordering on syrupy. Licorice rope makes my tongue do a little bit of a double-dutch with the anise and fennel seed that I can find. It's unique and enjoyable. Finally, I get a taste similar to caramelized pineapple upside-down cake. I don't think that I have experienced all of these flavors inside the same drink before.
Finish: The citrus flavors keep up all the way to the end with botanical notes offering a perfume-y finish to each sip. The oak turns drying and somewhat bitter. It is saved by residual sweetness from the fruit and caramel that I found along the way. Honestly, the finish is neither sweet nor dry, it's just a little bit of everything. Big rye whiskey lovers will enjoy it, but a person dabbling in rye whiskey may not appreciate everything about it, especially if they're only used to sweet bourbons.
Score: 7/10
After sipping on this bottle of Dark Oak, I felt that the makers of Lot No. 40 were trying to meet non-rye whiskey drinkers in the middle by attempting a compromise. They knew that the standard floral and herbal assault of their 86 proof bottling was maybe too much for a beginner.
So they decided to subdue it with a secondary barrel finish. It can't totally hide the fact it's a 100% rye grain bill underneath it all, but it makes a good effort. That secondary cask adds a lot of interesting flavors to the mix as well. The proof feels like it's right in the sweet spot it should be for both new drinkers and serious enthusiasts too.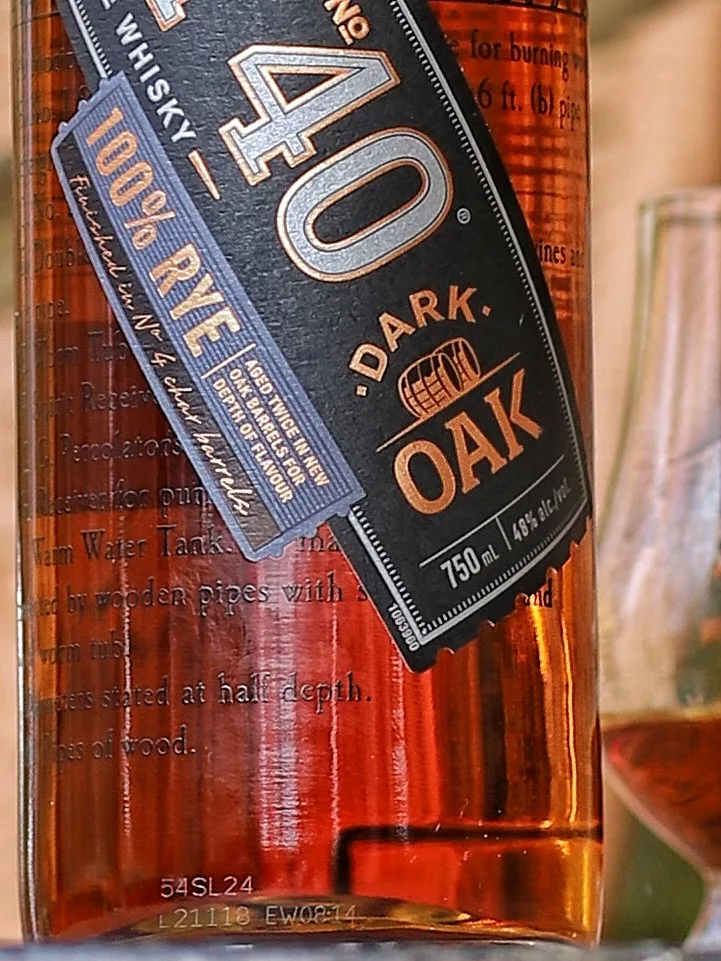 Final Thoughts
Dark oak is such a different and unique rye from the ones I typically enjoy. Then again, it was a rye whiskey made in Canada (Gimli Distillery) that opened my eyes to the wonders of this grain and I haven't looked back since. Dark Oak takes the same great green and spice flavors that I love and have added additional traits through this secondary barrel finishing.
If you're not into rye whiskey, or have only dipped your toes into it so far, this might not be for you. I personally believe everyone needs to have their own "Rye-naissance" before they can truly appreciate these kinds of whiskies.
Once you do, a whiskey like Lot No. 40 Dark Oak will make a lot more sense. Rye drinkers are after the explosive spice and unique green notes that are different from its corn-bred brethren. It's what makes bottles like this so unique.
So if you're after something unlike any other rye whiskey you've tasted before and you're near a metro area that will carry this bottle, I'd suggest you scoop one up and try it out for yourself. There are certainly a lot worse ryes out there for the same price. This is one you should enjoy.
Featured Products
Description:

The Aged & Ore Neat Traveler is a complete travel kit for spirits. We combined our widely praised Neat Glass with one of our 3oz Flight Bottles and housed them together in a custom EVA travel case. Perfect for a night away with your favorite pour. The tie
Description:

The Aged & Ore Bottle Flight is a premium set of 4 custom silicone wrapped glass bottles designed to transport and share samples of your favorite spirits. The flight bottles come in a custom EVA travel case that fits perfectly in any small bag. An Aged &
Description:

This Bundle combines two of our crowd favorite products, creating the ultimate travel bundle to bring along your favorite spirits and glassware. Bundle Includes: Neat Traveler (Gray) Bottle Flight (Gray) Note: This bundle is only available in gray and col
*Bourbon Culture is reader-supported. When you buy through links on our site, we may earn an affiliate commission.