In the middle of March, 2023, pictures began to surface of the newest Orphan Barrel Release from Diageo. It was called Scarlet Shade and the label on the outside revealed that it was 14-year-old rye whiskey sourced from Indiana and bottled at 90 proof.
All of this sounds pretty cut and dry. But I'm here to tell you that this might be one of the bottles to avoid this year due to its poor value. Here's why.
This has all been done before
In 2021, Diageo-owned Cascade Hollow (maker's of George Dickel Tennessee Whiskey) released a 13 year old rye whiskey in their Cascade Moon Limited Release series.
This rye whiskey had a pretty cool story behind it that saw barrels of rye whiskey being distilled and aged in Indiana for 4 years before being shipped to Tullahoma Tennessee (where Cascade Hollow Distillery is located) and put into their warehouses.
They matured there for 9 more years before Nicole Austin found them, cut the whiskey to 100 proof and bottled them up. That release's retail price was $250 and I did a review of it here. The bottom line is it was a good rye whiskey and somewhat unique, but didn't drink like a $250 bottle should.
The story with this bottle of Scarlet Shade is much the same where barrels of rye whiskey were trucked from MGP in Indiana to the Stitzel Weller Distillery in Louisville and left to age for quite some time.
When they hit 14 years of total age, Diageo had them batched up, cut to 90 proof and bottled for the next Orphan Barrel release. The retail price is probably supposed to be around $200.
I can't exactly pinpoint the true retail price yet because so many online shops have just received their first order and are trying to mark them up double or triple the price to rip off the buyers that have Fear of Missing Out (FOMO). They'll get 'em too, poor bastards.
Is 13+ year old rye whiskey really worth over $200?
Anyway, it got me thinking "Is 13+ year old Indiana 95/5 rye whiskey really worth over $200?" After all, the people behind the Maryland Heritage Rye Collection thought so. It turns out they made a killing last year when they released 14-year-old versions of that same rye whiskey.
But the difference was it was cask strength (averaging around 108 proof btw) and was also non-chill filtered. The word isn't out yet on if Scarlet Shade has been chill filtered, but knowing Diageo the answer has a better chance of being "yes" than "no."
But the whole reason I'm writing about this is the value proposition. Is there precedent on how much this rye whiskey should cost? Actually, yes. And it comes from the same distillery (MGP), was bottled by the same company (Diageo) using the same bottling line (at Stitzel Weller). Which bottle am I talking about?
Bulleit 12 Year Rye was released in the summer of 2019, retailed for $50 (!) and was met with almost zero fanfare. Why did nobody care? Because 2019 still was in the middle of this tiny window of time where you could still find MGP bourbon and rye aged above 10 years for not a lot of money.
This is why nobody paid attention to a proofed-down version from Bargain Brand Bulleit. There were many more options like Redemption 10 Year Rye which was bottled at barrel proof also setting for $80 on liquor store shelves.
But those 2019 prices are long gone. Nowadays, you can find some online stores selling Bulleit 12 year for over $170. I don't think people are buying them for this amount, but people like me are regretting the decision not to back then.
MGP Rye
MGP rye is experiencing this sort of duality where the whiskey they made before MGP bought the distillery in 2011 (which Scarlet Shade is) goes for very high prices while the stuff they've made since 2013 isn't valued as high (because there's a flood of it).
That modern day whiskey is catching up in age to these older products too. We'll be seeing a lot of 10 year MGP rye whiskey coming out this year and it should all be around $100 when it does.
Why that last point matters is because we look at a bottle like Scarlet Shade and maybe get a little FOMO inside of us. Should we buy it or will we miss out? What we need to do is take a step back and put it in context.
Just realize that in a few more years, the market will be inundated with easy-to-find teenage MGP rye whiskey. So even if you are the kind of person to buy whiskey as an investment, a bottle like Scarlet Shade could have its value erased.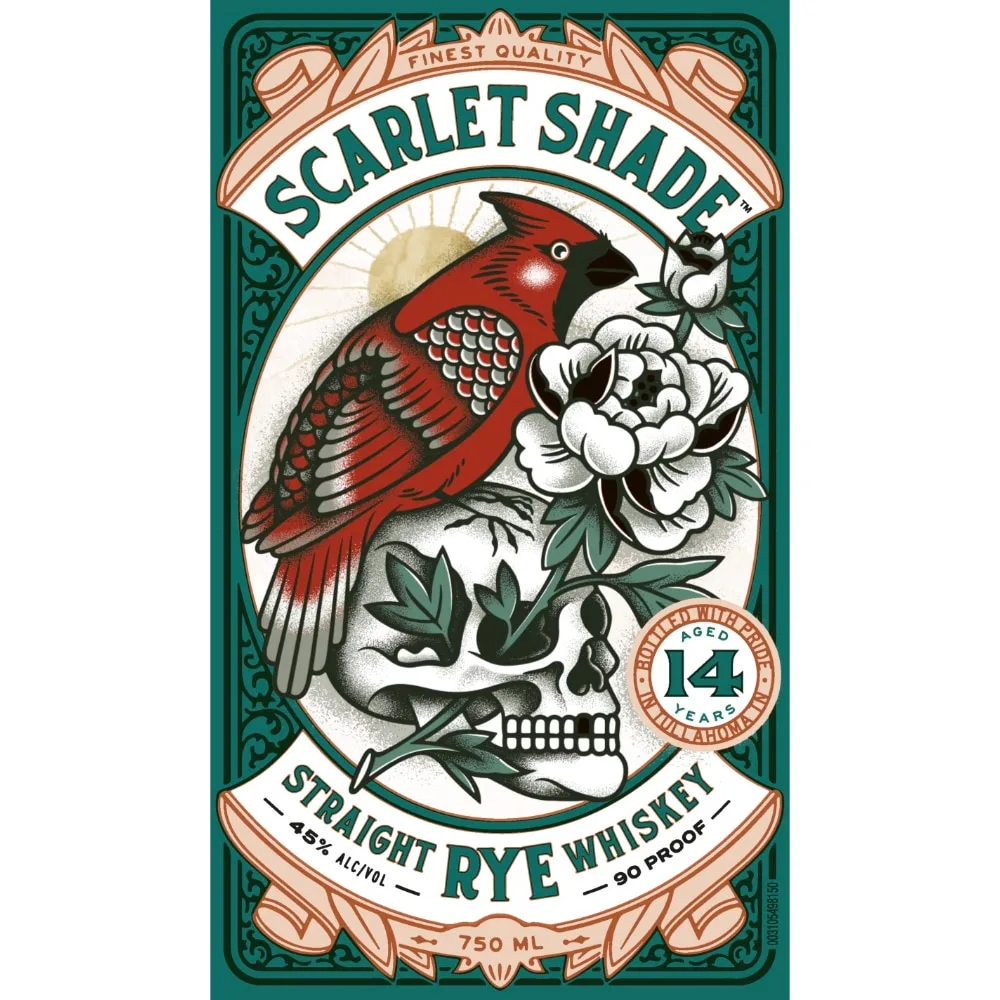 I want to also add in here that I think that Scarlet Shade and Bulleit 12 Year Rye Whiskey are probably linked, but I don't know how just yet. My assumption is that Scarlet Shade is made up of barrels that were destined to become Bulleit 12 Year Rye before Diageo/Bulleit killed off the program after 2019.
That doesn't necessarily meant that the barrels used in Scarlet Shade are actually 15-16 years old, but if you do the whiskey math, the barrels were probably sourced from the Lawrenceburg Distillery in Indiana a couple years after the ones that became Bulleit 12.
A Word of Caution
A final comment I'll make about Scarlet Shade revolves around the whole unspoken rule of Diageo for the Orphan Barrel line. Never give the customer anything higher than 91 proof (except Gifted Horse). It's almost like they think they can reverse the trend of limited edition bottles being higher in proof.
It doesn't work that way. The consumers that are consistently buying these special releases are enthusiasts who know that flavor comes from being higher in proof. They're not going to pay hundreds of dollars just to have water added to their bottle.
This makes Scarlet Shade (and Orphan Barrel in general) a low-value product. Enthusiasts have figured them out and don't buy their products anymore. That means the only ones who are buying them are clueless consumers who think high price dictates a good whiskey.
Modern Orphan Barrel products have no secondary value and you don't see them being listed on secondary sites. This all points to same conclusion I'm trying to make: don't buy Scarlet Shade.
There are many more bottles offering the same age with a higher proof for less money. Chalk this up as another miss from the Orphan Barrel line because they don't understand the modern-day enthusiast.
Featured Products
Description:

The Aged & Ore Neat Traveler is a complete travel kit for spirits. We combined our widely praised Neat Glass with one of our 3oz Flight Bottles and housed them together in a custom EVA travel case. Perfect for a night away with your favorite pour. The tie
Description:

The Aged & Ore Bottle Flight is a premium set of 4 custom silicone wrapped glass bottles designed to transport and share samples of your favorite spirits. The flight bottles come in a custom EVA travel case that fits perfectly in any small bag. An Aged &
Description:

This Bundle combines two of our crowd favorite products, creating the ultimate travel bundle to bring along your favorite spirits and glassware. Bundle Includes: Neat Traveler (Gray) Bottle Flight (Gray) Note: This bundle is only available in gray and col
*Bourbon Culture is reader-supported. When you buy through links on our site, we may earn an affiliate commission.