If I give you the name of a distillery, I bet you could tell me the most famous bottle they are known for. Old Forester? Birthday Bourbon. Wild Turkey? The Master's Keep series. Four Roses? Limited Edition Small Batch. But what if I said Maker's Mark? The question – in my opinion – has no answer.
Maker's Mark – Scoffing at Age Statements since 1953
It becomes obvious if you look back at the history of Maker's Mark that they have abstained from releases with age statements or variances in proof (usually preferring to hover between 90 and 101 proof). It's only been in the past ten (-ish) years that we've seen them do any kind of experiments at all. Even then it's only been barrel strength versions or stave finishes.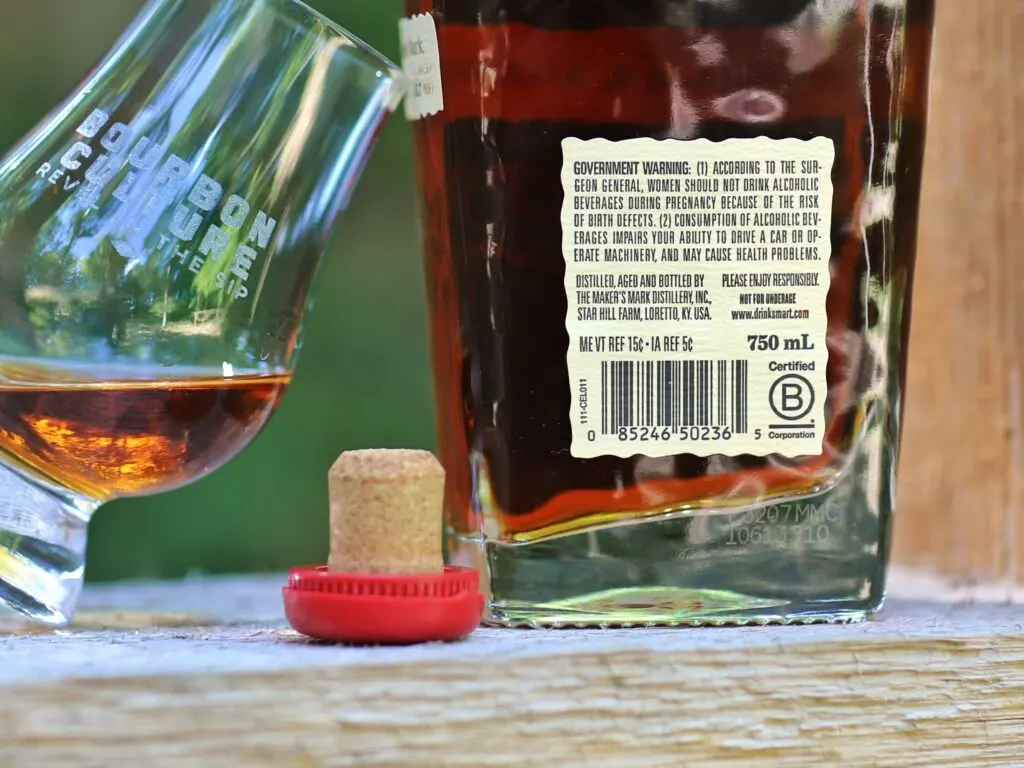 Many of those have been excellent. But they just don't get the accolades that other bottles get. What Maker's has lacked is a bona fide top-tier release that develops its own lore among enthusiasts. Up until 2023, the closest they've came has been the DNA Series.
The simple truth is that Maker's Mark just can't quit their policy of releasing bourbon that only has a particular profile. What is that profile? Sweet, fruity and absolutely no overwhelming tannic notes. It's almost like they have a personal mission to cleanse the bourbon world of all that oaky goodness that makes bourbon so distinct among all whiskies. This has left many enthusiasts unsatisfied in their quests for highly aged, high-proofed wheated bourbons not made by Buffalo Trace.
The Winds of Change come to Loretto
Change hasn't always been easy to accomplish at the Loretto distillery. It takes a lot of convincing for something new to happen. Bill Samuels Jr. brought the idea of stave-finished bourbon to the table back in the early 2010s to leave his mark on… errr, Maker's Mark. Now it's his son Rob's turn. He was the whole reason behind the relocation of several hundred (perhaps as high as a thousand) barrels of bourbon into the newly created limestone cellar that was built into the side of a hill at the Star Hill Distillery in 2016.
Most visitors who take the tour are shown that cellar. The part where you are allowed to walk through is lined with barrels undergoing stave finishing for the Private Selection program. But those barrels make up a minority of what they actually have aging in there. Behind the barrels that you can see are their projects they don't want to reveal yet. Maker's Mark Cellar Aged Bourbon is one of those projects that is finally seeing the light of day.
Maker's Mark Cellar Aged Bourbon Is Born
Back in April, 2023, The Bourbon Culture was first to report a new Maker's Mark release was in the pipeline. The label indicated that it would be a blend of 11 and 12 year old barrels. The proof was listed as being only 90.6. Enthusiasts were slightly disappointed in the proof but still excited at the prospect of a competitor to Weller 12. It wasn't until early August, 2023 that the press release showed that the proof was much higher – 115.7 to be exact. Expectations shifted that it would now be a competitor to William Larue Weller.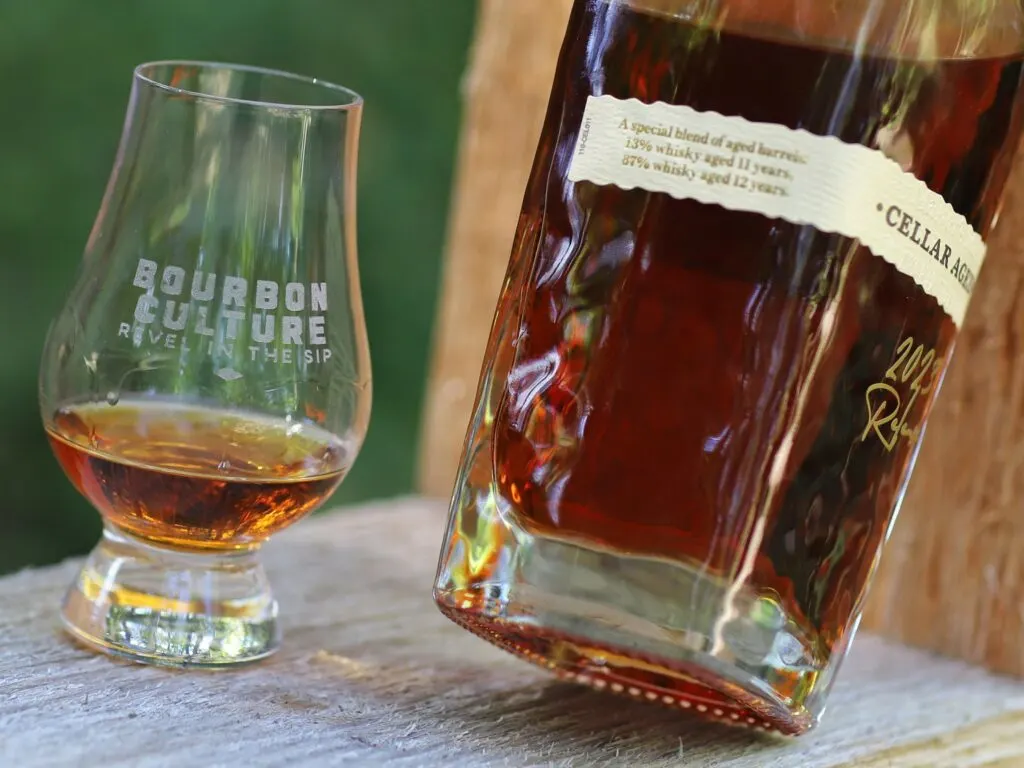 This caused a frenzy among enthusiasts who went from "I hope to find one" to "I WILL DO ANYTHING FOR A BOTTLE!" The stat sheets showed us the following about Maker's Mark Cellar Aged
It will be an annual release comprised of barrels anywhere from 11 to 14 years old
225 barrels went into making the first batch (expect similar numbers for future releases)
Barrels were aged for 6 to 7 years in the regular warehouses before being moved to the cellar
87% of the barrels were aged for 12 years and 13% of them were aged for 11 years
Is the hype deserved?
Social media and the secondary market have been going into overdrive with this bottle. Towards the end of August, the first bottles started to hit secondary at $375 (remember, retail is $150). I found this to be pretty fair when you consider the secondary price of other limited editions like Four Roses Small Batch Limited Edition or Wild Turkey Master's Keep Voyage. But at the time of this writing (mid-September), sellers are trying to get $500 for their bottles. Of note: nobody's buying at that price.
As I mentioned before, there is only one bottle out there that's close to the specs of MM Cellar Aged – William Larue Weller. The quick specs on WLW is that it's aged 12 years and is bottled at cask strength (usually in the mid-120's, but always changing). WLW's barrel entry proof is 114 while Maker's is 110. Their retail prices are similar but the WLW's secondary price easily reaches $1500.
That leaves the question of just how close these two bottles will be. Can Loretto challenge Frankfort's superiority? I chose the 2021 WLW release to compete against the Maker's to find out. Please note, this was not a blind tasting, but it was done with a genuine curiosity and no preconceived biases. Here's what I observed.
Tasting Notes for 2021 William Larue Weller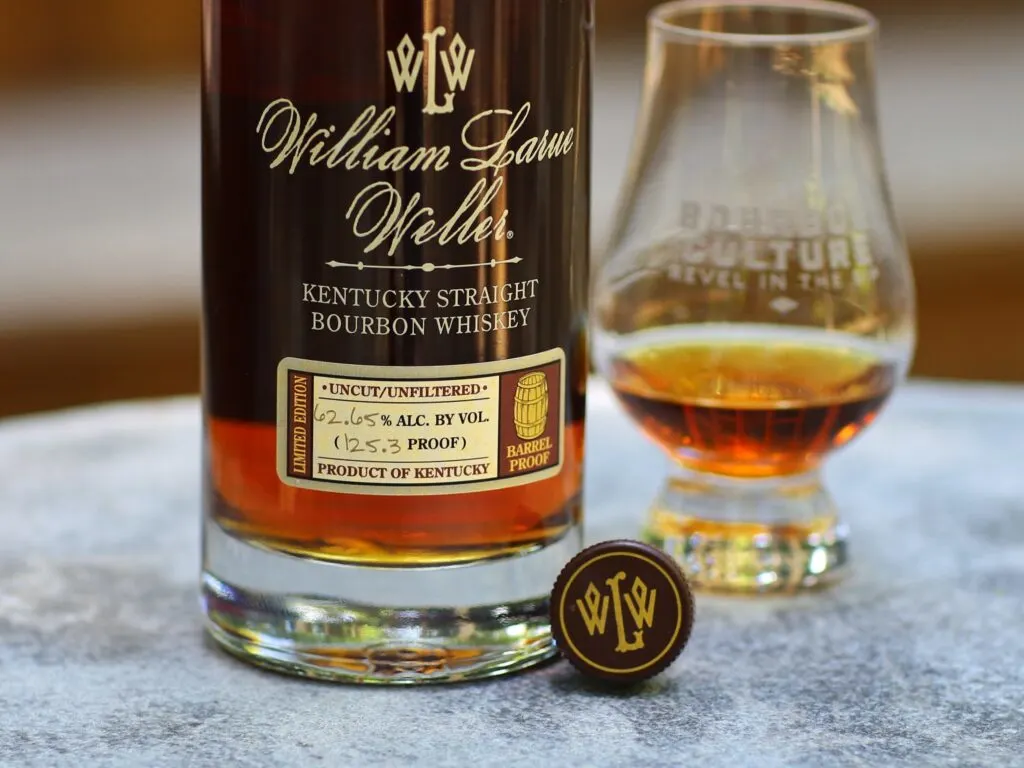 Nose: A powerful wallop of chocolate, well-seasoned oak and robust baking spices. The cherries that Weller products are known for are exceptional and accompanied by other dark red fruit notes. Vanilla bean pods showcase how even lighter, more fragrant notes can still overcome the darker, more tannic ones. Each sniff delivers an experience that you can rarely find elsewhere.
Palate: Each sip is strong, but with a manageable level of heat I would say that even newcomers could appreciate. The mouthfeel is thick and oily. The fruits stand out like cherry PopTart filling and orange marmalade. Cinnamon candies join together brown sugar and toasted oak with a touch of varnish. And just like the nose, vanilla has a way of standing out even though the other accompanying flavors are so much stronger.
Finish: The chocolate and cherry note merge together to become more like a boozy cherry cordial on the finish. There are still loads of seasoned and antiqued oak along with a flavor I can only describe as "Christmas Fruitcake." The finish seems to go on forever. It's magical.
Score: 9.2/10
Tasting Notes for 2023 Maker's Mark Cellar Aged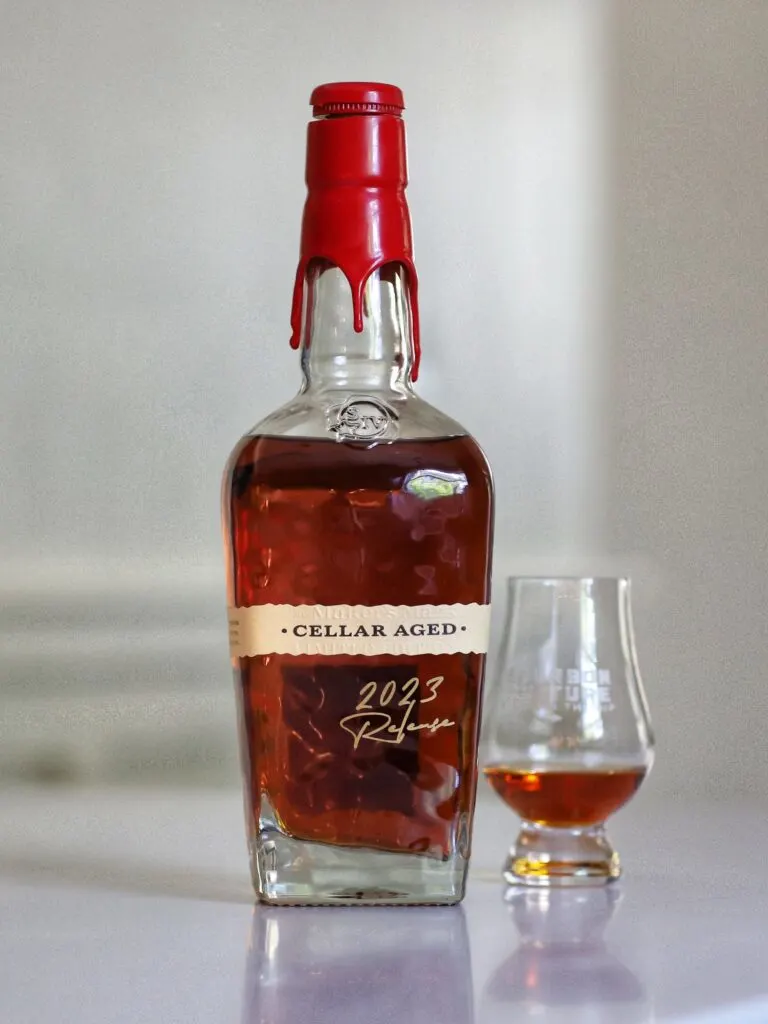 Nose: Whenever I drink regular Maker's Mark Cask Strength, I seem to always find an assortment of baking spices. These are present in the Cellar Aged, but are noticeably softer and more rounded. This takes the sting off of the high proof. Fudge and toasted oak notes abound along with an assortment of fruits. Plums, cherries, raisins and dried apples all can be found. I'm going to be honest – the oak isn't spectacular. I was really hinging on finding an oak sensation that would elevate the experience. What I got was along along the lines of "Maker's Mark Cask Strength+." I know what the age statement says, but nothing on the nose gives away the fact that these barrels had been aged for 11 and 12 years.
Palate: The sweetness on the tongue carries a nice amount of caramel, vanilla, chocolate and fruit. What kind of fruit? Orchard, sweetened apricot, raisins and cherry. All have the sensation of being slightly dehydrated – almost antiqued. There's a mild drying sensation on my tongue while I roll it around. There should be a section devoted entirely to the oak on this and what it tastes like. It's not the same as traditional high-aged bourbons. The wood has no varnish or antique note. It's soft and mellow – almost "honey'd" if that makes sense. But if you were looking for oaky Maker's, this isn't it. Instead, a new-ish leather flavor is just as strong as the oak as far as tannins are concerned.
Finish: Chocolate, leather and honey'd oak are found towards the end. A nice raisin/date sweetness lingers. Oak spice is equal part tannic and spicy. Sweetened raspberry compote sticks out as one of the more memorable flavors to gradually disappear after a moderately long finish.
Score: 8.3/10
I can feel the heat on my back as I'm writing this, but my senses keep telling me that Maker's Mark Cellar Aged has failed to push the envelope in regards to competing against William Larue Weller. And at the risk of totally losing my audience, I'd even argue that Cellar Aged is only incrementally better than it's Cask Strength brethren.
I have heavily debated being as blunt as I am about this Maker's Mark release. After all, I took the first tour that centered around this release, I shared in the excitement with many friends and I have already sampled out this bottle to them. Generally, people seem to like it. I figured I was the only one that was not having the same experience. Then I talked to the owner of Rural Inn and his son. They both felt the same way that I did – a release that didn't really hit the mark that it should have. Finally, some confirmation that it wasn't just me.
Final Thoughts
In my opinion, the reason is clear to see. If you look closely at this spec sheet, you can see that average cellar temp that the barrels aged in for around 6 years was only 47 degrees Fahrenheit. Chris Morris, former Master Distiller of Woodford Reserve, has repeatedly said that whiskey becomes dormant below 53.3 degrees Fahrenheit. Therefore, my assumption is that the liquid inside of the barrels matured extremely little for the entire time they were in the cellar. If there was one chemical reaction that might have occurred, it was probably oxidation.
To illustrate this point even more, there is another distillery that has been aging barrels in similar temperatures for years now – Buffalo Trace. Their Warehouse P is refrigerated as well – maintaining an average temperature of 45 degrees Fahrenheit. Their reasoning for this warehouse to exist is because they are storing barrels in there that are destined to become ultra-aged (30+ years in some instances). They know that evaporation and over-oaking are two factors that will cause a barrel to become a total loss if they allow it to age too long, so they simply stop all chemical processes from happening. But a barrel's age doesn't stop just because the maturation process does. As long as it stays in the original oak container, every year still counts.
The point I'm trying to make is that Maker's Mark Cellar Aged should not be treated like it's a true 11 or 12 year old product. It's basically Maker's Mark Cask Strength in a new bottle with a few extra proof points. I wish it was more, but how could it be?
Maker's Mark has the ability to give consumers a product they really want, but they just haven't done it yet. At the event I was at, they passed out samples of 12 year old bourbon aged the entire time in their wooden rickhouses. It was exceptional. What they called "over-oaked" was delightfully antiqued. It had heaps of brown sugar and vivid spices and fruits. That was the bourbon that could go head-to-head with William Larue Weller, not this.
Based on the trend of each Samuel generation giving us a new product, maybe Rob Samuels' offspring will be the one to finally give us 12 year old Maker's Mark bourbon that has spent its entire life in a rickhouse. Until then, WLW remains the king.
Featured Products
Description:

The Aged & Ore Neat Traveler is a complete travel kit for spirits. We combined our widely praised Neat Glass with one of our 3oz Flight Bottles and housed them together in a custom EVA travel case. Perfect for a night away with your favorite pour. The tie
Description:

The Aged & Ore Bottle Flight is a premium set of 4 custom silicone wrapped glass bottles designed to transport and share samples of your favorite spirits. The flight bottles come in a custom EVA travel case that fits perfectly in any small bag. An Aged &
Description:

This Bundle combines two of our crowd favorite products, creating the ultimate travel bundle to bring along your favorite spirits and glassware. Bundle Includes: Neat Traveler (Gray) Bottle Flight (Gray) Note: This bundle is only available in gray and col
*Bourbon Culture is reader-supported. When you buy through links on our site, we may earn an affiliate commission.