*Bourbon Culture is reader-supported. When you buy through links on our site, we may earn an affiliate commission.
Most people have the impression that the Master's Keep Limited Edition line is designed to highlight the best and brightest bourbon (and rye whiskey) that Wild Turkey has. After all, it's the most allocated and expensive release that comes out of Lawrenceburg, Kentucky each year. But that's actually not the point of the label. It's to showcase unique expressions that are only limited by imagination.
Wild Turkey has traditionally been a producer that only concerned themselves with how good their bourbon was. With the exception of a few flavored bourbon releases – which have specific clientele anyway – they never used to take chances with weird blends or barrel finishes. That all changed in 2018 when Master's Keep Revival came out. It was the first time a bottle wearing the Wild Turkey name was finished in a secondary barrel – Oloroso Sherry to be exact.
Master's Keep did it again in 2021 with the release of "One" which saw fully mature bourbon finished in newly toasted and charred oak barrels. The trend continues with the 2023 release of Master's Keep Voyage.
Campari orchestrates a collaboration between brands.
It's no secret that many spirits conglomerates have requested that their brands begin special collaboration projects with each other. The reason is twofold. The first is to create new products where there were previously none and the second is to lure consumers who might only drink one kind of spirit into a new category (if they like the end product, that is). There is also a third reason, but it's more complex.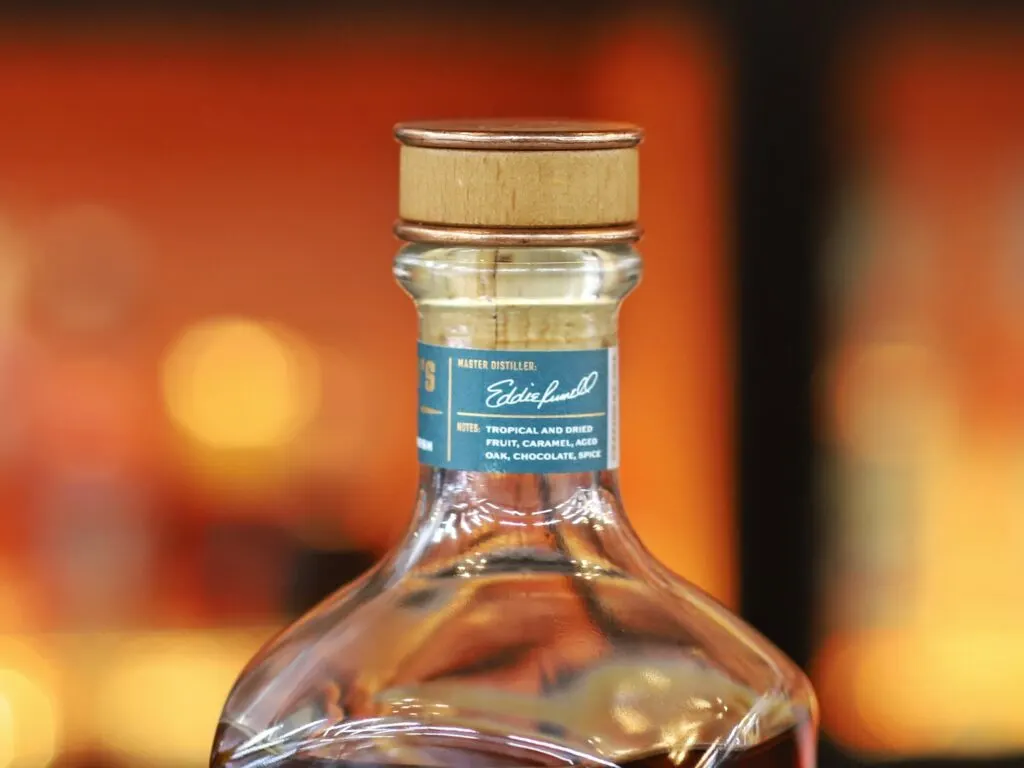 Don't be fooled by elaborate stories that marketing teams create about why two different kinds of spirits get married together – it's all marketing. The honest truth is that some bean-counter out there with a background in transportation and logistics realized that they were essentially wasting money by transporting barrels one way with nothing on the return trip. This is what's known as deadheading; when an empty container gets shipped back to where it originated.
Since rum, tequila and Scotch companies depend on a steady supply of used barrels. Bourbon distilleries are constantly shipping out their used cooperage to them. There isn't usually anything that these transport carriers would haul back from those producers which leaves the logistics chain with a burdensome task of finding other goods to stick in the shipping containers. As the global economy expanded at a furious pace at the turn of the millennium, efficiencies in global supply chains necessitated empty containers must be filled with something. Thus began the chain of events that saw producers adopting barrel finishing techniques to their whiskey. Those finishing barrels typically come from various spirits and wine producers. It was a win-win for producers and supply chains.
All of that is a complicated way of saying that Campari looked at their family of distilleries who were receiving freshly dumped Wild Turkey barrels and arrived at the idea of a rum-finished bourbon. It would be as simple as tossing some of those rum barrels into a shipping container for the return trip. And which rum producer does Campari own? Appleton Estate.
Cool Runnings and the Bluegrass State
Unfamiliar with rums? Then you might not want to start with Jamaican-style ones. Why's that? Because most are super funky. Those strange funk notes can be attributed mostly to Dunder Pits, which is a whole other topic I recommend you look up. But Appleton Estate makes rums that are less funky than other producers on the island. As a side note, if you're ever looking to get into rums, start with Foursquare. It's the most bourbon-like rum I've tried so far.
Anyway, getting back to Appleton Estate, the barrels that were sourced from them had just matured rum inside of them for the last 14 years. Once they were dumped, they were sent up to Lawrenceburg to have 10 year old Wild Turkey bourbon added into them. The finishing process took only 5 weeks.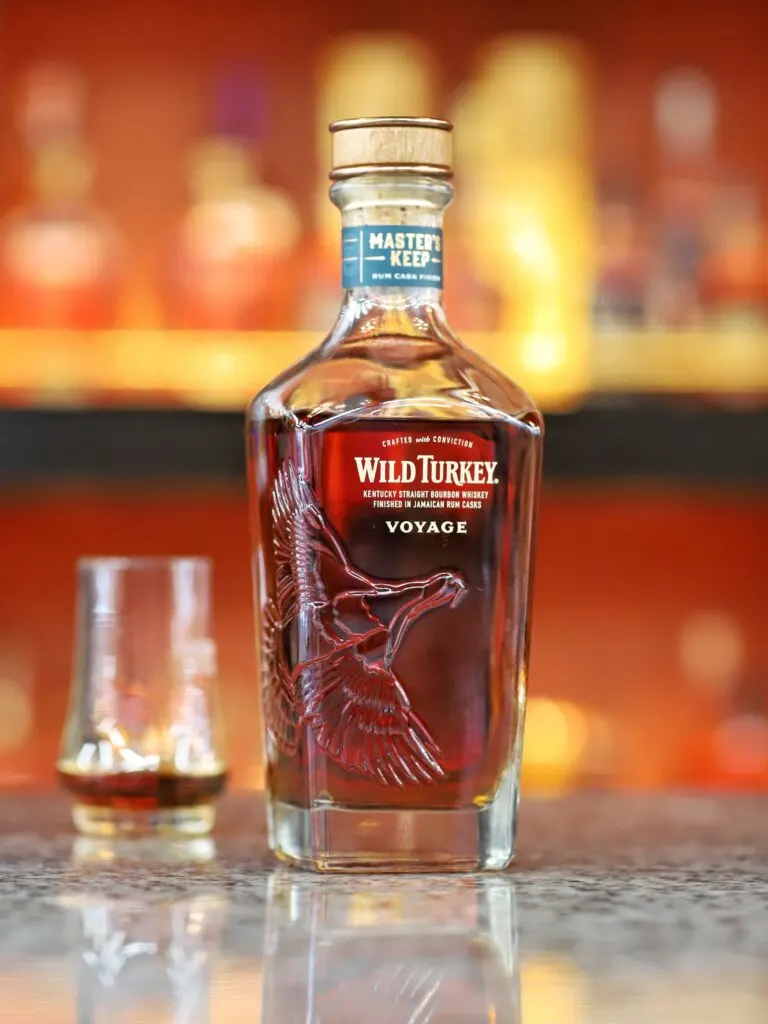 At this point, it all sounds like a pretty standard story of how bourbons get finished. Even the Wild Turkey bourbon that was used seemed pretty middle-of-the-road for this release – using barrels that weren't too old and weren't too young. Previous releases wore pricetags anywhere from $120 to $200 so Voyage should land somewhere around there, right? WRONG.
Master's Keep Voyage landed with a $275 thud onto shelves around the United States in July, 2023. Nary a reviewer or comments section has been able to look past this glaring anomaly. What on earth caused the price to rise so dramatically? This is far from the oldest bourbon that Wild Turkey has used and the rum casks, if we're being honest, are nothing special. I'm sorry if that last one stung, but I'm just calling a spade, a spade.
I'm dumbfounded myself. If a bottle of Russell's Reserve Single Barrel is $70 and a bottle of Appleton Estate 12 Year Rum is $45, then how did the pricing team arrive at $275 for this release? I don't even have to taste this edition of Master's Keep to tell you that unless you're buying it strictly to flip (and hopefully you have a buyer who has a pre-approved loan in their hand to afford this), there is really no reason to buy this for the price.
I understand that this release will still sell out everywhere, but enthusiasts will only accept a price like this once or twice before they throw in the towel and stop buying them. Then they'll begin to set on the shelves. I hope to be a little bit more even-handed in this review, but still, if you're a person that goes out and buys this and doesn't have that little bit of regret in the back of your mind after you open the seal, then you must be very wealthy.
Now that I've got that out of the way, I may as well see how this tastes. I sampled this neat in a glencairn.
Tasting Notes
Nose: The nose seems to bypass the fact that this is a bourbon underneath the finish. There are tropical fruits everywhere. Banana, mango, pineapple and citrus flesh. There is an oak note, but it comes off as old and spongey. Is that even a thing? I'm also picking up on a lot of sweet banana bread (with nuts) scents. This is something I'd normally find in a Jack Daniel's Barrel Strength Rye. I love it there and I love it on this nose too.
Palate: Each sip delivers plenty of sweet, fruity flavors. Baking spices come by way of cinnamon spice and allspice. Sweetness sidesteps the typical Turkey caramel and becomes more of a molasses instead. The baked nut bread note from the nose can be found on the tongue. The fruits are varied and delicious. Rhubarb jam, baked apples, citrus and pineapple. All have the vibrancy – almost artificially I'd say – of a Jolly Rancher candy. The funk of the rum can be found if you concentrate hard enough, but it's hardly what I'd call polarizing. It's just nice to find.
Finish: Baking spices remain at the forefront of flavors when the sip is complete. Banana bread flavors complete the trifecta – I've noticed them on the nose, palate and finish. The nuts evolved into more of a pecan style rather than peanut and the fruit flavors turn from tropical to tart with raspberries becoming dominant. I don't know where they were before, but they're here now.
Score: 8.1/10
Out of all the rum-finished whiskies I've had (that total might only be 3, haha), this one tastes like it's the best interpretation of what the finish was supposed to taste like. Other whiskies I've had taste artificially flavored. Others lack any rum flavors at all. So Voyage gets an A+ for execution in my book. It was also very enjoyable to drink overall.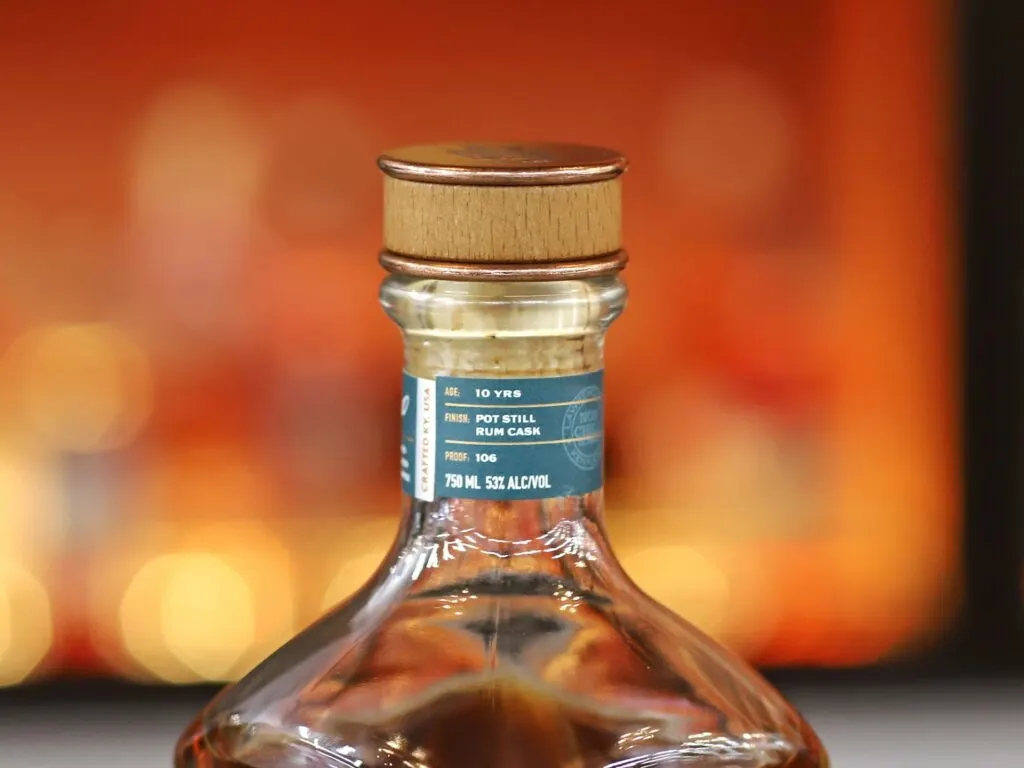 The faults that Voyage have might not seem particularly harsh. One fault is that the rum finish has hidden most of the trademark Wild Turkey bourbon notes. While that's not entirely a bad thing, I'm wondering if another brand of (cheaper) bourbon could have been finished in these Appleton barrels with similar results. And if that's the case, then what if we could just finish that bourbon in these barrels and get a product that costs way less?
Final Thoughts
And that's where my feelings lie when I think about Voyage. Yes, it's a really nice product. I've rated it as "Great" and that's not something I give out lightly. But it seems like most of the bourbon notes that identify this as a Wild Turkey product have been covered up. And if it doesn't resemble a Wild Turkey product, then why does it need to have that kind of price tag?
In the end, it all comes down to price. Master's Keep Voyage is great product, but I've had better. $275 is a lot of money and I've enjoyed many whiskies just as much that were far cheaper. Maybe you're a person that demands that their bourbon tastes like a rum. This is your bottle. But to everyone else who is willing to pay a slight upcharge for a unique annual product, trust me, there are better ones out there.
Featured Products
Description:

The Aged & Ore Neat Traveler is a complete travel kit for spirits. We combined our widely praised Neat Glass with one of our 3oz Flight Bottles and housed them together in a custom EVA travel case. Perfect for a night away with your favorite pour. The tie
Description:

The Aged & Ore Bottle Flight is a premium set of 4 custom silicone wrapped glass bottles designed to transport and share samples of your favorite spirits. The flight bottles come in a custom EVA travel case that fits perfectly in any small bag. An Aged &
Description:

This Bundle combines two of our crowd favorite products, creating the ultimate travel bundle to bring along your favorite spirits and glassware. Bundle Includes: Neat Traveler (Gray) Bottle Flight (Gray) Note: This bundle is only available in gray and col
*Bourbon Culture is reader-supported. When you buy through links on our site, we may earn an affiliate commission.