*Bourbon Culture is reader-supported. When you buy through links on our site, we may earn an affiliate commission.
On a recent episode of the Bourbon Pursuit podcast, Kenny, Ryan and Fred invited Marianne Eaves onto the show in an attempt to clear the air with her. This stemmed from a previous podcast where Kenny took some jabs (more on those jabs in a minute) at the original press release for Marianne's newest project: Forbidden Bourbon.
The episode saw Kenny and Ryan apologizing for their comments, Fred kissing a lot of ass and Marianne casting a strong-willed, technically proficient and sweet-natured spell over the listeners. She also set the record straight on that particular press release. I went into the podcast with my own set of preconceived notions about her and left with a newfound respect.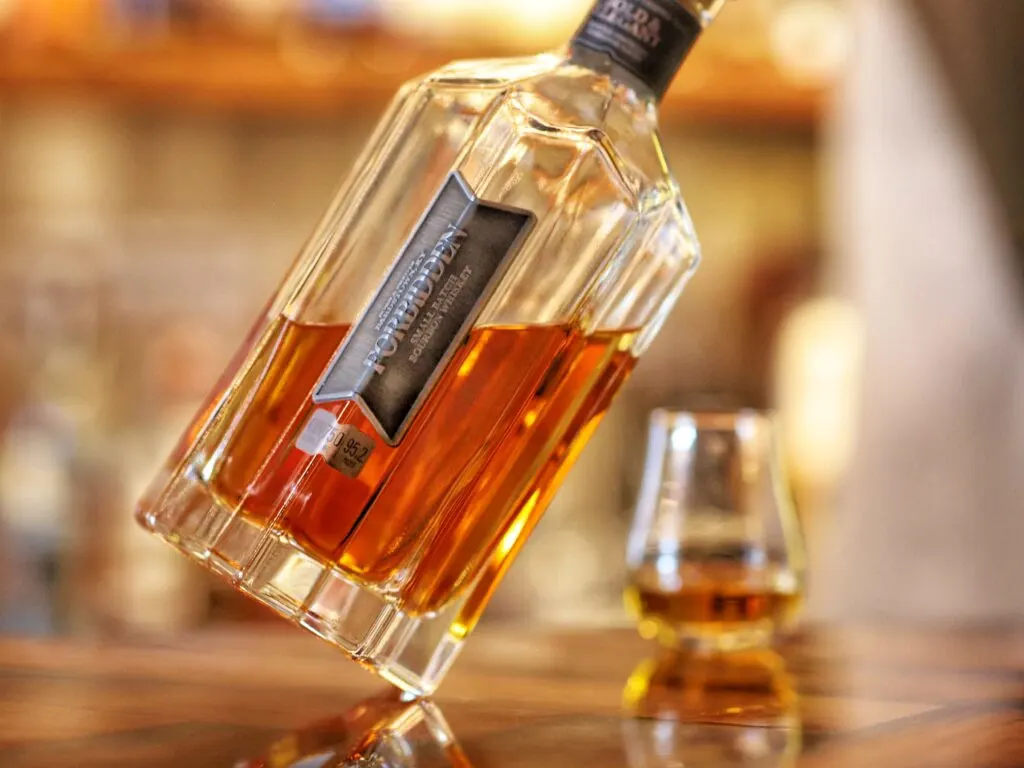 In an attempt to write a review like this, I feel like I need to explain the stigma behind Marianne. I am not doing this to drag her name through the mud as much as I am attempting to put the story into context. I also want to highlight why any bourbon she's associated with is going to have some stigma attached to it. Is it deserved? You be the judge.
Marianne Eaves Journey from Brown-Forman to Forbidden Bourbon
Marianne's career started out at Brown Forman. As a quick aside, I think it's crazy how many of the most recognizable people in the industry got their start at Brown-Forman. It's like the X-Men Academy of whiskey employees where they sharpen their skills before leaving to go do things their own way.
The people who have moved on from Brown-Forman are an eccentric mix. They've all been responsible for remarkable products later on too. Willie Pratt (Michter's), Tripp Stimson (Barrell Craft Spirits), Jackie Zykan (Hidden Barn) and Marianne Eaves (Castle & Key, Sweeten's Cove and now Forbidden) are just a few of the names that can attribute their beginnings to the knowledge they obtained at Brown-Forman.
After Marianne left Brown-Forman, she was picked up by Castle & Key in early 2015. They were rebuilding the Old Taylor Distillery and needed a Master Distiller who could take the reins on setting up the fermentation and distilling side of the house. It took Marianne over 2 years before all of the equipment was set up and the first barrel was filled. At the time of her hiring, she was declared the first female Master Distiller of a major bourbon distillery.
It was after this momentous achievement that her personal life began to produce more headlines than her whiskey. It seems as if the stress of working so hard to get the distillery up and running took a toll on her marriage. This led to a nasty divorce which saw her time at the distillery dwindle (for obvious reasons). When it was all said and done, she entered into a new relationship with Kevin Venardos. If that name rings a bell for you, it's probably because of the traveling circus he owns. The headlines practically wrote themselves when she resigned from Castle and Key in 2019: "Marianne Eaves runs away with the circus."
It should be mentioned that it wasn't just because of her personal relationships with the men in her life as to why she left C&K. She was also having significant disagreements with the owners that resulted in a lack of satisfaction with everything she did. Since her departure was abrupt, we must assume that something came to a head and angry words were exchanged. In fact, Marianne has commented about this in the podcast by saying that she has a NDA with C&K. Oddly, the "D" actually stands for "disparagement" rather than "disclosure." That means that she can literally not say anything bad about her former employer.
The next period of her life revolved around conceiving two children with Kevin, traveling across the United States in a camper and then having the global pandemic halt her family's livelihood in 2020. With the circus unable to be as active as it once was, she began to take on projects like whiskey tasting kits, consulting work and even a gig as the master blender for Peyton Manning's whiskey company "Sweeten's Cove."
While nobody can deny that Marianne was exerting superhuman effort to keep herself active in the industry amid all of the background noise, I have to wonder if the same level of criticism would've been leveled onto her if she was a man. Personal issues have a way of creeping into anyone's workplace performance and decisions and it's not like her situation was unique – especially in the whiskey industry. In many ways, her silence on many issues created the illusion that the critics were right all along. But recent interviews have begun to expose just how wrong those critics have been.
Marianne's newest project: Forbidden Bourbon
Remember the confusion I was talking about regarding the press release about Forbidden Bourbon? It all stemmed from the timeline of the barrels used to create this bourbon and when they were distilled. The wording stated that it was distilled at Bardstown Bourbon Company by Marianne Eaves and was five years old. For all parts of that to be true, that would mean that she was moonlighting as a master distiller at Bardstown Bourbon Company during her tenure at Castle & Key.
In an attempt to clear all of this up, Marianne explained that her publicist was sensitive to the fact that her relationship with C&K had been so poor that she (the publicist) didn't want to mention them at all. But the barrels of wheated bourbon that are in the Forbidden blend were distilled at Castle & Key five years ago. However, three years ago, she went on to distill the same recipe (with the same yeast and the same low-temperature fermentation methods) at Bardstown Bourbon Company. Forbidden Bourbon is a blend of these two bourbons.
Speaking of that low-temp fermentation process, Marianne has championed a number of unique whiskeymaking processes. This one may be the most significant. She explains that by lowering the temperature during fermentation process, more esters develop in the mash. This will create a more complex and flavorful bourbon at the expense of a slightly more labor-intensive fermentation process.
The mash is the same wheated mash that she created at Castle & Key – 73% white corn, 10% white wheat and 17% malted barley. The white corn is significant because it steps away from the cheaper and more starch-laden yellow dent corn. The white wheat is also somewhat unfamiliar in the distilling scene too. And the high malted barley content is tops among all major bourbon producers in Kentucky (surpassing Maker's Mark and Willett who use 14% and 15% respectively).
Perhaps the most eye-popping part about everything I just said is the price. Each bottle of Forbidden is priced at an astonishing $129. That means that it surpasses even Willett for the highest priced bourbon for its age – averaging over $30 per year aged. This has reviewers and consumers alike immediately dismissing it. I would be lying if I said I didn't agree with them. The simple fact is that Castle & Key already releases the same wheated bourbon aged for a full 5 years and bottled at 99 proof for half the price. Granted, it's a bit more allocated, but it's still an annual (or bi-annual) release which means that there's always more where it came from.
So does Forbidden achieve anything new? Does it dismiss the critics concerns of it being too young? Let's find out. I sampled this neat in a glencairn.
Tasting Notes
Nose: The nose is somewhat light. I'm not talking about the low proof necessarily – it's more of a herbal/floral character to begin with. The herb "summer savory" comes to mind. Sweetness revolves around salted caramel. Vanilla hides in the background, but compares to a custard. There's a bit of toasted walnut lurking around a hint of smoke. The oak/tannic notes have not been fully developed yet, so they don't make an noticeable impact.
Palate: The flavors on the palate aren't as young as I thought they'd be but there is still plenty of youth with each sip. Caramel apple and powdered sugar provide sweetness. Crude baking spices and youthful oak leaves a slight bitterness on my tongue. This still needs more time to mellow out. The floral/herbal notes from the nose transfer to the palate. Citrus fruit is light, leaning more towards orange. The most peculiar thing about each sip is the mouthfeel. It's probably the best part about the whole session. It's light and creamy, almost bordering on foamy. Maybe a yeasty, unbaked bread consistency is closer to what I'm trying to describe. I can't compare it to any other whiskey I've had, but I kind of dig it. Most whiskies are light and thin or thick and oily. This is something different and needs to be experienced to understand what I'm saying.
Finish: Very light tannins on the finish (mostly oak). The same can be said with baking spices (mostly cinnamon). It's the orchard fruits that dominate. The finish is easygoing and disappears quickly. For $130, I'd want something much longer.
Score: 6.2/10
First the good: This bourbon is unlike anything you've ever tasted before. There's something unique about it that I'm having trouble explaining. The mouthfeel is a large contributor to what I'm talking about and is probably a result of the low fermentation temperatures. The wheated aspect probably has a lot to do with it too. In short: if I was getting bored with standard bourbons, this would be an excellent one to switch to.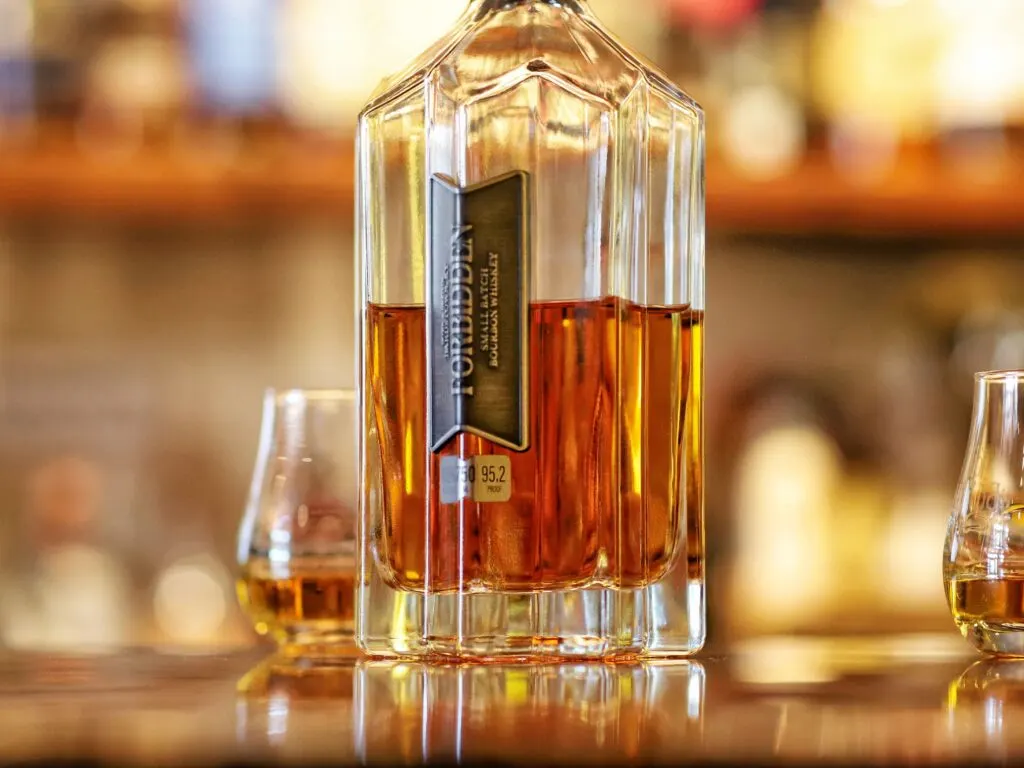 Now the bad: This bourbon is nowhere near the $130 pricetag. I know that some people will tell me that price shouldn't be factored in to how it tastes, but how can it not? If there's the same kind of bourbon available for half the price (Castle & Key Wheated) then I'd suggest getting that one first to see if you like it.
Final Thoughts
If you've made it this far, then you know I had a lot to say about Forbidden Bourbon. Maybe you didn't care about the backstory, but it had a purpose. The purpose is to say that this isn't the last we've seen of Marianne Eaves or her unique wheated bourbon that's inside of this bottle. We've only scratched the surface on the potential of these barrels. I'm willing to excuse the situations that keep getting in the way in order to see her finally achieve the goal she's been working towards for the past 8 years: bringing us a grain to glass whiskey made and blended exactly the way she envisioned. I don't think that she would have put it out at this young of an age if she had full control, but I also don't think she'd let it age much past 9 years. We're just getting started!
Forbidden surely won't be the last project we see from Marianne, but for now it's what we've got. So while I can't recommend this bottle at the price it's currently at, I can see myself buying future products of hers just to see how this experiment turns out. I'm a believer and think that the best is yet to come.
Featured Products
Description:

The Aged & Ore Neat Traveler is a complete travel kit for spirits. We combined our widely praised Neat Glass with one of our 3oz Flight Bottles and housed them together in a custom EVA travel case. Perfect for a night away with your favorite pour. The tie
Description:

The Aged & Ore Bottle Flight is a premium set of 4 custom silicone wrapped glass bottles designed to transport and share samples of your favorite spirits. The flight bottles come in a custom EVA travel case that fits perfectly in any small bag. An Aged &
Description:

This Bundle combines two of our crowd favorite products, creating the ultimate travel bundle to bring along your favorite spirits and glassware. Bundle Includes: Neat Traveler (Gray) Bottle Flight (Gray) Note: This bundle is only available in gray and col
*Bourbon Culture is reader-supported. When you buy through links on our site, we may earn an affiliate commission.