My introduction to Traverse City Whiskey Co.'s core expressions come to a close with this review of their Small Batch Bourbon. Aside from their American Cherry Whiskey, this is one of the lowest-priced offerings they have. Make no mistake, Small Batch is meant to be more of an introduction to their brand than a powerhouse competitor with other distilleries. Still, a bottle like this will demonstrate their blending prowess.
There are countless options when it comes to low-proofed bourbon sourced from MGP. That means that producers have to find a way to make their stand out. The methods they use revolve around unique packaging, barrel finishes or a very cheap price. Traverse City doesn't necessarily fit into any one of those traits (although it is fairly cheap), but it's main claim to fame might be that it spends a majority of its life aging in Traverse City, Michigan rather than where it was distilled. This is by design according to TCWC Founder, Chris Fredrickson.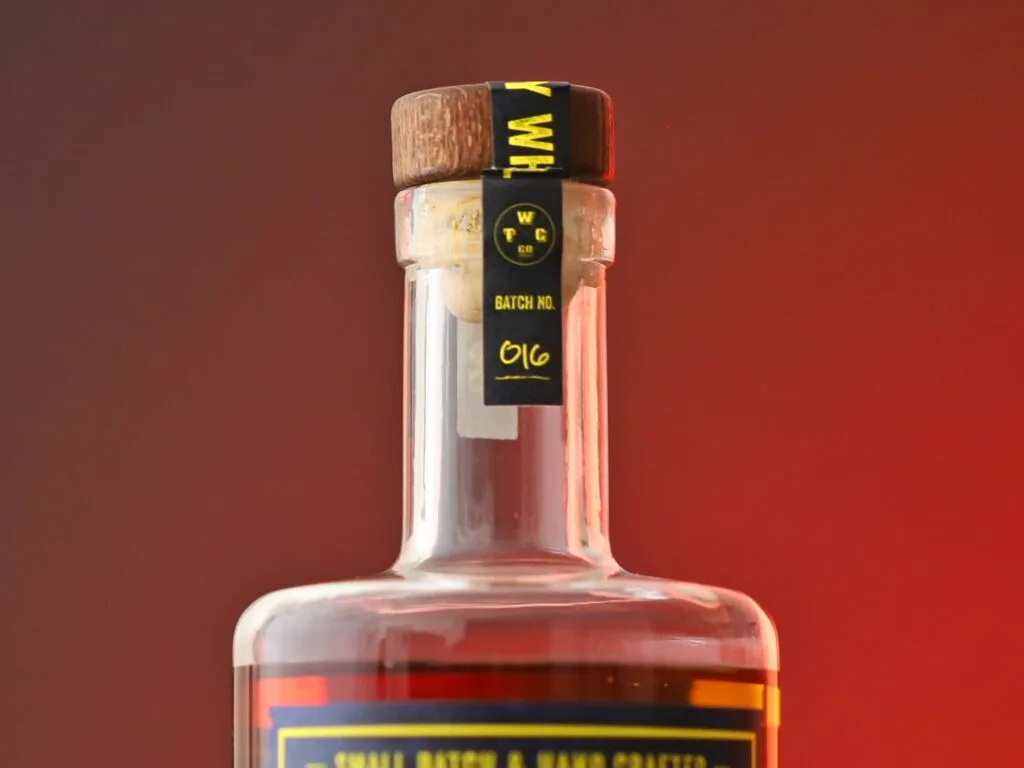 Located two climate zones north of Lawrenceburg, Indiana, Traverse City might not seem like the ideal climate to age bourbon. But the key factor in having the barrels at your actual distillery is that they can be observed (sampled) more frequently. This lets the team know if they're ready for use or not.
Before I get into the review, I must give TCWC a big compliment: they are very upfront that this bourbon was distilled in Indiana. That's something a lot of Non-Distiller Producers (NDPs) don't do. MGP already makes some damn fine bourbon, so why not advertise that as a fact? TCWC has been known to blend in their own whiskey with MGP in other products (in which case the label will not used the words "Distilled in Indiana") but that's not the case with this small batch. Every drop was sourced from MGP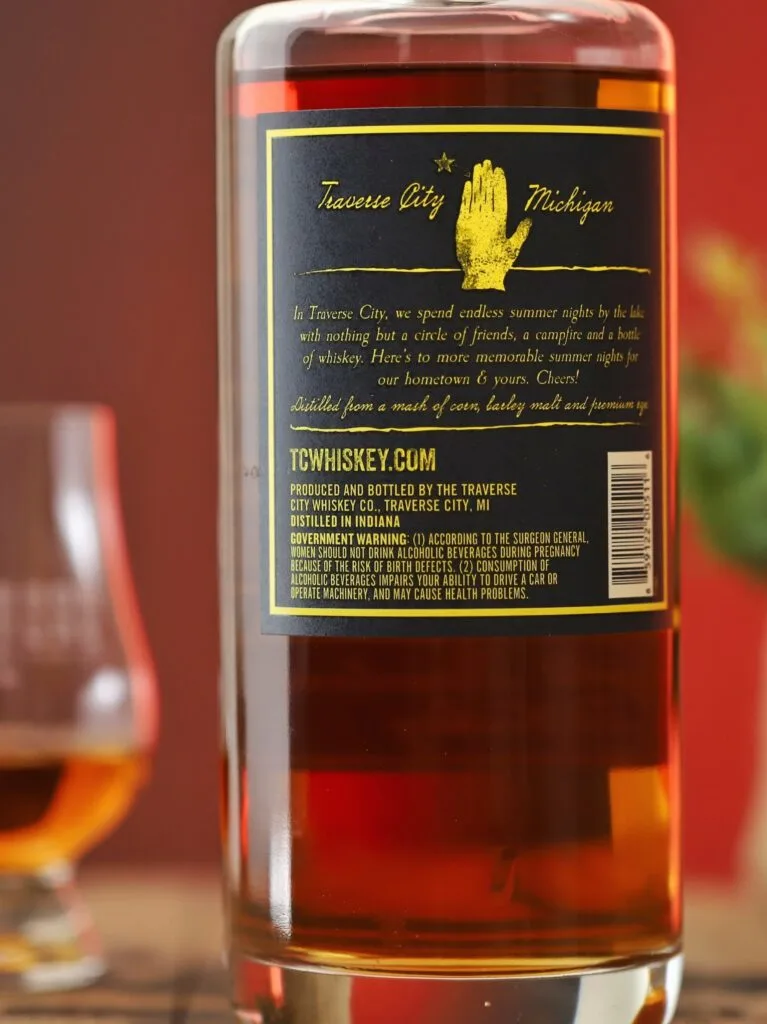 Small Batch has been released steadily over the years, which means they are finding success with customers. Let's find out why that is. As usual, I sampled this neat in a glencairn.
Tasting Notes
Nose: The scents that first come out of the glass showcase all of the notes I'd typically associate with MGP bourbon with the added surprise of floral notes. Caramel provides the sweetness while a faint butterscotch note hints to a more delicate kind of aging. A small amount of oak is accompanied with a bit of ash. There's even orange zest which reveals its high-rye content.
Palate: With each sip, I'm happy to find a nicely developed, moderately oaky bourbon. Baking spices are plentiful with cinnamon, anise and vanilla. Sweetness comes from a sort of toasted brown sugar note. I'm still picking up on floral notes that expose the rye grain's presence.
Finish: Lingering wood tannins give way to a nice bit of spice – mainly cinnamon stick and allspice. Fruit notes become more apparent too with cherry, dried apple and citrus peel all found at the end.
Score: 6/10
I'll be the first to admit that I thought that this would be thin and flavorless at only 86 proof. I was proven wrong. What surprised me was the amount of flavors that I found and its complexity for being only around four years old. Thinking of other sub-90 proof bourbons in this category makes me believe that Traverse City's Small Batch could easily hang with any of them.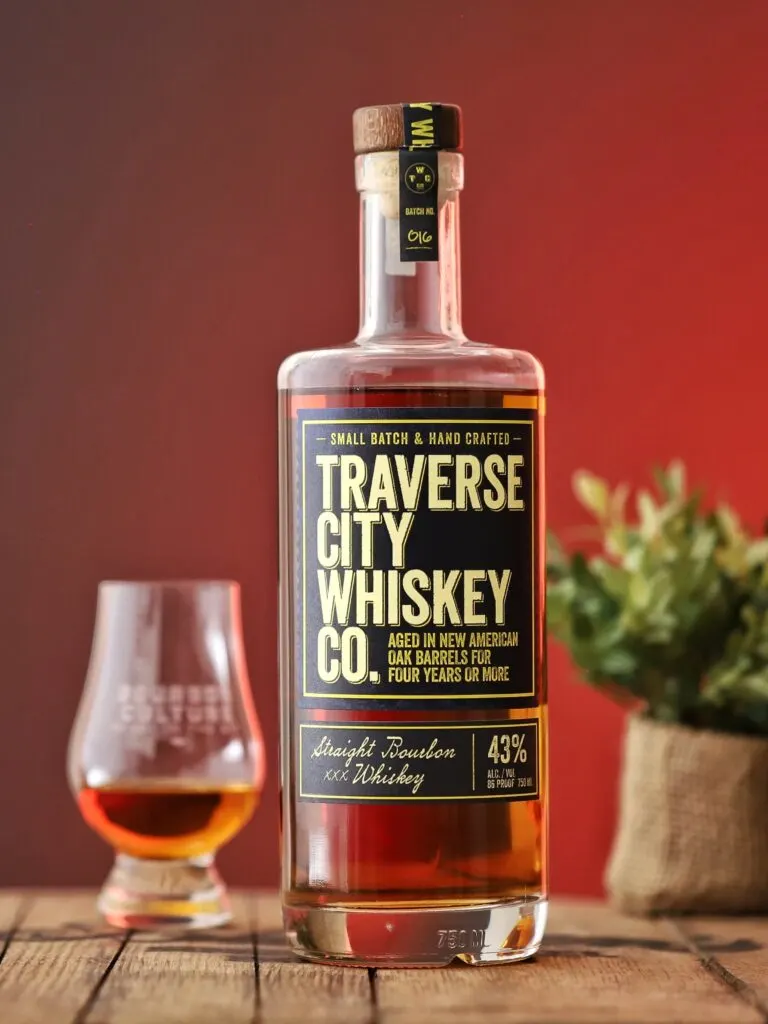 The fact that this is non-chill filtered has also helped it achieve a mouthfeel that is noticeably richer than, say, Evan Williams Single Barrel or 1792 Small Batch. I think that the main reason behind that is because Traverse City batches are very small; meaning a lot of care and attention went into what the final product would taste like.
Final Thoughts
While I'm by no means saying you should rush out and buy a bottle, just know that if you're in the mood for a bourbon that can hold its own as an easy sipper or in a cocktail, this bottle is worthy of your money. And if you're just getting into bourbon, pairing this up with a dash of Traverse City's American Cherry whiskey could be a delicious change-up from your bourbon routine.
The limited market this is distributed means that you won't be able to find it everywhere, but Traverse City Whiskey Company's Small Batch bourbon is a great introduction to low-proof MGP and what great blending can achieve.
Featured Products
Description:

The Aged & Ore Neat Traveler is a complete travel kit for spirits. We combined our widely praised Neat Glass with one of our 3oz Flight Bottles and housed them together in a custom EVA travel case. Perfect for a night away with your favorite pour. The tie
Description:

The Aged & Ore Bottle Flight is a premium set of 4 custom silicone wrapped glass bottles designed to transport and share samples of your favorite spirits. The flight bottles come in a custom EVA travel case that fits perfectly in any small bag. An Aged &
Description:

This Bundle combines two of our crowd favorite products, creating the ultimate travel bundle to bring along your favorite spirits and glassware. Bundle Includes: Neat Traveler (Gray) Bottle Flight (Gray) Note: This bundle is only available in gray and col
*Bourbon Culture is reader-supported. When you buy through links on our site, we may earn an affiliate commission.