This may come as a surprise to some, but not all products that are bottled at Buffalo Trace distillery are actually Buffalo Trace products. This includes one of most famous BT products… Blanton's Single Barrel.
Age International, a brand owned by Takara Shuzo Ltd, of Japan, is the brand that technically owns the rights to Blanton's and other products that are technically aged and bottled at the Buffalo Trace facilities, but supposedly do not use the Buffalo Trace Mashbill #1.
Ancient Ancient Age Bourbon Mashbill
What is commonly referred to as Buffalo Trace Mashbill #2, is actually a higher rye mashbill that is owned by the Age International brand for their own products to include Blanton's, Rock Hill Farms, Elmer T. Lee and their own namesake: Ancient Age.
In the US, there are currently 3 different variants of the Ancient Age label, Ancient Age (80 proof), Ancient Age (90 proof) and Ancient Ancient Age 10 star (90 proof).
Ancient Ancient Age used to carry a 10 year age statement many years ago before the bourbon boom depleted all of their stocks and forced it to eliminate the age statement. Now it is rumored to be only around 36 months old.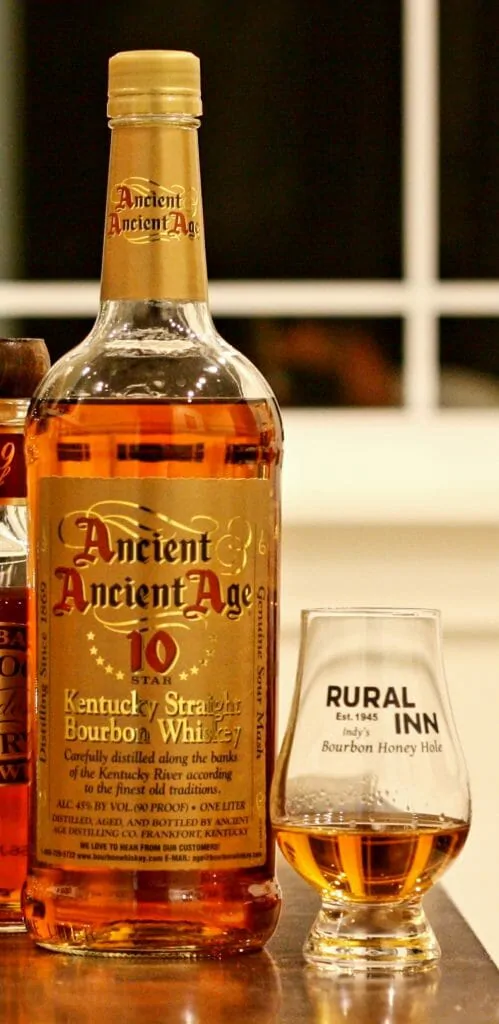 Ancient Ancient Age 10 Star is hard to find anymore and has seemingly dropped the 750ml version in favor of a full liter bottle. Compared side-by-side with its shorter bottled brethren, it looks absolutely massive.
I picked this bottle up in Kentucky a couple months ago for $30 and was excited to complete my BT Mashbill #2 lineup.
But at 36 months old, how does this taste? Buffalo Trace generally graces every bottle with their magic before bottling them up, but still, young distillate is hard to get right. Let's dive right in. This was sampled neat and in a glencairn.
Ancient Ancient Age Bourbon Tasting Notes
Nose: The cherries and butterscotch on the nose start out very faint but build during the tasting session. Don't get me wrong, it does get a little better, but never comes close to the full bodied aromas that even a bottle of Buffalo Trace presents.
Get updates on the latest whiskey reviews and more from straight to your inbox.SUBSCRIBEI consent to receiving emails and personalized ads.
The young nose has some buttery yeast roll scents to it, which I usually find in younger distillate. There's a small amount of cinnamon and vanilla as well.
Palate: Young and underdeveloped is easy to recognize here. It's somewhat grainy with lots of ethanol and a strong pepper heat. A little bit of that famed Buffalo Trace cherry shows up to offer a nice fruit note too.
Then, there's some Cinnamon Toast Crunch and Corn Pops cereal note, but the sweetness is not fully developed. The mouthfeel is somewhere between thin and medium in fullness, but otherwise it's begging for more time in the barrel.
Finish: Cherry cough syrup and some astringent oak hang around a while. There's also a fairly pervasive dry tobacco notes. The little bit of caramel keeps the finish just sweet enough to stop me from calling the finish "dry."
Score: 4.9/10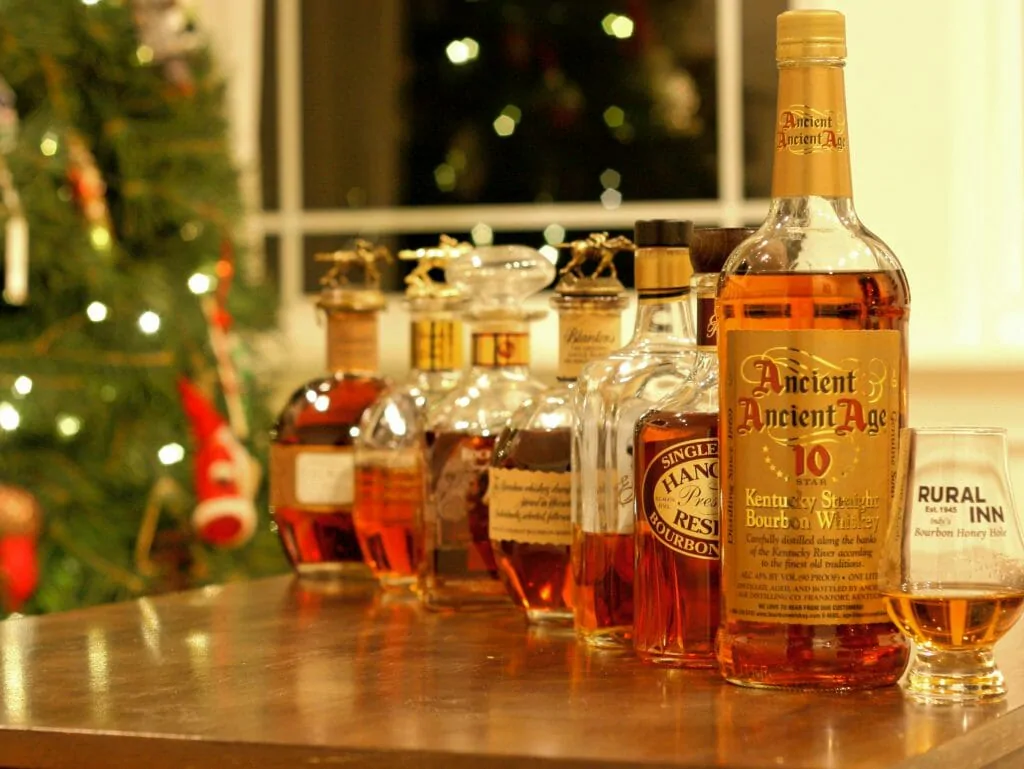 In a way, this was a really fun dram to break down because I could taste the beginnings of how each of these flavors would've possibly morphed into some of the better known bottles from Buffalo Trace.
But ultimately, when I look at the notes I compiled from 3 different tasting sessions with this one, it's just not up to par with what the price suggests.
Even if this was for sale as a 750ml, which would put it around the price point of Buffalo Trace, it would be handily beat by the Buffalo Trace in terms of flavor, richness and depth.
Final Thoughts
It's odd to think that the only reason this exists is to keep the label alive until the day that they can finally start putting an age statement onto it that's worthy of its name.
In the meantime, my opinion is that there is a reason this is so hard to find, and that is because both Buffalo Trace and Age International are ashamed of its current state and that they don't want you to find it.
Until then, this bottle exists solely because of its legacy from the past. But it is only a shadow of its former self.
Rating Breakdown
1 | Disgusting | Drain pour (Example: Jeffers Creek)
2 | Poor | Forced myself to drink it
3 | Bad | Flawed (AD Laws 4 Grain BiB, Clyde Mays anything)
4 | Sub-par | Many things I'd rather have (Tincup 10 year)
5 | Good | Good, solid, ordinary (Larceny, Sazerac Rye)
6 | Very Good | Better than average (Buffalo Trace, OGD BiB)
7 | Great | Well above average (Old Ezra Barrel Proof, Old Weller Antique)
8 | Excellent | Exceptional (Michter's Barrel Proof Rye, Four Roses Barrel Strength)
9 | Incredible | Extraordinary (13 Year MGP or Canadian Rye)
10 | Insurpassable | Nothing Else Comes Close (William Larue Weller)
Featured Products
Description:

The Aged & Ore Neat Traveler is a complete travel kit for spirits. We combined our widely praised Neat Glass with one of our 3oz Flight Bottles and housed them together in a custom EVA travel case. Perfect for a night away with your favorite pour. The tie
Description:

The Aged & Ore Bottle Flight is a premium set of 4 custom silicone wrapped glass bottles designed to transport and share samples of your favorite spirits. The flight bottles come in a custom EVA travel case that fits perfectly in any small bag. An Aged &
Description:

This Bundle combines two of our crowd favorite products, creating the ultimate travel bundle to bring along your favorite spirits and glassware. Bundle Includes: Neat Traveler (Gray) Bottle Flight (Gray) Note: This bundle is only available in gray and col
*Bourbon Culture is reader-supported. When you buy through links on our site, we may earn an affiliate commission.