*Bourbon Culture is reader-supported. When you buy through links on our site, we may earn an affiliate commission.
20 Years in a barrel. Not many bourbons can put that kind of age statement on their label. Usually when distillate is put into a new charred oak barrel, you're lucky if you reach 12 years old. The risk of over-oaking the distillate by time you reach an age like this is very high and distilleries will lose money the longer a barrel rests.
This is because of a variety of factors that include evaporation losses, diminishing return on investment and taking up space for another barrel to be put in its spot during that time. Sure, they could just charge more money for the bottles that eventually come from it, but higher priced bottles don't always find buyers.
But bottles like Pappy Van Winkle will always find buyers. This is because of just how rare and exclusive it is. It also helps when these labels won dozens of awards over their lifetime. Out of the 84,000+ bottles of Van Winkle products produced each year, Pappy Van Winkle 20 Year may account for somewhere around 3,000 of them.
For comparison, that's probably more than the annual bottle count of Michter's 20 Year Bourbon. Aside from those two brands, there aren't many steady, annual releases of 20 year old products to choose from.
Tips on aging gracefully – Just add wheat
The secret of Pappy's many years in the barrel has to do with its mash bill. For some reason, wheated bourbon is uniquely suited to be aged for longer than ryed bourbon. I don't know the specifics on why that is, but something about ryed bourbon just doesn't hold up to Father Time past 15 to 18 years (there are exceptions, of course).
I think it has something to do with the rye flavors contrasting with the barrel flavors so much. Additionally, wheat has a trait where it develops sweetness at a slower rate than rye will. Young wheated bourbon usually tastes doughy and chemical-like. But leave it in a barrel for more than 10 years and the sweetness begins to take over which decreases the possibility of over-oaking it.
Pappy (I'm talking about the man) was one of the first to use wheat as a flavoring grain in large-scale production which would (maybe unknowingly) secure his and his offspring's brands for years to come.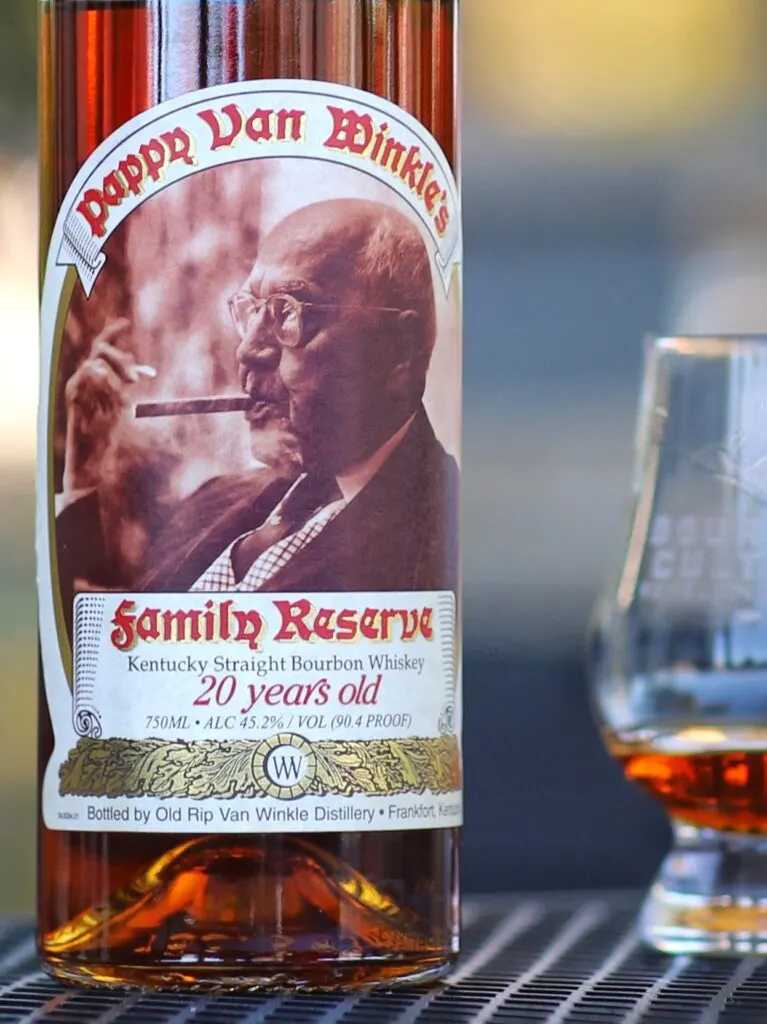 Another huge factor in developing a great product is also the attention to detail for barrel selection. Barrels are usually identified by Van Winkle employees before going past the 15 year mark whether or not they're candidates to continue onward to the 20 or 23 year mark. This "barrel culling" results in very small amounts that are worthy to continue aging – which means lower bottle counts.
Pappy Van Winkle 20 Year Bourbon – the first product to wear the Pappy name.
Julian Van Winkle III was working out of The Old Commonwealth Distillery (which wasn't actually an operational distillery) in Lawrenceburg, Kentucky during the 1980s and 90s. From there, he batched, bottled and labeled all of the bottles for the products he created.
The barrels he was having distilled for him were stored in a rickhouse down the hill. These wore a variety of labels to include Old Commonwealth and Old Rip Van Winkle.
It was 2 years after Stitzel Weller had shut down (in 1992) when Julian released Pappy Van Winkle 20 Year. The bourbon wore the same style of label that it does today. Even the bottle shape was the same – albeit with glass that had a greenish tint to it.
He named it after his grandfather who made the brand famous in the first place. In 2002, he entered into a partnership with Buffalo Trace whereby they would begin to make the bourbon for him since his primary source was no longer available.
One of the main things enthusiasts are most interested in is what year Pappy Van Winkle products stopped containing 100% Stitzel Weller barrels in it. For Pappy 20, that would be the 2012 bottling year. There is a possibility that some future releases contained a portion of those legendary barrels later on.
But for a bottle like this one from 2019, chances are high that it is entirely made from stocks of wheated bourbon made at the Buffalo Trace Distillery. This mash bill is the same as the Weller mash bill (ratios are undisclosed)
Now that you know the basics of this bottle, it's time for a taste to see how this stacks up in the realm of Van Winkle products. I sampled this neat in a glencairn.
Tasting Notes
Nose: A surprisingly fruity opening that transitions into some of the most amazing antiqued wood scents I've had since… maybe Michter's 20? But getting back to the fruit – I figured they would have been long gone; covered up by the oak. But here they are – Cherry, strawberry and blackberry syrup.
Additional scents of rich caramel sauce, melted chocolate and a hint of hazelnut spread (so; Nutella) and an ever so slight amount of floral notes find its way into my nostrils. Yes, the nose smells very old overall, but it's not one dimensional like so many 20+ year Orphan Barrel releases.
Palate: This is about as rich and nuanced as an old bourbon bottled at 90.4 proof can be. However, I wish it had more proof so it would be punchier. Fruit flavors continue the trend from the nose with Christmas fruitcake, blackberry jam, cherry strudel.
When they mix with this wood-polish note, it makes all of the fruit start to taste like variations of themselves as fruit leathers. As for sweetness, so many years in the barrel have reduced these kinds of flavors but there are still just enough to declare that the palate is neither bitter or sweet. It's just… really balanced. A small amount of spice comes by way of ground cinnamon and allspice. The mouthfeel is sublime, bordering on lush. This is an amazing bourbon to sip.
Finish: The finish has to be where all of the bitter tannins catch up, right? Wrong! I do find that they are encroaching more, with flavors like cedar cigar box and antique oak, but I also find a small amount of floral flavors. Strange!
Chocolate, ground cinnamon and spiced fruit notes round out the flavors that linger for a moderate amount of time. Ultimately, the finish is the weakest part as it disappears quicker than I thought it would – or maybe I was enjoying it so much that I didn't want it to be over when it was.
Score: 8.7/10
Pappy Van Winkle 20 Year has a legendary nose with a palate is surprisingly layered and complex. Out of the handful of 20 year old bourbons I've tasted in my life, this tastes the "youngest" overall. And that's not a bad thing! I was expecting a bottle of liquified oak and what I got was a bourbon that could put most 12 year old bourbons from Heaven Hill or Barton to shame.
What Pappy 20 manages to pull off in terms of balance is shocking. I know I'm scrambling to protect my reputation after years of talking crap about how this version was bound to be the poorest value in the whole Van Winkle lineup. I was wrong and this bottle proves that there really was care in selecting what went into the bottle.
Final Thoughts
Would I take this over a bottle of bottle of Pappy Van Winkle 15? No. The 15 Year is still superior. But this is much closer to it than I thought it would be. Surely the 23 year is where the oak finally takes over, right? I'm left questioning that assumption after having this bottle (but I still think that's going to be the case).
This is not a bottle that you can just walk into a liquor store and find. This isn't even a bottle that bars in your area will have on the shelf. This is a rare animal reserved for the wealthy or the lucky (like winning the right to buy it in a raffle).
I've been drinking bourbon for over 5 years and have just now had my first taste of PVW20 and after all of the assumptions about a bottle like this, I've been humbled. I now have a newfound respect for this label and encourage you not turn down the chance if you ever have the opportunity to taste it.
Featured Products
Description:

The Aged & Ore Neat Traveler is a complete travel kit for spirits. We combined our widely praised Neat Glass with one of our 3oz Flight Bottles and housed them together in a custom EVA travel case. Perfect for a night away with your favorite pour. The tie
Description:

The Aged & Ore Bottle Flight is a premium set of 4 custom silicone wrapped glass bottles designed to transport and share samples of your favorite spirits. The flight bottles come in a custom EVA travel case that fits perfectly in any small bag. An Aged &
Description:

This Bundle combines two of our crowd favorite products, creating the ultimate travel bundle to bring along your favorite spirits and glassware. Bundle Includes: Neat Traveler (Gray) Bottle Flight (Gray) Note: This bundle is only available in gray and col
*Bourbon Culture is reader-supported. When you buy through links on our site, we may earn an affiliate commission.