*Bourbon Culture is reader-supported. When you buy through links on our site, we may earn an affiliate commission.
Pappy Van Winkle 15 Year Old Bourbon may be the youngest version of all the "Face Pappy's," but many enthusiasts think this is your one stop shop for the most complete experience within the brand.
The reasons for this circulate around opinions that Old Rip Van Winkle 10 Year is a bit too young, Lot B is under-proofed and Pappy Van Winkle 20 and 23 are bordering on too old and oaky while being too low in proof. Viewed in this context, Pappy 15 seems to be positioned in the "Goldilocks Zone" of proof and age.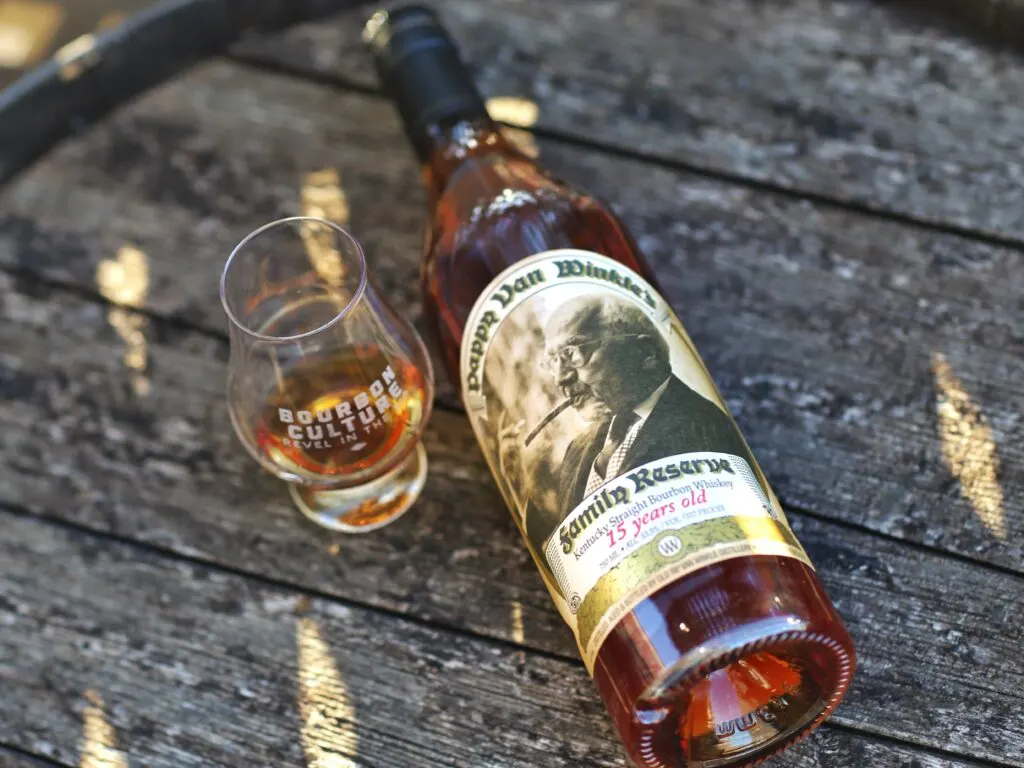 Do you share that opinion too? If so, then you probably believe that bourbon has an ideal age range that's between 8 and 12 years old. After that, the tannins begin to build up quickly and start to smother the bright notes.
I've had a handful of bourbons that can pull off aging into the teenage years, but when you begin to hit the 20 year mark, the liquid becomes dry, bitter and lacks in fruit notes. So if your barrel selection process is really good, I could see 15 years old being the ideal point to bottle bourbon at.
A Quick History of Pappy Van Winkle 15 Year
Pappy Van Winkle 15 Year didn't exist as a name for the product until 2004. Prior to that, it was just known as Old Rip Van Winkle 15 – which had been bottled continuously since 1989.
Julian Van Winkle III wanted a way to honor his grandfather, so he gradually released labels to honor him starting in 1994 with Pappy Van Winkle 20 Year followed by Pappy Van Winkle 23 Year in 1998 and finally a 15 year version 6 years later. All 3 of these labels contain an image of him on the front (hence the term "Face Pappy").
Along with the name change came a change to the bottle shape. Older version used a squat bottle (also called barrel bottle) with a screw cap while the modern version uses the same wine bottle shape as the rest of the lineup.
If you know anything about Pappy, you know their lineage is intertwined with one of the best wheated bourbon distilleries in Kentucky – Stitzel-Weller. Even though it shut down for good in 1994, the wheated bourbon that had been distilled there was still available in large enough quantities to be used for years afterwards.
So the big question on everyone's mind is "when did Pappy last contain 100% Stitzel-Weller bourbon?!" That question is a little harder to determine for multiple reasons, but it's generally accepted as being in 2009 for PVW15. According to a blog ran by the Wine and Cheese Place, Pappy 15 continued to contain a diminishing portion of this bourbon until at least 2012.
It also contained some wheated bourbon that was distilled at the Bernheim distillery during those years too (The Bernheim Distillery was owned by United Distillers which also owned the Stitzel-Weller Distillery). But that's an article for another day!
Pappy Van Winkle 15 Stats
The last time I saw numbers provided for the number of Van Winkle bottles produced annually, it was right around 84,000. That's total across all 6 labels (remember, there's a rye whiskey in there). I'd wager that Old Rip Van Winkle 10 Year and Van Winkle Special Reserve 12 Year compromise a majority of the bottles because… that's just how it goes in this industry. There's always way more younger whiskey than there is older.
All of this is to say that the yearly total production of Pappy 15 is probably around 5,000 bottles. And I'm sure I'm being very generous with that assumption too. Take an example like the newest Maker's Mark Cellar Aged release – which has 30,000 bottles produced annually – and you'll begin to see why Pappy Van Winkle 15 Year is so incredibly hard to find and why its value is so insanely high on the secondary market.
Modern versions of Pappy Van Winkle are made entirely from the same Buffalo Trace Wheated Bourbon Mash Bill that Weller is, a fact that many enthusiasts already know. The distillate comes off the still at around 130 proof and enters the barrel at 114.
Barrels destined for Pappy products are picked early in the barrels life by a team employed by the Van Winkles. They are closely monitored for maturation reasons in an effort to ensure that nothing is becoming over-oaked. If a product tastes like it's getting that way, it will be used for the next closest batch age.
Now that you know the basics about Pappy Van Winkle 15, it's time to crack open this 2019 release and see how it is. As usual, I sampled this neat in a glencairn.
Tasting Notes
Nose: The nose is just heavenly. Notes similar to dusty bourbons from decades-past swirl around. These wood varnish notes are powerfully pungent and add complexity to every sniff. Chocolate plays a big roll every time I stick my nose in the glass. That's the hallmark of a wheater done well.
The proof must have really amped up the spice notes because the nose has a bit of heat to it. Cinnamon mixes with allspice and nutmeg. Sweetness is introduced through layers of butterscotch. Even through all of this, a lovely floral scent lurks behind every major scent. It's a beautiful complimentary note that really elevates this experience.
Palate: Each sip is simultaneously very oaky (both antiqued and drying) while also having lots of baking spice notes. Honestly, it comes off like it has rye in the mashbill due to notes like that. The fruits are rich and jammy with cherry and blackberry notes galore.
Blackberry is my holy grail of bourbon flavors, so excuse me a moment while jump for joy. The mouthfeel is a textural work of art. It's like velvety butterscotch and some caramel sauce wrap around every note. A very slight floral note exists just like it did on the nose. This is one of those things that I never believed was the hallmark of a wheated bourbon until I began to taste through the different bottlings of Van Winkle – and I love it.
Finish: An amazingly long finish with a thick layer of tannins – antiqued oak and a hint of cigar wrapper. Baking spices (like cinnamon, ground peppercorn, clove and cardamom) are everywhere while the sweetness of the butterscotch leaves a satisfying, lingering sweetness.
The fruit on the finish kind of diminishes a bit, but you're still able to find some cherries and strawberry jam. Floral and chocolate notes round out a really extraordinary finish.
Score: 9.5/10
What a stunner! Each sip was complex with tons of tannin-forward aged notes and a uniqueness that you just can't find in a modern whiskey. Much like how Russell's Reserve 13 found a way to put some of that dusty funk into a modern-day bottle, so has Pappy 15. It's a thing of beauty.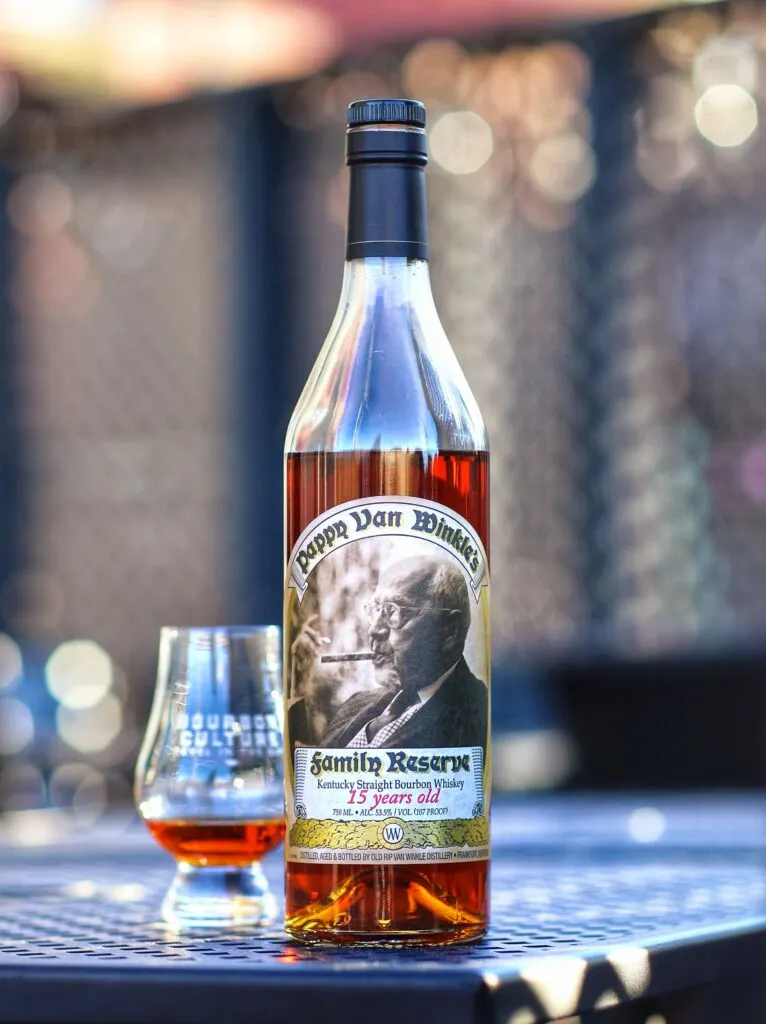 I truly believe barrel selection makes this bottle shine. I've had other 15 year old bottles of bourbon at similar proof to this one and none of them have come close in complexity of flavors (granted, none of them have been wheated either). It truly speaks to the care that each barrel must be subjected to that ensures that one bad apple won't spoil the bunch.
Final Thoughts
I'm more than halfway through the Van Winkle lineup and I have good reason to believe that it won't get any better than Pappy 15. I don't know how much more I need to convince you that this is the bottle to get out of the bunch.
Sure, there are novice enthusiasts that believe that they must chase the highest age statement in order to achieve perfection, but I'm telling you that you don't have to. Pappy 15 is the pinnacle and everything else amounts to showboating with a slightly inferior product.
Featured Products
Description:

The Aged & Ore Neat Traveler is a complete travel kit for spirits. We combined our widely praised Neat Glass with one of our 3oz Flight Bottles and housed them together in a custom EVA travel case. Perfect for a night away with your favorite pour. The tie
Description:

The Aged & Ore Bottle Flight is a premium set of 4 custom silicone wrapped glass bottles designed to transport and share samples of your favorite spirits. The flight bottles come in a custom EVA travel case that fits perfectly in any small bag. An Aged &
Description:

This Bundle combines two of our crowd favorite products, creating the ultimate travel bundle to bring along your favorite spirits and glassware. Bundle Includes: Neat Traveler (Gray) Bottle Flight (Gray) Note: This bundle is only available in gray and col
*Bourbon Culture is reader-supported. When you buy through links on our site, we may earn an affiliate commission.