*Bourbon Culture is reader-supported. When you buy through links on our site, we may earn an affiliate commission.
I was first introduced to this bottle from a man who I consider to be one of the OG's of r/bourbon – u/ShooterFlatch . It all started when I attended a Habitat for Humanity charity event at his home back in 2021. He showed us all a great time with plenty of good pours and food to boot (I recall him donning a chef's coat that evening too).
As the evening wrapped up, he led a few of us down to his collection where we could gaze at his prized bottles. As we took in the sights, there was one bottle that stuck out to me the most just because of its obscurity among a sea of all-time greats. It was this bottle of Rendezvous Rye from High West.
Now I've seen single barrels of High West before. Those have always been fairly common. I've even seen some single barrels of Campfire and Rendezvous Rye, which are much more rare (usually only available at the Gift Shop). But when my eyes wandered to the ABV portion of the label, I had to do a double take – 63.5%?! I've never seen a bottle from High West ever carry a proof this high.
At that moment I realized that I had to find out everything I could about it and eventually get a taste.
A Brief History of High West's Single Barrel Program
High West was one of the original American whiskey producers that brought finished whiskey into mainstream attention. They weren't the first to do it, but they should be mentioned in any conversation where finished (American) whiskey pioneers get brought up. Midwinter's Night Dram was a groundbreaker when it combined rye whiskey and Port wine finishes as an annual release starting in 2013.
High West began to devote more resources to finishing their stocks of bourbon and rye whiskey in unique barrels. They did it with all of their base products – most notably their Double Rye! and American Prairie Bourbon. But they also did it with their Rendezvous Rye and Campfire Whiskey in rare circumstances.
Typically, they would proof down the base whiskey to 100 proof before putting it into the finishing barrel. I have tried to research why they do it this way, but nothing comes up. My theory is that it allows the flavor of the finishing barrel to be more noticeable since the ABV would be lower. This is why almost every single barrel release ends up being bottled between 98 and 103 proof.
If you've noticed, High West's modern-day picks (2020+) have virtually zero secondary market value whereas ones from 2016-2018 still do. The reason is because their recipe components have drastically changed. What changed? A particular rye whiskey that is probably lost forever to the sands of time because they ran out.
The Secret Ingredient: Barton Rye Whiskey
High West is most famously known for their rye whiskey. Yes, they've bottled bourbon and "Bourye's" (a blend of Bourbon and Rye) for almost the same amount of time, but their claim to fame has always been their rye whiskey.
They had two main sources for it; LDI (MGP) and Barton Distillery. The MGP rye recipe is their tried-and-true 95/5 high-rye mash bill. But for Barton, they acquired two separate lots of barrels. One uses a 53% rye, 37% corn and 10% malted barley mash bill (which was primarily used in Double Rye!) and the other used 80% rye, 10% corn and 10% malted barley mash bill (this was used primarily in Rendezvous Rye).
I won't dive into the story of why Barton had produced a rye whiskey that just sat around Kentucky for 16 years, but suffice to say that High West hit the jackpot when they bought them all up. When it was combined with rye whiskey from LDI, the final result was widely considered to be an amazing product that was only held back by the low bottling proof.
The Fifth Column (T5C) Whiskey Group strikes gold at High West
I must admit, I do not know much about T5C, the group that this bottle of Rendezvous Rye was bottled for. My research came up with this:
T5C is an offshoot of a larger enthusiast group called 1789b. 1789b was full of hardcore spirits enthusiasts and people in the alcohol industry. At some point, a certain number of their members decided that the picks they were doing either wasn't enough or the right kind, so they split off.
Unfamiliar with the term "The Fifth Column?" Look it up and it becomes obvious why they went with this name. But they'd come together to do single barrel picks that were primarily kept inside of the group. It's rare to find a T5C pick on the secondary market.
The origin story of this bottle was that T5C had originally picked two barrels from High West in 2016 that they intended to call "Peat" and "Rose." Peat was supposed to be finished in a peated Scotch cask and Rose was supposed to be finished in a barrel that previously held Four Roses bourbon.
What was High West doing with Four Roses barrels? Their American Prairie Reserve Bourbon used it as a blending component from 2012 to 2015.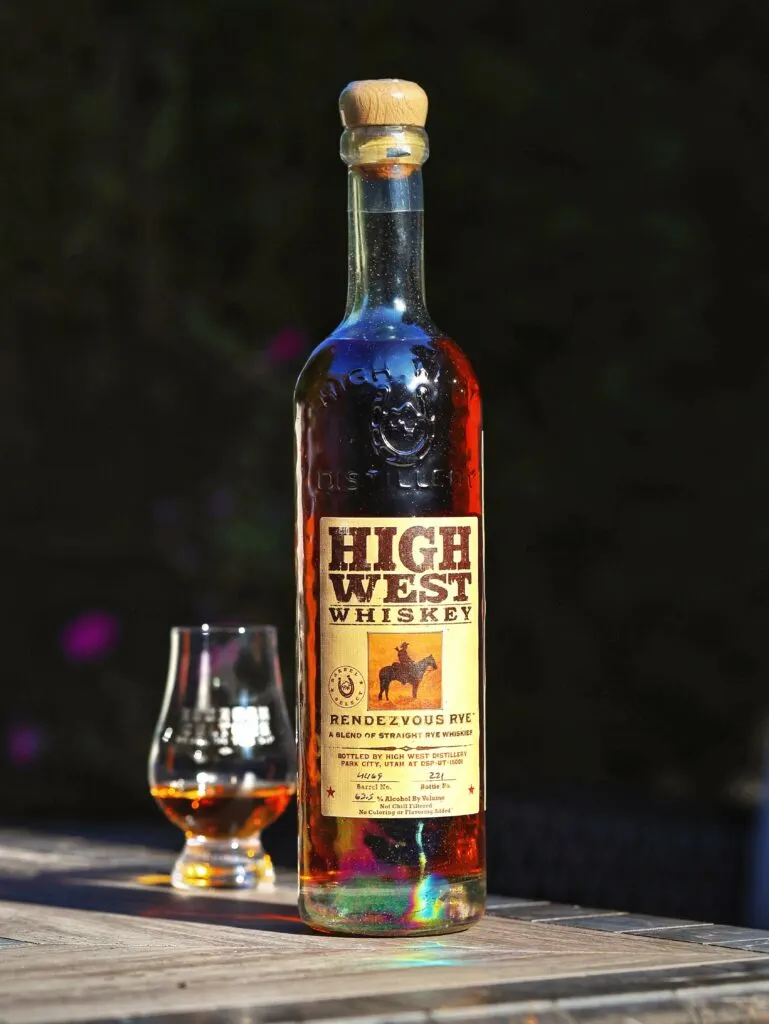 When the bottles (and barrel) arrived, the members sampled it side-by-side with the leftover sample from the day they did their pick. The two rye whiskies seemed very different from each other. So they placed a phone call to Dave Perkins, founder of High West, who looked through his shipping database. Sure enough, the barrel that T5C picked was sent to RPM Steak in Chicago (never heard of it? Ask your wife who Giuliana & Bill Rancic are).
The group requested a new barrel – this time of Rendezvous Rye AND they wanted it at barrel proof. Dave granted their wish. This might be the first and only time High West has ever done a single barrel pick bottled at cask strength.
Perkins took a nearly-full barrel of 6 year old rye whiskey from LDI (MGP) and dumped both halves in separate used rye whiskey barrels. From there, he topped the barrels up with 16 year old Barton Rye Whiskey (80% rye, 10% corn, 10% malted barley) and let it age for an additional year.
The end result was close to a 50/50 split of LDI and Barton Rye whiskey that yielded about 220 bottles!
When the barrel was dumped, the final proof turned out to be a mind-boggling 63.5% ABV (127 proof!). I am unsure if the proof remained the same for the second barrel which ended up being sold at the Gift Shop in Park City, UT. Honestly, I can't find much info on this sister barrel at all.
It's stories like these that are so cool to find in the industry. Oftentimes, producers box groups into unimaginative picks from pre-determined barrels. What ends up happening is that one group's trash ends up being another group's treasure. But to have the owner of a distillery literally give your group a barrel pick at a proof that's never been done before is pretty special. Last I heard, a bottle of this was posted to the secondary for $1500 (but didn't sell).
So how does something so rare taste? I'm going to find out now. As usual, I drank this neat in a glencairn.
Tasting Notes
Nose: This is a rye-lover's dream come true. Herbal notes like dill, tarragon, marjoram and pine all combine to create a fresh, clean aroma. Sweetness is courtesy of brown sugar. Baked goods like graham crackers and funnel cake add an interesting dynamic to each sniff.
The primary fruit note is citrus (of all varieties) with a very small amount of orchard fruit scents too. There's even this sort of mild savory note that I can't quite grasp what it smells like, but it's great. Most of these notes are wrapped up in a seasoned oak scent that shows off the age.
Palate: Upon first sip, I get strong herbal (primarily mint and fennel) notes along with floral flavors too. The sweetness is top-notch with honey, molasses and brown sugar all at once. Baking spices are abundant with clove, red pepper flakes, cinnamon, anise and pine needles (yes, I know that's not a spice).
The citrus notes (orange and lemon) combine with cherry cough drops while barrel char and a touch of old leather point to the length of time those Barton barrels spent in a rickhouse.
Finish: Lingering, peppery heat smolders on my tongue after the sip is complete. There are sweet fruit notes like citrus and assorted berries. Herbal notes like mint and menthol offer a refreshing contrast to honey and molasses.
There are also wood and leather flavors, but I expected just a bit more. The finish lasts forever and it feels like the residue has coated my mouth like a paint. In a way, this is probably in my top 10 of longest-lasting finishes I've had for a whiskey. I'm not complaining though!
Score: 9.2/10
Absolutely spectacular. There's nothing else quite like it out there. Frankly, it tastes like a higher-proofed Kentucky Owl Rye Whiskey batch. Drinking this reminds me of MGP's 95/5 rye whiskey at its heart, but the additional flavors from the Barton rye make it almost unrecognizable.
The brown sugar, pine needles, dill and citrus seem like classic Indiana-style rye whiskey. The rest could be the result of adding that complex Barton Rye Whiskey to the mix. I'd drink this every day if I could.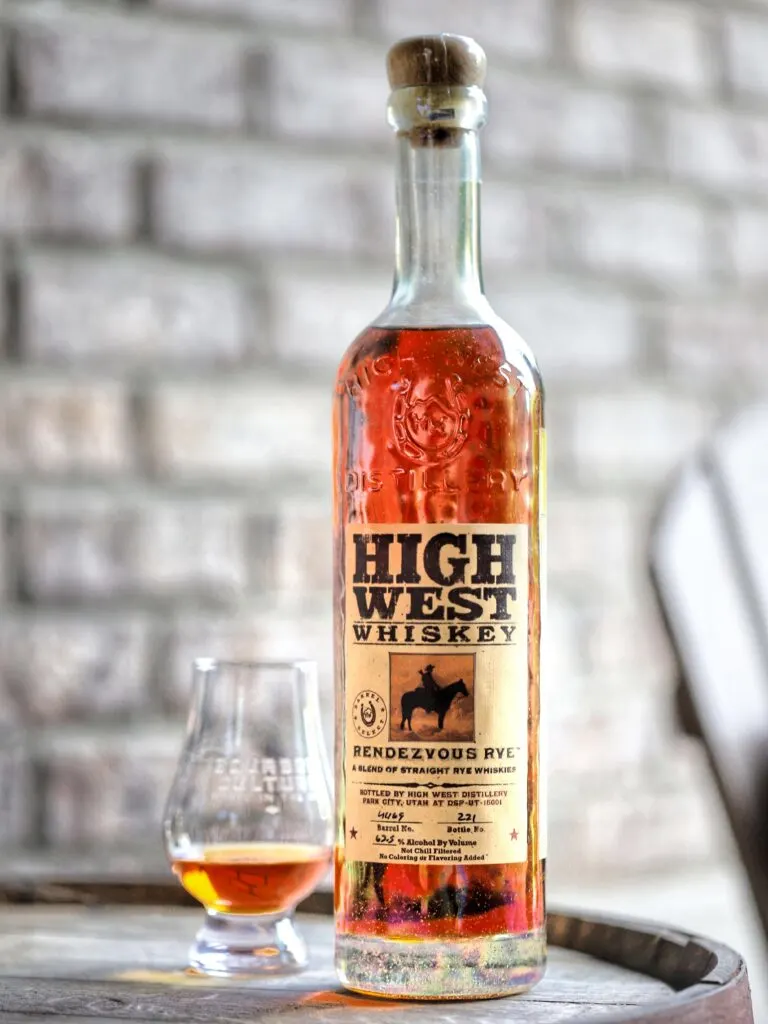 I was debating the score for a minute and what was keeping it from hitting a perfect 10. Don't mistake this 9.2 as it having a flaw, because it really doesn't. It's 127 proof points taste more like 115. It's flavorful from start to finish with a taste that I couldn't scrape out of my mouth even if I wanted.
The only thing I wish it had more of was tannins. Just a little bit more oak in the liquid or tobacco or something like that would've made this perfect. That's really splitting hairs at this point, though.
Final Thoughts
Obviously, the bottle in this picture is not mine. I purchased a sample from a T5C member for a whopping $100, but I had the intuition that this was going to be worth it – and it didn't let me down.
I've reviewed a few whiskies over the years that I just know are going to become collectors items when I see or taste them. What makes them collectors items? When they are something you'll never see again. Recently, I reviewed an Old Forester Single Barrel that was bottled at barrel strength from Warehouse O.
It was the only barrel strength bottle to come from that warehouse and it was demolished while the pick was being sold. These are instances where you know you'll never see that kind of liquid again.
By that same token, this bottle of High West will also be impossible to replicate. It contains 16 year old Barton rye whiskey (which simply doesn't exist anymore) and was bottled at cask strength. High West has only recently started to bottle their bourbon at cask strength and might decide to do it with their rye whiskey in the future too.
But the whiskies used for those will always be inferior to the whiskies of yesteryear. So for the lucky few that have an unopened bottle of this, keep it safely tucked away. And for those that have one open, please share it with as many people as you can so they can taste the majesty that High West was once capable of – because it is never going to come back.
Featured Products
Description:

The Aged & Ore Neat Traveler is a complete travel kit for spirits. We combined our widely praised Neat Glass with one of our 3oz Flight Bottles and housed them together in a custom EVA travel case. Perfect for a night away with your favorite pour. The tie
Description:

The Aged & Ore Bottle Flight is a premium set of 4 custom silicone wrapped glass bottles designed to transport and share samples of your favorite spirits. The flight bottles come in a custom EVA travel case that fits perfectly in any small bag. An Aged &
Description:

This Bundle combines two of our crowd favorite products, creating the ultimate travel bundle to bring along your favorite spirits and glassware. Bundle Includes: Neat Traveler (Gray) Bottle Flight (Gray) Note: This bundle is only available in gray and col
*Bourbon Culture is reader-supported. When you buy through links on our site, we may earn an affiliate commission.