*Bourbon Culture is reader-supported. When you buy through links on our site, we may earn an affiliate commission.
In 2018, Michter's expanded their lineup to include two brands that did not carry the Michter's name: "Shenk's Homestead Sour Mash Whiskey" and "Bomberger's Declaration Bourbon." Both brands were throwbacks to previous names of the original Pennsylvania distillery before it became known as Michter's. In that same year, Michter's also released a very limited amount of single barrel bourbon that was bottled at barrel strength. Both were sold for a retail price of around $80-90 and both were roughly 108 proof. So why did they feel the need to have two separate labels that were selling virtually the same product? What differences separated these two?
Ever since Joe Magliocco brought back the Michter's brand, he instilled the philosophy of making the best whiskies out there "cost be dammed." This resulted in him sourcing barrels that used wood staves that were seasoned for around 18 months as opposed to the industry standard 3-6 months (for reference, Weller products use staves seasoned for 6 months). He also demanded that the barrels be toasted before being charred; a step that most distilleries skip due to the increased time and money to make.
Michter's Barrel Strength Bourbon utilized those barrel characteristics along with the low barrel entry proof of 103 in order to create the liquid inside. Bomberger's, on the other hand, uses barrels where the staves have been seasoned for an almost unheard of 3 years before being used to build a barrel. On top of that, some of the barrels were made using Chinkapin Oak, a type of oak tree native to the Midwest that were harvested for their extremely old age and richer flavors. If bourbon literature is to be believed, barrels made from Chinkapin Oak are considered the "Mercedes-Benz" of barrels.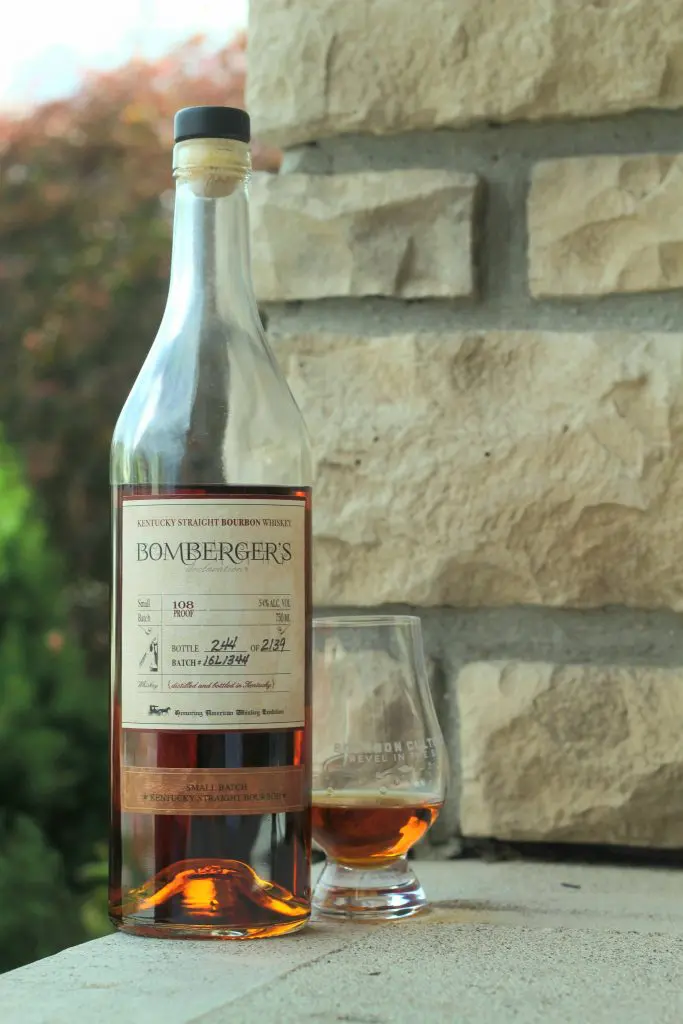 So which bourbon deserves to be on your shelf if you had to choose? I sampled both side by side and semi blind to find out.
Blind Glass 1
Nose: The nose on this has a fantastic aroma of sweet, simmering raspberry and cherry compote. The vanilla scents are wild on this one, with the strength of a burning vanilla scented candle directly below your nose. I'm also digging the slight toasted marshmallow scent along with buttery fresh baked cookies. Giving the nose some extra depth, I find some faint sweet oak with each sniff as well.
Palate: A moderately thick mouthfeel with baking spices like cinnamon dominating, It's hard not to think you haven't just eaten a spoonful of dark brown sugar. Baked goods like cherry pie and a handful of golden raisins round out some rich fruit notes. Oddly, there are so many fruit flavors that I begin to detect, that it's reminding me of a bag of Haribo Gummi Bears
Finish: The Gummi Bears taste continues, only it becomes less citrusy and more sweet, much like a "Fruit by the Foot." The finish shows its depth as seasoned oak, sweet mint and a dash of chili powder pour on notes that you'd expect a bourbon to finish with. This really touches on the trifecta of bourbon notes: Tannic, fruity and spicy. Fantastic.
Score: 8.5/10
Blind Glass 2
Nose: A big wiff of Citrus Orange Pledge wood cleaner leads the way, a note I typically find in Old Forester products. There's a lot of sweet scents like Grenadine, molasses, Turkish Delight and toasted brown sugar. There are also some interesting wood notes that smell like wood char, only sweeter. They're hard to describe.
Palate: Flavors of citrus zest (lemon and orange) jump out immediately. But the tannins come in with a lot of authority even though they aren't totally overwhelming. Oak spice, sweet cedar wood, and dry leather all add tremendous depth and makes it taste much older than it probably is. There's also a nice cardamom spice note that seems to pair very well with the flat ginger ale note I'm getting as well. Finally, and this is going to sound strange, but I continue to run into a taste that's much like Japanese milk sake. It's way up there on some of the most unique flavors in a bourbon I've had in a while
Finish: This bourbon finishes almost like a high rye mashbill would with lots of menthol cooling, sweet mint, and spicy cinnamon. Spiced honey keeps the heat at bay with a touch of sweetness, but there is some bitter, drying oak that comes through. The rye may also be responsible for some floral notes I'm detecting in the tail end as well with hibiscus and oolong tea leaves.
Score: 8.3/10
Blind Reveal:
Glass 1: Michter's Barrel Strength Bourbon
Glass 2: Bomberger's
Winner: Michter's Barrel Strength Bourbon!
Michter's has done a fantastic job with these "high proof" bourbons. The only thing they could do to eek out just a little bit more flavor, aside from longer aging, would be to bottle these non-chill filtered. But for the time being the Michter's Barrel Strength Bourbon nudged the Bomberger's out of the way to take the "W" in this comparison. This is not to say that the Bomberger's is bad. On the contrary, it continues to get better year after year as they continue to use more Chinkapin Oak barrels in each batch. Bomberger's is also somewhat obtainable and has an affordable price whether it's retail or secondary.
The MBSB on the other hand, was a distillery-only release in early 2019. Even when it was released in 2020, there was still only a couple barrels that were bottled up. All of this is to say that if you get the chance to find and buy the Michter's Barrel Strength Bourbon, then do it immediately.
Final Thoughts
If you are in any other area of the country, just know that Bomberger's Declaration is a terrific find as well. Both of these bourbons deliver on the promises of Michter's marketing to never spare any expense when making some of the best bourbon out there. And when you take your first sip, you'll see why.
Rating Breakdown
1 | Disgusting | Drain pour (Example: Jeffers Creek)
2 | Poor | Forced myself to drink it
3 | Bad | Flawed (AD Laws 4 Grain BiB, Clyde Mays anything)
4 | Sub-par | Many things I'd rather have (Tincup 10 year)
5 | Good | Good, solid, ordinary (Larceny, Sazerac Rye)
6 | Very Good | Better than average (Buffalo Trace, OGD BiB)
7 | Great | Well above average (Old Ezra Barrel Proof, Old Weller Antique)
8 | Excellent | Exceptional (Michter's Barrel Proof Rye, Four Roses Barrel Strength)
9 | Incredible | Extraordinary (GTS, 13 Year MGP or Canadian Rye)
10 | Insurpassable | Nothing Else Comes Close (William Larue Weller)
Featured Products
Description:

The Aged & Ore Neat Traveler is a complete travel kit for spirits. We combined our widely praised Neat Glass with one of our 3oz Flight Bottles and housed them together in a custom EVA travel case. Perfect for a night away with your favorite pour. The tie
Description:

The Aged & Ore Bottle Flight is a premium set of 4 custom silicone wrapped glass bottles designed to transport and share samples of your favorite spirits. The flight bottles come in a custom EVA travel case that fits perfectly in any small bag. An Aged &
Description:

This Bundle combines two of our crowd favorite products, creating the ultimate travel bundle to bring along your favorite spirits and glassware. Bundle Includes: Neat Traveler (Gray) Bottle Flight (Gray) Note: This bundle is only available in gray and col
*Bourbon Culture is reader-supported. When you buy through links on our site, we may earn an affiliate commission.