*Bourbon Culture is reader-supported. When you buy through links on our site, we may earn an affiliate commission.
Ever since Michter's Fort Nelson Distillery opened on February 2, 2019, their most allocated and special bottles have finally became obtainable for everyone that does not have a liquor store connection or lives on the coasts. First, their gift shop was a giving-tree of Toasted Barrel Bourbons and 10 year Bourbon. Then they had numerous weeks where you could easily find the 10 year rye. After that, there as a stint of time where their barrel strength bourbon and rye became available. Then the barrel strength rye got a big national release where I could even find it in some liquor stores right here in Indiana.
So why are these special releases so special? Well partly because Michter's has a history of sporadic production and releases. They claim that it's because their inventory is extremely small and that they won't put out any releases unless it's absolutely perfect. Prior to the release of this 2019 barrel strength rye, the last significant bottling was in 2016, so you can see the significant hiatus. Yes, I've seen proof of a 2018 release, but it was so tiny and looks like some of it actually came out in 2019.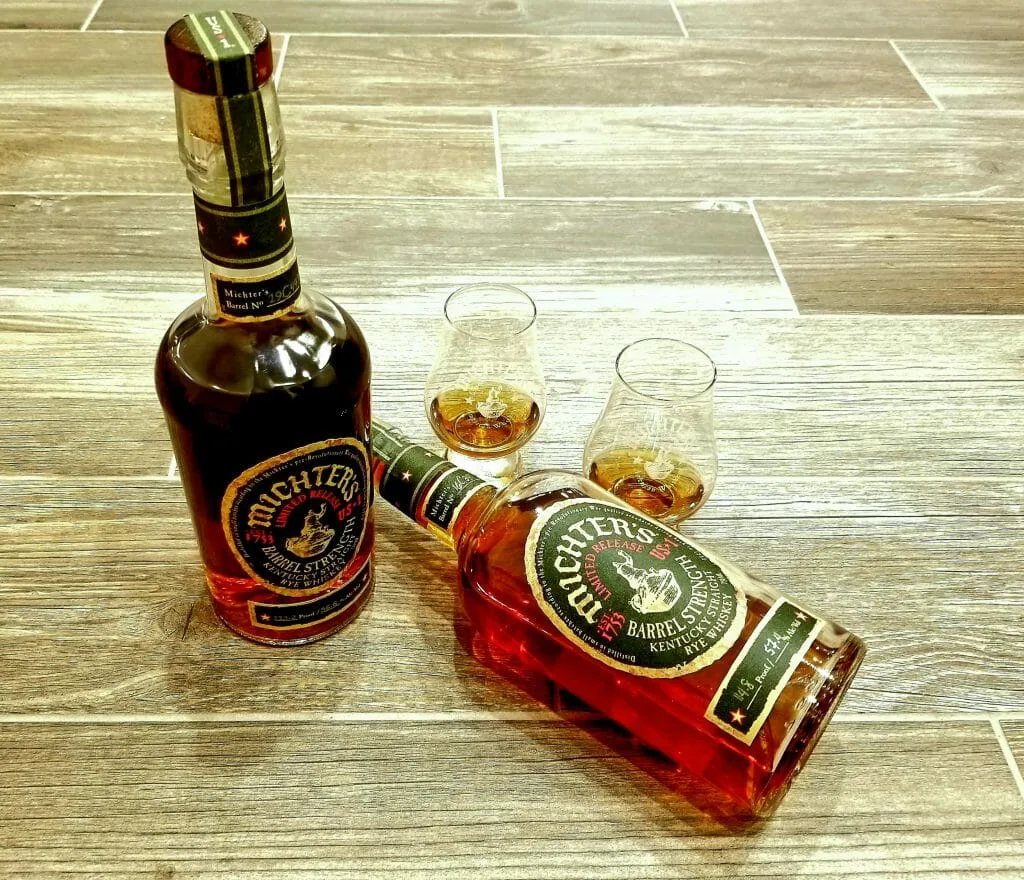 This barrel strength rye is single barrel and chill filtered while still retaining the classic Michter's original entry proof of 103. It is also rumored that this rye may not be much over 4 years old, but I can't confirm that. I'd put it at no older than 6 years old. Today I take a 2016 release and face it off against a 2019 release. The 2016 is surely still a Brown-Forman contract distilled juice, but the 2019 has a good chance of being made by Michter's. What differences are there? Is one better than the other? Let's find out! I sampled both of these semi-blind, neat and in a glencairn.
Blind Glass 1
Nose: Rye spice notes soaking in brown sugar. Brown butter slathered cornbread. Rose petals and sweet mint.
Palate: Fresh shaved ginger root with cinnamon. Marjoram and more sweet mint. White pepper. Siracha infused honey. This carries some decent heat and spice!
Finish: Toasted pumpernickel bread with cinnamon and honey butter. Some barrel char settles in to draw out an even longer finish.
Score: 8.3/10
Blind Glass 2
Nose: More rye characteristics than glass 1. Dominant aromas of pine needles and black pepper. Marjoram, lime zest and mint give a sort of "springtime fresh" backdrop aroma. Glass 2 seems slightly less sweet than Glass 1. I get more of a caramel sweetness as opposed to brown sugar. Cherry blossoms and tart, fresh picked blueberries are an interesting treat that I can't recall getting before.
Palate: Pine, honeycomb, tart citrus rinds (lemon, lime and especially orange). A pinch of chipotle chili powder and black pepper keep the heat level up. This glass also carries the same kind of heat at glass 1. It sneaks up on you if left in the mouth for too long.
Finish: Smoldering white peppercorns floating in honey begin to leave a nice finish. The heat quickly dissipates into a nice, cooling menthol effect. I wouldn't say one finish is better than the other when comparing glasses, but glass 2 seems to carry more rye notes than glass 1.
Score: 8.5/10
Reveal:
Glass 1: 2019 Michter's Barrel Strength Rye
Glass 2: 2016 Michter's Barrel Strength Rye
Winner: 2016 Michter's Barrel Strength!
This was a tough one to call. Although I detected two different sets of characteristics, it all boils down to this: The 2019 tastes more like a high corn, barely legal rye (like Pikesville). There was a decent amount of sweetness and corn detected that it helped mask some of the more rye-forward notes. The 2016 had more high-rye characteristics (but it's probably still the same mashbill). It had more floral, citrus and herbal notes than the 2019. If this was completely blind, I'd probably guess the 2016 to be a rye whiskey and the 2019 to be a high-rye bourbon. They weren't totally night and day, but they were different enough to differentiate. However, in the end, both were delicious.
Many people complain that Michter's products are generally No Age Statement (NAS) but I'm guessing they don't think the public will pay the high price of entry ($90) for a rye that's probably around 5 years old. But with the low barrel entry proof, bottled at barrel strength and (probably) aged in the heated rickhouses of Old Forester, this rye wants you to believe it's 8+ years old. And I'm okay with that. It's got the pedigree to keep rye lovers coming back to it for years to come and is easy to see why this gets so much love in the whiskey community.
Ratings Breakdown
1 | Disgusting | Drain pour (Example: Jeffers Creek)
2 | Poor | Forced myself to drink it
3 | Bad | Flawed (AD Laws 4 Grain BiB, Clyde Mays anything)
4 | Sub-par | Many things I'd rather have (Tincup 10 year)
5 | Good | Good, solid, ordinary (Larceny, Sazerac Rye)
6 | Very Good | Better than average (Buffalo Trace, OGD BiB)
7 | Great | Well above average (Old Ezra Barrel Proof, Old Weller Antique)
8 | Excellent | Exceptional (Michter's Barrel Proof Rye, Four Roses Barrel Strength)
9 | Incredible | Extraordinary (GTS, 13 Year MGP or Canadian Rye)
10 | Insurpassable | Nothing Else Comes Close (William Larue Weller)
Featured Products
Description:

The Aged & Ore Neat Traveler is a complete travel kit for spirits. We combined our widely praised Neat Glass with one of our 3oz Flight Bottles and housed them together in a custom EVA travel case. Perfect for a night away with your favorite pour. The tie
Description:

The Aged & Ore Bottle Flight is a premium set of 4 custom silicone wrapped glass bottles designed to transport and share samples of your favorite spirits. The flight bottles come in a custom EVA travel case that fits perfectly in any small bag. An Aged &
Description:

This Bundle combines two of our crowd favorite products, creating the ultimate travel bundle to bring along your favorite spirits and glassware. Bundle Includes: Neat Traveler (Gray) Bottle Flight (Gray) Note: This bundle is only available in gray and col
*Bourbon Culture is reader-supported. When you buy through links on our site, we may earn an affiliate commission.