*Bourbon Culture is reader-supported. When you buy through links on our site, we may earn an affiliate commission.
Barrell Bourbon's Batch 019 came on the heels of the release of Batch 018 in mid 2019. Barrell 018 had won heavily in the San Francisco World Spirits Competition and became one of the first Barrell Bourbon Batches since 011 that vanished as soon as it was put on the shelves. It even became temporarily allocated in a few states. Being so sought after also delayed it's movement from the coasts, inward to the Midwest by a month or more. The price for it at online retailers that had it for sale steadily climbed and many even put a "limit 1 per person" restriction on it. It was crazy times.
Batch 019
When Batch 019 came out, it offered the same kind of pedigree. It also won a Double Gold at the SFWSC and received a rating of 91 (just like Batch 018 did) with Whisky Advocate even before it hit the shelves. Since there is a theme with every Barrell Bourbon batch, the theme for 019 centered around making a more complex bourbon, so they split barrels into 5 different categories, with each highlighting a particular trait (it's unknown what traits they were after) before they were blended together. So I sat down to sample this and see if I could identify just what 5 different traits that Barrell was after when they created this. For this review, I sampled this neat and in a Glencairn as always.
Tasting Notes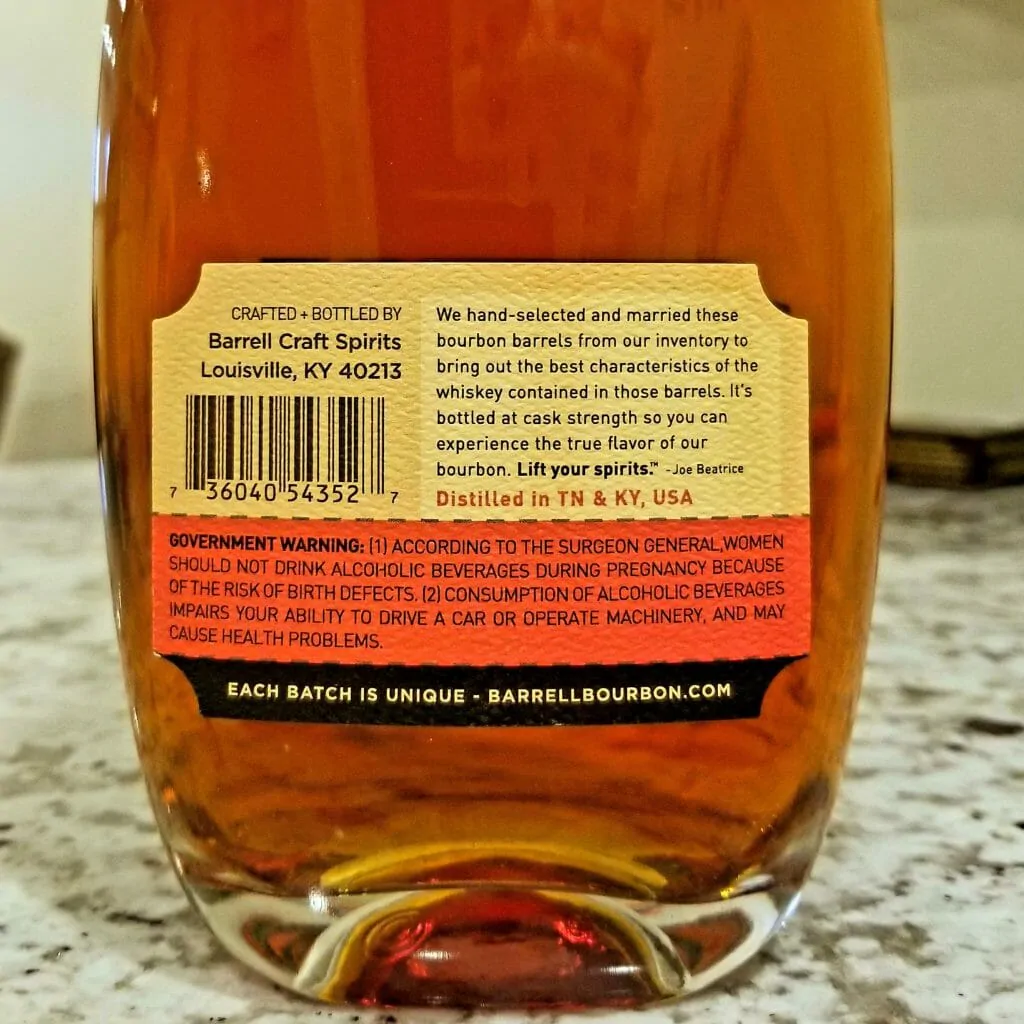 Nose: The nose starts off with a scent of buttered toffee before moving onto a nice sweet oak. There is also a fairly strong sweet cinnamon sugar butter that is melting on top of cornbread. Finally, I get some fruit in the form of a Triple Sec Orange Liqueur which also contains a little bit of floral notes afterwards.
Palate: The taste of sweet cherries, sweet Lemon-Drop candies and Grenadine syrup really highlight the lush fruit character of this bourbon. There's also a decent amount of mint and pepper flakes, which seem to highlight the rye-forward character that probably came from the Kentucky distillate that's in this batch. The tastes get more complex and developed with baking cinnamon, burnt-ish caramel and even some toasted pine nuts. I'm quite impressed I'm getting all of these notes.
Finish: The finish combines a majority of sweetness and tannic qualities. There's the trademark Dickel sweet "Kellogg's Corn Pops" cereal followed by lots of wet tobacco and oak. Some more dark caramel notes and candied orange peel also stick around. But if there's one thing that pushes the finish firmly into the "sweet" territory, it's this lingering powdered sugar donut taste that is as pleasant to experience as eating a real one.

Final Thoughts: this one started out very average, but it continued to get better as the dram went on. The sip was ultimately much more dry than other barrell offerings which have had the word "lush" used to describe them. The fruit flavors helped to elevate this to a much higher level though and ultimately, really came in with the assist.
Score: 8/10
On my initial review of this on Reddit, I scored this batch somewhat low. This was due to me drinking various other distillates before it, which really changes the profile of the Dickel distillate within (of note: this may not be a problem for everyone). But when I gave this the air time and prioritized drinking it first, I was surprised to find how alive it became. I also believe I have picked up on the 5 distinct profiles that Barrell was probably looking for before it blended all of them together, namely: Fruity barrels, barrels that were becoming over-oaked with lots of tannins, nutty barrels, baking spice barrels (like Batch 018 was) and finally barrels that showcased a sweet corn-forward profile that is typified of most Dickel distillate.
Final Thoughts
While I still enjoyed Batch 018 better than this batch, I now have a stronger appreciation for what this bottle was trying to showcase and have given it a score that reflects that. I'm always pleasantly surprised how Barrell set their sights on a particular goal and then goes and achieves it, and Batch 019 is no exception.
Ratings Breakdown
1 | Disgusting | Drain pour (Example: Jeffers Creek)
2 | Poor | Forced myself to drink it
3 | Bad | Flawed (AD Laws 4 Grain BiB, Clyde Mays anything)
4 | Sub-par | Many things I'd rather have (Tincup 10 year)
5 | Good | Good, solid, ordinary (Larceny, Sazerac Rye)
6 | Very Good | Better than average (Buffalo Trace, OGD BiB)
7 | Great | Well above average (Old Ezra Barrel Proof, Old Weller Antique)
8 | Excellent | Exceptional (Michter's Barrel Proof Rye, Four Roses Barrel Strength)
9 | Incredible | Extraordinary (GTS, 13 Year MGP or Canadian Rye)
10 | Insurpassable | Nothing Else Comes Close (William Larue Weller)
Featured Products
Description:

The Aged & Ore Neat Traveler is a complete travel kit for spirits. We combined our widely praised Neat Glass with one of our 3oz Flight Bottles and housed them together in a custom EVA travel case. Perfect for a night away with your favorite pour. The tie
Description:

The Aged & Ore Bottle Flight is a premium set of 4 custom silicone wrapped glass bottles designed to transport and share samples of your favorite spirits. The flight bottles come in a custom EVA travel case that fits perfectly in any small bag. An Aged &
Description:

This Bundle combines two of our crowd favorite products, creating the ultimate travel bundle to bring along your favorite spirits and glassware. Bundle Includes: Neat Traveler (Gray) Bottle Flight (Gray) Note: This bundle is only available in gray and col
*Bourbon Culture is reader-supported. When you buy through links on our site, we may earn an affiliate commission.