*Bourbon Culture is reader-supported. When you buy through links on our site, we may earn an affiliate commission.
Michter's makes some of my favorite limited edition releases. I have cravings for the Toasted Barrel Rye, the Barrel Strength Bourbon and Rye and their 10 year offerings, not to mention their throwback brands: Bomberger's and Shenk's. But the Toasted Barrel Bourbon is an expression that first pulled me into this brand because of the amazing things I read about it online.
Granted, those reviews were for the 2015 expression of this bourbon, but then there was a 3 year hiatus where it wasn't made. Then in 2018, Michter's finally started producing it again due to such large fanfare. I got a bottle at the grand opening of the Fort Nelson Distillery in downtown Louisville early in 2019 and was excited to try the rebirth of a legend. So let's jump in and see what I've been missing. I sampled this neat and from a glencairn.
Tasting Notes
Nose: The nose is immediately sweet with scents of caramel fudge, vanilla bean, and toasted orange. There's a lovely wood smell that is sweeter and more fragrant than most bourbons I smell… almost like French Oak was used in the barrels. It's delicious. There's also a little bit of baking spices lurking around with cinnamon at the forefront.
Palate: The palate opens up to reveal a very sweet taste, almost like lightly toasted marshmallows and light brown sugar. There's cinnamon raisin toast with a little bit of fruit preserves on top as well. Then, a taste much like a small amount of Redi-Whip was sprayed directly into my mouth comes around. The mouthfeel is overall, kind of thin which is surprising for something with a double barrel treatment.
Finish: A somewhat quick finish with a bit of bitter oak sawdust and dry tobacco at the end. There's a little bit of charcoal dust and not-quite-ripe blackberries . The sweetness doesn't stick around for too long, instead making way for a dry and slightly spicy finish for being not aged that long and low proof.
Score: 6.5/10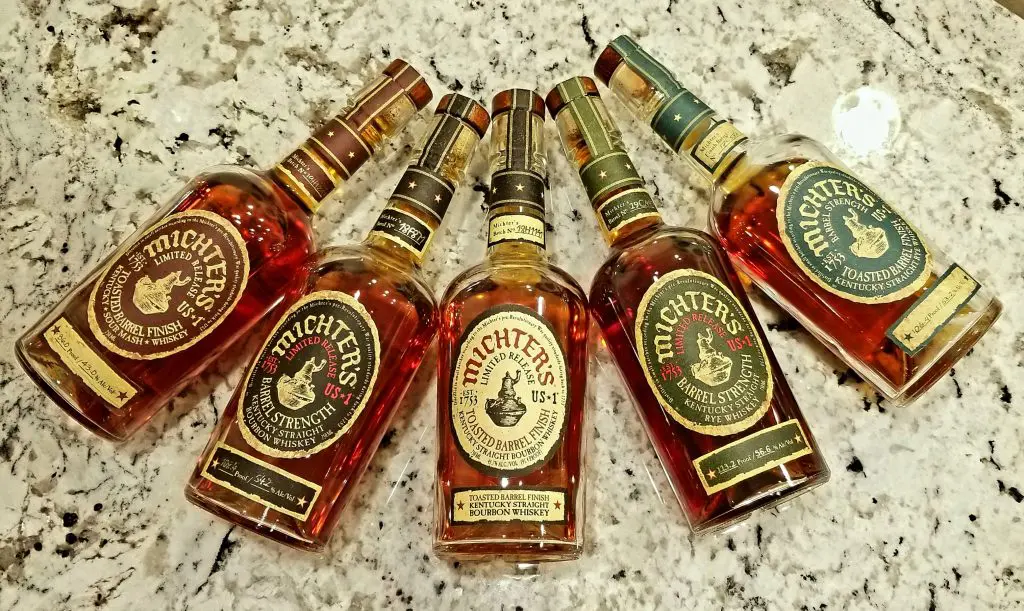 Michter's may have had a magic formula for their 2015 release, but I just can't find it here in the 2018 release. Although the positives of this dram were captivating, the negatives reared their heads too many times to simply forgive it. First, the mouthfeel was disappointingly thin, then the finish kept coming off as too dry with each sip. The nose was really the only positive in a drink that kept slipping a notch with each category I analyzed.
Final Thoughts
When you look at the value proposition for this on the secondary, whose price has risen to $150 lately, it seems like a poor choice. This is a great choice over regular Michter's and even some other bourbons in the 90 proof range, but I wouldn't be seeking out another one.
Ratings Breakdown
1 | Disgusting | Drain pour (Example: Jeffers Creek)
2 | Poor | Forced myself to drink it
3 | Bad | Flawed (AD Laws 4 Grain BiB, Clyde Mays anything)
4 | Sub-par | Many things I'd rather have (Tincup 10 year)
5 | Good | Good, solid, ordinary (Larceny, Sazerac Rye)
6 | Very Good | Better than average (Buffalo Trace, OGD BiB)
7 | Great | Well above average (Old Ezra Barrel Proof, Old Weller Antique)
8 | Excellent | Exceptional (Michter's Barrel Proof Rye, Four Roses Barrel Strength)
9 | Incredible | Extraordinary (GTS, 13 Year MGP or Canadian Rye)
10 | Insurpassable | Nothing Else Comes Close (William Larue Weller)
Featured Products
Description:

The Aged & Ore Neat Traveler is a complete travel kit for spirits. We combined our widely praised Neat Glass with one of our 3oz Flight Bottles and housed them together in a custom EVA travel case. Perfect for a night away with your favorite pour. The tie
Description:

The Aged & Ore Bottle Flight is a premium set of 4 custom silicone wrapped glass bottles designed to transport and share samples of your favorite spirits. The flight bottles come in a custom EVA travel case that fits perfectly in any small bag. An Aged &
Description:

This Bundle combines two of our crowd favorite products, creating the ultimate travel bundle to bring along your favorite spirits and glassware. Bundle Includes: Neat Traveler (Gray) Bottle Flight (Gray) Note: This bundle is only available in gray and col
*Bourbon Culture is reader-supported. When you buy through links on our site, we may earn an affiliate commission.