*Bourbon Culture is reader-supported. When you buy through links on our site, we may earn an affiliate commission.
In early 2019, I found my first bottle of Old Forester 1910 as they suddenly hit the shelves and then just as suddenly sold out and disappeared for over half a year when the inventory ran out. It was that sought after.
I drank a decent amount of it and found myself really enjoying the rich flavors that it had, even more than the Old Forester 1920 release. Then, after some reading, I realized that Woodford Reserve Double Oaked was essentially the same product with a few tweaks.
Assuming that Old Forester and Woodford Reserve use the same mashbill, there are really only subtle differences in what makes these two different.
Woodford uses giant pot stills whereas Old Forester more than likely uses a column still. From there, the barrels are aged in roughly the same kind of warehouses (temperature controlled/heated) for roughly the same amount of time (maybe 4 years) before being put into a second new white oak charred barrel.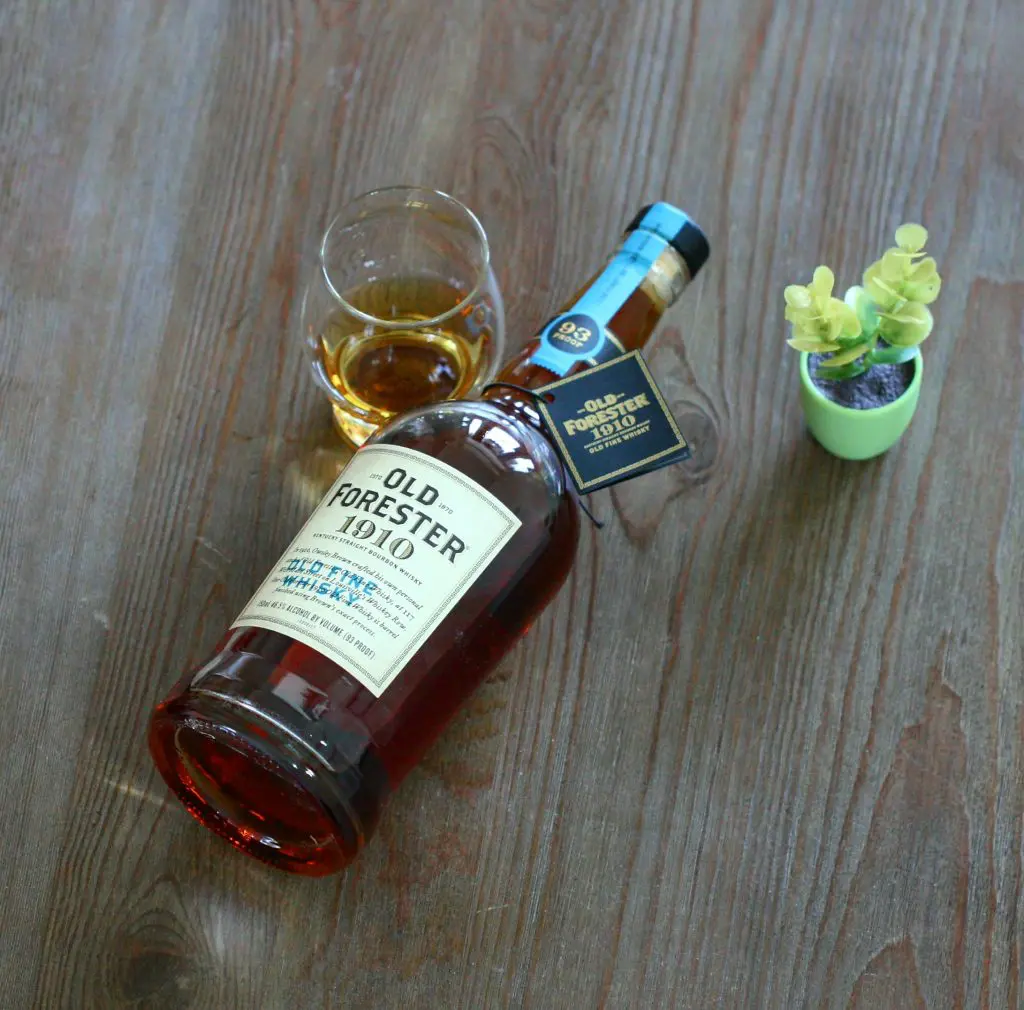 But the difference in that second barrel is what really separates the two. The Old Forester barrels are charred practically to the point of incineration (Level 4+ it may be referred to as) whereas the Woodford Reserve Double Oaked barrels are given a long and thorough toasting treatment before receiving the equivalent of a Level 2 char.
With so many similarities, these two are bound to be similar, but which one is better? Only a semi-blind taste test could reveal that, so let's dive in and take a look. I sampled these semi-blind, neat and from a glencairn.
Blind Glass #1:
Nose: There's a giant olfactory wallop of molasses cookies and dark brown sugar directly into my nose. There's a delicious scent much like fresh baked chocolate muffins with a pat of melted butter on top. These flavors dominate so much and are so sweet, that the charred oak in the background is hard to recognize.
Palate: A sublime taste of sweet oak and freshly baked molasses cookies transfers over from the nose. There's also cinnamon spice, grenadine syrup, cacao nibs and a hint of banana Laffy Taffy.
Finish: The smoky character is hard to describe, as its more subtle than a distillate that contains actual smoked grains. But the smoky charred oak and sweet toasted oak are immediately recognizable. There are some black pepper flakes for spice, but generally this is not that spicy. Although the oak seems sweet enough, there is some sweetness in the form of Werther's Original Candies. But the finish isn't all just sweets and oak, there's also sweet mint and wet tobacco that round out the lingering flavors.
Score: 7.3/10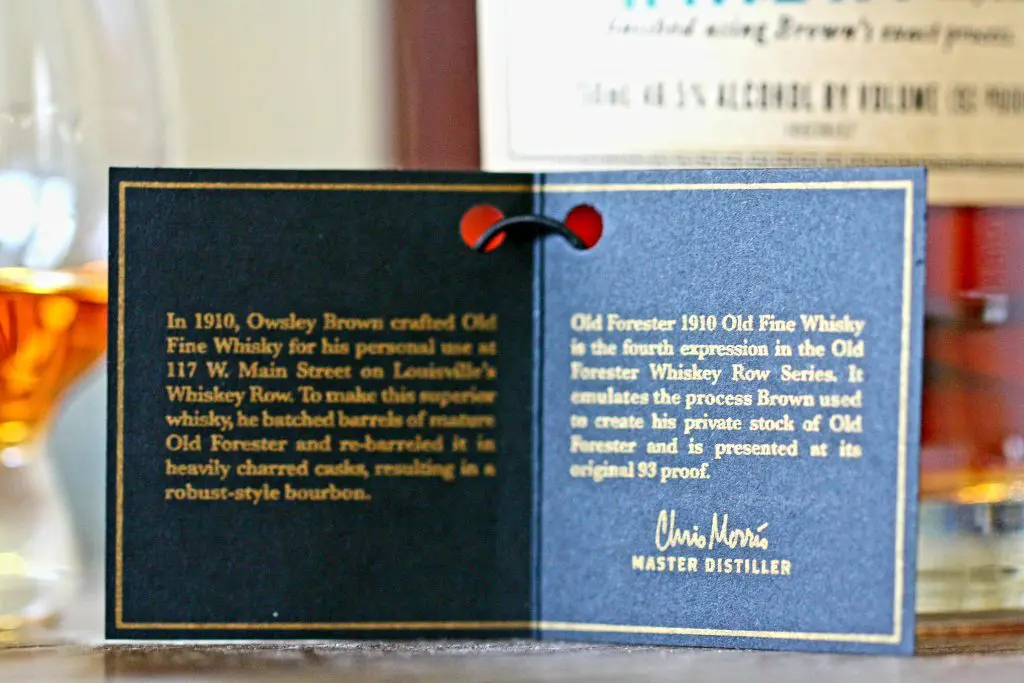 Blind Glass #2:
Nose: There's no denying that what I'm smelling is nothing less than Tollhouse Chocolate Chip Cookies. In fact, the baked goods trend continues with brownies that have butterscotch chips inside. There's also rich caramel and sweet oak. This nose is just a tiny bit sweeter than Glass #1.
Palate: A thick and rich mouthfeel, it's also got plenty of chocolate baked goods traits much like Glass #1. There's a little bit of banana bread essence throughout. The tannins are beautifully balanced with seasoned oak and Swishers Sweets cigar tobacco.
Finish: Very sweet oak and barrel char. There's no real bitterness going on here, just a lot of sweetness. I really enjoy the maraschino cherries and some cherry flavored tobacco that round out all of the chocolate I've been picking up. The best part about the finish is this melted butter aftertaste that really sticks around a while.
Score: 7.5/10
Blind Reveal:
Glass 1: Old Forester 1910
Glass 2: Woodford Reserve Double Oaked
Winner: Woodford Reserve Double Oaked!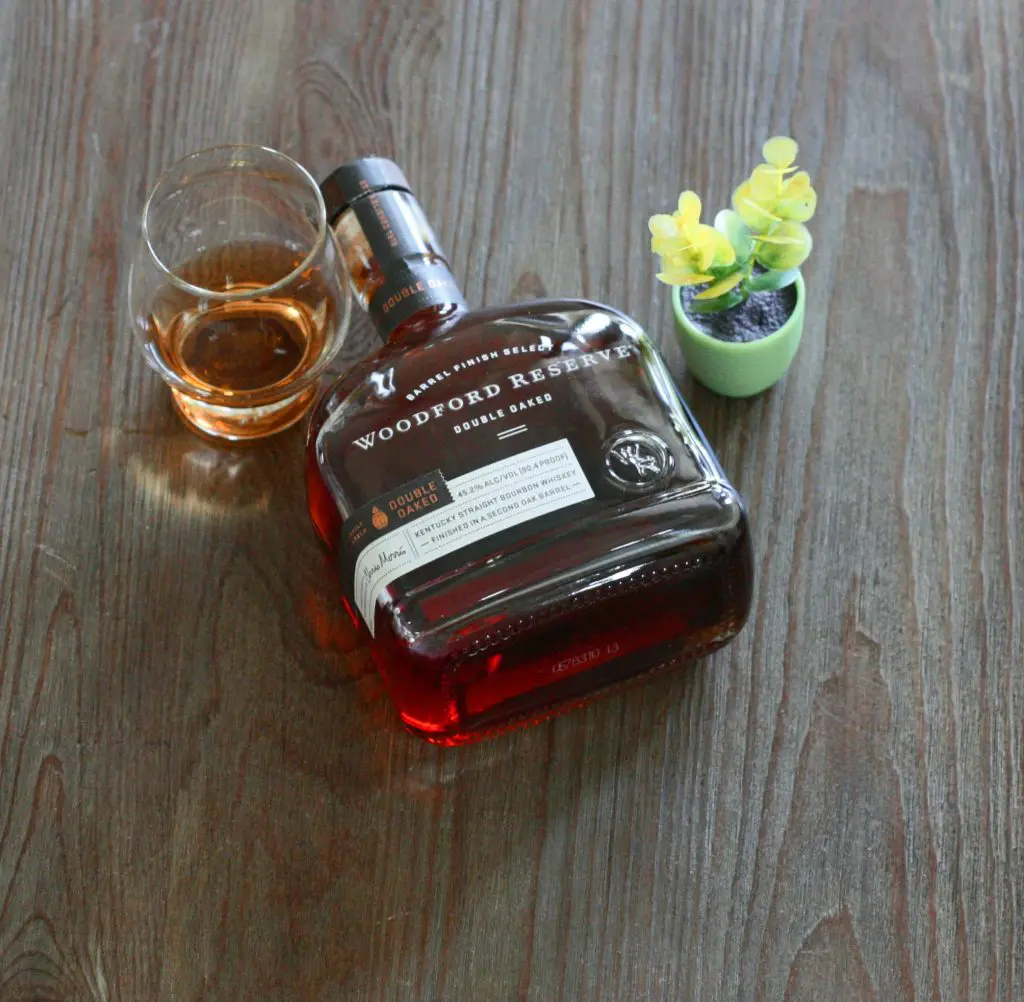 These two bourbons were so darn good. The second barrel interaction really brings out the sweet, syrupy dessert flavors. These two definitely won't disappoint a dessert lover. If somebody was looking at these two bottles in a store, I think most would pick up the Old Forester 1910 because of the bottle shape and label are more appealing compared to the Woodford Reserve Double Oaked. But it's the Woodford that I found more satisfying, albeit by a small margin. The tastes are similar, yet distinct enough between the two that you could justify why you like one over the other, but for me the Woodford wins todays battle.
Final Thoughts
One final thought, I have seen this concept of twice-barreled bourbon and rye used a few other times since the 2012 release of Woodford came out, but I have never seen a barrel proof version being put out. In fact, they almost all stick around 90 proof with the lone example being Knob Creek's Twice Barreled Rye Whiskey which clocks in at 100 proof. Why is this? Is the final product too over-oaked that they have to bring the proof down to get it into the sweet spot? I don't know, but I'll be interested if anyone else does. Drop me a line in the comment section below!
Ratings Breakdown
1 | Disgusting | Drain pour (Example: Jeffers Creek)
2 | Poor | Forced myself to drink it
3 | Bad | Flawed (AD Laws 4 Grain BiB, Clyde Mays anything)
4 | Sub-par | Many things I'd rather have (Tincup 10 year)
5 | Good | Good, solid, ordinary (Larceny, Sazerac Rye)
6 | Very Good | Better than average (Buffalo Trace, OGD BiB)
7 | Great | Well above average (Old Ezra Barrel Proof, Old Weller Antique)
8 | Excellent | Exceptional (Michter's Barrel Proof Rye, Four Roses Barrel Strength)
9 | Incredible | Extraordinary (GTS, 13 Year MGP or Canadian Rye)
10 | Insurpassable | Nothing Else Comes Close (William Larue Weller)
Featured Products
Description:

The Aged & Ore Neat Traveler is a complete travel kit for spirits. We combined our widely praised Neat Glass with one of our 3oz Flight Bottles and housed them together in a custom EVA travel case. Perfect for a night away with your favorite pour. The tie
Description:

The Aged & Ore Bottle Flight is a premium set of 4 custom silicone wrapped glass bottles designed to transport and share samples of your favorite spirits. The flight bottles come in a custom EVA travel case that fits perfectly in any small bag. An Aged &
Description:

This Bundle combines two of our crowd favorite products, creating the ultimate travel bundle to bring along your favorite spirits and glassware. Bundle Includes: Neat Traveler (Gray) Bottle Flight (Gray) Note: This bundle is only available in gray and col
*Bourbon Culture is reader-supported. When you buy through links on our site, we may earn an affiliate commission.