*Bourbon Culture is reader-supported. When you buy through links on our site, we may earn an affiliate commission.
Not every good whiskey out there must be an uber-expensive, ultra rare flavor bomb that costs an arm and a leg. Hell, it doesn't even have to have a proper cork. These two rye whiskies I'm reviewing today sure don't. Rittenhouse has been a staple in the Heaven Hill lineup for a while now. As strange as it seems, with the ever-growing amount of bottled-in-bond bourbons on the shelf these days, there isn't a whole lot of bottled-in-bond rye whiskies. New Riff recently launched one, but Rittenhouse is sometimes as much as half the price of the NR rye ($40 vs ~$25).
Old Forester's newest gem
Then we have Old Forester's newest gem, the 100 proof rye whiskey that they launched last year. Kudos must be given to Old Forester for keeping the price low (around $22) and for keeping the proof high. They even went the unconventional route and made this whiskey's mashbill around 60%, which is something that almost all other Kentucky rye whiskies aren't doing (except for Willett, New Riff and the EHT Straight Rye). That's been my biggest complaint with a Kentucky rye whiskey anyway; if you really want to scratch your rye itch, don't turn to ryes made by Beam, Turkey or Heaven Hill.
So what better way to find out which of these rye whiskies deserves to be on your bar than to do a semi-blind review. These were both sampled neat and from a glencairn.
Blind Glass: 1
Nose: Sweet caramel and buttercream frosting lay on the sweetness immediately. But there's also a little bit of mint and fresh hay. And I'm also interested that I can detect some of the oak in a whiskey as young as this probably is.
Palate: Caramel sweetness followed by some black and red pepper flakes and a little bit of ginger root give this a bit of a spicy pop. There's some slightly bitter aspects to it, like bitter oak, but the caramel sweetness keeps it in check. There's also a bit of fresh herbs hiding around, but the other heavier, sweeter flavors cover it up.
Finish: The finish finally lets the spicy and herbal nature of the rye show. There's peppermint, some fresh cut grass, dry oak, clove and cinnamon.
Score: 5.9/10
A nice rye that does what it's supposed to without doing anything remarkable. Not nearly as herbal or floral as a high rye mashbill rye whiskey
Blind Glass: 2
Nose: The nose is an immediate 180 from Glass 1. There is lots of fruits right up front; apples, pears and bananas. There's some cinnamon spiced honey and cereal grains to keep the trend of sweets going on the nose.
Palate: Honey dipped fresh fruit, some pepper flakes for spice and a little bit of chipotle pepper that has a smoldering heat. A very floral note hits towards the end of the palate, right before the swallow.
Finish: There are lots more rye traits than Glass 1. There's herbs like mint and tarragon. There's also spices like cinnamon, clove and star anise. The finish is lighter and more refreshing due to the large amount of herbal and floral notes. This almost finishes like a Canadian Rye Whiskey.
Score: 6.6/10
Blind Reveal:
Glass 1: Rittenhouse Rye Whiskey
Glass 2: Old Forester Rye Whiskey
Winner: Old Forester Rye Whiskey!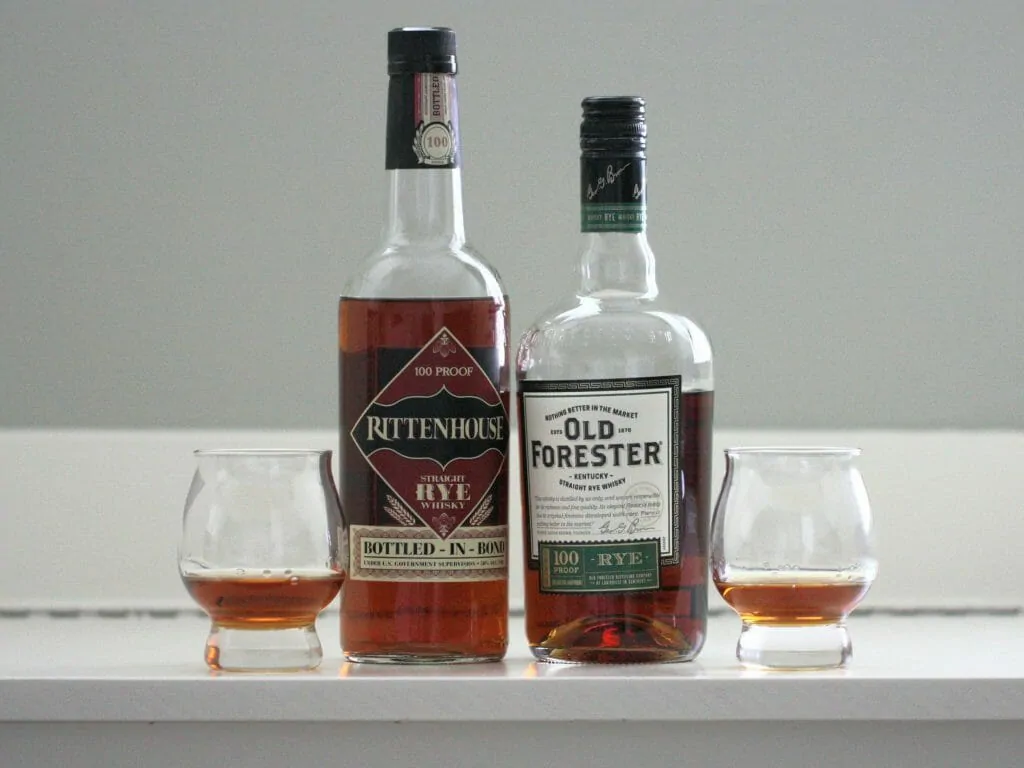 In my first Side-by-Side review of these almost a year ago, I picked Rittenhouse as the better rye whiskey over Old Forester. Now I'm completed reversed. Whereas Rittenhouse has more of a bourbon profile (go figure), the Old Forester really has dialed it in with a higher-rye flavor. I admit that I was wrong back then and will be righting my ways in the future.
Final Thoughts
Give this Old Forester Rye 2 more years in the barrel and bump up that proof point and watch it become a Willett 4 year rye whiskey killer. I'm extremely impressed with this one now.
Ratings Breakdown
1 | Disgusting | Drain pour (Example: Jeffers Creek)
2 | Poor | Forced myself to drink it
3 | Bad | Flawed (AD Laws 4 Grain BiB, Clyde Mays anything)
4 | Sub-par | Many things I'd rather have (Tincup 10 year)
5 | Good | Good, solid, ordinary (Larceny, Sazerac Rye)
6 | Very Good | Better than average (Buffalo Trace, OGD BiB)
7 | Great | Well above average (Old Ezra Barrel Proof, Old Weller Antique)
8 | Excellent | Exceptional (Michter's Barrel Proof Rye, Four Roses Barrel Strength)
9 | Incredible | Extraordinary (GTS, 13 Year MGP or Canadian Rye)
10 | Insurpassable | Nothing Else Comes Close (William Larue Weller)
Featured Products
Description:

The Aged & Ore Neat Traveler is a complete travel kit for spirits. We combined our widely praised Neat Glass with one of our 3oz Flight Bottles and housed them together in a custom EVA travel case. Perfect for a night away with your favorite pour. The tie
Description:

The Aged & Ore Bottle Flight is a premium set of 4 custom silicone wrapped glass bottles designed to transport and share samples of your favorite spirits. The flight bottles come in a custom EVA travel case that fits perfectly in any small bag. An Aged &
Description:

This Bundle combines two of our crowd favorite products, creating the ultimate travel bundle to bring along your favorite spirits and glassware. Bundle Includes: Neat Traveler (Gray) Bottle Flight (Gray) Note: This bundle is only available in gray and col
*Bourbon Culture is reader-supported. When you buy through links on our site, we may earn an affiliate commission.