*Bourbon Culture is reader-supported. When you buy through links on our site, we may earn an affiliate commission.
Joseph Magnus & Company has a history of being well versed in the art of finishing bourbons and whiskies in different barrels to create interesting flavor profiles. Their hope was that this would set them apart in a crowded marketplace of sourced products that was starting to erupt with the bourbon boom.
One of their newer ideas involved creating a whiskey that would stand up to the powerful effects of a cigar being smoked so that the flavor of the whiskey could still be recognized. To tackle this problem, they sourced some Armagnac barrels to finish their 11 and 18 year old MGP bourbon in as well as their standard Sherry and Cognac barrels. The result is a finished bourbon that is darker than any I've seen before.
Cigar Blend
With MGP bourbon that old, and a finishing treatment on top of that, one can expect the proof level to be somewhat low, and this one is clocking in at under 103.6 proof. To put this in context, the original batches of Cigar Blend were above 111 proof. So not a giant leap of proof levels, but low enough that this should not be anywhere close to hot.
So how does Cigar Blend taste? I finally got my hands on a bottle (Batch 13) and sampled it neat and in a glencairn.
Tasting Notes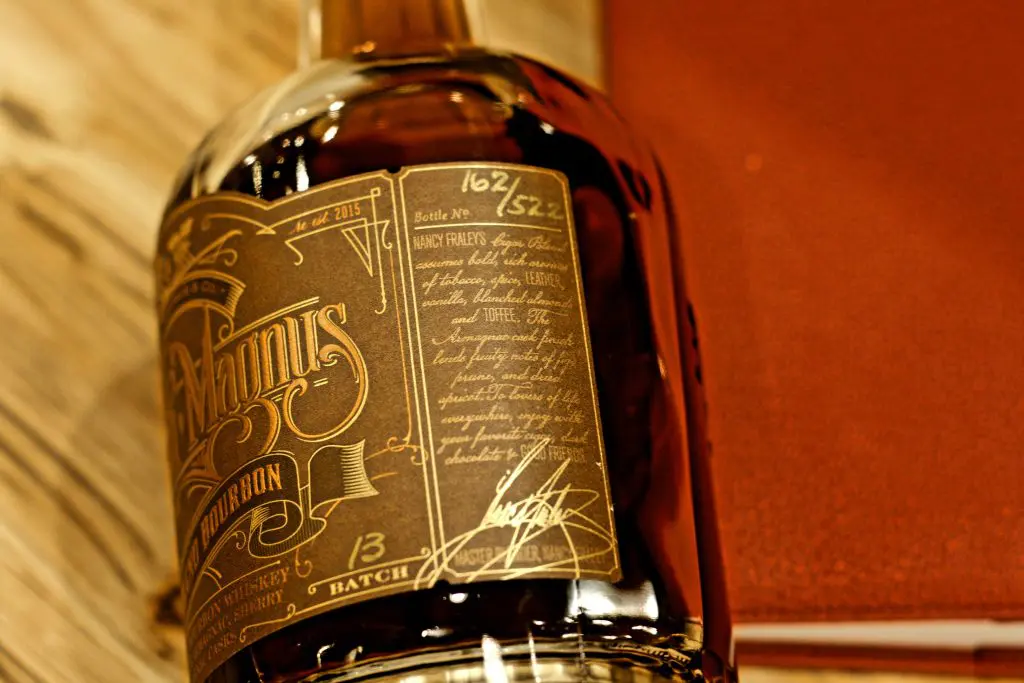 Nose: The nose starts out with a powerful punch of dark brown sugar, dark chocolate, pipe tobacco, seasoned oak and deep scents of Armagnac (think: Cognac). It doesn't stop there because toasted orange peel and the insides of a Cherry Cordial also bring sweetened fruit to the forefront.
Palate: Luxardo cherries, exotic spices of cinnamon, clove, cardamom and (I kid you not) turmeric are all potent and easy to taste. There is also seasoned oak wood and candied oranges, making the sweetness all the more delicious. However, the one hallmark note I'm picking up is balsamic vinegar. No, not the crappy, wannabe stuff you find on grocery store shelves, I'm talking about the stuff that's $50 for a 4oz bottle imported from Italy. The taste of this stuff takes me back and it's absolutely intoxicating.
Finish: The finish is incredibly interesting. It finishes initially as a champagne that's lost almost all of its bubbles. But that is interwoven with flat Dr. Pepper soda. And not be outdone, there's also flat ginger ale soda in the mix as well. All of these flavors mix with rye spice, mint and some cinnamon. Finally, it feels like that entire mixture was mixed together and poured into a ultra-oaky and dry red wine barrel before being shaken up and bottled into this great looking bottle. The finish is easily one of my favorite parts about this bourbon.
Score: 9/10
Joseph Magnus Cigar Blend Bourbon is about as close to perfection that a finished bourbon can be. I have never tasted anything quite as unique, deep and rich. Every single flavor or scent is identifiable, and that's no easy task for whiskey.
The score I gave reflects the strong feelings I felt towards this bourbon. But nothing cemented the fact more than when I took this bottle in for a group tasting to a group of guys that normally don't like finished bourbons and in a setting where many other whiskies were being drank (so our palates were close to being toast) and I got such terrific and positive feedback about this one, that it made me realize what a diamond in the rough I have here.
Final Thoughts
The hallmark of a superb bourbon is that you could have it in any setting and in any glassware and give it to any person and have them sit up and realize the flavor bomb they're drinking with no hard thought or multiple nosings. This is that bourbon and this is why it deserves this score.
Ratings Breakdown
1 | Disgusting | Drain pour (Example: Jeffers Creek)
2 | Poor | Forced myself to drink it
3 | Bad | Flawed (AD Laws 4 Grain BiB, Clyde Mays anything)
4 | Sub-par | Many things I'd rather have (Tincup 10 year)
5 | Good | Good, solid, ordinary (Larceny, Sazerac Rye)
6 | Very Good | Better than average (Buffalo Trace, OGD BiB)
7 | Great | Well above average (Old Ezra Barrel Proof, Old Weller Antique)
8 | Excellent | Exceptional (Michter's Barrel Proof Rye, Four Roses Barrel Strength)
9 | Incredible | Extraordinary (GTS, 13 Year MGP or Canadian Rye)
10 | Insurpassable | Nothing Else Comes Close (William Larue Weller)
Featured Products
Description:

The Aged & Ore Neat Traveler is a complete travel kit for spirits. We combined our widely praised Neat Glass with one of our 3oz Flight Bottles and housed them together in a custom EVA travel case. Perfect for a night away with your favorite pour. The tie
Description:

The Aged & Ore Bottle Flight is a premium set of 4 custom silicone wrapped glass bottles designed to transport and share samples of your favorite spirits. The flight bottles come in a custom EVA travel case that fits perfectly in any small bag. An Aged &
Description:

This Bundle combines two of our crowd favorite products, creating the ultimate travel bundle to bring along your favorite spirits and glassware. Bundle Includes: Neat Traveler (Gray) Bottle Flight (Gray) Note: This bundle is only available in gray and col
*Bourbon Culture is reader-supported. When you buy through links on our site, we may earn an affiliate commission.