*Bourbon Culture is reader-supported. When you buy through links on our site, we may earn an affiliate commission.
Binny's Barrel #4915
Take a good look at this bottle because as of 2020, Belle Meade has quietly killed off their cask strength single barrels of finished bourbons. Yes, they'll still have the Craftsman Cask releases from their distillery, but no more Sherry, Madeira or Cognac Cask single barrels (except at the distillery). This blast from the past was found not too long ago in 2019 at a Binny's in Chicago. Based on the barrel number, there is a good chance that this could be 10 years old or more. The proof is also quite high for something not only at that age, but that has been finished in a separate barrel (Cognac in this case).
Not a lot is known about where they source these cognac casks from, or if they've ever had another bourbon finished in them, but the allure of sweet, velvety cognac-soaked wood is more than enough to make me find and purchase a bottle like this. So how is it? Let's take a look. I sampled this bottle neat and in a Glencairn.
Tasting Notes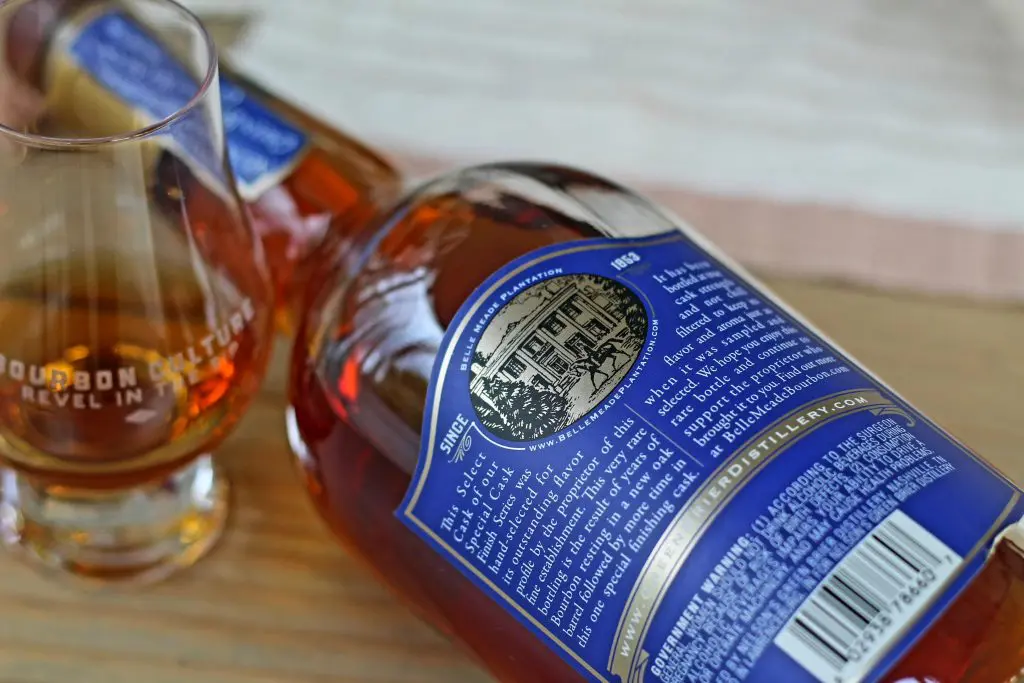 Nose: A strong scent of vanilla, almost like a freshly baked angel food cake delivers an extremely likable nose. There is a boldness on the nose similar to the scent of a sour cream cinnamon coffee cake that delivers both coffee bean aromas and baking spices. There's also a scent much like fresh sliced cotton candy grapes that show off the sweet nature of the cognac. Speaking of sweets, there are plenty of them with traditional MGP dark brown sugar scents mingled with a soft, delicate confectionaries' sugar scent.
Palate: The strong vanilla-forward nose follows into the palate with a thick mouthfeel of crème brulee. The spices of the bourbon, like cinnamon stick, ground black pepper and even some coffee grounds, hit every flavor that the nose was alluding to. There's also a fantastic surprise when the flavors switch over to cherries dipped in chocolate. The flavors of cognac also come out and play nicely with the bourbon for a really balanced sip. Overall, this is a seriously decadent palate.
Finish: For a sip that's been so pleasantly sweet, the finish turns very tannic. Notes of seasoned oak, barrel char and oiled leather let you know there is some age to this barrel proof juice. There's also some toasted caramel, white grape juice, grenadine syrup and a dash of pepper flakes that give depth and a dash of fun at the end of every swallow.
Score: 8.1/10
None of the magic of old-aged MGP bourbon has been lost on this bottle right here. There are plenty of tannic wood notes and brown sugar sweetness, but the enhancement of the liquid delivered by the cognac cask makes this bourbon effortlessly fun to like.
It's also dangerously sippable and very capable of getting away from you if you indulge a bit too much. I found that compared to the 90.4 proof version of this, that all of the flavors ramped up accordingly with the cask strength firepower behind it, which is a good thing.
Final Thoughts
It's somewhat sad that I can't find these anymore and I will nurse this bottle for a long time. But if you do happen to find one setting on a store shelf somewhere, I'd highly encourage you to buy it right away (even though single barrels can vary). It's definitely a throwback to the heyday of Belle Meade's dominance in the finished MGP bourbon category and one that I hope they come back too soon.
Rating Breakdown
1 | Disgusting | Drain pour (Example: Jeffers Creek)
2 | Poor | Forced myself to drink it
3 | Bad | Flawed (AD Laws 4 Grain BiB, Clyde Mays anything)
4 | Sub-par | Many things I'd rather have (Tincup 10 year)
5 | Good | Good, solid, ordinary (Larceny, Sazerac Rye)
6 | Very Good | Better than average (Buffalo Trace, OGD BiB)
7 | Great | Well above average (Old Ezra Barrel Proof, Old Weller Antique)
8 | Excellent | Exceptional (Michter's Barrel Proof Rye, Four Roses Barrel Strength)
9 | Incredible | Extraordinary (GTS, 13 Year MGP or Canadian Rye)
10 | Insurpassable | Nothing Else Comes Close (William Larue Weller)
Featured Products
Description:

The Aged & Ore Neat Traveler is a complete travel kit for spirits. We combined our widely praised Neat Glass with one of our 3oz Flight Bottles and housed them together in a custom EVA travel case. Perfect for a night away with your favorite pour. The tie
Description:

The Aged & Ore Bottle Flight is a premium set of 4 custom silicone wrapped glass bottles designed to transport and share samples of your favorite spirits. The flight bottles come in a custom EVA travel case that fits perfectly in any small bag. An Aged &
Description:

This Bundle combines two of our crowd favorite products, creating the ultimate travel bundle to bring along your favorite spirits and glassware. Bundle Includes: Neat Traveler (Gray) Bottle Flight (Gray) Note: This bundle is only available in gray and col
*Bourbon Culture is reader-supported. When you buy through links on our site, we may earn an affiliate commission.