*Bourbon Culture is reader-supported. When you buy through links on our site, we may earn an affiliate commission.
NJBYC – I'd Gladly Pay You Tuesday For A Bourbon Today
As if 2020 couldn't get any worse, Jim Beam slowly began to cut off the older barrels of bourbon that they had been using for their single barrel program of Knob Creek. For the last 2 years, bourbon enthusiasts took for granted the unending supply of 14-15 year old, 120 proof bottles that were priced at $50. Many times these were passed over because there always seemed to be another one releasing.
The primary differences between Knob Creek, Baker's, Booker's and the standard Jim Beam lineup revolve around the proof that the distillate comes off the still at. Knob Creek is distilled to 130 proof, unlike Bookers which is distilled to 125 proof and Jim Beam labels at 135 proof. Knob Creek Single Barrels are also typically aged on the middle floors of the rickhouses, which keep the temperatures at a kind of steady equilibrium resulting in barrel proofs that don't go up or down too much. This is also the secret as to why these barrels can age well into their teenage years and still have a decent amount of bourbon still left inside.
Obviously, I was very excited when I received this 15 year old single barrel by the New Jersey Bourbon and Yacht Club (NJBYC). This is their most recent pick that is identified by the sticker of Whimpy on the back with the saying "I'd gladly pay you Tuesday for a Bourbon today." Knob Creek picks have a wide range of flavors that aren't like your typical Beam product, so would this one have anything that stood out? Let's find out! I sampled this neat and in a Glencairn.
Tasting Notes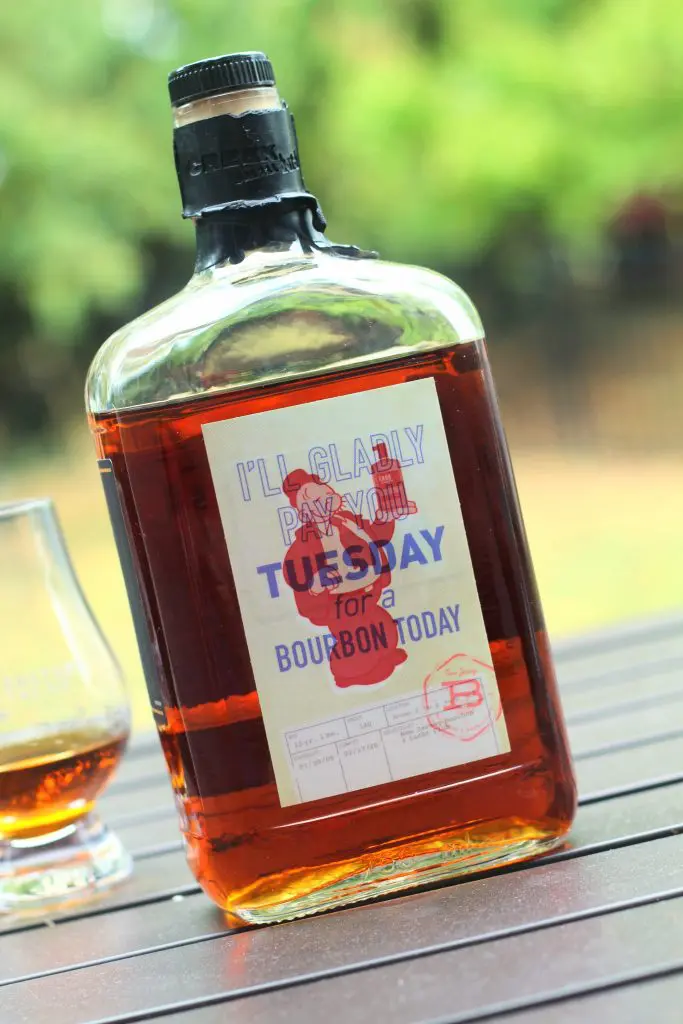 Nose: A rich nose full of classic dessert scents. Toffee, melted Heath candy bar, baked apples and cherry scents all fill the glass. There's even a decent amount of charred oak that adds depth and further richness.
Palate: The body on this is a little lighter than other Knob Creek picks that I've tried. But that allows a little bit more fruit flavors to come out like orange zest, cherry pie filling and even prune juice (?!). There's a decent amount of tobacco, which shouldn't be surprising from spending 15 years inside a barrel. The lighter character of the liquid exposes a little bit of bitter chocolate notes, but the sweet caramel and oak flavors keep it in check to keep it all balanced.
Finish: For a Beam product, I was not detecting any nutty flavors until the very end. Finally, notes of roasted nuts and some oak popped up. Sweet caramel and a little bit of cherry juice kept it sweet and pleasant and was a very fitting end to this satisfying pour.
Score: 7.9/10
As much as I love bourbon, it's hard to find a label out there that can do so many things as well as Knob Creek can. Old Forester products can give you oak and spice all day long but will sometimes lack sweetness. Buffalo Trace products will give you sweetness and fruit flavors but lack the tannins that show you age. Heaven Hill products can be sweet and nutty but lack a lot of depth.
These Knob Creek picks, on the other hand, consistently achieve bourbon nirvana by delivering sweetness, tannins and unique fruit flavors all bottled up in one of the best values on the market today. This pick is no different.
Final Thoughts
Time will tell if the 14-15 year old picks will return. I would imagine they would with the large expansion going on at Jim Beam these past few years. But one thing is for sure, if you ever see these age-stated picks at your local store that are over 13 years old, buy them up immediately because they are absolutely worth the value. As for this pick, it's one of the tastiest examples out there of a Knob Creek pick that I've tried and should be a bottle that anyone would be happy to have on their shelf.
Rating Breakdown
1 | Disgusting | Drain pour (Example: Jeffers Creek)
2 | Poor | Forced myself to drink it
3 | Bad | Flawed (AD Laws 4 Grain BiB, Clyde Mays anything)
4 | Sub-par | Many things I'd rather have (Tincup 10 year)
5 | Good | Good, solid, ordinary (Larceny, Sazerac Rye)
6 | Very Good | Better than average (Buffalo Trace, OGD BiB)
7 | Great | Well above average (Old Ezra Barrel Proof, Old Weller Antique)
8 | Excellent | Exceptional (Michter's Barrel Proof Rye, Four Roses Barrel Strength)
9 | Incredible | Extraordinary (GTS, 13 Year MGP or Canadian Rye)
10 | Insurpassable | Nothing Else Comes Close (William Larue Weller)
Featured Products
Description:

The Aged & Ore Neat Traveler is a complete travel kit for spirits. We combined our widely praised Neat Glass with one of our 3oz Flight Bottles and housed them together in a custom EVA travel case. Perfect for a night away with your favorite pour. The tie
Description:

The Aged & Ore Bottle Flight is a premium set of 4 custom silicone wrapped glass bottles designed to transport and share samples of your favorite spirits. The flight bottles come in a custom EVA travel case that fits perfectly in any small bag. An Aged &
Description:

This Bundle combines two of our crowd favorite products, creating the ultimate travel bundle to bring along your favorite spirits and glassware. Bundle Includes: Neat Traveler (Gray) Bottle Flight (Gray) Note: This bundle is only available in gray and col
*Bourbon Culture is reader-supported. When you buy through links on our site, we may earn an affiliate commission.